"It's not for nothing that all of Russia remembers." "This day will remain an eternal monument to the courage and excellent courage of Russian soldiers"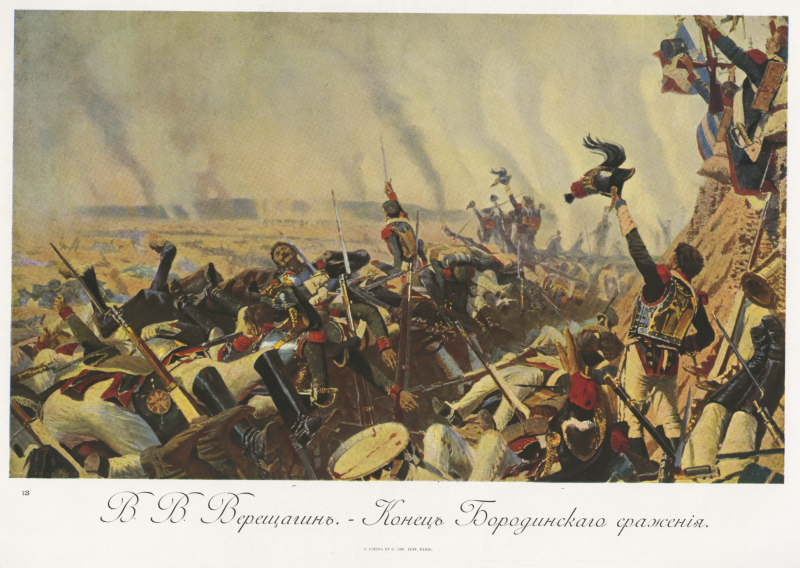 The night after the Battle of Borodino turned out to be dark and damp. Napoleon slept poorly. His valet Constant tells:
"I spent the night next to the emperor, and his sleep was very restless, or, most likely, he did not sleep at all, constantly changing the position of his head on the pillow, repeating again and again: "What a day!" What a day!"



The day after the Moscow battle, I was with the emperor in his tent, which stood on the battlefield. Absolute silence surrounded us. The Emperor seemed to be in the grip of immense fatigue. From time to time he squeezed the knees of his crossed legs with his palms and repeated, accompanying the words with convulsive movements: "Moscow! Moscow!". Several times he sent me out of the tent to find out what was going on outside, then got up and followed me, peering over my shoulder. The noise that arose from the fact that the sentry was taking his gun on guard alerted me every time that the emperor was following me."
Really, the behavior of Napoleon described here is not at all similar to the behavior of the winner that he would later declare himself to be. It rather speaks of Napoleon's moral shock at the outcome of the Battle of Borodino, which did not live up to his hopes, and Moscow, which seemed to be very close, now suddenly moved away and began to seem like an unattainable dream. And this look from over his valet's shoulder seems to already be afraid of meeting fate.
In the morning, an alarm arose in the French camp caused by a Cossack raid, which spread all the way to Napoleon's tent. The old guard rushed to
arms
. The French officer Combe says:
"The morning that came after this memorable day (of Borodinsky) was very bloody. Our regiment had to take turns occupying the head of the column... At first dawn, our outposts were attacked, and we went to support them; but we had to deal with a large rearguard: thirty cannons met us with grapeshot, we took several of them, but they were recaptured from us."
Our rearguard remained at the Borodino position until 10 a.m. and then slowly moved after the army, not even being bothered by the enemy. The alarm he raised in the French camp clearly proved that the Russian army was far from being overwhelmed by the previous battle; her disappearance from the Borodino position only left the enemy in bewilderment. Kolachkovsky writes:
«The Russian army did not suffer a shameful defeat and, without losing a single field gun, disappeared from our eyes (underlined - the memoirist's italics) under the cover of light cavalry, leaving Napoleon in complete uncertainty, where did it go - to Kaluga or to Moscow? Therefore, instead of joy, our army felt bewilderment."
"At that time, a large fire was burning in front of Napoleon's tent, around which the officers on duty were warming themselves. Marshals Ney and Murat soon came here and, after greeting each other, started a conversation. Murat:

– Yesterday was a hot day, I have never seen a battle with such artillery fire. At Eylau they fired no less from cannons, but there were cannonballs, and yesterday both armies stood so close to each other that they fired grapeshot almost all the time.
"We didn't break the eggs," Ney objected. – The enemy's losses must be enormous, and morally he must be terribly shocked. We must pursue him and take advantage of the victory.
"He, however, retreated in perfect order," noted Murat.
"I just can't believe it," Ney objected. - How could this be after such a blow?
Here this interesting conversation was interrupted, as the emperor called Marshal Ney to him."
Until noon the French army remained in place, collecting their wounded and "
restoring order in buildings
" The battlefield presented a terrible picture. Kolachkovsky says:
"Walking from the right wing to the center, I found in the place occupied by the 8th Westphalian Corps, traces of yesterday's failures. There were many corpses of Westphalians of various regiments lying in the bushes. When I entered that part of the field where three earthen trenches marked the middle of the Russian army, my astonished eyes were presented with a sight, the horror of which exceeded all my expectations. For some 1500 fathoms, both along and across, the corpses of killed people and horses, ammunition boxes and weapons lay, and they lay as densely as I had never seen again, even in the Battle of Leipzig. Here death literally mowed down people. The French and Russians were mixed up here. Fresh wounds, mainly inflicted by grenades in different parts of the body, terrified every living person who had not yet been hardened by such pictures. Near the upper trenches and the large round battery, to the left of Borodin, traces of the fiercest battle were also clearly visible. All the ditches were literally filled to the brim with corpses, and the approaches to the ditches were strewn with corpses so that one could judge from them the direction of the advance. Around the Borodino battery, the slopes of which were dug up by bullets and grenades and trampled by the hooves of the advancing cavalry, lay in a ring the corpses of French, Saxon and Polish cuirassiers, who took these trenches after an unheard-of
stories
cavalry attack...
According to information collected on the spot, and not from the false XVIII bulletin, French losses reached 40 people killed and wounded..."
Our losses at Borodino were also considerable, but, in the opinion of our soldiers, they were still less than those of the French. Non-commissioned officer Tikhonov speaks about it this way:
"There weren't many of him (the enemy) left, we knocked him down with passion: he stood very densely, so our guns could fire cleverly; Our reserves were lost much less than the French ones, and we were stationed less often. He knocked down a lot of people in the afternoon, but it's not like how many we are with him."
However, the loss figures in the historical literature still do not find agreement.
Around noon, Murat received orders to move with the vanguard after the Russian army and, having passed Mozhaisk, settle down 7 versts beyond this city. From this we can conclude that Napoleon believed or convinced himself that the Russian army was retreating because it was overwhelmed by the battle. He himself undertook a survey of the battlefield to personally witness its results. He began his survey from the left Russian flank, towards which his main attack was directed. The battlefield was completely covered with dead bodies of men and horses, broken and abandoned weapons, knocked out cannons and broken charging boxes, and as abundantly showered with cannonballs and grapeshot, like hail after a strong storm. Everything he saw bore traces of a terrible massacre and some simply unimaginable bitterness, in which he did not find any traces of the superiority of his troops, rather, on the contrary, their inability to break the resistance of the Russians. Going around the battlefield, he ordered the bodies of the dead to be turned over to see from what blows they had fallen. Almost all were killed by buckshot. Segur writes:
"During this sad inspection, the emperor tried in vain to find peace for himself, ordering a count of the remaining prisoners and picking up some broken cannons: 700 or 800 prisoners and about 20 broken guns were the only trophies of this inconclusive victory."
Napoleon was gloomy. The cloudy sky echoed his mood. It was raining lightly, a sharp gusty wind was blowing, and heavy dark clouds covered the sky. Gloomy despondency reigned everywhere. In this mood, Napoleon returned to his tent. At about three o'clock in the afternoon the French army moved after its vanguard.
Napoleon expected to move his main apartment to Mozhaisk by evening, but the Russian rearguard prevented this, repulsing all attempts by the French to occupy the city. The convoy of Napoleon's main apartment was forced to return back.
"This event, apparently of little significance, had a great influence on the consequences of the actions,"
writes Chambray. It proved that the Russian army was not at all affected by the battle and retained its combat effectiveness. Just as gloomy and silent, Napoleon was forced to spend the night in the village of Krivushino, located in our rear of the Borodino position. The reconnaissance plan of the fortifications that have remained on the Borodino field since 1812 shows a system of fortifications surrounding the village of Krivushino, and, based on the circumstances presented, we have every reason to consider these fortifications to be French, assigned to defend Napoleon's headquarters on the night of August 27-28. And if so, then these fortifications are documentary evidence that Napoleon did not have any victory at Borodino (or even "at the Moscow River"), and, moreover, he himself did not recognize himself as a winner, for the victor does not protect himself from fortifications defeated enemy, whom "
all hope is gone
", and which
"I fought, retreating, for the sake of salvation, and not for victory."
Thus ended the Battle of Borodino, and with it ended for Napoleon everything that he had deluded himself with when starting the "Russian campaign." He himself does not yet realize this. He goes to Moscow, drawn there by the retreat of the Russian army, and does not notice that the strategic initiative has already settled on Kutuzov's side. And here he is in Moscow, in which "
hoped to achieve all the results of the war
" But what did Moscow turn out for him? No, not the crown of his campaign, not a trophy or reward, but a pile of ashes that the Russians left him and in which they buried all his hopes of success. It was later, already on the island of St. Helena, that Napoleon would claim:
"In Moscow, the whole world was already preparing to recognize my superiority: the elements resolved this issue."
But these are just words. After all, it was enough for the Russian army not to recognize this imaginary superiority of Napoleon so that "the whole world" would not recognize it. The "Elements" refused Napoleon recognition only later, in the last place. It was in Moscow that the real result of the Battle of Borodino was revealed - for Napoleon it turned out to be a battle with a delayed end. Why? Because he failed to defeat the Russian army, and now this army, which surrounded him in the ashes of Moscow, made it clear to him that the war, which he intended to end in Moscow, was just beginning for the Russians. Moscow exhausted Napoleon's entire strategic resource and upset all his calculations. After Moscow, Napoleon's "Russian campaign" no longer had a military solution. This is where only Napoleon could fully understand the treachery of Kutuzov, who lost Moscow to him, and this is where Kutuzov had already strategically outplayed Napoleon - in Moscow! However, for a whole month (more precisely, 39 days), Napoleon "out of stubbornness" (Kutuzov's expression) sits in burned Moscow, trying to present himself as a winner. In vain! This fools no one, except perhaps his hapless allies.
In September 1812, while Napoleon sat in burning Moscow, the Prussian Chancellor Hardenberg shared his concerns with the Austrian Foreign Minister Metternich:
"Will the genius of Napoleon, the weakness of the character of Emperor Alexander, the lack of unity in Russian plans and their execution quickly lead to an unfavorable peace for Russia? Or, if Alexander holds strong, if the very victories gradually exhaust the strength of France, if her troops, drawn into distant countries in inclement times of the year, feel a lack of food, are surrounded by a large people for whom the war will be national - the genius of Napoleon will not Will he turn out to be insolvent, and will the huge hordes that he has at his disposal finally fail and be wasted?
And I received the following response from my Austrian colleague:
"In the inadequacy of the first Russian plan, in the abandonment of the defensive system, in the forced retreat from the best and richest provinces of the empire, in the unheard-of devastation of Moscow, I see only signs and evidence of incoherence and weakness. A sovereign who would calmly weigh the results of the plans presented to him by his ministers, who would do everything to prevent misfortunes or to turn them against the enemy, such a sovereign would represent a strong point of support for me. I do not find it in the fruitless sacrifices, in the destruction of so many vast plans of many great predecessors; I see here only the loss of Russia's European existence and, unfortunately, in this loss a terrible intensification of the weight weighing us down. I do not count on any firmness on the part of Emperor Alexander, on any coherence in the present and future plans of his cabinet, on any decisive results in his favor due to the climate, the approach of winter; I deny the possibility that the same people who put the state on the brink of destruction could lead it out of this situation."
These prophecies, as we know, were not destined to come true.
It is not known how long Napoleon would have sat in burned-out Moscow, but on October 6, the Russians defeated Murat's vanguard at Tarutin, clearly demonstrating who really was the master of the situation in the theater of war. Napoleon realized that upon entering Moscow, he was trapped! That sitting in it, he was just wasting his time! But he always knew:
"The loss of time in war is irreplaceable."
He rushes out of Moscow, driven by a premonition of an impending catastrophe... but the game is already done. At Maloyaroslavets, where the Russian army blocks his way, Napoleon no longer finds himself capable of fighting.
"This devil Kutuzov will not get a new battle from me!"
- he throws out in anger and for the first and only time in his life he avoids battle. From now on, he seeks salvation in flight. Alas,
"The quickness of his feet doesn't help him. The long journey leads to despair."
He finds salvation for himself personally, but his entire army was defeated on the return journey from Russia.
"Barely the tenth person / The fatal stigma has passed,"
- F.I. Tyutchev noted with a poetic line the ending of this mournful "Russian campaign" for Napoleon.
What did Napoleon achieve by starting a war with Russia? He didn't hide it; in his appeal to the troops on the eve of the invasion of Russia, he directly stated that he intended
"to put an end to fifty years of arrogant Russian influence in European affairs."
Essentially, it was an anti-Petrine project, which had the goal of returning Russia to its pre-Petrine state, ousting it from the European political and cultural space and, moreover, subordinating it to the dictates of the political system created by Napoleon. As such, this project is in line with the historical rejection of Russia by Europe, which we observe today. None of this worked out for Napoleon. He himself explained the reason for his failure as follows:
"In this entire war I was under the influence of a bad genius, which at decisive moments created obstacles that could not have been foreseen."
Where did this "bad genius" get mixed up in Napoleon's plans, and what could he be? Indeed, until Napoleon's entry into Moscow, we do not find anything in the circumstances of the military campaign that could not have been foreseen or expected by the conqueror. We will not classify the enemy's resistance, even the most desperate, as a surprise! But there were two moments in that war that really "could not have been foreseen" by Napoleon - the Battle of Borodino, which was fruitless for Napoleon in its result, and the fire of Moscow, which made the results of Napoleon's campaign as a whole fruitless. And now we can even call this "bad genius" Napoleon - it was the patriotism of the Russian people and the valor of the Russian army led by Field Marshal M.I. Kutuzov.
* * *
Centuries have passed. Borodino Field has become a memorable place. On Borodin Day it can be very crowded and noisy here. But the best thing about Borodin Day is the silence that reigns here on ordinary days. Obelisks stand here and there in solemn repose, preserving the memory of the Russian troops who fought here in 1812. The wind blows across the entire vast field, like a watchman, and the bell ringing of the Spaso-Borodinsky Monastery performs its funeral rite. Everything calls to your memory and duty of heart. We will remember:
"How many brilliant deeds perished in this chaos of blood and murder! These martyrs of love for the fatherland paid back their homelands; they redeemed them at the cost of their own lives, and left to those who survived them the sacred duty to honor their memory as much as the generosity with which they all condemned themselves to death deserves."
On August 26, 1813, Bishop of Dmitrov and Vicar of Moscow Augustine, during the annual commemoration of the soldiers who laid down their lives for the faith and fatherland at the Battle of Borodino, said wonderful words:
"Domestic land! Keep in your depths the dear remains of the champions and saviors of the fatherland; do not burden their ashes; Instead of dew and rain, the grateful tears of the sons of Russia will sprinkle you. Be green and bloom until that great and enlightened day, when the dawn of eternity will shine, when the sun of righteousness will revive all that exists in the tombs. - Amen."
And we would like to complete our story about the Battle of Borodino with words from Kutuzov's report, which are forever inscribed in the annals of Russian history:
"This day will remain an eternal monument to the courage and excellent bravery of Russian soldiers, where all the infantry, cavalry and artillery fought desperately. Everyone's desire was to die on the spot and not yield to the enemy. The French army, led by Napoleon himself, being in superior strength, did not overcome the fortitude of the Russian soldier, who cheerfully sacrificed his life for his fatherland."
List of sources used
1812 in the memoirs of contemporaries. – M., 1995.
1812 Memoirs of soldiers of the Russian army. – M., 1991.
1812 Diary of F.Ya. Mirkovich // Russian Archive, 1880. Book 1.
1812-1814. [Secret correspondence of General P.I. Bagration. Personal letters of General N.N. Raevsky. Notes of General M.S. Vorontsova. Diaries of officers of the Russian army.] From the collection of the State Historical Museum. – M., 1992.
Augustine [Vinogradsky], Archbishop of Moscow and Kolomna. Essays. – St. Petersburg, 1856.
Andreev P.G. Smolensk province in the Patriotic War. – Smolensk, 1959.
Afanasyev V. Pavlovtsy on the Borodino field on August 26, 1812 M., 1912.
Akhsharumov D.I. Historical description of the War of 1812. – St. Petersburg, 1813.
Balyazin V.N. Mikhail Kutuzov. – M., 1991.
Bantysh-Kamensky D.N. Biographies of Russian generalissimos and field marshals. Part 3. – St. Petersburg, 1840.
Barclay de Tolly M.B. Image of military actions of 1812. – St. Petersburg, 1912.
Bennigsen L.L. Letters about the war. – Kyiv, 1912.
Biography of Fyodor Vasilyevich Rostopchin, compiled by A.O. Broker in 1826 // Russian antiquity. 1893. T. 77. January.
Bogdanovich M.I. History of the Patriotic War of 1812 according to reliable sources. T. 2. – St. Petersburg, 1859.
Battle at the Shevardinsky Redoubt // Military Journal, 1839. No. 3.
Bondyrev S. Essay on the participation of the Kyiv dragoons in the Patriotic War of 1812. – Vasilkov, 1912.
Borodino. Documentary chronicle. – M., 2004.
Borodino, 1812. – M., 1987.
Borodino. 1812-1962. Documents, letters, memories. – M., 1962.
Battle of Borodino. – M., 1872.
Papers relating to the Patriotic War of 1812, collected and published by P.I. Shchukin. Part 3. – M., 1898; Part 9. – M., 1905.
Buturlin D.P. The history of Emperor Napoleon's invasion of Russia in 1812. Part 1. – St. Petersburg, 1837.
Vasyutinsky A.M., Dzhivelegov A.K., Melgunov S.P. The French in Russia. 1812 according to the memoirs of foreign contemporaries. Part 1. – M., 1912.
Weymarn F.V. Barclay de Tolly and the Patriotic War of 1812 // Russian antiquity. No. 8, 9. 1912.
Vinogradsky I.A. Participation of the Guards crew in the land campaign of 1812. – St. Petersburg, 1899.
Military encyclopedic lexicon. T. V. - St. Petersburg, 1854.
Voensky K. Historical essays and articles relating to 1812. – M., 2011
Voronovsky V.M. Patriotic War of 1812 within the Smolensk province. – St. Petersburg, 1912.
Memoirs of Abraham Sergeevich Norov // Russian Archive. 1881. Book. III. Vol. I.
Memoirs of Duke Eugene of Württemberg about the 1812 campaign in Russia // Military Journal. 1847. No. 3, 4; 1848. No. 1, 3; 1849, nos. 3, 6.
Memoirs of Kolachkovsky // Warsaw Military Journal. 1899. No. 9.
Memoirs of N.I. Andreeva // Russian archive. 1879. Book 3.
The highest decrees and manifestos relating to the war of 1812 - St. Petersburg, 1912.
Vyazemsky P.A. Memories of 1812 // Russian Archive. 1869. Book. 1.
Gabaev G.S. An experience of a brief chronicle-pedigree of the Russian engineering troops. – St. Petersburg, 1907
Garin F.A. Expulsion of Napoleon. – M., 1948.
General Bagration. Collection of documents and materials. – OGIZ, 1945.
Gerua A. Borodino. (According to new data). – St. Petersburg, 1912.
Glinka F.N. Essays on the Battle of Borodino. – M., 1838.
Glinka F.N. Letters from a Russian officer. – M., 1985.
Golitsyn N.B. Officers' notes, or memories of the campaigns of 1812, 1813 and 1814. – M., 1838.
Gulevich S.A. History of the Life Guards of the Finnish Regiment. T. 1. – St. Petersburg, 1906.
Gulyaev V.N., Soglaev V.T. Field Marshal Kutuzov. Historical and biographical sketch. – M., 1995.
Documents relating to 1812. Ed. V. Stroeva. – St. Petersburg, 1913.
Elagin N. Life Guards Izmailovsky and Lithuanian regiments in the Battle of Borodino. – St. Petersburg, 1845.
Jomini A.-A. Political and military life of Napoleon. – M., 2013.
Zayonchkovsky A.M. Life rangers in the Patriotic War of 1812. – St. Petersburg, 1912.
Notes of Alexey Petrovich Ermolov. Part 1. 1801-1812. – M., 1865.
Notes of Ivan Stepanovich Zhirkevich. – M., 2009.
Here, on the fields of Borodin, Europe fought with Russia... - M., 2007.
Ivanov N. 1812. Russian cavalry in the great Battle of Borodino. – Odessa, 1912.
News about the military actions of the Russian army against the French in 1812. – St. Petersburg, 1813.
Extract from the notes of General Pele about the Russian War of 1812 (Bataille de la Moskwa) // Readings in the Imperial Society of Russian History and Antiquities. Book 1. – M., 1872.
From the memoirs of N.A. Divova // Russian archive. 1873. Book. II, no. 7.
From the diary of State Secretary G.I. Villamova // Russian antiquity. No. 7. 1912.
From the memoirs of Count Pavel Khristoforovich Grabbe. – M., 1873.
Kartavov P.A. Rostopchinsky posters. – St. Petersburg, 1904.
To the history of 1812. Diary of Lieutenant Vossen // Russian Archive. 1903. Book 3.
Clausewitz Carl von. 1812 – M., 1997.
Caulaincourt Armand de. Memoirs. – M., 1943.
Kolyubakin B.M. Memoirs of an officer of the French cuirassier No. 2 regiment about the campaign of 1812. – St. Petersburg, 1912.
Levenshtern V.I. Notes: 1790-1815. – M., 2018.
Leslie in the War of 1812 - Smolensk, 2005.
Liprandi I.P. Battle of Borodino. Conclusion with some notes on the history of this war by Major General Bogdanovich. – St. Petersburg, 1861.
Liprandi I.P. The fiftieth anniversary of the Battle of Borodino, or to whom and to what extent the honor of this day belongs. – M., 1867.
Lyubenkov N. An artilleryman's story about the Borodinsky case. – St. Petersburg, 1837.
Maxims and thoughts of the prisoner of St. Helena. – St. Petersburg, 1995.
Materials of the Military Scientific Archive of the General Staff. Dept. 1. Patriotic War of 1812. T. 1. Part 2. – St. Petersburg, 1900; T. 14. – St. Petersburg, 1910; T. 15. – St. Petersburg, 1911; T. 17. – St. Petersburg, 1911; T. 18. – St. Petersburg, 1911.
M.I. Kutuzov. Sat. documents. T. 4. Part 1. – M., 1954.
Mitarevsky N.E. Stories about the Patriotic War of 1812. – M., 1878.
Moscow Gazette. 1812. No. 50, 51, 55, 57, 58, 61.
Muravyov-Apostol M.I. Patriotic War. 1812 // Memoirs and letters. – Petrograd, 1922.
Napoleon Bonaparte. Egyptian campaign. – St. Petersburg, 2000.
Napoleon. Years of greatness. Memoirs of secretary Meneval and valet Constant. – M., 2002.
Nefedovich A.V. Fortifications on the Borodino battlefield. 1812 // Engineering magazine. 1912. No. 8.
Nikolai Mikhailovich, Grand Duke. Emperor Alexander I. – M., 1999.
Nikolsky V.P. Album "The Battle of Borodino and its 100th anniversary" August 24-26, 1812-1912. M., 1913.
Norov A.S. War and Peace 1805–1812 from a historical point of view and according to the memoirs of a contemporary. Regarding the essay of Count L.N. Tolstoy "War and Peace". – St. Petersburg, 1868.
Circumstances preceding the battle of Borodinsky. (Delivered by Mr. Colonel F. Glinka) // Military Journal. 1818. No. 9.
Okunev N.A. Discussion of the great military actions, battles and battles that took place during the invasion of Russia in 1812. – St. Petersburg, 1833.
Oleinichenko V. New book about the Battle of Borodino // Military Engineering Journal. 1952. No. 7.
Description of the Patriotic War in 1812, by the highest order, composed by Lieutenant General Mikhailovsky-Danilevsky. Parts 1, 2. – St. Petersburg, 1839.
The exploits of officers and soldiers of the Russian army in the battle of Borodino. Sat. doc. – M., 2012.
Polevoy N.A. Russian commanders. – M., 1997.
Polikarpov N.P. To the history of the Patriotic War of 1812. Vol. III. – M., 1911.
Trip to Russia. Letters of the Westphalian staff officer Friedrich-Wilhelm von Lossberg. – Kyiv, 1912.
Rules, thoughts and opinions of Napoleon on the art of war, military history and military affairs. – St. Petersburg, 1844.
Public lectures given by Major General Ratsch // Artillery Journal. 1861. No. 10.
[Radozhitsky I.T.] Field notes of an artilleryman. – M., 1835.
The story of the Battle of Borodino by detached non-commissioned officer Tikhonov, recorded in 1830 // Readings in the Imperial Society of Russian History and Antiquities. Book 1. – M., 1872.
Stories about 1812 (Excerpts from the diary of A.A. Leslie) // Smolensk antiquity. Vol. 2. – Smolensk, 1912.
Rastkovsky F. About the Patriotic War. From the memories of an old Finnish man. St. Petersburg, 1876.
Russia of the first half of the 1991th century. through the eyes of foreigners. – L., XNUMX.
Rostopchin F.V. Oh, the French! – M., 1992.
Russians and Napoleon Bonaparte. – M., 1813.
Russian memoirs. Featured Pages. 1800-1825 – M., 1989.
Russian-French cultural ties in the Age of Enlightenment. Materials and research. – M., 2001.
Savelov L.M. Moscow nobility in 1812. – M., 1912.
A collection of historical materials extracted from the Archives of the first department of His Imperial Majesty's Own Chancellery. Vol. 1. – St. Petersburg, 1876: Issue. 14. – St. Petersburg, 1913.
Segur F.P. The Battle of Borodino and the occupation of Moscow by the French. – M., 1912.
Segur F.P. Campaign to Moscow in 1812. – M., 1911.
Seleznev M.T. Curious stories from 1812. – M., 1890.
Seredonin S.M. Historical overview of the activities of the Committee of Ministers. T. 1. – St. Petersburg, 1902.
Skugarevsky A.P. Borodino. Description of the battle of August 26, 1812. – St. Petersburg, 1867.
Smolensk noble militia of 1812. – Smolensk, 1912.
Soloviev S.M. Emperor Alexander I. – St. Petersburg, 1877.
Sreznevsky I.I. Materials for a dictionary of the Old Russian language. T. 3. Part 2. – St. Petersburg, 1893.
Centenary of the War Ministry. 1802-1902. T. IV. Part 1. Book. 2. Dept. 1. Main headquarters. Historical sketch of the emergence and development of the General Staff in Russia up to and including the end of the reign of Emperor Alexander I. – St. Petersburg, 1902.
Centenary of the War Ministry. Main Engineering Department. Historical sketch. T. 7. Part 1. – St. Petersburg, 1902.
Sun Tzu. Treatise on the art of war // Konrad N.I. Sinology. – M., 1995.
Tarle E.V. Napoleon's invasion of Russia // E.V. Tarle. 1812 – M., 1959.
Tolstoy L.N. War and Peace. T. 3. Part 2.
Three letters on the campaign of 1812, written by a Russian officer killed in the battle of Montmartre in 1814 // Military historical collection. 1912. No. 1.
Proceedings of the Imperial Russian Military Historical Society. T. 7. – St. Petersburg, 1912.
Urusov P.S. Life Guards Cuirassier Regiment in the Patriotic War of 1812. – St. Petersburg, 1912.
Fedorov V.P. Moscow during the Patriotic War. – M., 1911.
Fedorova O., Ushakov V. Field of Russian glory. – M., 1979.
Field Marshal Kutuzov. Documents, diaries, memories. – M., 1995.
Feng A. de. Records of the year one thousand eight hundred and twelve, serving the history of Emperor Napoleon. – St. Petersburg, 2017.
Kharkevich V.I. 1812 in diaries, notes and memoirs of contemporaries. Vol. I. – Vilna, 1900; Vol. II. – Vilna, 1903.
Kharkevich V.I. Barclay de Tolly during the Patriotic War after the connection of armies near Smolensk. – St. Petersburg, 1904.
TsGVIA. Op. 208a. St. 0. D. 10. Part 1. L. 60, 61
CIAM. F. 17. Op. 89. D. 11. L. 27 rev.
CIAM. F. 54. Op. 82. D. 43. L. 1.
Shilder N.K. Emperor Alexander the First. His life and reign. T. 3. – St. Petersburg, 1897.
Shishkov A.S. Notes (1780-1814) T. 1. – Berlin, 1870.
Shcherbachev Yu.N. Fragmentary notes and letters concerning the Patriotic War (from the papers of A.A. Shcherbinin). – M., 1913.