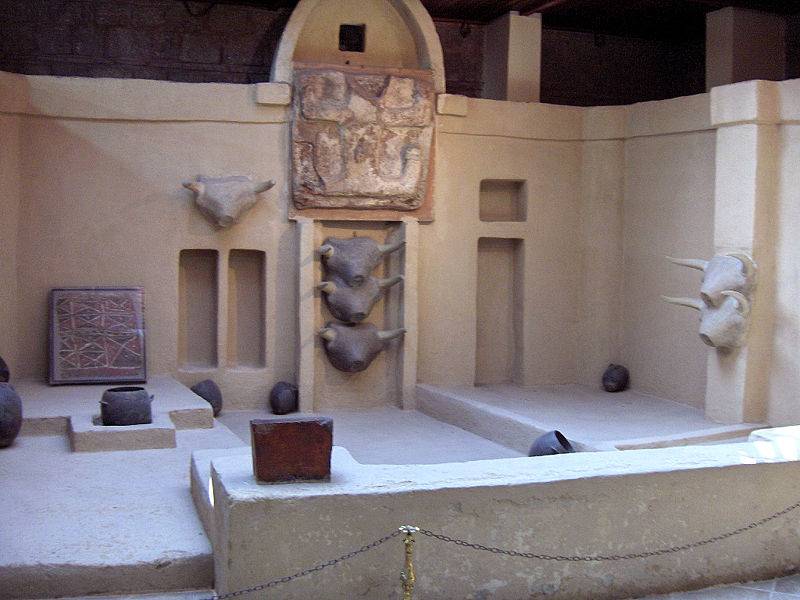 Reconstruction of a cult room from Çatalhöyük at the Museum of Anatolian Civilizations
The revolution has a beginning
There is no end to the revolution!
Yu. S. Kamenetsky (1967)
Migrants and migrations.
In the previous article, we talked about the so-called "agrarian revolution" in the life of our distant ancestors, who managed to domesticate many animals and plants that were useful to them and finally began to live a settled life. It is clear that not everyone and not everywhere immediately abandoned gathering and hunting, but there is no doubt that this happened in the area of ​​the "fertile crescent".
However, human life continued to develop and these are the changes that occurred in it after the domestication of animals and plants between the XNUMXth and XNUMXth millennia BC. e.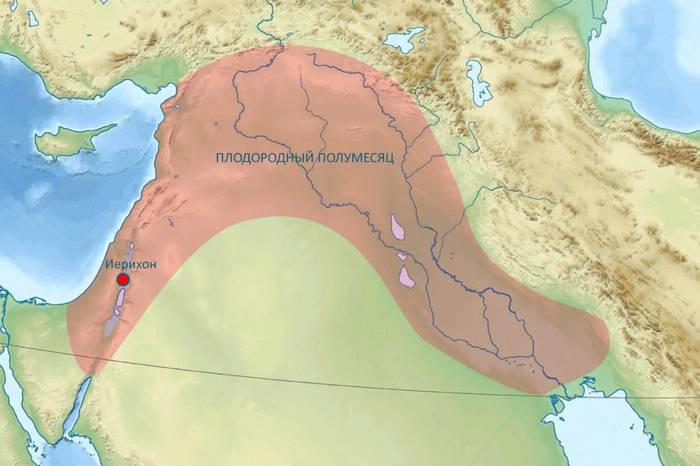 "The Holy Crescent" and the most ancient city in the world, Jericho!
Trinity of important changes
And changes in human life at this time occurred that were, in fact, extremely important. Three significant innovations entered the life of our ancestors: settled life, rural settlements and cities.
The transition to agriculture, which we discussed last time, is not without reason called the "Neolithic revolution," but archaeological data speak of a smooth change in methods of obtaining food that took millennia. That is, this change can be called a "revolution" only in relation to its exceptional significance.
In fact, it was a long and gradual process, much more consistent with evolution. But since they say so, we will not create new entities, but will only emphasize that the result of these "revolutionary-evolutionary" changes was a completely different world than the one that existed, let's say, directly in post-glacial times.
A sedentary person is a "believer"
It is interesting that now the first changes traced by archaeologists concern not food production at all, but social relations. There was a tendency to live in one place for a long time, to build durable structures, and along with all this, rituals began to develop - a powerful factor in the cohesion of society. Perhaps this "ritual revolution" was even more important than the economic progress traditionally associated with the advent of agriculture.
Well, what is the essence of this "revolution," someone may well ask, if certain rituals took place among the Neanderthals, and the anthropomorphic figurines of the "Mother Goddess" known to us are even many tens of thousands of years old? What new has already happened that makes it permissible to talk, again, about a "revolution"?
But here's what: if all the previous rituals were performed, they were, so to speak, "in the open air," whereas now in their settlements people began to build special religious buildings! Although not everywhere, which is still a difficult to explain mystery. We will, however, return to it a little later, but for now we need to once again pay attention to the role of the natural geographical factor in the development of human society.
Natural-geographical division of labor
The richest resources at that time were the banks of rivers and lakes. In addition, among the same floodplains of Southern Mesopotamia, where there is a lot of fish and aquatic game, the date palm grows in an excellent way.
And it is not surprising that the most ancient permanent settlements gravitated towards the junction of different habitats, which expanded the possibilities of exploiting the geographical environment. For example, the settlements of Abu Hureyra in the floodplain of the Euphrates and En-Mallah in the Jordan Valley were located next to dry steppes, which allowed cattle to graze there. In some settlements (say, Kermez-Dere), dwellings included ritual details, which apparently indicates the increasing role of family and property.
Anatolian peasants in the 9th millennium BC. e. (the settlements of Chayunyu, Nevali-Chori) also built religious buildings, and they also grew grain crops. In Hallan Chemi, Djerf el-Ahmar, and Nemrik, stone carving was practiced. Chayunyu has already learned how to process copper. Well, the oldest clay vessels are known to us from Mureybet on the Euphrates (000 BC) and Ganj Dar in the Zagros Mountains.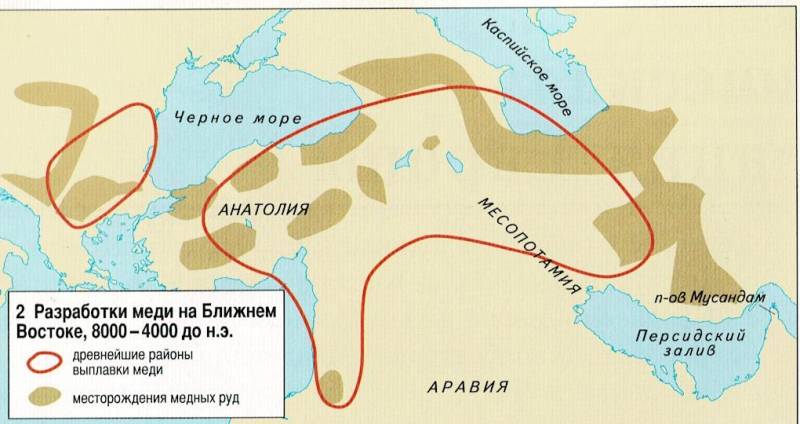 Middle East and ancient copper
Today there are different periodizations of this distant time, but one of the most acceptable is this:
12000–9000 BC e.
– Epipaleolithic (the more familiar name to us is Mesolithic, "Middle Stone Age") – the oldest long-term settlements.
9000–6500 BC e.
– Pre-ceramic Neolithic: the beginning of agricultural production, the emergence of rituals.
6500–5500 BC e.
– ceramic Neolithic (Hassoun, Samarra cultures): the emergence of crafts.
5500–4200 BC e.
– Chalcolithic – "Copper-Stone Age" (El-Ubeid period): the first regional centers and administrative structures.
4200–3100 BC e.
– Chalcolithic (Uruk period): growth of cities, emergence of writing.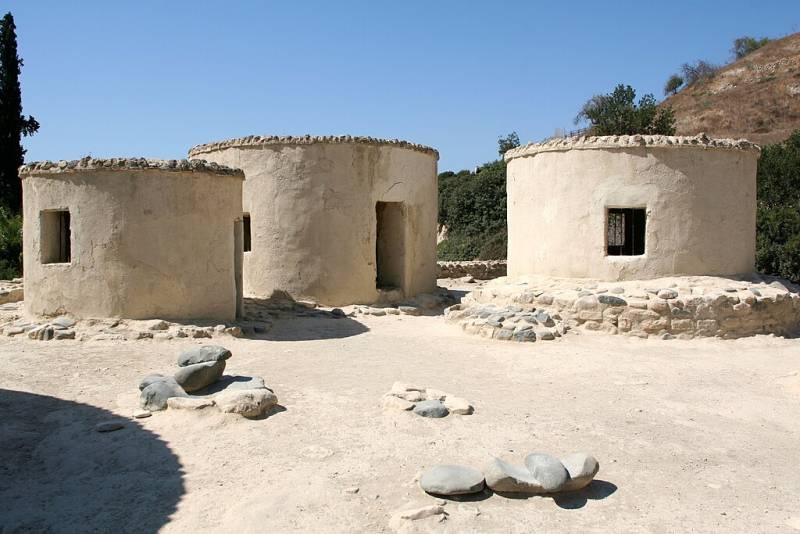 Reconstructed houses of Khirokitiya
Where did the old people go in Khirokitiya?
The most famous pre-Pottery Neolithic settlements include Jericho. Already in the 1,6th millennium BC. e. it occupied about XNUMX hectares. Unique were a moat carved into the rock and a stone wall with a huge cylindrical tower equipped with a spiral staircase inside.
A thousand years later, the villages of Basta and En-Ghazal in Jordan already occupied about 10 hectares of area. Their inhabitants kept human skulls with realistically sculpted faces, and many cult figurines were also excavated in En-Ghazal.
Khirokitaya, a village on the island of Cyprus, also belongs to the Pre-Pottery Neolithic settlements. There was a detailed article about him at VO, so it hardly makes sense to repeat its contents, but here's one interesting fact worth paying attention to.
So far, only 48 buildings of an unusual round shape have been excavated here. The strangest thing, however, was that the ancient inhabitants of this ancient "city" for some reason buried their dead under the floor of their homes. There is a ritual funeral rite and the presence of posthumous gifts. That is, a funeral cult.
And here's what's strange: there was a cult, but no religious buildings were found in the settlement. There are no burials of old people, although the inhabitants of Khirokitia - and this has been proven - lived in this place for more than a thousand years. There are a lot of children's burials, but where could the old people have gone?
The mystery of the stone plates
Another mystery of Khirokitia is its dishes. It is not ceramic, since it is from the pre-ceramic Neolithic era, but stone. And almost all of it is made of greenish-gray andesite, an extremely hard volcanic rock. By the way, the famous Vorontsov Palace in Crimea was also built from it. And everyone notes that this stone is extremely difficult to process even with iron tools.
Meanwhile, archaeologists have discovered round, rectangular, and oblong stone bowls here, up to 30 centimeters long. And this is how the ancient Khirokitians made them?
Moreover, they not only made them, but also mercilessly smashed them before placing the deceased in the grave! Where did they get obsidian for arrows if there is none on the island? Did you buy it from the Chatalhuyuk people, that is, sail across the sea for it?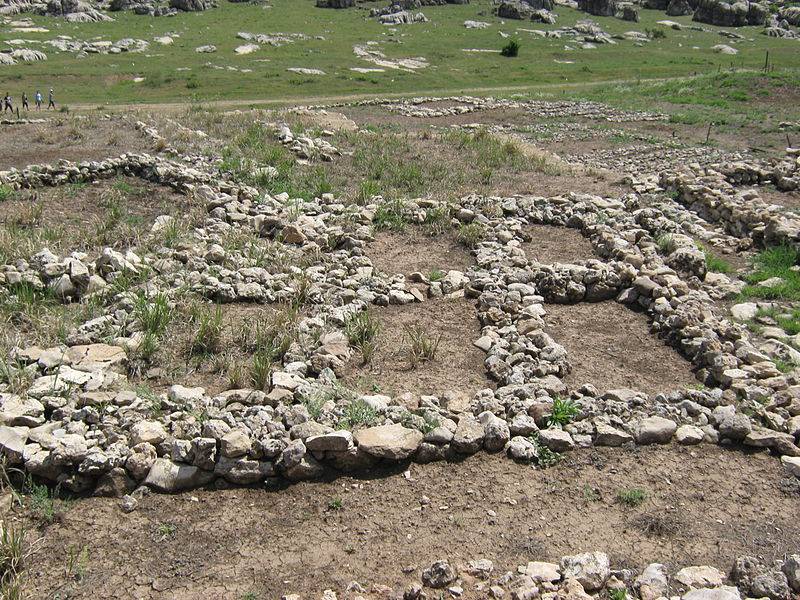 Excavations at Chayunya
By the way, what scientists still cannot explain is where the Khirokitians went in XNUMX BC. e. They settled here by the river, lived in this city for a thousand years, reached exceptional heights in the development of their stone culture, and then disappeared to an unknown location and why.
And then only fifteen hundred years later people came to this place again. Also belonging to the Neolithic culture, but with ceramic products painted in red and cream tones. And they no longer lived in round, but in rectangular houses.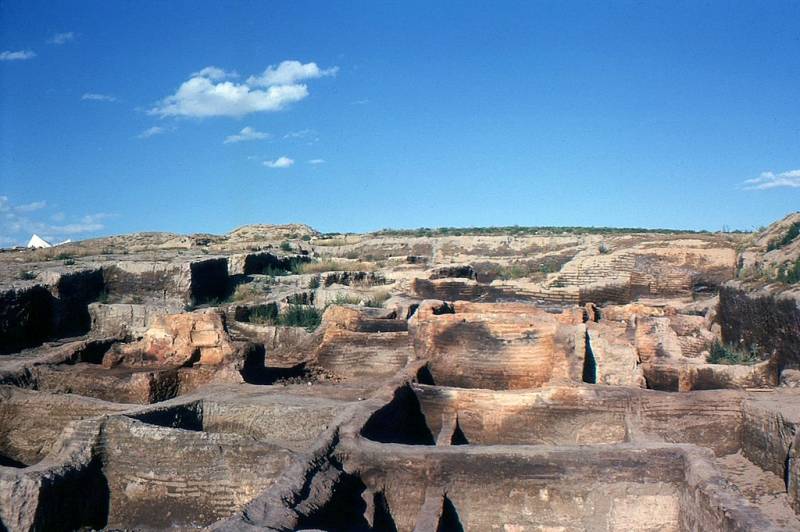 Panorama of the excavations of Çatalhöyük
The first industrial zones: ceramics and metal
And in the XNUMXth and XNUMXth millennia BC. e. large Neolithic settlements already covered the entire Middle East. Their economy was based on agriculture, cattle breeding and already very definitely developed crafts. For example, in Yarim Tepe in the XNUMXth millennium BC. e. they used lead and copper, there was its own "industrial zone" with two-tier kilns for firing pottery.
Painted pottery, often with a distinct local style, has been found in these villages. One of the oldest pottery centers is Çatalhöyük (13 hectares), the wealth of whose population is evidenced by the many decorations made of obsidian and semi-precious stones. The houses inside are decorated with wall paintings and skulls of wild aurochs. By the way, the residents of this settlement also buried their dead under the floor of their own homes!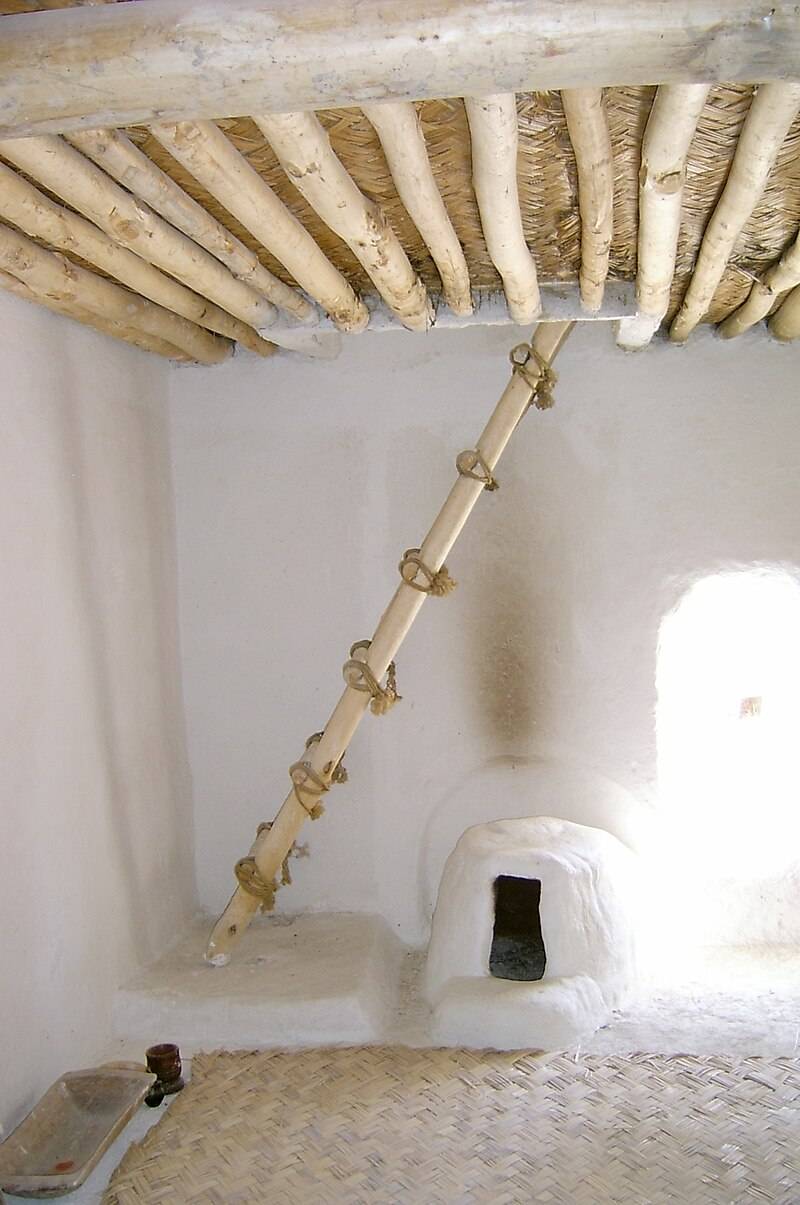 Reconstruction of a house from Çatalhöyük. Low platforms and a small storage room are visible
About recording debts and turning to God...
An important innovation for the Neolithic villages of northern Mesopotamia and Syria was the first accounting system using clay or stone tokens and personal seals (in Sabi Abyad in the Samarra period, in Arpaciya a little later). These simplest ways of certifying transactions and contracts formed the basis of urban written reporting.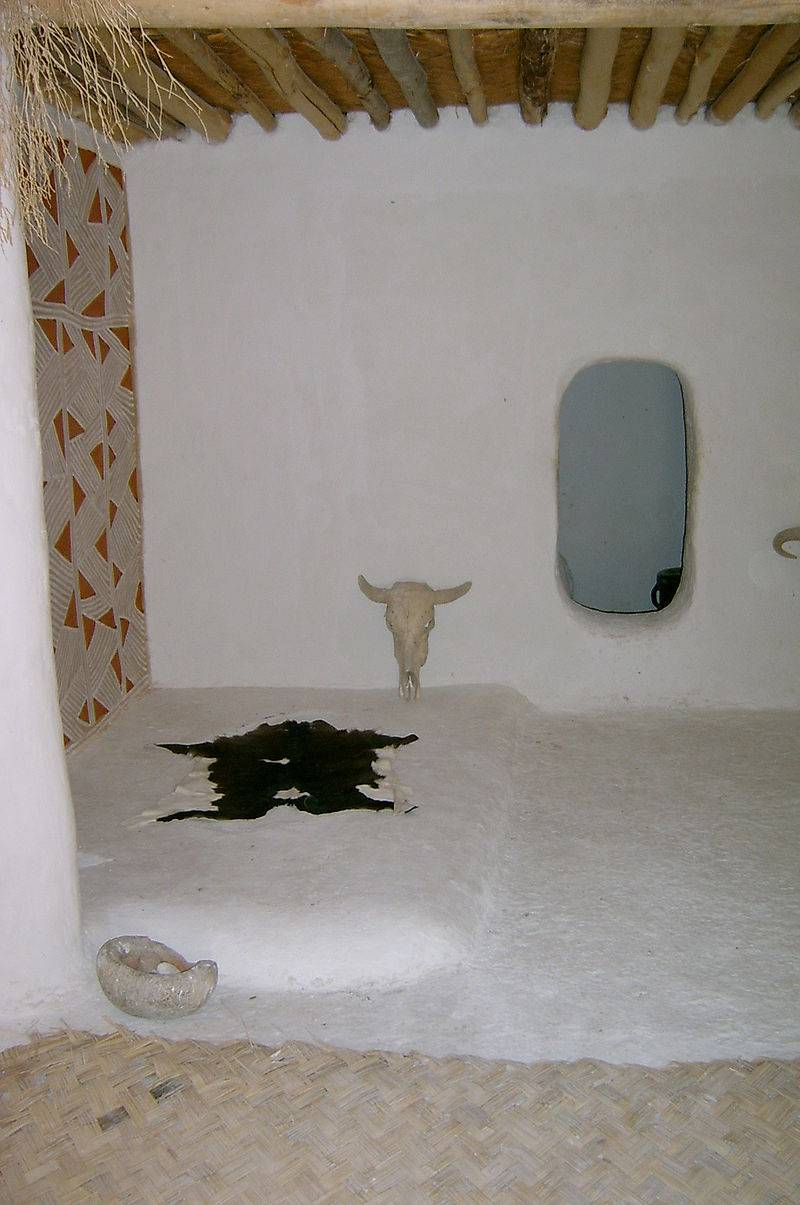 Inside a house in Çatalhöyük
There were no metals or gems in Mesopotamia. By the XNUMXth millennium BC. e. the need for luxury goods from them led to the creation of small colonies in Anatolia, reaching the plain of Malatya (Degirmentepe), and to the exploitation of the resources of the Persian Gulf (Dosaria, Abu Khamis) - up to the Musandam Peninsula.
At the same time, the first temples were built in the south of Mesopotamia, around which the most ancient city-states subsequently grew. In Eridu, the temple stood in one place for 3 years - a vivid example of following the traditions characteristic of the world's first civilizations, and the role of turning people to the gods (or to God), which was already firmly established in their lives at that time.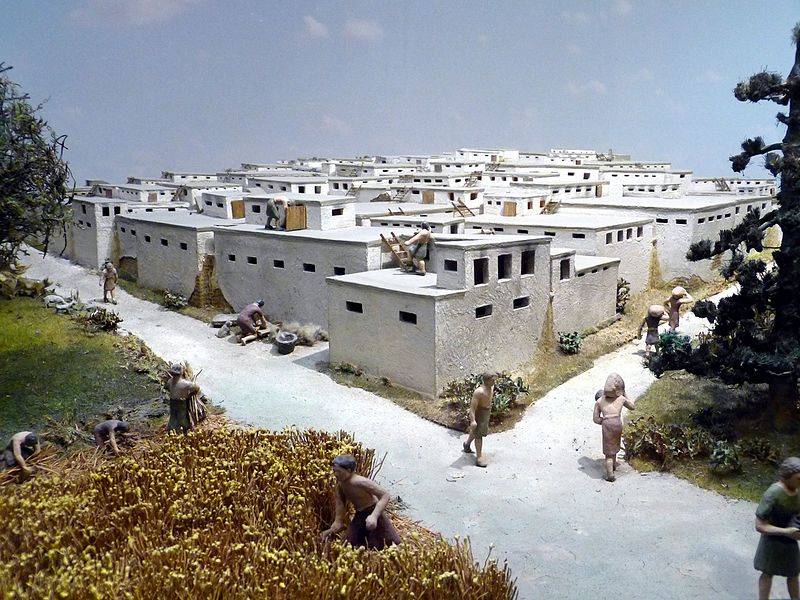 Model of Çatalhöyük from a museum in Weimar
Despite their early development, villages like Jericho and Çatalhöyük did not become centers of state entities. By the XNUMXth millennium BC. e. the foundations of urban civilization were laid in Mesopotamia. There, highly productive irrigated agriculture in the south and the strategically important location of places such as Nineveh in the north (the intersection of trade routes connecting raw material areas) created the economic and organizational prerequisites for the formation of the first states.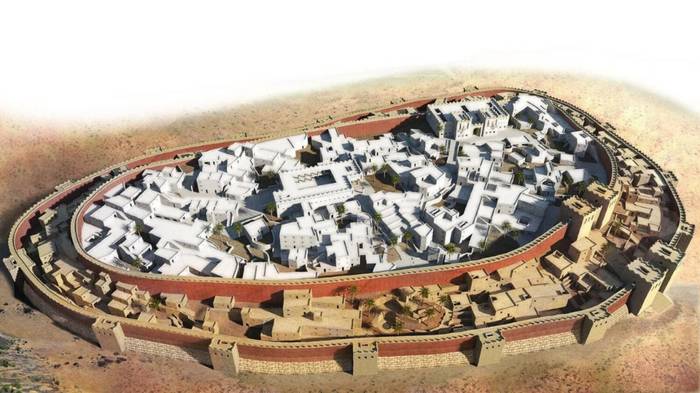 Historical reconstruction of the city of Jericho in the Late Bronze Age