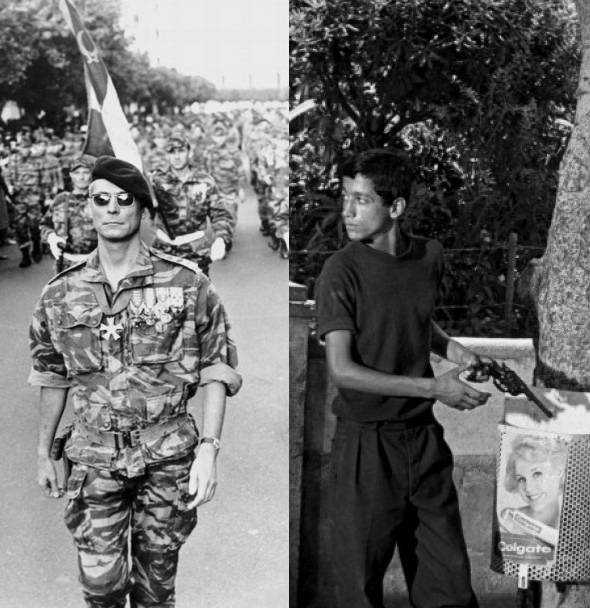 A collage from the frames of the movie "Battle for Algeria" made specifically for this article
Massive terrorist attacks by TNF militants in November 1956 - September 1957 received the unofficial name "Battle for the capital" ("Battle for Algeria"). At the beginning of 1957, there were an average of 4 terrorist attacks per day in this city, and they were directed not only against Europeans, but also against loyal compatriots.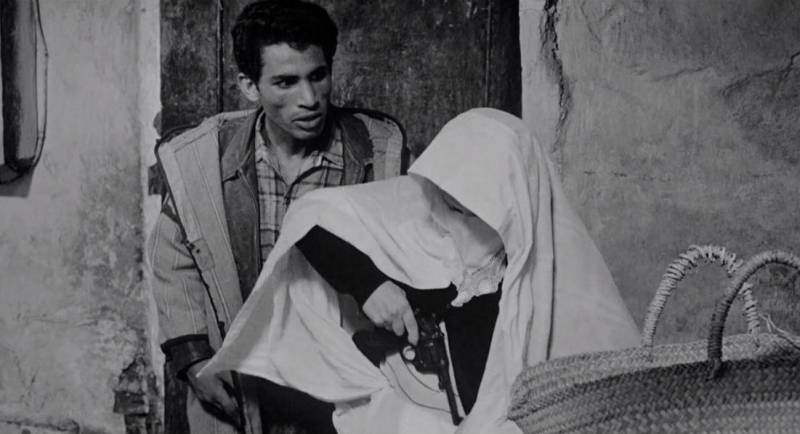 Scene from the film "Battle for Algeria"
Even worse was the situation outside the big cities, in the provinces. There, TNF militants killed entire families of local residents if they refused to pay tribute, worked for Europeans or received social assistance from them, smoked, drank alcohol, went to the cinema, kept dogs at home, sent children to schools opened by the French authorities.
Zygut Yousef, one of the field commanders of the TNF (second Wilaya), at the beginning of the war, said:
"The people are not on our side, so we need to force him. He must be forced to act in such a way that he moves to our camp ... The TNF wages war on two fronts: against the French authorities and against the Algerian people in order to make him see us as his representative. "
Algerian Rashid Abdelli later recalled:
"For us they were gangsters. We did not understand their ideas. We saw only what they were killing. In the morning you wake up and they say that at night your throat was cut to your neighbor. You ask yourself: why? Over time, we realized that we were killing good people. They wanted to destroy the teachers, the former military, those who had a good attitude towards France. "
Jacques Zeo, who served in the Algerian region of Kabilia in a combination of alpine shooters, recalled a village whose inhabitants refused to pay nationalists:
"28 women and 2 girls with TNF throats cut by fighters. Naked, completely naked, raped. Bruises everywhere, throat cut. "
By the way, "the cut throat in those days in Algeria was called the" Kabile smile ".
At the same time, TNF fighters were very jealous of other "independence fighters": they killed not only European settlers who collaborated with the authorities of fellow countrymen, Harki or captured soldiers of the French army, but also Berbers and Arabs who supported the so-called Algerian national movement or other anti-French groups successfully defeating them by the beginning of 1956.
The saddest thing is that over time, these acts of intimidation began to bear fruit. In 1960, one of the employees of the social assistance service told the commander of the First Parachute Regiment of the Legion, Eli Denois de Saint Marc:
"Muslims have begun to side with the TNF. They do not want to end their lives with a throat cut and a member in their mouth. They are afraid. "
From the French side, General Massou and his subordinates opposed the TNF militants.
Battle of Jacques Massoux for Algeria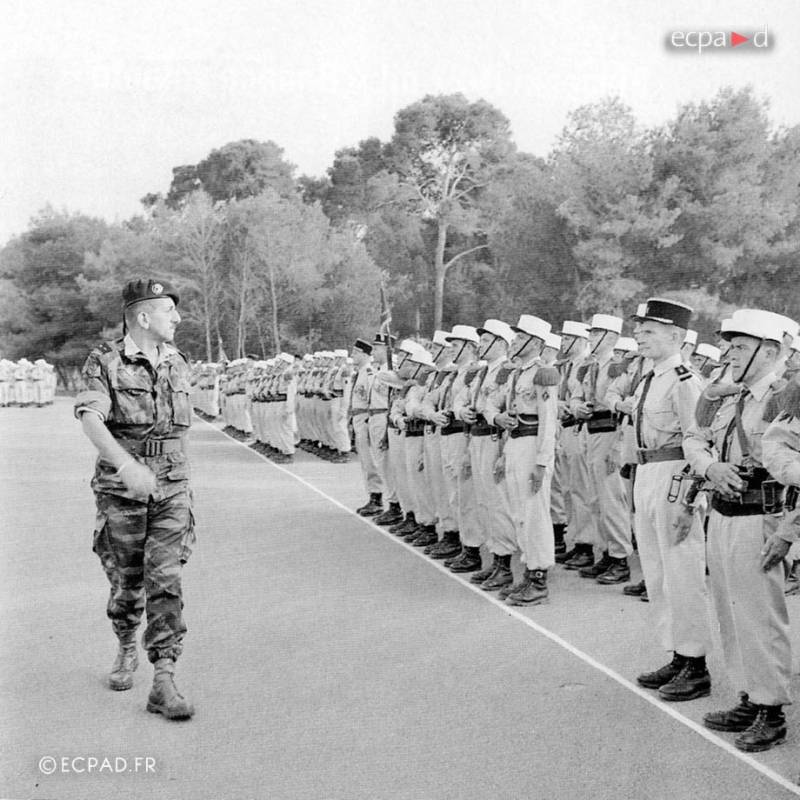 General Massu at Camp of Zeralda, Algeria, 1958
Jacques Massouux and his wife were staunch supporters of the idea of ​​the possibility of peaceful coexistence of the French and Arabs of Algeria. This family even adopted two Arab children, initially a 15-year-old girl, Malika from the Harki family (in 1958): her parents asked her to shelter, fearing for her life. Maliki's father was indeed killed by the nationalists immediately after the French troops left. And then the spouse Massu was adopted by the 6-year-old Rodolfo, who at the age of 6 was left without parents and lived at the barracks of the regiment, which lodged in Ouarsenis. In an interview with Le Monde in November 2000, Massou said:
"For me, he (Rodolfo) and Malika were an example of the fact that the integration, which I have always fought for, is possible, that this is not a chimera."
But some Arabs had a different opinion. At the same time, the old maid told the landlady of the villa on which the family of General Massou lived:
"It seems that soon all Europeans will be killed. Then we will take them home and their refrigerators. But I'll ask you to let me kill you myself, because I don't want you to suffer. I will do it quickly and well, I swear to you, for I love you. "
This can be found in the book by Jacques Massouux "La vraie bataille d'Alger" ("The Real Battle of Algeria").
On January 28, 1957, a week-long strike began in Algeria, which was supported by Arab "guest workers" in France: 30% of the personnel did not work at the Citroën factory, and 25% did at the Renault factory.
This situation had to be resolved by Jacques Massiu.
He himself recalled this in his already cited book La vraie bataille d'Alger:
"All large enterprises kept records of their employees, so it was not difficult to find out their addresses. Then everything happened according to a single scheme: several paratroopers jump into the truck and get to the right place ... In truth, not one striker went down the stairs on the fifth point, but there were few who really resisted: people were afraid to "lose face" in front of their wife children or neighbors. "
The shopkeepers, whom the paratroopers "escorted" to the shop door on the first day, were fully dressed and shaved the next day.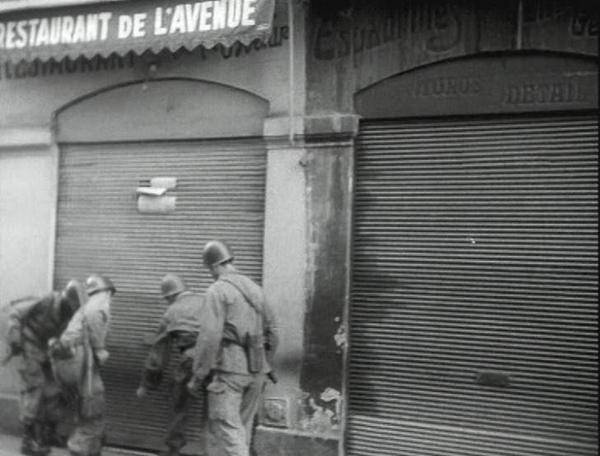 Skydivers open a restaurant in Algeria - both in the literal and figurative sense of the word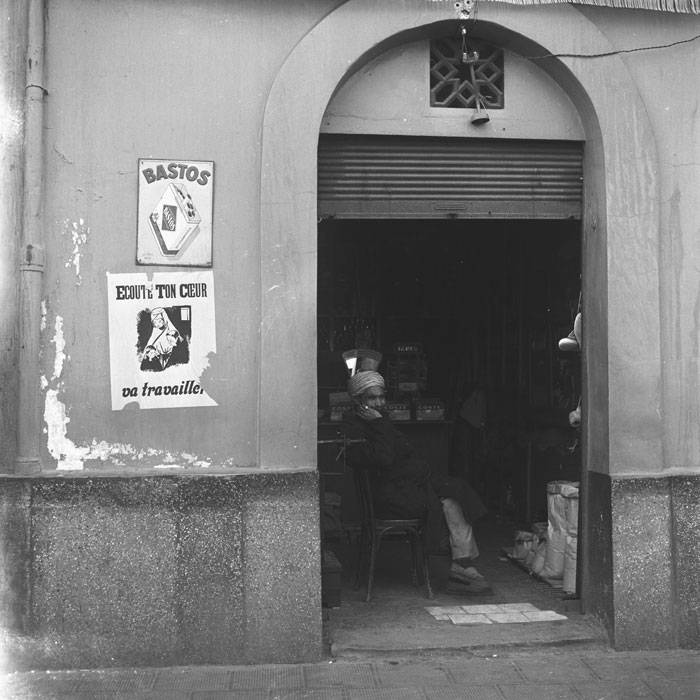 The city of Bon, on the wall there is a poster with the inscription: "Listen to your heart. Get to work. " January 30, 1957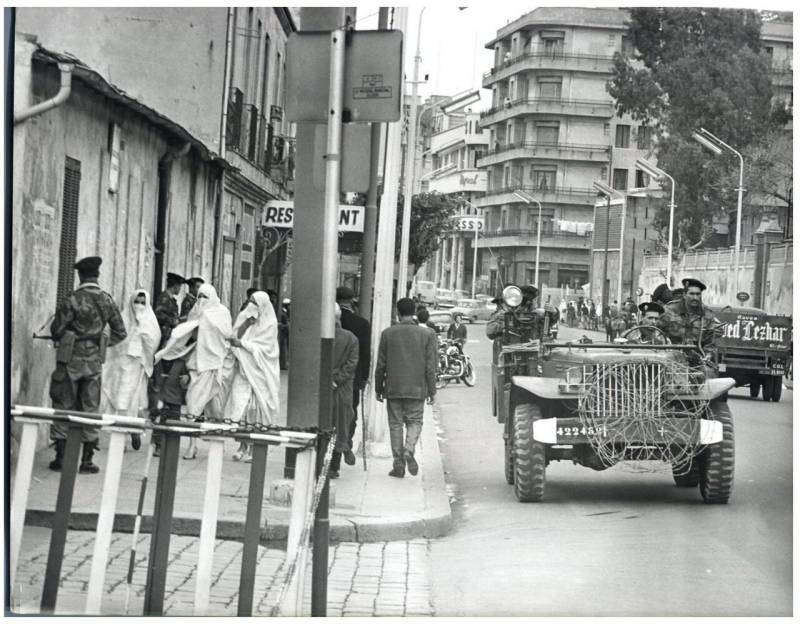 French patrol on Algeria street
According to Pierre Serjan (paratrooper of the First Regiment, commander of the OAS French division, war journalist, historian of the legion), children who did not go to school did the following: the 9th Zuava regiment's orchestra with music walked through the streets and squares of Kasba, for he was followed by soldiers distributing sweets to the children running up. When many children gathered around him, the commander of this regiment (Marey, he will soon die in battle on the road to the city of El Milia) through a loudspeaker in French and Arabic said that "tomorrow the soldiers will come for them, as today for their dads, so that lead to school. "
And here is the result:
"Tomorrow the zouaves and paratroopers combed the streets again. When they appeared, the doors opened and Fatm gave them their offspring, washed, shining like a copper penny, with a satchel behind. The guys smiled and held out their hands to the soldiers. "
The funniest thing was that the soldiers that day brought "extra" children to schools that were not in schools, who also had to leave: the zoavs and paratroopers took them home after the end of classes - at 16 p.m. not lost).
And here is the dynamics of school attendance by Algerian children: February 1 (the day of the "concert" of the Zouaves) - 70 people, February 15 - 8, April 000 - 1.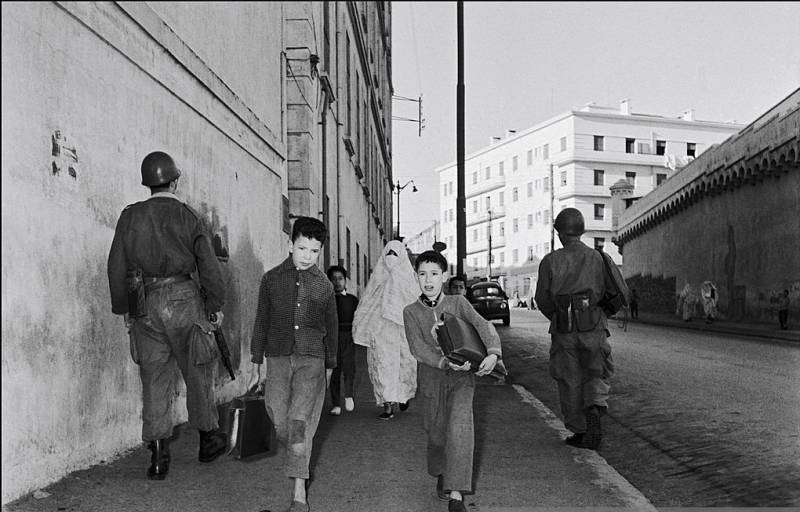 Algerian children go to school
Another participant in these events, Major Ossares, in the book Services spéciaux. Algérie 1955-1957 "(" Special Services. Algeria 1955-1957 ") reports of such a tragic incident in the officer's canteen:
"The waiter walked between the tables with a narcissistic look.
"So what is this mess?" What are you waiting for? Will you serve us?
- I'm on strike.
- What?
The dining room suddenly became very quiet.
"I told you that I'm on strike and that I won't serve you." If you are unhappy, I do not care.
I jumped up. The waiter continued to brazenly look at me. Then I gave him a slap in the face. He and his colleagues immediately set to work. "
For the garbage collection in the streets, Massu ordered to attract idly staggering Algerians, but not all, but only very well and decently dressed.
The strike, as we recall, began on January 28, and on the 29th the Algerian boy came to one of the police stations and asked the soldiers to come for his father:
"He needs to work. We don't have money for food. "
The wife of a certain Abdenum Keladi asked for the same thing - and for this she was killed by her husband.
In general, the strike failed - already on the second day, some Algerians independently, without any coercion, came to work. On January 31, only a few did not go to work. The French captain Bergot then tried to find out the reasons why the Algerians generally went on this strike. The standard answer was this:
"Those who say no to TNF end badly."
An instructive story about Jamil Buhired, Yassef Saadi and captain Jean Graziani
Since November 1956, the leaders of the TNF have switched to a new tactic - more and more explosions began to occur in crowded places, where French soldiers rarely visited, but there were many women and children. To carry out such attacks, young Muslim girls were used, who did bright makeup, put on European clothes and, without causing any suspicion, left bags with explosives at bus stops, in street cafes or in bars on the beach, and they left (i.e. they were not martyrs).
Remember the poster from the last article with the caption: "Aren't you beauties? Take off your veils! "?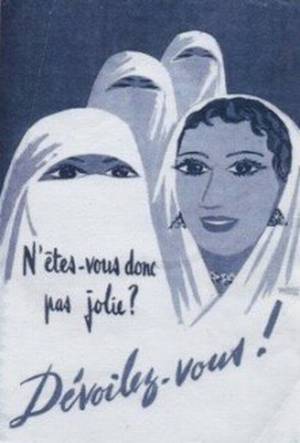 Please removed: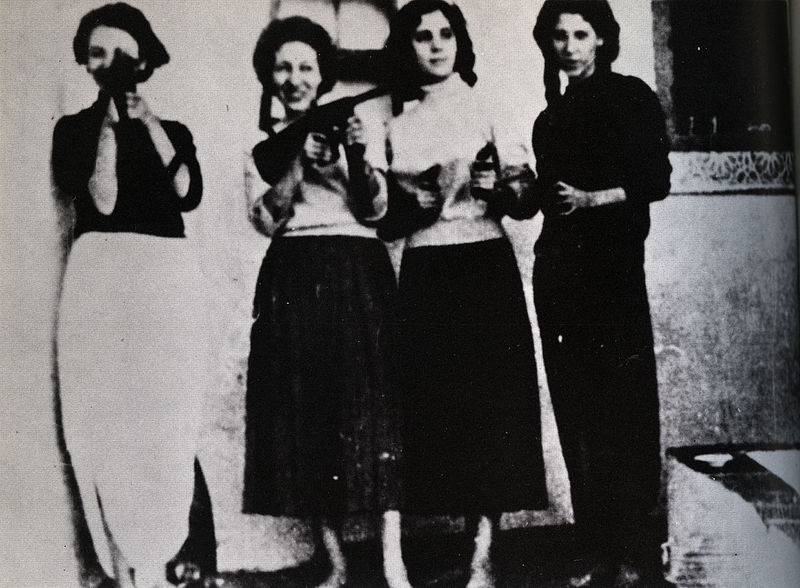 Les poseuses de bombes: Samia Lakhdari, Zohra Drif, Djamila Bouhired, Hassiba Bent-Bouali (1956)
And really, beauties. Our "heroine" is the second on the right, with bombs in her hands.
Many of these cheerful "patriots" made more than one "walk" and each one had their own cemetery, on which not European legionnaires or zouaves were buried, but European neighbors, whose grandfathers and great-grandfathers considered Algeria to be their homeland, as well as their children.
Shot from the film "The Battle of Algeria". A terrorist leaves a bag with a bomb in a cafe: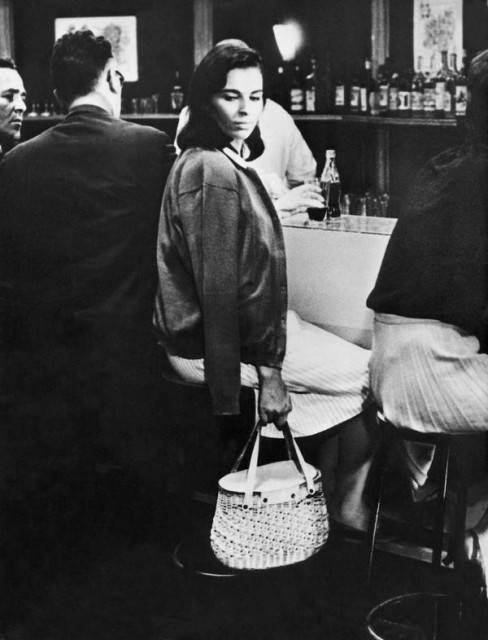 Jean-Claude Kessler recalled one of these attacks:
"On this day, I patrolled the city in order to restore order in the sector near Isli Street. At 18.30 we heard a terrible explosion, from which the earth trembled. We immediately rushed there: a huge bomb exploded on Bujo Square in the Milk Bar. Its name itself testified to the fact that alcoholic drinks were not served here, it was a favorite place of the surrounding mothers and their children ...
Everywhere there were children's bodies, poorly distinguishable due to smoke ... I wanted to howl at the sight of distorted children's bodies, the hall was filled with screams and groans. "
And here is the cover of the newspaper reporting the attack, which Kessler talks about: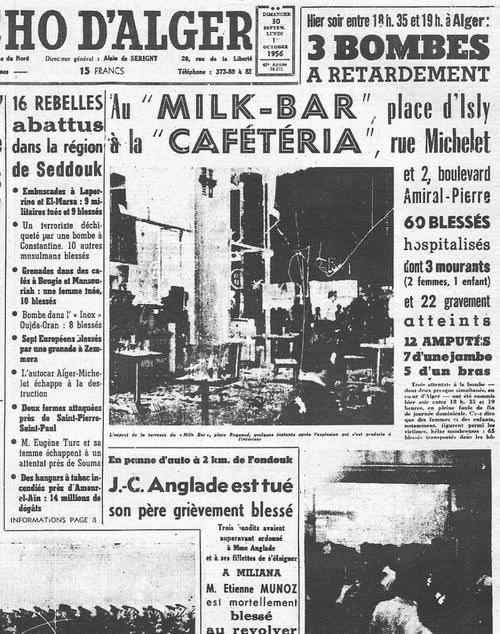 Larbi Ben Mkhaydi, one of the top leaders of the TNF, captured by the soldiers of Bijar, when asked if he was ashamed to send Arab girls to blow up innocent women and children in a cafe, answered with a grin:
"Give me your planes, and I will give you their bags of explosives."
On April 8, 1957, a Zouave patrol detained Djamila Bouhired, who was carrying explosives in a beach bag. Yasef Saadi, who controlled her movement, tried to shoot the girl, but Jamilya survived and, indeed, as Saadi was afraid, betrayed many accomplices.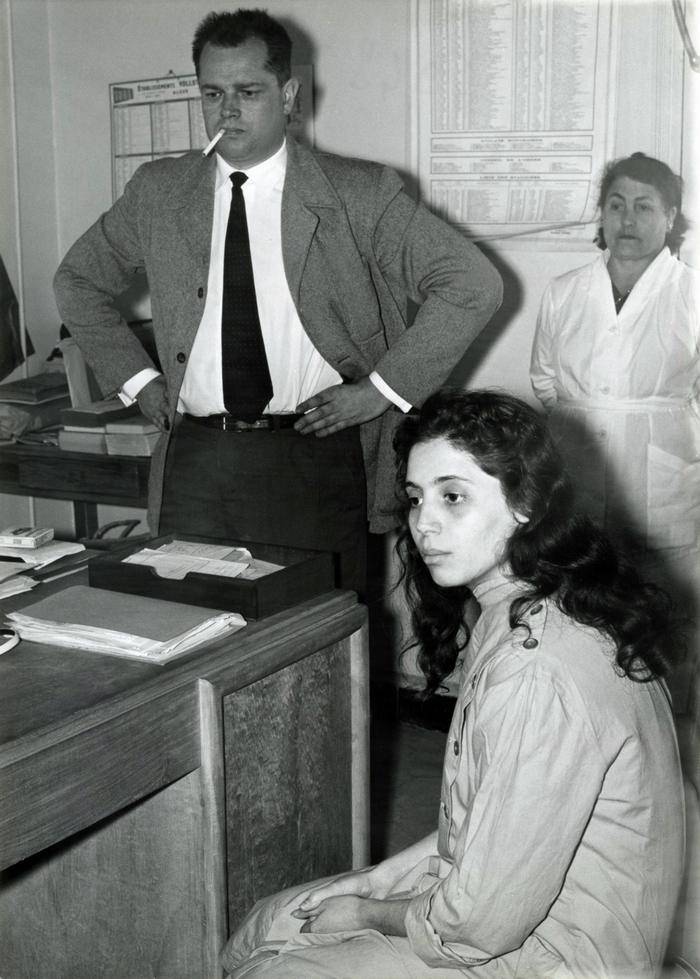 Jamilya Buhired, 1957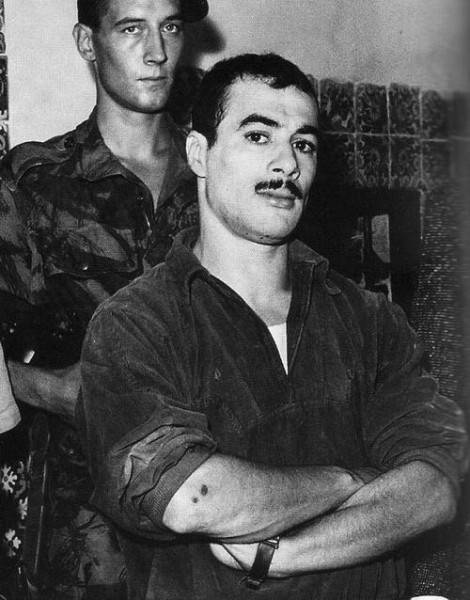 Yasef Saadi, September 25, 1957
Liberals and "human rights defenders" in France and in other countries, of course, came out in defense of the failed terrorist, accusing security officials of torture, bullying, and even abuse of the "unfortunate and defenseless girl."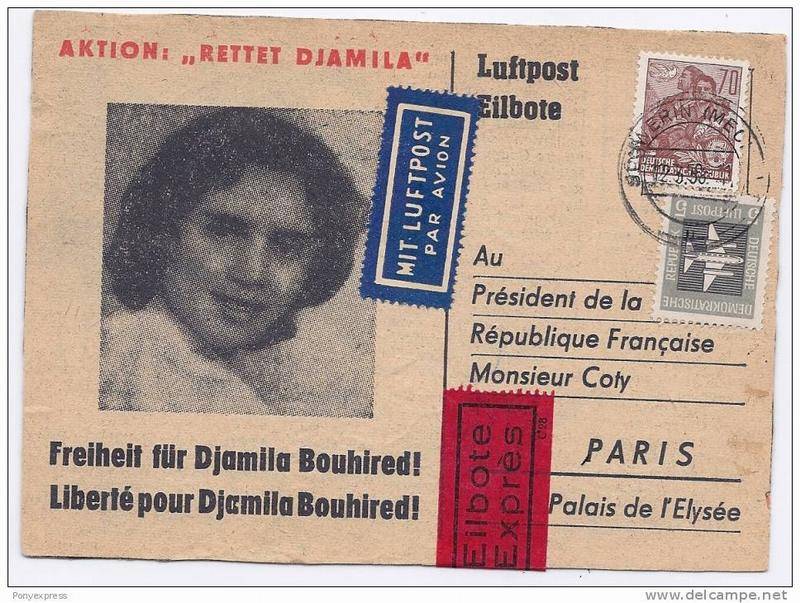 Postcard "Freedom Jamile Buhired", GDR
But it was not so at all.
At the request of General Massu's wife (recall, she was an ardent supporter of the idea of ​​peaceful coexistence of the French and Arabs in Algeria), the hereditary "black-footed" - 31-year-old captain Jean Graziani, whom we first met in the article, began to work with Jamil
"Foreign Legion Against Vietnam and the Dienbienfu Catastrophe"
.
As you can guess by last name, the ancestors of Graziani were not French, but Corsicans. He fought since 1942, when at the age of 16 he became part of the American army, then he was a paratrooper of the 3rd regiment of the British SAS (which was commanded by Pierre Chateau-Jobert, we talked about him when we talked about the Suez crisis). Finally, Graziani became a soldier of Free France. Since 1947 he served in Vietnam, in 1950 was captured wounded during the battle of Khao Bang and was released only after 4 years. From Indochina, Graziani went to Morocco. Looking around a little, he, on his own initiative, blew up two headquarters of the local Communist Party one after another. His commander, Colonel Romen-Defoss, stunned by such official zeal of his subordinate, almost with kicks sent him to Algeria. Here Graziani met with General Massiu, who decided that such an initiative and active officer was the place in intelligence. So this young veteran of World War II and Indochina ended up in the 2nd bureau of the Tenth Parachute Division, where Major Le Mir became its direct chief.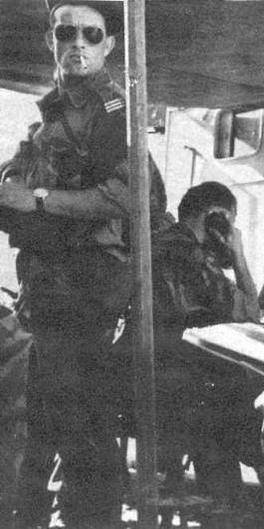 Captain Jean Graziani, Algeria, 1957
Jean Graziani later recalled:
"Are they accusing me of torturing her?" Poor girl! I know why she was so attached to this idea of ​​torture. The truth is simple and pathetic: Jamilya Buhired started talking after a couple of slaps in the face, then continued out of vanity, out of a desire to give herself meaning. She even laid out to me what I did not ask. Jamilya Buhired, whom Jeanne d'Arc of the rebels want to do, issued her entire organization at the first interrogation. If we were able to cover a network of bomb makers, it was only thanks to her. A couple of slaps in the face, and she laid it out, heroine. Torture, I know what it is. I was a captive of Vietnam for four years. "
Recall that at the time of release from the Vietnamese captivity, Jean Graziani weighed 40 kg, such as he was called the "detachment of the living dead." The reason for the slaps in the face of the arrested terrorist was her defiantly impudent behavior and rudeness at the first interrogation: the combat officer who had passed through fire and water "fell through" and guessed with arguments. Jamili no longer needed the "stick", and Graziani used only "gingerbread" later on: he bought her dresses, jewelry and sweets, drove him to the officer's dining room, and the girl wrote him love letters that he read to his colleagues. Moreover, he began to patronize Jamili's younger brother, who now lived in the 10th division, receiving gifts from both Graziani and other officers. An underground terrorist organization that was defeated thanks to Jamily's "assistance" was called the Kasbah.
We continue to quote Graziani:
"Once I told her:
"Jamilya, I like you, but I will do my best to be guillotined, for I do not like those who carry bombs, who kill innocents."
She laughed:
"My captain, I will be sentenced to death, but not guillotined, because the French do not guillotine women. Since after 5 years we will win the war, both military and political, my people will set me free and I will become a national heroine."
Everything turned out exactly as Jamilya Bukhired said: she was sentenced to death, but not executed. In 1962, she was released and headed the Union of Women of Algeria.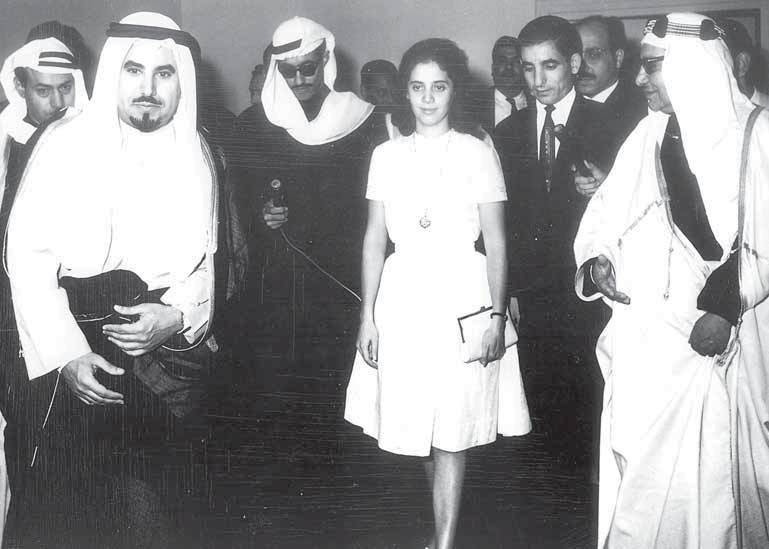 Jamilya Buhired is a folk heroine, as she herself predicted
She married her lawyer (who had previously defended the Nazi criminal Klaus Barbier), later worked in the African Revolution magazine.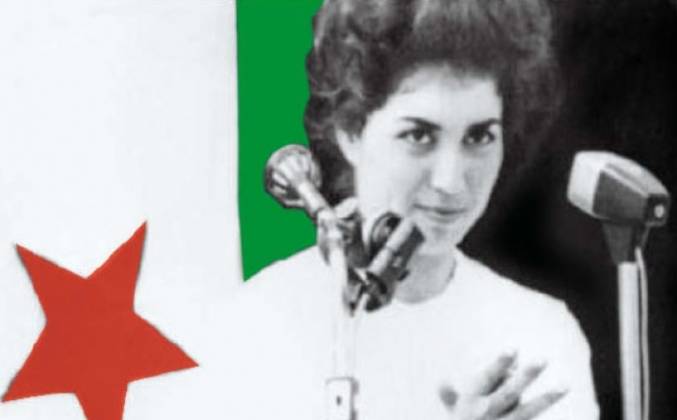 Currently, this naive fool, who failed the task and was nearly killed by her own commander, who fell in love with her jailer and who betrayed all her associates to him, is often included among the 10 outstanding Arab women who had the greatest influence on the world
history
.
Yasef Saadi, who sent Jamil to kill women and children and shot at her after his arrest, was arrested on the night of September 23-24. This operation was carried out by paratroopers of the 2nd company of the First Regiment of the Legion, headed by Jeanpierre himself (regiment commander), who was wounded in a shootout - he was a desperate man and a real military commander, he didn't hide behind his subordinates, so the soldiers loved him so. We talked about Janpierre in an article
"Foreign Legion Against Vietnam and the Dienbienfu Catastrophe"
and continue the story about him in the next.
During interrogation, Saadi called himself a baker from Algeria for 29 years and a Frenchman (!) By nationality.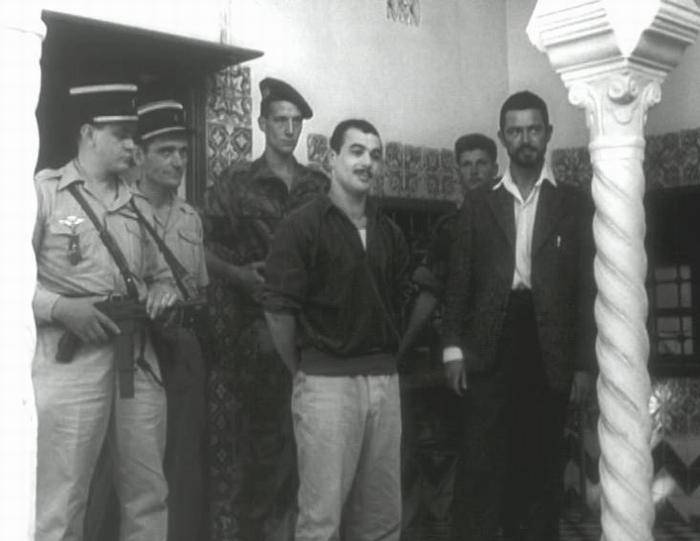 Arrested Yasef Saadi
It was Saadi who betrayed Ali Ammar, better known as Ali la Poin, a former petty criminal (he spent 2 years in an Algerian prison), who became a prominent "revolutionary" who was executed on October 8, 1957. Ali Ammar was called the "main killer of the TNF," after his arrest, the number of terrorist attacks immediately declined.
Ali Ammar (Ali la Pointe)
Apparently, for "cooperation with the investigation" Saadi was pardoned by de Gaulle who came to power in 1958.
In 1962, Yasef Saadi wrote memoirs about his "struggle for the independence of Algeria", where, apparently fearing lawsuits, he gave other recognizable characters other names and surnames - for example, he called himself Jafar. In 1966, his book was filmed by the Italian director Gillo Pontecorvo: Saadi played himself (Jafar), and Ennio Morricone wrote the music for the film.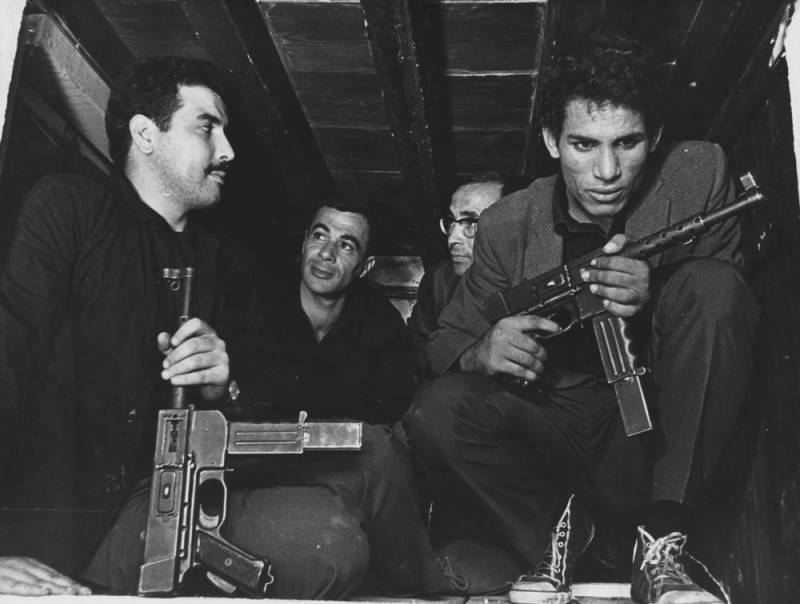 Scene from the film "Battle for Algeria"
In the same 1966, the film "Battle for Algeria" received the main prize of the Venice Film Festival.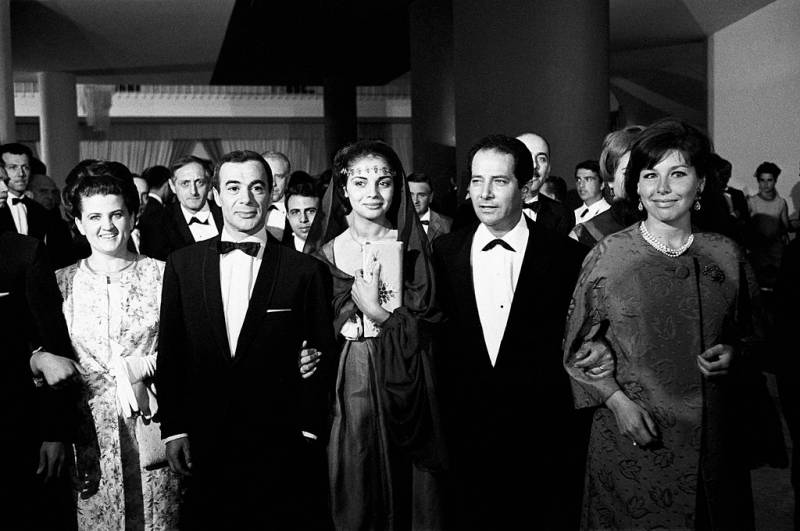 Yasef Saadi and Gillo Pontecorvo at the 27th Venice Film Festival. Between them - the wife of Pontecorvo Picchi, who holds the hand of not the husband, but the former terrorist, apparently considering him the "main star" of this shot
Issued by Saadi Ali Ammar also became the hero of this film - a character named Brahim Haggiag: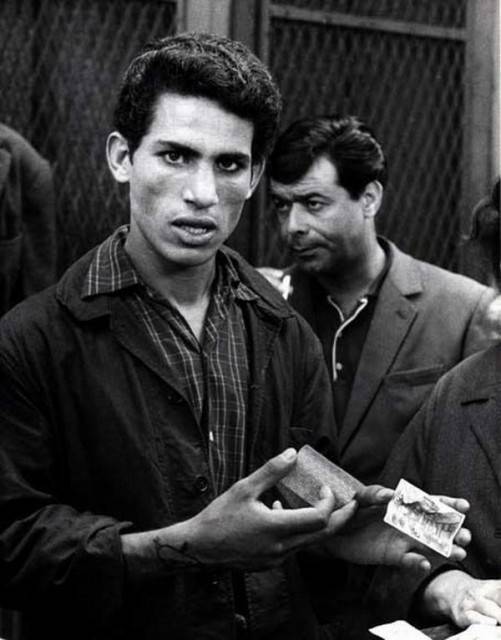 Brahim Hagiag in the movie "Battle for Algeria"
And this is another hero of the film "Battle for Algeria": Lt. Col. Mathieu. Its prototype was our old friend - Marcel Bijard: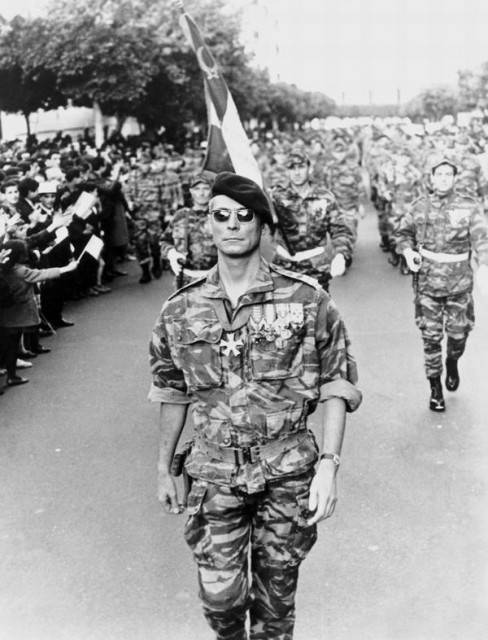 I must say that the film turned out to be very tough and not one of the sides is idealized in it. It is shown how an Arab boy shoots at a policeman and police protect another Algerian teenager from the crowd who wants to kill him. In this film, paratroopers torture TNF fighters - and they also distribute bread in the Arab neighborhoods.
Images from the film "Battle for Algeria":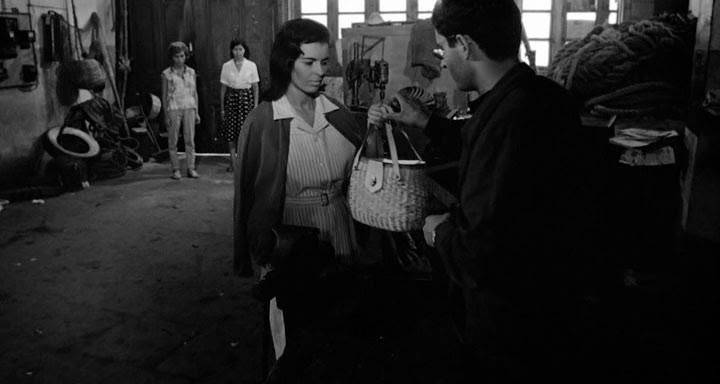 Three European-dressed terrorists of the National Liberation Front receive beach bags with explosives - exactly the same as those carried by Jamilya Buhired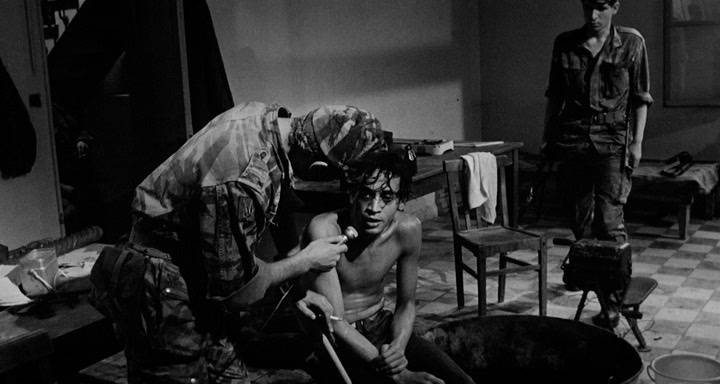 Paratroopers Jacques Massoux are investigating another terrorist act
Since Pontecorvo began as a documentary filmmaker, his film turned out to be incredibly realistic - so much so that, as they say, both the Red Army and Black Panther terrorists and the Pentagon staff used it as a teaching aid. For some time he was banned from showing in France.
Here's how the TNF militant attacks on French soldiers are shown in this film. A group of women goes to patrol the paratroopers: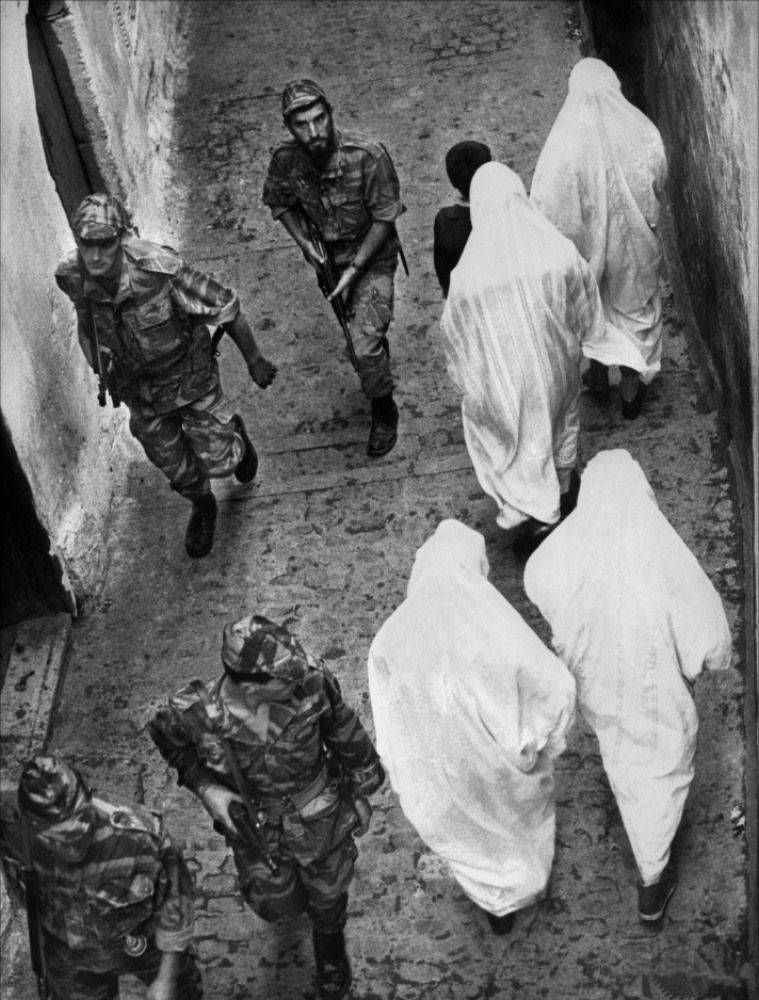 And suddenly: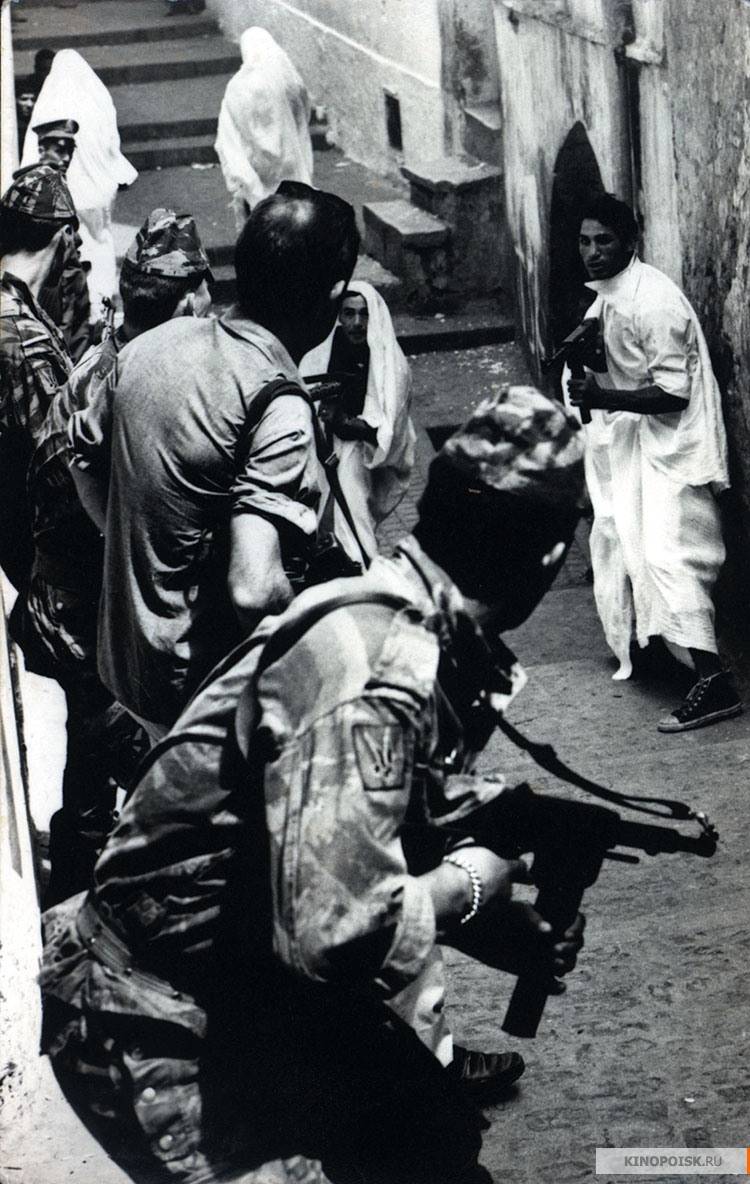 And here is the result: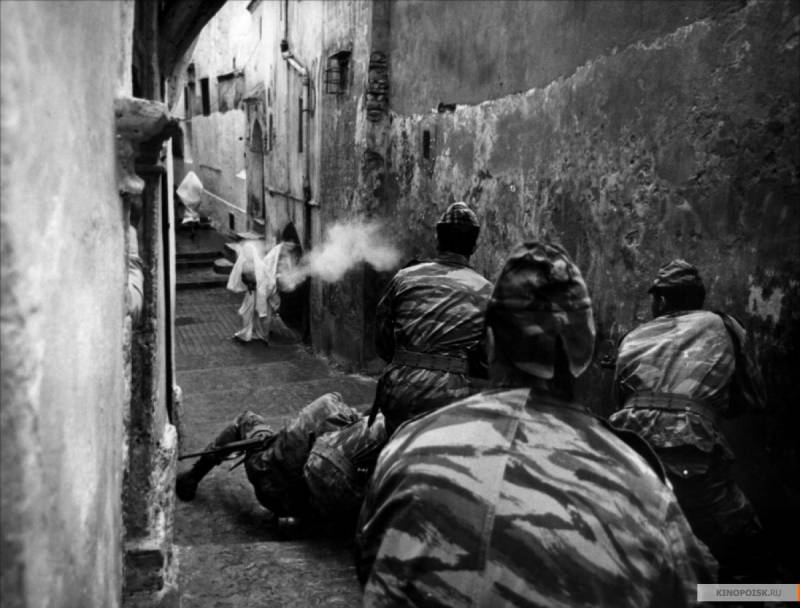 But what about our French?
In July 1958, Captain Jean Graziani left the reconnaissance army, becoming the commander of a company of colonial paratroopers and already in October was wounded in the chest in a battle with TNF militants. He remained in service and died in another clash with them on January 6, 1959, before he reached the age of 33.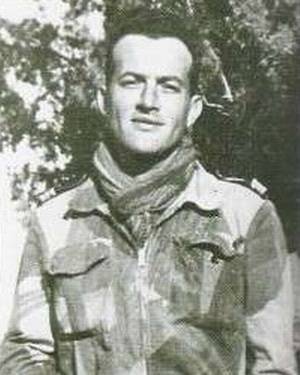 Jean Graziani
France paid off its relatives Graziani posthumously conferring on him the rank of officer of the Legion of Honor.
Now about Jean Graziani in Algeria is remembered only as a jailer of the "heroic" Buhired, few people remember him in France.
Participating in the arrest of Yasef, Saadi Janpierre died before Graziani, in May 1958, but we will not run ahead. We will talk a little more about him in the next article, which will tell about the famous commanders of the French Foreign Legion who took part in the Algerian war.
In preparing the article, the materials of the blog of Urzova Ekaterina were used:
About TNF atrocities:
https://catherine-catty.livejournal.com/270597.html
On the fight against the general strike:
https://catherine-catty.livejournal.com/311957.html
https://catherine-catty.livejournal.com/264684.html
About General Massiu (by tag):
https://catherine-catty.livejournal.com/tag/%D0%9C%D0%B0%D1%81%D1%81%D1%8E%20%D0%96%D0%B0%D0%BA
About Captain Graziania, Jamil Buhired and Yassef Saadi:
https://catherine-catty.livejournal.com/248037.html
https://catherine-catty.livejournal.com/309806.html
https://catherine-catty.livejournal.com/396960.html
Also in the article, quotes from French sources translated by Catherine Urzova were used.
Some of the photos were taken from the same blog, including pictures of the author.