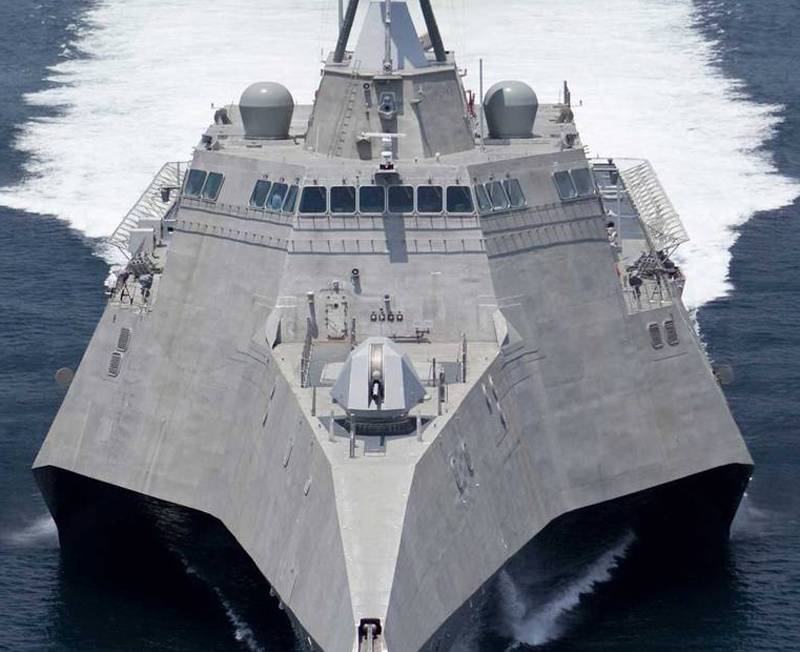 In the photo 57-mm naval artillery installation Mk. 110 company BAE Systems. The company believes that ship guns are becoming increasingly popular in modern warfare, and at the same time there is a growing need for systems that can deal with a variety of goals.
The guns for several centuries have been a key component of the fighting at sea. And today, their importance is still high, and in connection with technological progress and lower operating costs, ship artillery systems are attracting more and more interest.
Shipboard artillery systems vary quite a lot: from 7,62-mm or 12,7-mm machine guns, such as in the OTO Melara / Finmeccanica Hitrole Light installation (now Leonardo-Finmeccanica; from January 1, 2017 was just Leonardo), the family of near Raytheon Phalanx or Thales Goalkeeper, and ending with the 155-mm advanced artillery system from BAE Systems Advanced Gun System, installed on new American Zamvolt class destroyers. On this broad field, a number of new trends are emerging, new technologies are developing in the form of rail guns and lasers that can completely change the concept of ship artillery. "But today, guns have many advantages and over the next fifty years, their potential will allow them to strengthen their positions that they have gained over the past several generations," said Eric Wertheim, an expert on naval weapons at the US Navy Institute. "They can play a very important role."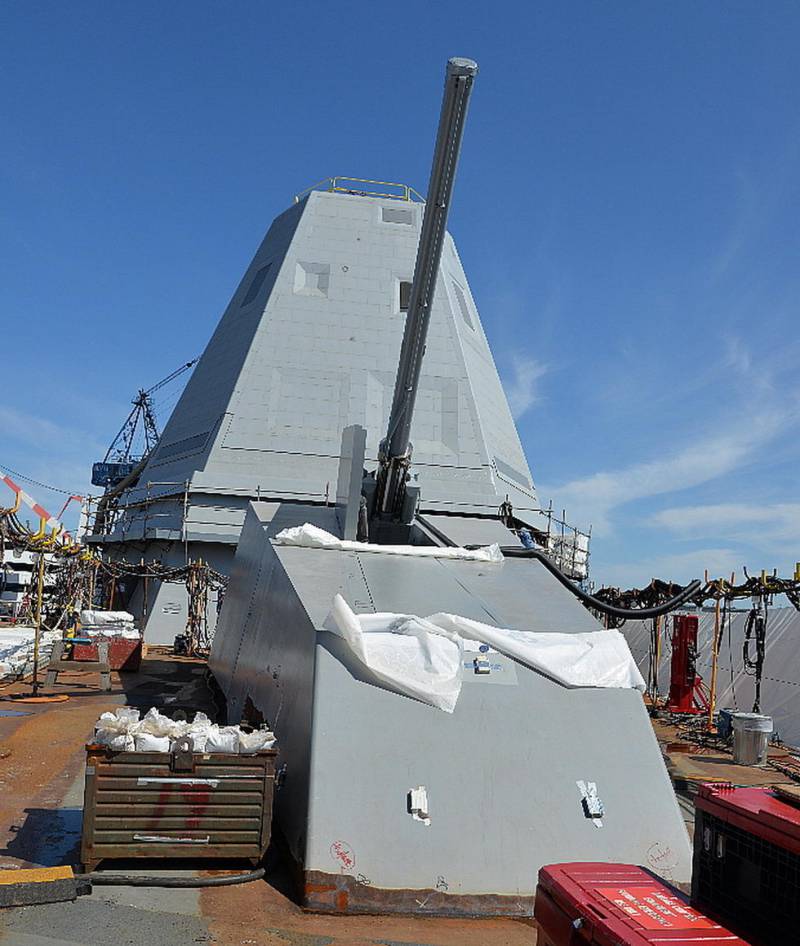 155-mm Advanced Gun System gun mount installed on new American Zamvolt class destroyers
The German company Rheinmetall specializes in small calibers, from 20 mm to 35 mm. In its portfolio, it has two main systems of the 20 mm caliber: the manual installation of the Oerlikon GAM-B01 20 mm and the new product, the remote-controlled Oerlikon Searanger 20 gun. In addition, in the 35 mm category, the company offers the Oerlikon Millennium Gun. Vice President of Rheinmetall Craig McLaughlin said that the basic concept of naval guns remained almost the same as a hundred years ago. "The technology of a typical cannon with a projectile in the barrel ... it's hard to do something better, and indeed some of the old projects are as good today as they were when they were created ... I don't think we will see in the future new players creating new weapon systems, because the infrastructure and experience you need for this are few companies capable of creating something worthwhile, and if you just want to develop new guns, then it is in fact not economically viable. " However, Mr. Maklokhlin noted that there are a number of related areas, supply systems, optics, electronics, mechanics, hydraulics, ammunition, in which progress moves by leaps and bounds. For example, Rheinmetall supplies propellants to ammunition manufacturers throughout Europe and considers this a promising area for future innovations. He also noted continuous progress in stabilization and guidance systems. "The best gun in the world is useless if you have a not very good aiming system."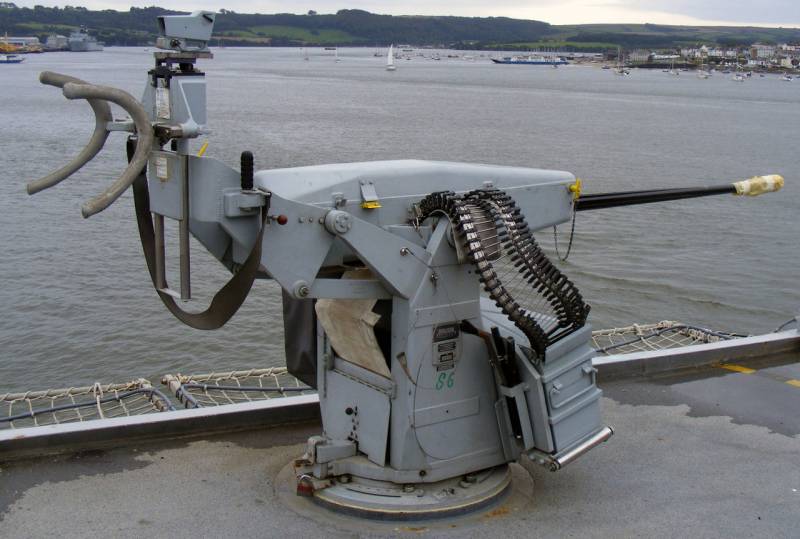 20-mm installation Oerlikon Searanger German company Rheinmetall
Business Development Director at BAE Systems, John Perry, agreed with McLaughlin, saying that "although the fundamentals, such as how a gun works and how it looks, have not changed over the years, the technologies inside the gun and shells have undergone great changes." BAF Systems manufactures a wide range of naval installations and ammunition for them, from 25-mm to the above-mentioned Advanced Gun System, which fires with a long-range Long Range Land Attack Projectile high-precision projectile. In addition, its 40-mm Mk.4 and 57-mm Mk.3 shipboard installations are installed on corvettes and coastal patrol vessels, and its portfolio also includes the 25-mm installation Mk.38 and 127-mm installation Mk.45.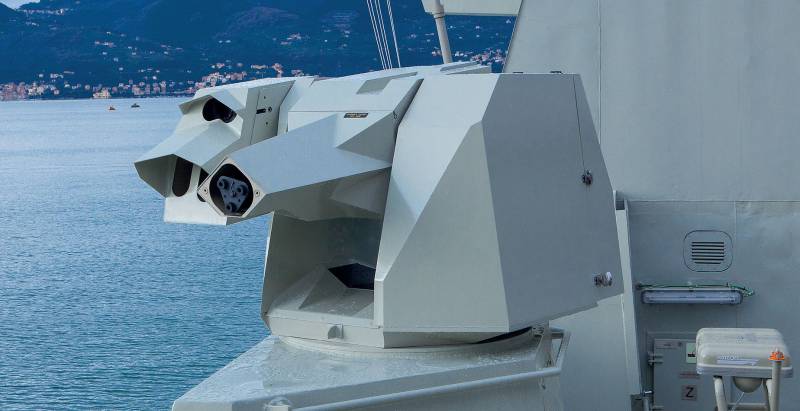 On the photo is the Hitrole weapon system. Leonardo-Finmecannica becomes an influential player in the naval artillery market after joining OTO Melara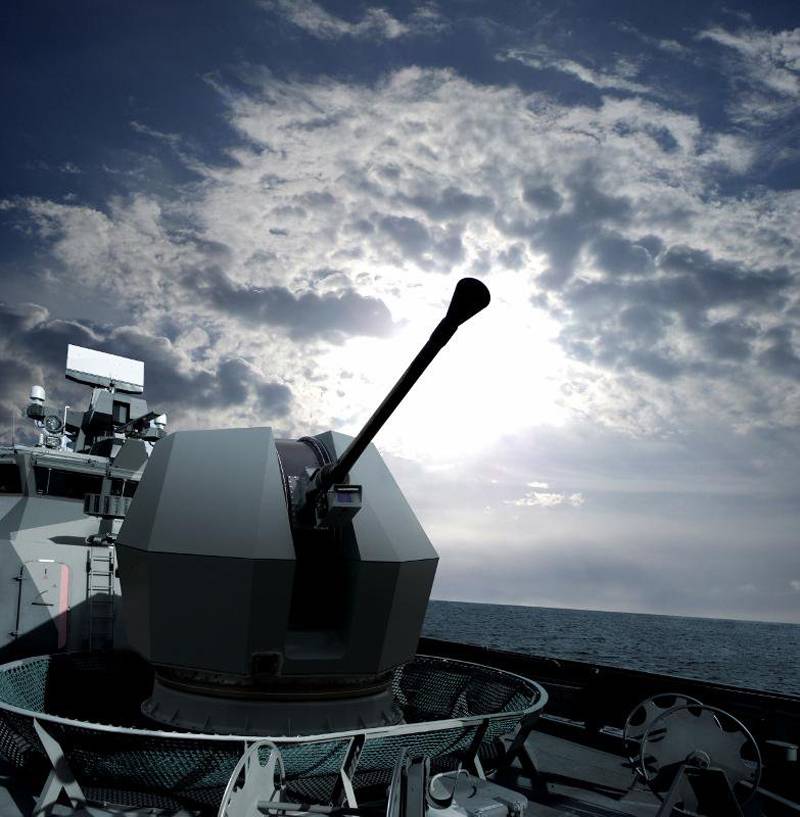 Shipborne gunnery Mk4 40 mm by BAE Systems
Mr Perry said that in an era of constrained defense budgets, a company must develop cost-effective solutions that meet the needs of fleets from around the world. One of the ways is the development of universal precision-guided munitions. He noted the Standard Guided Projectile, developed by the company for the US Navy, and the Hyper Velocity Projectile hypersonic projectile, which will allow to fight different types of targets. The nature of threats is changing, and fleets must take into account the growing danger of widespread cheap threats. This increases the importance of naval artillery and increases the need for systems that could deal with threats of different types. "The changing nature of threats to offshore platforms makes us raise the level of versatility of ship installations," Perry explained. - With the proliferation of cheap and massively applied threats, the need for precise impact and versatility has increased significantly. Customers are currently seeking to supplement their missile systems with ship artillery with high-precision and versatile capabilities. " He further noted that in the last 10-15 years there has been a significant technological progress in ship artillery, including automated ammunition processing systems, fire control software, sensors, guidance systems, actuators, as well as the barrels themselves. However, he drew attention to the development in the field of guided munitions, noting that they are an economically viable alternative to missiles in many combat missions. "Compared to rockets, guided munitions cost less, they are much more in the store, they can be replenished at sea and often the impact on the target is more in tune with its importance.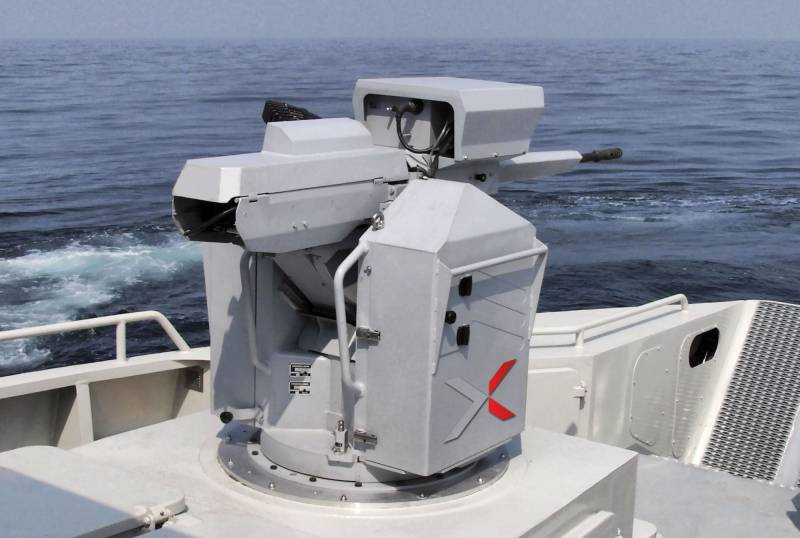 The Remote-controlled Narwhal installation from NEXTER comes in two versions: 20A and 20V. Armed with French fleet Narwhal is composed along with other systems
Споры
The potential of guns as an alternative to missiles in some combat scenarios, especially in our financially tense times, was also noted by Mr. Wertheim, who highlighted the potential of 114,3-mm (4,5 ") and 127-mm guns used as fire support vehicles." You have to get closer, and this is dangerous with guns, since the distance is not as great as in the case of rockets. But the advantage lies in deeper stores, so you simply can't compare projectiles, you'll do hundreds of shots before ezapas and cost compared to multi-million dollar missiles at all penny. "
"Still, the potential of guns as an alternative to rockets does not need to be so overstated," objected McLaughlin. - Not that the guns are trying to do the work of rockets, but there was a time when rockets really unrealistically multiplied, but they are not so useful when working within the ship's near perimeter, 1,6 nautical miles or three kilometers. But further missiles have the benefits .... From my point of view, the correct argument is when is it good to have one system, say a gun, and when is it better to have another type of weapon, such as missiles? "
According to one of the main producers, there is also an increase in demand for systems for small vessels. This had an obvious effect on the demand for different calibers. "Small speedboats, sometimes built by novices with experience only in the civilian market, are requested by fleets, coast guards and police," said a representative of Finmeccanica. "As a rule, they are armed with small-caliber systems." Finmeccanica became one of the main European suppliers of ship guns after the purchase of OTO Melara at the beginning of this year. The company focuses on systems of calibers 40 mm, 76 mm and 127 mm. He further noted that the market has changed in recent years: "the demand for large-caliber and medium-caliber guns has decreased due to the reduction in the number of large ships, but the demand for small calibers has increased, from 12,4 mm to 40 mm."
They are used to equip small vessels that are in service with fleets and police around the world. Based on the growing defense budgets of countries in the Asia-Pacific region, Finmeccanica regards it as a possible direction for future growth in ship gun sales. A representative of this company also noted an increase in prospects in Africa, but said that "the available market may be limited due to the presence of Chinese players." The representative of the French Nexter also drew attention to the growing demand for small-caliber systems, especially for 12,7 mm and 20 mm. The company believes that "the market for ship guns is growing, especially for light remote-controlled systems." Nexter manufactures two ultralight shipboard installations 15A and 15B, as well as the Narwhal remotely controlled system in two versions, 20A and 20B.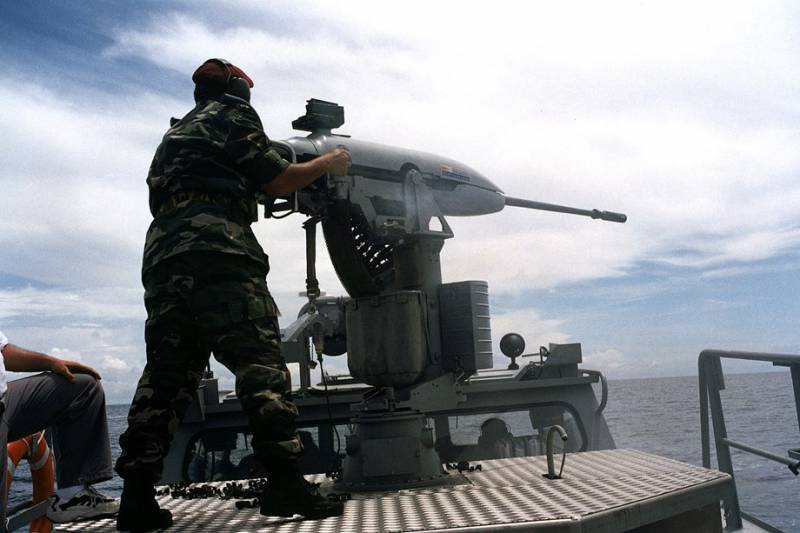 French Nexter has in its portfolio two easy installations 15А and 15В. The company believes that the market for ship guns is growing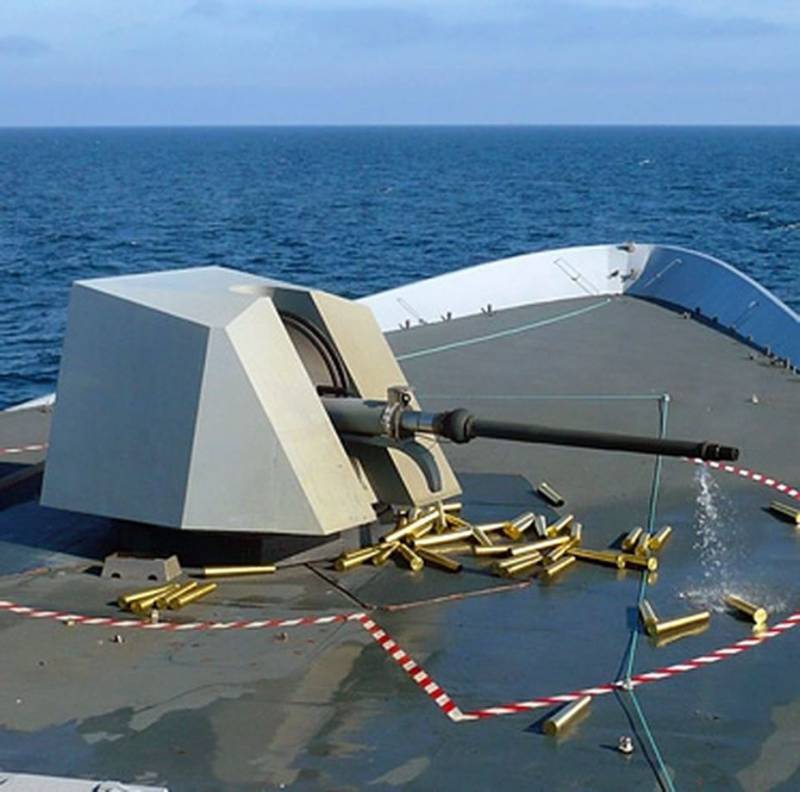 The caliber 76 mm is one of the main activities of the company Finmeccanica. On the photo, the 76 / 62 Super Rapid lightweight rapid installation
Future hit
Much work is being done on the creation of ship-based weapons systems operating on different physical principles, a number of new technologies attracting close attention. As an example, the EMRG (Electromagnetic Rail Gun) electromagnetic rail gun, which uses electricity instead of gunpowder and, according to the report of Ronald O'Rourke, a specialist in naval systems from the Congress Research Service, can accelerate shells to speeds from 7240 to 9000 km / h BAE Systems is working with the US Navy to develop this weapon system. Mr Perry said that "hitting the right side of the cost curve for this type of technology will put a huge burden on the adversary's ability to react and neutralize such weapon systems."
According to the report of O'Rourke, in the course of the work of the American fleet on the creation of an electromagnetic gun, they realized that the guided projectile developed for this system could also be fired from conventional 127 mm and 155 mm guns. This will significantly increase the speed of projectiles fired from these guns. For example, when firing 127-mm guns, the projectile can reach the speed 3 of Mach number (approximately 2000 knots / 3704 km / h depending on the height). Although it is half the speed that a projectile can reach when firing a rail cannon, it is more than twice the speed of a conventional 127-mm projectile.
Experimental electromagnetic rail gun at the research center in Dahlgren
The third direction of promising developments are laser systems. In the 2009-2012 years, the US Navy experienced a prototype solid-state laser on UAVs in a series of combat launches. In the 2010-2011 years, the fleet tested another laser prototype under the designation Maritime Laser Demostration (MID), which, according to the report, hit a small boat. Also on the American ship Ponce, stationed in the Persian Gulf, a laser weapon system was installed "with the help of which we evaluate the performance of ship-borne lasers in the operational space, in which there are clusters of boats and UAVs".
A number of companies engaged in business in the field of maritime weapons systems, declare a special interest in the laser
arms
. Mat Pryor, director of business development at MSI-Dcfense Systems (MSI-DS), said that "we anticipate destructive technologies like laser systems that will complement or replace guns during 20-30 years with decreasing size and weight of laser systems and necessary power supply systems. MSI-DS launches the Seahawk family of shipboard installations, which includes three models: the original Seahawk installation for 25-mm, 30-mm and 40-mm guns; Seahawk Light Weight (LW) installation for 14,5 mm, 20 mm, 23 mm and 25 mm guns; and Seahawk Ultra Light Weight for 7,62-mm and 12,7-mm machine guns.
For its part, in February 2016, the German company Rheinmetall and the Bundeswehr, successfully tested the High Energy Energy HEL (High Energy Laser) mounted on a German warship. The company reported that the HEL laser system with a power of 10 kW was installed on the MLG 27 lightweight ship installation. A test program was conducted whereby the laser tracked potential targets, such as small vessels and drones. The HEL laser machine also worked on land stationary targets.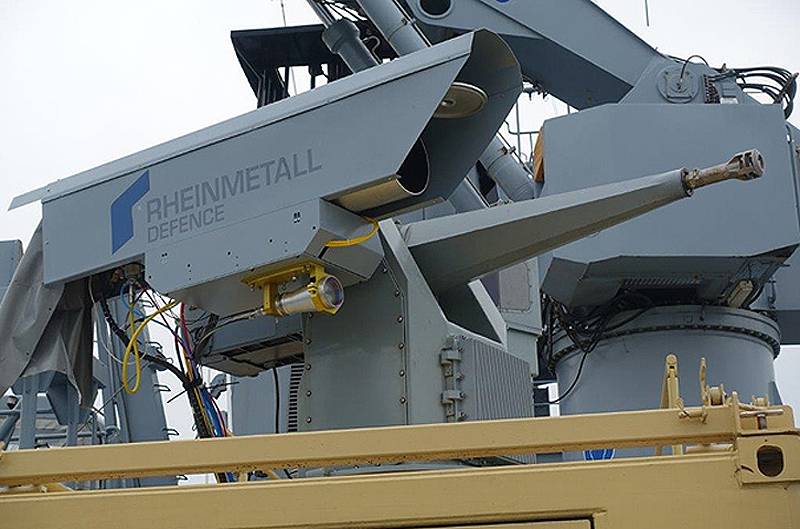 Laser gun HEL power 10 kW installed on a light ship installation MLG 27
McLaughlin believes that the fight against low-flying and slow-flying small targets, such as drones, will become a priority for ship-mounted installations, and in this connection air-blasting munitions will have the advantage. "You have two aspects. First, do you see the goal? Therefore, you need systems that reliably and efficiently detect UAVs ... and further, how are you really going to hit the target? The probability of getting a shell right into the apple is not so great. Therefore, I believe that users are ever more closely looking at alternative types of ammunition, including air explosions. "
Wertheim warned that new technologies being investigated in the USA and other countries are still in the early stages of their development. However, he noted that in the next decade, they may be able to have a significant influence on the fleets' vision of the ship artillery concept. "We have not yet achieved what we want. A lot of theoretical. But after 5-10, the practical share will increase and our confidence in the new systems will reach the next level. "
Materials used:
www.leonardocompany.com
www.baesystems.com
www.rheinmetall.com
www.nexter-group.fr
www.navsea.navy.mil
www.wikipedia.org
en.wikipedia.org