Previous articles in the series:
Israel's defense industry. 1 part
Israel's defense industry. 2 part
Israel's defense industry. 3 part
Israel's defense industry. 4 part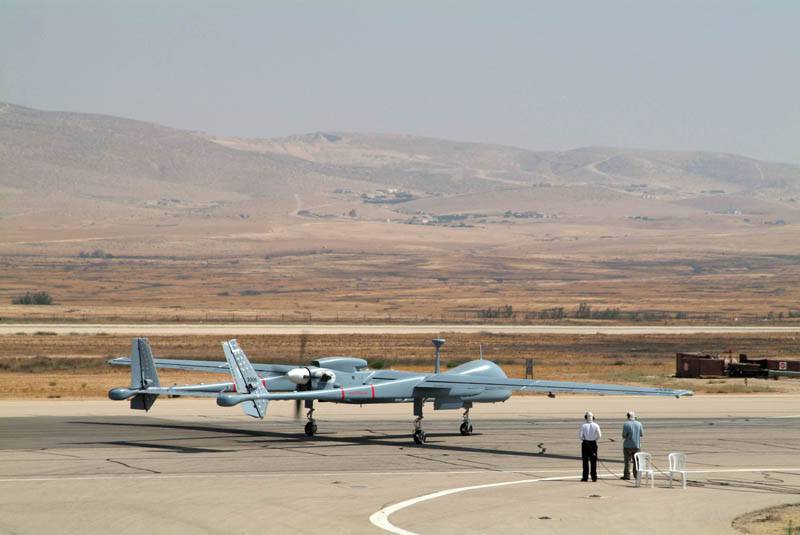 UAV Eitan (formerly Heron TP) from the company IAI with a hp 1200 turboprop engine and with a take-off weight of 5650 kg is Israel's biggest drone
Drones and robots
For hours, you can argue about who first created the drones (including the original name), but there are no questions about the actually operated systems of the modern era - they are definitely of Israeli origin. Even one of the first and most popular American drone company, RQ-5 Hunter company Northrop Grumman, based on the same aircraft company IAI.
Ironically, even the current manufacturer of large unmanned aerial vehicles (UAVs), the American company General Atomics, considers the Amber drone from Leading Systems, designed by former Israeli Air Force engineer Abraham Karem, who created his first drone at the start of 70, as the basis for his Gnat drone. years of the last century. In truth, the operations conducted by the United States in Afghanistan and other places, such as Iraq and Yemen, where there is an active hunt for terrorists, "distract" from the fact that the leading exporter of drones today is Israel itself.
The world of the Israeli UAVs is mainly divided between the companies Israel Aerospace Industry and Elbit Systems, at least with regard to large-size vehicles. Smaller tactical type drones are handled by Aeronautics, Top-I and Steadicopter. The company Rafael tried to bite off a piece of unmanned cake, in particular, to occupy a niche of devices for urban combat, but a few years ago left the stage to concentrate on land and marine robotics. The article does not set out to show all Israeli drones, rather it describes the latest models that best illustrate the capabilities of these companies.
Category MALE
Royal category MALE (Medium Altitude Long Endurance - medium altitude and long duration of flight). There are very few players in the world in this league, but in Israel there are as many as two - IAI Malat and Elbit. The definition of MALE category drones is vague and controversial, but describes the MALE category drone as an aircraft capable of flying at altitudes up to 10000 feet (just over 3000 meters, for many this height is lower than "average") for 24 - 48 hours.
HERON - IAI
The current veteran of this category, an IAI Heron drone, took off for the first time in the 1994 year. The Heron UAV weighing 1150 kg, capable of remaining in the air for up to 52 hours and rising to a height of 35000 feet (approximately 10500 meters), was ordered by at least 34 countries. Its most famous buyers are India, Germany, Brazil, Turkey and France, although Cassidian from the latter country later modernized it with mixed results, giving it the name Harfang. Heron UAV has a manufactured chassis, carries four sensory systems simultaneously operating, uses a dual system of automatic take-off and landing, as well as a satellite communication system for working at long distances.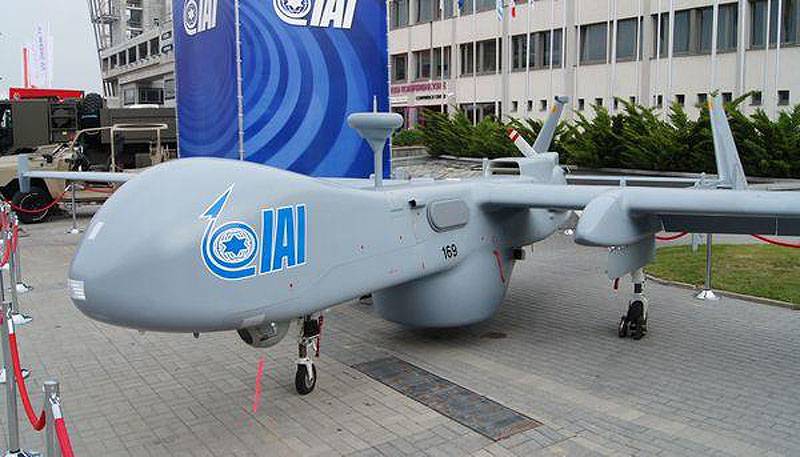 As a rule, Heron carries the ELM / 2020U marine radar or the ELM / 2055 synthetic aperture antenna, the Elk-1891 satellite communication system and various optical-electronic optical reconnaissance stations on board. Some, such as the drone in the photo, are equipped with radar systems, while other Israeli vehicles carry electronic and radio intelligence antennas on board.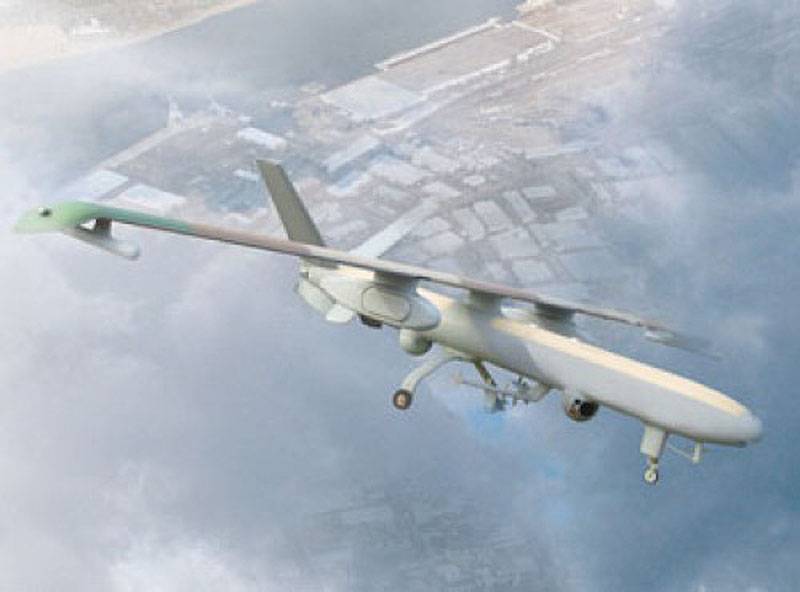 The current Hermes 450 drone with a mass of 550 kg has a useful payload of about 180 kg. The ceiling is 5500 meters, and the flight duration is 17 hours. The drone in the picture carries electronic warfare equipment in the wing containers
HERMES 450 - ELBIT
The second on the Elbit company's list is the Hermes 450 drone, which made its first flight in 1998. He has been in the service of the Israel Defense Forces for more than 15 years, in addition, he also became quite successful on the world stage, and was sold to more than a dozen countries, including Singapore, and, somewhat surprisingly, to countries like Azerbaijan, Botswana and Georgia. It was also exploited by the British as an interim solution in Afghanistan under the "supervision" of Elbit until it became operational with the Thales watchkeeper option.
The 450 model, as a rule, is equipped with the Elbit Compass optical-electronic station of specific intelligence under the fuselage, but can also receive synthetic aperture radar, radar for marine patrols and plus electronic and radio intelligence and jamming communications systems. The installation of the Gabbiano T-20 Gabbiano T-20 (power 200 watts) from the Selex on this drone of the Italian radar of naval intelligence and coastal patrols is very popular. In addition, it can carry a slightly larger, but more powerful T450 radar. The Hermes XNUMX BLA also takes off and lands automatically even on semi-finished strips with a transition coating.
EITAN - IAI
Originally known as Heron TP, this is more than a Heron version with a turboprop engine. Despite the similar two-girder scheme, it is significantly larger and heavier. Eitan (means resistant), which made its first flight in the 2004 year, has a takeoff weight of 4650 kg, which is actually four times the mass of the Heron model. Engine PT6A hp power 1200 allows him to climb to a height of 13700 meters and stay in the air for more than 70 hours. In service with Israel, it consists of the 2009 year, but there is currently no information about foreign customers for it.
HERMES 900 - ELBIT
Hermes 900 drone with 1180 kg take-off weight, 350 kg carrying capacity, ceiling more than 9100 meters and flight duration 36 hours fills the gap between Hermes 450 and significantly heavier drones. One of the main advantages of the model 900 is its large internal compartment, which allows you to accommodate a variety of electronic systems. This is a huge advantage compared to the external installation or mounting, since there is no violation of the airframe design and no subsequent testing of aerodynamic characteristics is required. In this context, it is interesting to note that the radar is the only external component of the payload of the Hermes 450 drone, if electronics are installed by Elisra (a division of Elbit). The communication channel from Elisra, for example, provides a line-of-sight distance of 250 km.
One of the important features of the 900 model is that all electronic systems and onboard equipment placed in its compartments are automatically configured (plug-and-play). In addition to a spacious internal compartment, the Hermes 900 drone has four external attachment points.
Possible on-board equipment options include the Dcompass optoelectronic station, the Lasso scanner (a relatively new system that maintains near-real-time updated multispectral aerial photography and provides automatic reconnaissance and mapping of very large areas), electronic reconnaissance (usually Elisra AES-210) , radio direction finding antenna, Elisra Skyfix and Skyjam systems (listen and record mobile phone and SMS conversations, determine the location of the object, transmit the collected reconnaissance tive information on the ground and, ultimately, jammed phone), Skeye company Elisra (video surveillance system for high resolution large area, which is able to monitor large areas, to capture the events, to compare the image data from the video archive). The 900 drone also has on board a system for preventing dangerous collisions in the air and evading it, plus a panoramic (at 200 °) optical-electronic sensor set. Soon will be installed a new radar collision avoidance system developed by Elisra.
The Hermes 900 drone, which made its first flight in the 2009 year, was ordered by the Israeli Air Force as early as the 2010 year and was tested in Switzerland; also ordered by Chile, Colombia and Mexico (for the police).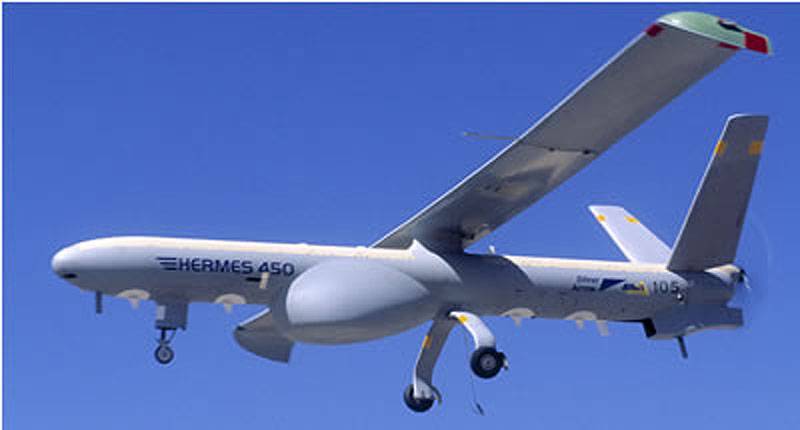 The evolution of the Hermes 450 drone, apparently, will never stop, judging by this option. It is equipped with a new rotary-piston engine, a three-bladed propeller and an experimental gondola with a marine radar Selex Gabbiano T20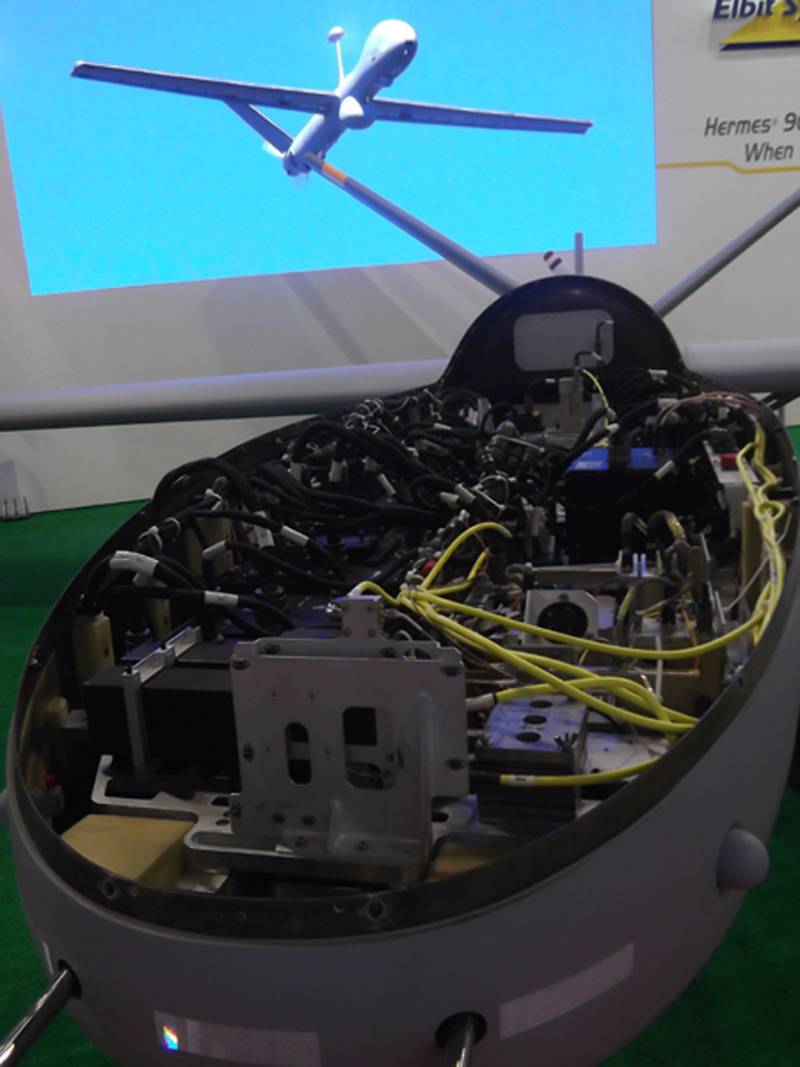 UAV Hermes 900 demonstrates its capacious compartments, allowing to carry a large number of sensors, including radar maritime patrols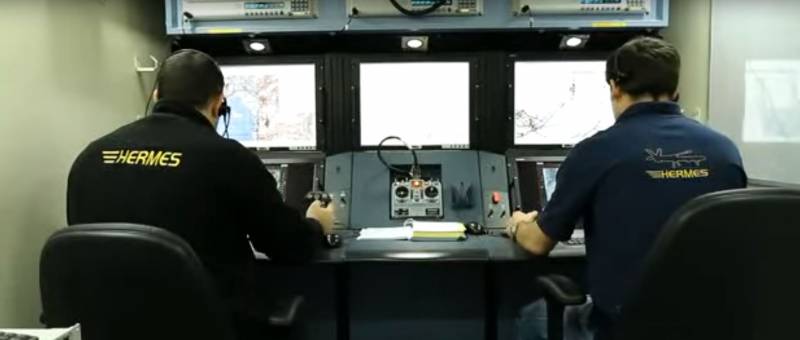 Definitely a boon for operators who already operate the Hermes 450 drone and who wish to replace it with the Hermes 900 model or want to have both models, is that the ground control station, communication channels and equipment for information collection and operational management remain the same. Pictured "glass cabin" with a HOTAS type control system (drone control system without having to take your hands off the engine control lever and control knobs)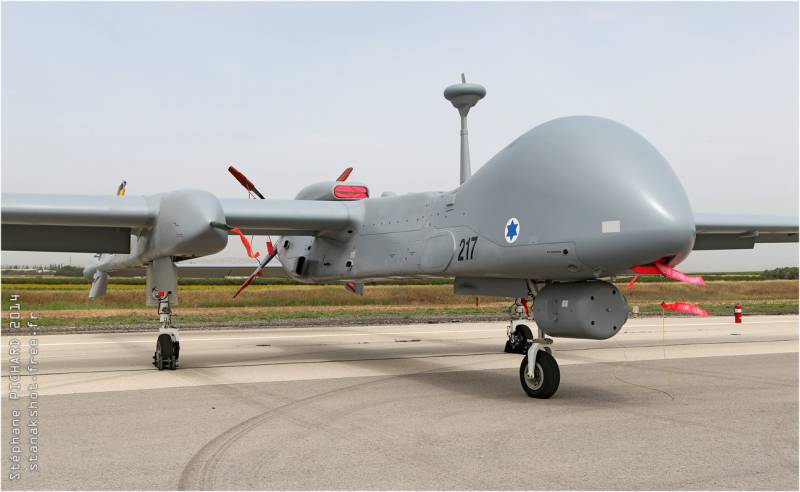 Eitan UAV is offered to try on weapons, as can be seen on this life-size mockup with Lahat missiles. Having teamed up with Rheinmetall, the Israeli IAI offered a German drone as part of the German requirements for a Saale MALE class drone, but there they lean more toward the European program on their own Euro Hawk UAV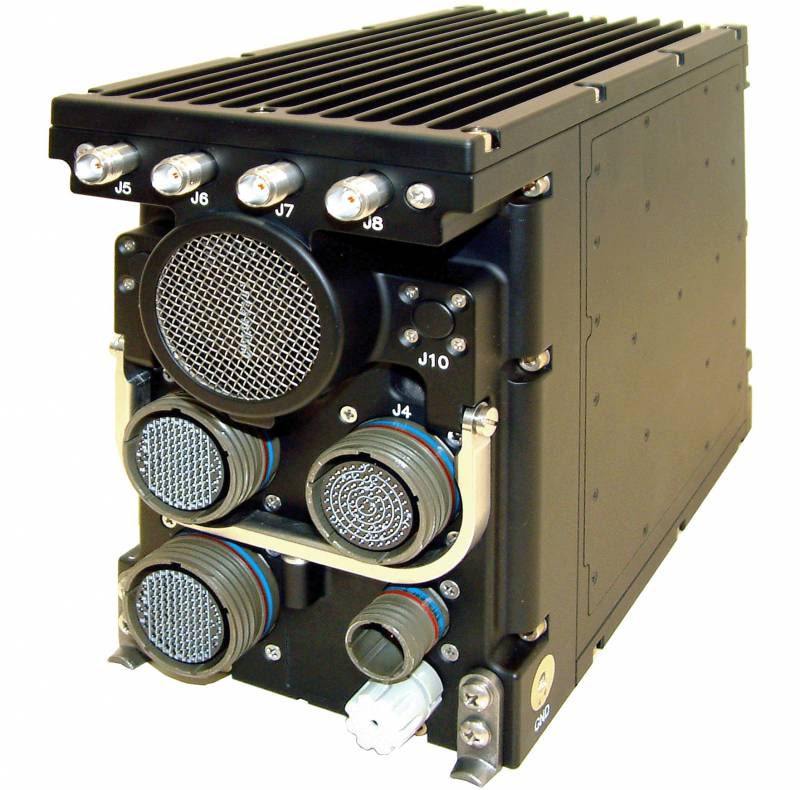 Drones are becoming more intelligent and, consequently, expensive, their protection has become an increasing concern in recent years, especially among those who until now have been considered ill-equipped with air defense equipment. Elisra company (Elbit division), dealing with electronic warfare systems, has introduced a new defense system for drones based on the usual onboard complex of protection against modern means of destruction Spectrolite, but with power consumption reduced to 300 watts. System ordered by Israeli Air Force
Lighter drones
Let's leave the world of MALE drones and move on to lighter devices, which nevertheless need the traditional take-off and landing. In Israel, there are a couple of companies engaged in similar devices with a mass, as a rule, from 25 to 100 kg and flight duration from 12 hours and more. One of the veterans here is IAI's Searcher drone, which entered service in the early 90s and is still produced in the MkII version. Due to the large number of these machines sold for export, the workshops of IAI Malat are still engaged in the maintenance and overhaul of these drones.
The newer systems in this category are the Aeroonaut from Aeronautics and Hermes 90 from Elbit.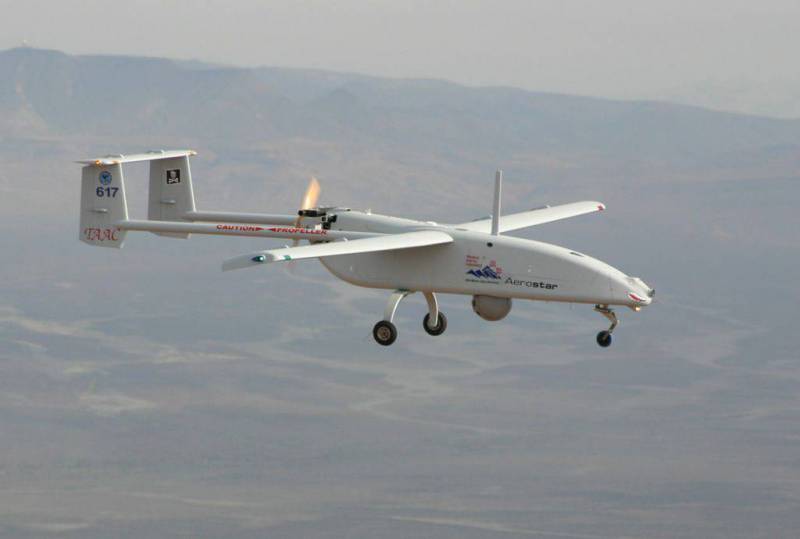 The dimensions and characteristics of a drone similar to the Aerostar are currently attracting the attention of militias and security forces in many countries.
AEROSTAR - AERONAUTICS
Aeronautics' leading product is the Aerostar UAV, which debuted at the start of the 2000's. It is equipped with an engine with two horizontal opposing cylinders with a capacity of 38 hp, developed by Italian engineer Guido Zantsotter. The company, named after him and based in the Italian city of Lugano, producing a complete line of engines of this type, was bought by Israeli Aeronautics.
Although the Aerostar drone weighs almost half the size of a Searcher drone, its characteristics roughly correspond to Searcher's dimensions, payload and flight duration. Indeed, the Aerostar has not only high-placed wings and two-tail tail, but it has a wingspan of 8,7 meter, maximum payload 50 kg, flight time more than 12 hours and a range of its communication channel 250 km.
HERMES 90 - ELBIT
The lightest Hermes 90 drone in this category with a take-off weight of 115 kg was first unveiled at the Paris Airshow at 2009. One of the features of the Hermes 90 design is that it can be equipped either with a traditional fixed chassis or with landing runners when a smooth runway is unavailable, in this case the drone is launched using a catapult. Elbit sees the Hermes 90 as a high-end tactical drone that can perform typical observation and development tasks with a Microcompass stabilized optical-electronic station of species intelligence, as well as direction finding and radio reconnaissance using the Elisra Skyfix system. However, a synthetic aperture radar can be installed on board.
ORBITERS - AERONAUTICS
Orbiter I, II and III drones, developed by Aeronautics, are even lighter, but also run with a lightweight catapult. Their wingspan is 2, 3 and 4,2 meters and the duration of the flight 3, 4 and 7 hours. Take-off weight ranges from 7 to 28 kg. Models I and II have no tail, the airframe scheme is a traditional tubular fuselage with high-raised wings with upward-ending tips. On the contrary, in the Orbiter III model, the wing tips that go over into the fuselage are directed downwards; small wings are installed above the nose part (not the front steering wheels). On all three models, a pushing screw (brushless motor) is installed, the landing is carried out by a combination of a parachute and an inflatable shock absorber. Nasal-mounted equipment, as a rule, produced by Controp. This is the D-Stamp or U-Stamp (daytime CCD camera or night infrared) for Orbiter I, the Orbiter II is equipped with a stabilized sensor station with a Z-Stamp magnification, while Orbiter III can carry a stabilized optical T-Stamp station that includes day, night camera and laser rangefinder.
The Orbiter III drone was first shown in 2011. Its stabilized optoelectronic station T-Stamp allows reconnaissance and target designation.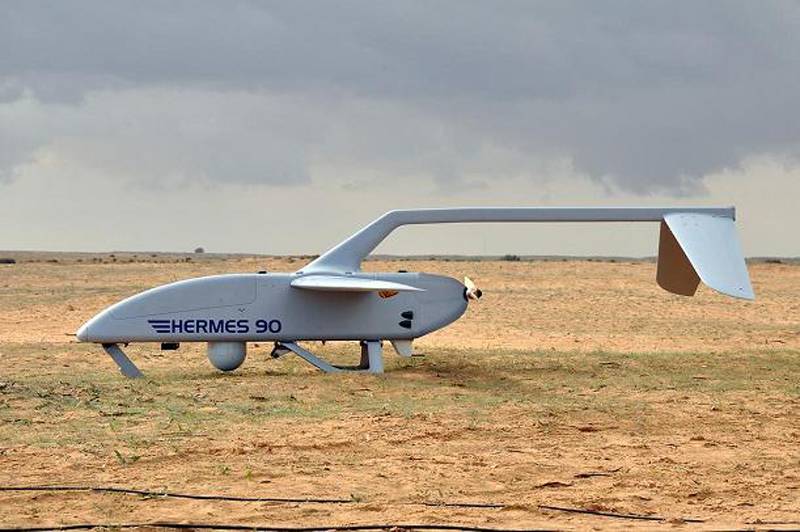 Hermes 90 has a wingspan of five meters and a maximum take-off weight of 115 kg, can carry 25 kg of onboard equipment; the practical ceiling is 4500 meters and the duration of the flight 15 hours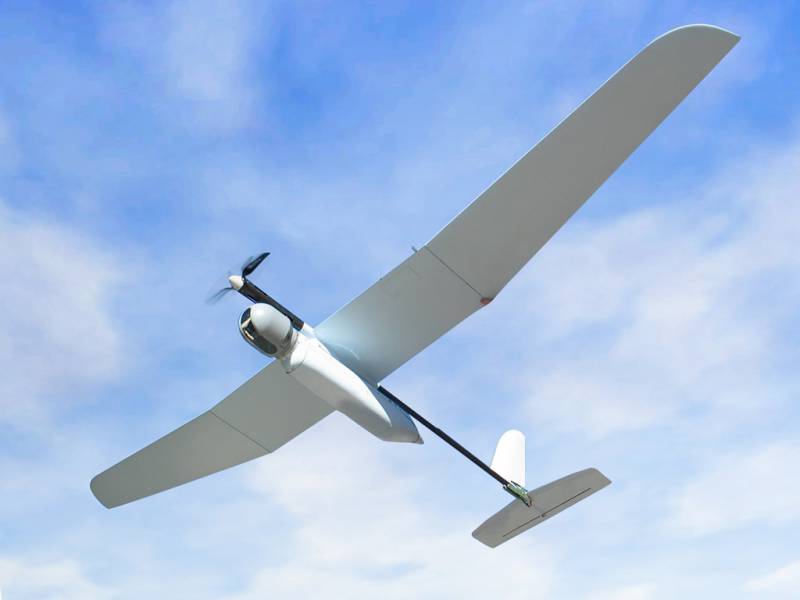 The Skylarlk 1 LE drone weighs 7,7 kg, has a flight time of about three hours; Landing is carried out in the process of deep stalling at the appropriate height above the ground and the deployment of a landing balloon
BIRDEYE - IAI Series
IAI Malat produced a large number of Birdeye 400 drones with a flight duration of 90 minutes, but in about 2010 the year they were replaced by a Birdeye 650 model with twice the weight (11 kg). The drone has high-raised wings with three-meter wings pointing downwards, which turn into a relatively well-developed but undoubtedly creating lift fuselage. The device is launched with the help of a catapult, when landing it turns over belly up and opens the parachute. The drone does not have a vertical tail; on a short tail boom there is a pushing propeller rotated by an electric motor. The flight duration is three hours (although with the use of fuel cells, it can be extended to 7 hours). It installs optical-electronic equipment from Tamam or Controp.
SKYLARK - ELBIT
For several years, the leader in the category of light-weight manual launch drones has been Elbit's Skylark (later named Skylark-1), which has been ordered by many countries.
This model was later replaced by the BLA Skylark 1-LE (the number of operator countries reaches 20) with a longer flight duration. The Skylark 1-LE model with a weight of 7,5 kg and a flight duration of three hours is usually equipped with a D-Stamp or U-Stamp nose equipment from the Controp with a range of 20-40 km depending on the terrain. The Skylark 1-LE drone was widely used by coalition forces in Afghanistan. Two people carry the Skylark drone itself and its control station, they only need a few minutes to launch. This drone can fly even in the absence of a GPS signal.
CASPER Series - TOP I VISION
Top I Vision, which specializes in observation balloons and stabilized on-board equipment, mainly for internal security tasks, also manufactures Casper series manual launch drones. It does not stand aside from the water element, having developed a "smart" robotic jet ski (see below). The Casper 250 drone it produces has a mass of 5,5 kg, a wingspan of 2,5 meters and a flight duration of 90 minutes; the range of its data transmission system, depending on the configuration of the relief, reaches 10 km. The onboard load includes its own stabilized Lev 2 optical-electronic kit (day or infrared camera) (Lev means heart). Top I Vision also works on other types of drones, such as the Whisper tailless design. It is worth noting that Top I Vision 90% of its products exports and even organized production in India.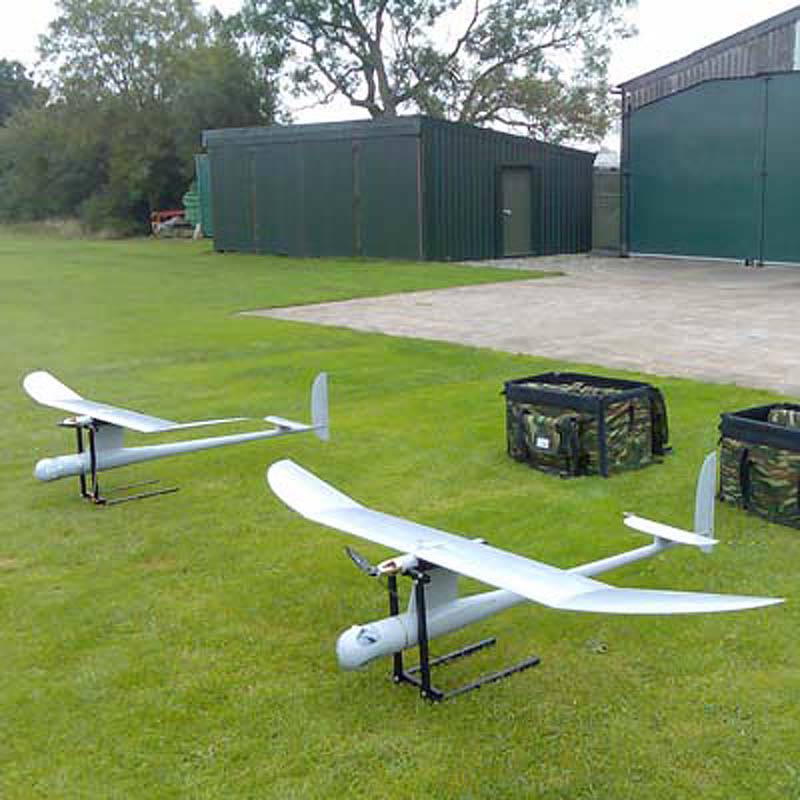 The Top I Vision Casper 250 drone comes in a compact package that includes the machine itself, the data transmission system and the monitoring station.The IAI Panther Helipad with three rotors is an innovative approach to combined vertical-horizontal flight. It can fly at a fairly high altitude 1500 meters.
Helipad
Vertical take-off and landing systems are a relatively new area of ​​the Israeli defense industry, although some companies are engaged in this business, including Israel Aerospace Industry, which has created an unmanned system based on an Alouette III helicopter.
PANTHER - IAI
In its Panther project, IAI implemented an innovative aircraft concept with rotating screws (convertible) rotated from electric motors: two on the wings and one in the tail between the tail beams. While the rotors mounted on the wings rotate from a vertical position (take-off and landing) to horizontal for flying at high speed, the axis of the tail rotor remains vertical to ensure stability in pitch (by changing the speed of rotation), but it can turn slightly to the right and left relative to the longitudinal axis of the apparatus for controlling yaw.
The second feature of the Panther helipad is relatively quiet operation. The Panther has a maximum take-off weight of 65 kg, raises the payload 8,5 kg (usually a stabilized day / night Mini-Pop camera), the flight duration is 4 hours, and the range 60 km. A typical complex includes three devices, an integrated communication kit and two operator consoles. IAI is currently working on a hybrid mover for the Panther drone.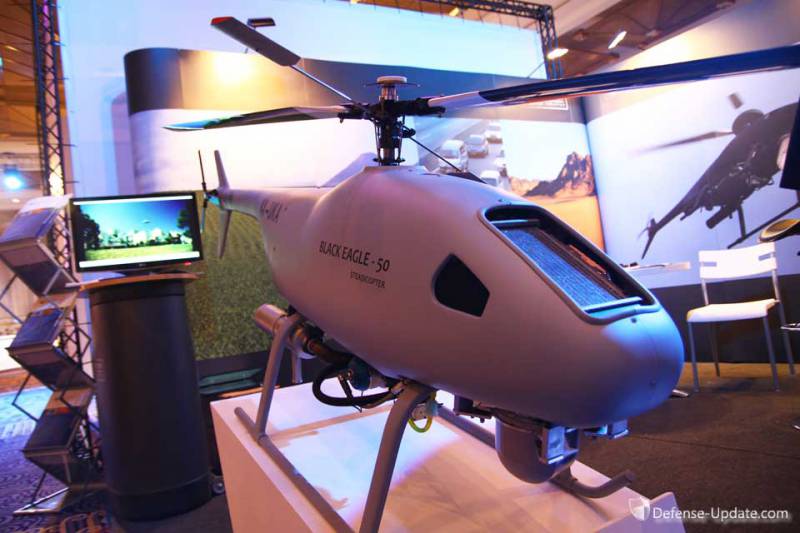 On the Black Eagle 50 helipadron, a data transmission system from the Elbit is installed and a typical optical-electronic equipment from Controp (in this case D-Stamp)
BLACK EAGLE - STEADICOPTER
The more traditional Black Helicopter Eagle 50 has been developed by Steadicopter since 2008 for the Israeli armed forces and has successfully passed certification. Army requirements determine that the complex includes two vehicles and one ground station. Also, this drone weighing 35 kg and a flight duration of three hours was proposed for the Israeli
fleet
. The drone is equipped with a 120 cm3 two-stroke water-cooled engine.
Steadicopter is currently working on a larger helipad under the designation Black Eagle 300, based on a Canadian lightweight single-seat helicopter.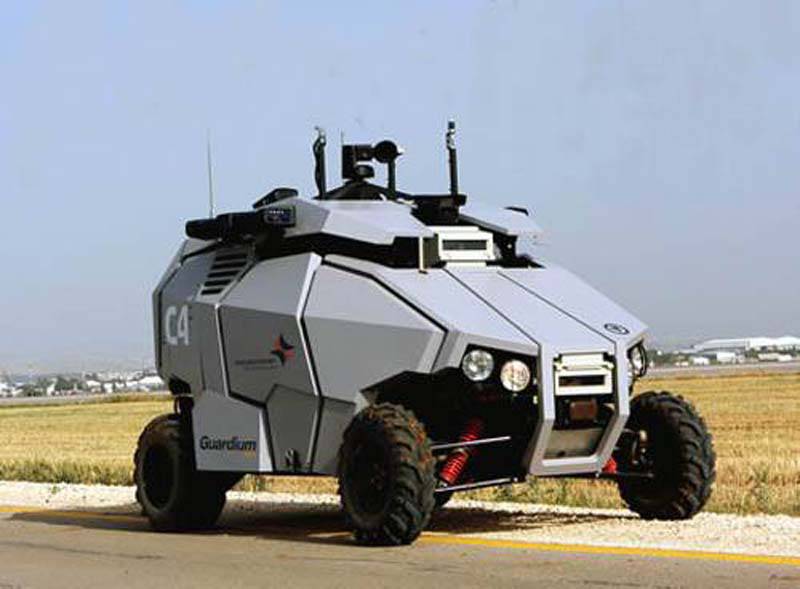 Guardium ground mobile robot monitors Ben Gurion airport
Ground robotsThe terrain features are undoubtedly the most difficult problem for robotic vehicles. Their flying brethren (drones) have one main obstacle, which is called the Earth (other obstacles are relatively rare aircraft). Their floating brethren have extensive and moderately flat water spaces under which they can move and in most cases remain in sight.
On the ground, wheeled and tracked vehicles can get into a variety of troubles and get a lot of problems. Some of the obstacles may be unforeseen, such as puddles of water, formed as a result of heavy rain. To determine them, a certain form of artificial intelligence is needed, in contrast to a fallen tree, which requires only sensors to detect obstacles, such as those currently installed on the bumper of cars.
Israel has overcome many problems in the field of ground-based robotics and has become the first country to put autonomous systems into service, even if they perform only patrols on familiar territory, and their weapons are used only by an operator.
GUARDIUM - G-NIUS
G-Nius, formed on a parity basis by Elbit and IAI, worked for several years on the Guardium project (later designated Guardium MkI) and eventually created a workable machine that went into service in 2007 for patrolling the border and checking routes for the presence of improvised land mines. It was made about a dozen of these machines.
Then came the option Guardium MkII, based on a modified hardened platform capable of receiving 500 kg of payload and the ability to move day and night. Because of its good payload, the MkII version can be used as a conveyor for various loads.
The new trend today is the use of serial machines, since, undoubtedly (and against all odds), their easily integrated electronics greatly simplifies the execution of external commands. Since all the steering commands, the gas pedal and the gearbox are electronic signals (the gas pedal, power steering and gearbox are currently devoid of any mechanical connections) included in electronic circuits, the installation of expensive and bulky servo drives becomes completely unnecessary. Therefore, in the model MkIII based on the Ford car, which was ordered by the Israeli army to replace the MkI G-nius, all systems and sensors (all Israeli designs) from previous models MkI and II are used.
Developed by G-nius, the robotic Guardium MkIII can be based on a Ford vehicle with an installed Rafael combat module.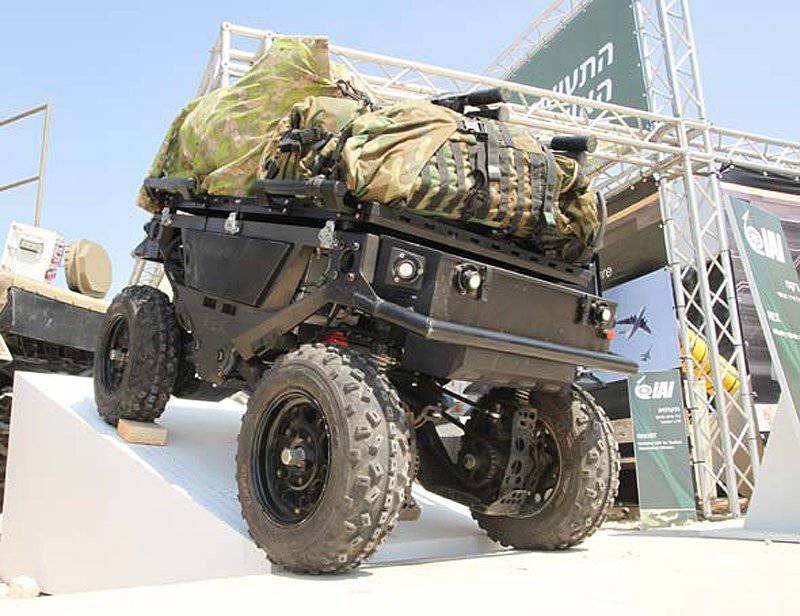 Lahav's Rex mobile robot has four-wheel drive, independent suspension, all steering wheels. A robot with a length of 160 cm, width 80 cm and height 75 cm develops speed 12 km / h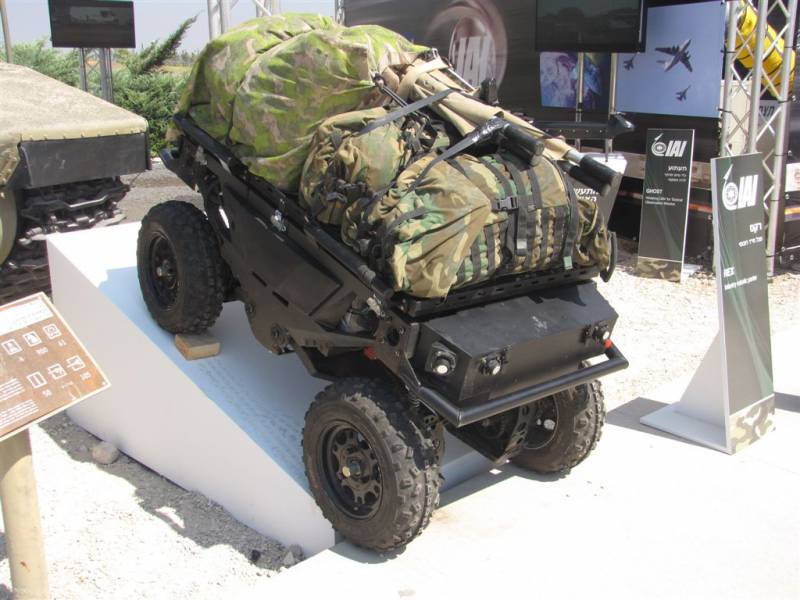 Three prototypes of the Rex conveyor with a load capacity of 250 kg were manufactured, after which they were demonstrated to potential customers
REX - LAHAV
Lahav has recently developed a Rex robotic cargo conveyor. The main idea behind the Rex project is to offer a self-propelled, guided platform or in other words a mechanical porter capable of carrying fully equipped soldiers. Other tasks may be more logistically oriented, for example, the delivery of energy elements for charged batteries, or even intelligence, for which all necessary sensors are installed on the platform.
The Rex robotic platform works in the "follow me" mode, its high off-road passability allows you to move behind the squadron with the equipment it needs. An active remote control mode was also implemented, when the Rex platform, equipped with a stabilized opto-electronic kit, could, for example, climb to the top of a hill to view the terrain behind it.
Diesel engines are installed on the three experienced Rex platforms, but with the aim of quieter work, the possibility of installing a hybrid diesel-electric power unit is being studied.
Small, remote-controlled, abandonedEYEBALL - ODF
Acquired in 2013 by the Mistral Group, the ODF Optronics company operates in the business of omnidirectional visualization systems for military and law enforcement structures. The first successful system was the EyeBall R1 audio / visual sensor - a self-healing ball that can rotate at a speed of 4 rpm and provides a panoramic image on 360 °. A ball with a diameter of 85 mm and a mass of just 580 grams includes a color or black-and-white camera, an LED or infrared illumination device, and a microphone. Abandoned or rolled into the room, the ball begins to send images of the environment, while the duration of work depends largely on whether the lights are on or not. The EyeBall Kit includes a portable display and three R1 balls. In order to achieve greater sensor mobility, ODF developed the EyeDrive, a pelleted wheeled / tracked robot weighing 3,8 kg, which is equipped with 4 cameras that provide situational awareness on 360 °. The fifth camera with tilt angles ± 45 ° is used to study objects, while the microphone provides an acoustic picture. The EyeDrive speeds up to 4 km / h and has an 3,5 kg payload to accommodate other cameras and manipulators, but with increasing mass, the drop rate naturally decreases.
In order to improve monitoring and control, ODF has developed OWLink: in the multi-camera version, this data channel with coding allows you to work with 8 high-definition cameras or with 4 standard and one high-resolution camera. Inside buildings, its range reaches 50 meters, increasing to 200 meters in open areas. The lightweight, low-power OWLink system can be integrated into existing robots.
ODF Optronics abandoned robots: EyeBall R1 (top) and EyeDrive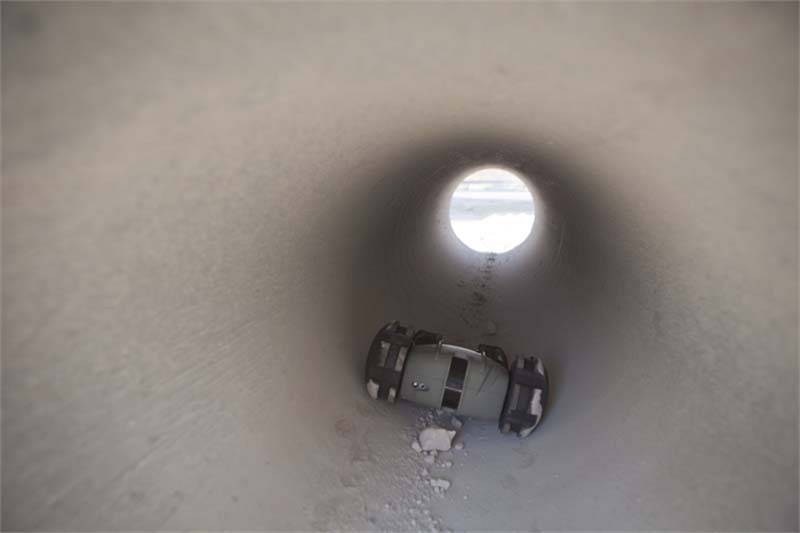 Individual reconnaissance system IRIS (Individual Reconnaissance and Intelligence System), developed by Roboteam (pictured in the drain pipe)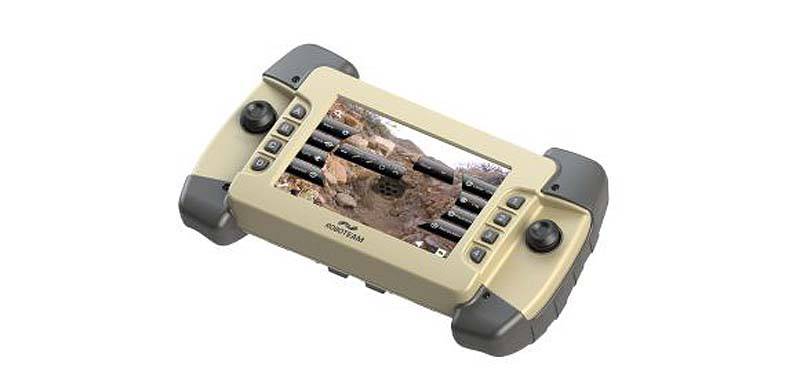 The Roboteam ROCU 7 remote control console has an 7-inch screen compatible with night vision goggles.
IRIS - ROBOTEAM
Another company in Israel is engaged in mini ground based robotic tools. Roboteam was created on the basis of the experience gained in the military sphere by its two founders. The first product developed by Roboteam was the Iris (Individual Reconnaissance and Intelligence System) surveillance and intelligence system. A kilogram robot made entirely of composite materials is powered by two AA batteries. He can throw 60 meters with the help of David's sling technique or drop 10 meters from heights. Iris has no top or bottom and therefore as it falls, in this position and moves. Its touch kit includes a front-facing day / night camera with a ± 90 ° tilt mechanism, a laser pointer with two lasers (visible and near IR) and a microphone. To increase mobility, its front nylon wheels are larger than the nylon rear wheels, but all have six overhangs to increase grip. Iris sizes are 175x205x95 mm, which allows the soldier to carry the device in a side pocket. He became the first miniature abandoned robot in the Israeli army.
The second product of the company Roboteam is a tactical micro-robot MTGR (Micro Tactical Ground Robot), also made of composite materials and powered by a BB-2557 battery of the American military standard. On the tracked vehicle with a mass of 5,9 kg, very long track-type extension cords are installed, maximizing maneuverability; The maximum speed is 6,4 km / h. MTGR carries six cameras that provide circular coverage during the day and night, as well as a microphone for better control of the situation. The MTGR robot can be equipped with a tactical manipulator, a camera at the top or a Picatinny rail for easy mounting of various military instruments and accessories. MTGR ordered the UK and Poland (50 units by the end of 2016 of the year).
As a result of the developments in the Roboteam family, a big brother appeared. The Probot wheel platform with a mass of 120 kg is capable of accepting a payload of 230 kg and developing a maximum speed of 35 km / h. To improve cross-country ability, each of the four wheels is equipped with a crawler extension (also known as a flipper), which allows the Probot to climb the steps and overcome difficult obstacles. In urban environments, it can work within a radius of up to 500 meters; for semi-automatic operations, it has vision and tracking sensors, which allows the operator not to be distracted by the control of the platform, but to concentrate on the task. The robot has a panoramic camera with the possibility of tilting and increasing x10, a laser pointer and a backlight module; American military standard batteries guarantee the 4-6 hours of operation.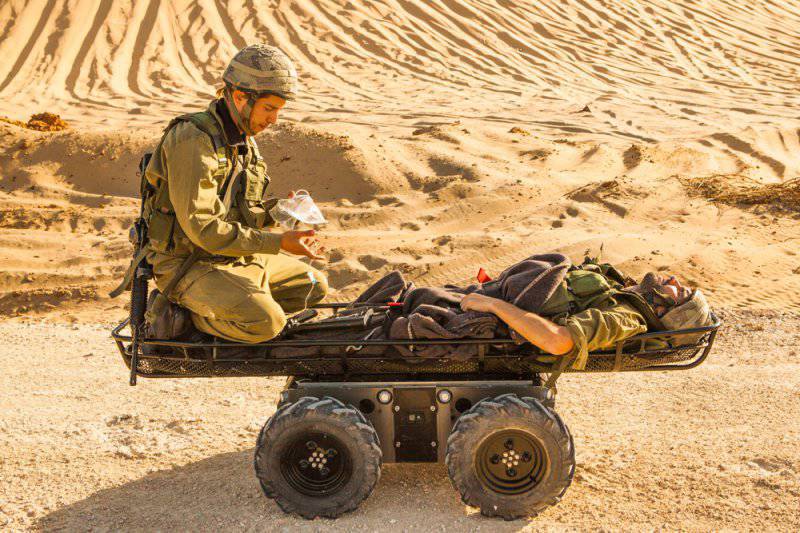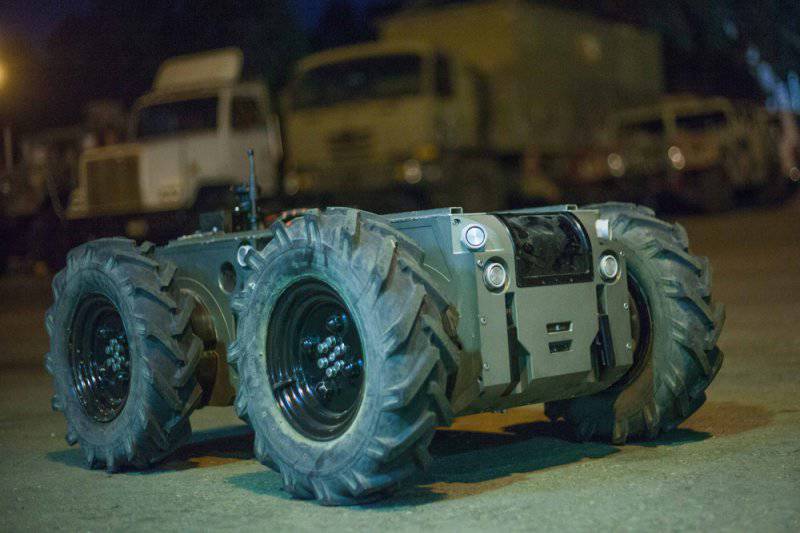 Roboteam Wheel Probot Platform
Roboteam offers two control units for its Iris and MTGR systems: the ROCU-5 with an 5-inch screen, a joystick and two buttons, and the ROCU-7 with an 7-inch touch screen compatible with night vision goggles.
Water element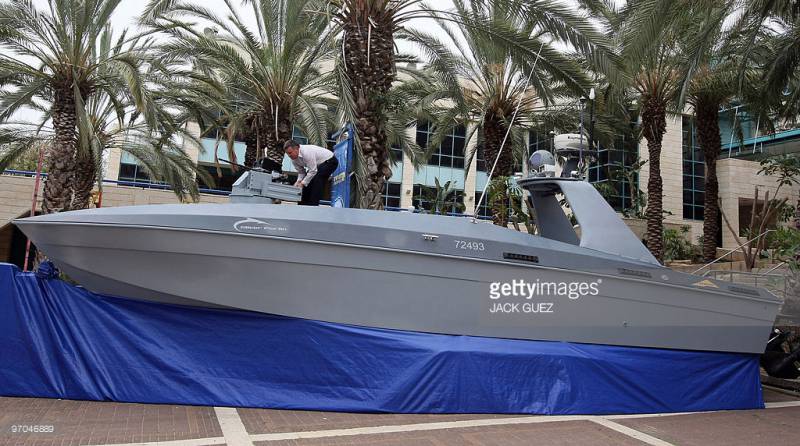 The Silver Marlin boat from the Elbit System over 10 meters in length can be armed for offensive operations with a combat unit with a 12,7-mm machine gun
It is not surprising that Elbit Systems, with its vast experience in the creation of drones and optical-electronic systems, is very active in the realm of Neptune. But Elbit is in good company here, as the names of Israeli companies Rafael, IAI and Top I Vision speak about.STINGRAY and MARLIN - ELBIT
Elbit solutions use task management systems akin to its drones' top control systems, and this really opens the door for mixed surface and air tasks. The company currently offers two automatic surface vessels. The junior competitor named Stingray is a boat with a 3,2 meter length and a 250 kg loading capacity. It can reach speeds up to 45 nodes, the duration of work is 8 hours, there is a stabilization system to prevent tipping. Basically, the Stingray device is used for reconnaissance and information gathering, for which it is equipped with a stabilized optical-electronic kit also developed by Elbit.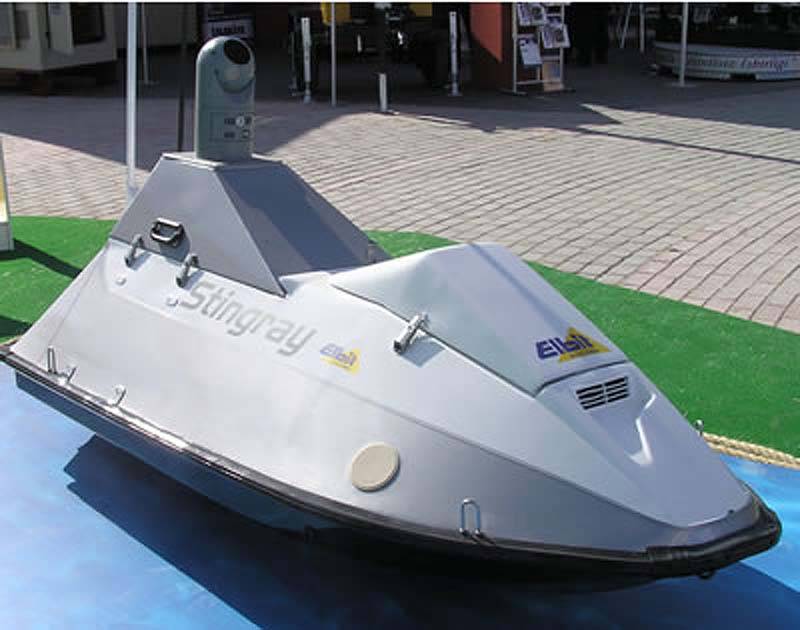 The Stingray USV surface boat of Elbit Systems company is mainly intended for reconnaissance and data acquisition, for which it has an optical-electronic kit on board
The Silver Marlin boat is significantly larger, has a length of 10,6 meters, two diesel engines with an 315 horsepower. rotate two propellers with which it can develop the speed of a high-speed vessel; running hours are 24-36 hours or 500 nautical miles. The displacement is 6,5 tons, and the load capacity is 10 times larger than that of the younger fellow Stingray, which allows you to take on board more optocouplers and plus weapons, such as a combat module with an 12,7-mm machine gun. For long-range control, the Silver Marlin is equipped with a satellite communications system, although for short-range, there is a communication channel within the line of sight. The boat is equipped with a collision avoidance system.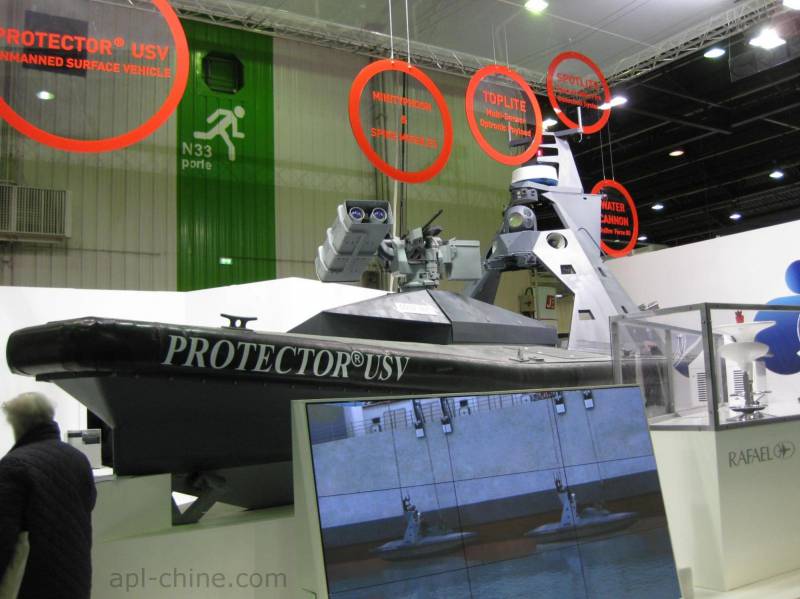 The new robotic boat Protector 11 (pictured at Euronaval 2012) from Rafael is impressive. From left to right go: a dual Spike missile launcher mounted on a Typhoon artillery, loudspeakers, Toplite opto-electronic station, two camera systems on 180 ° (the second system is directed back), a target detection radar and, finally, a powerful water cannon in the stern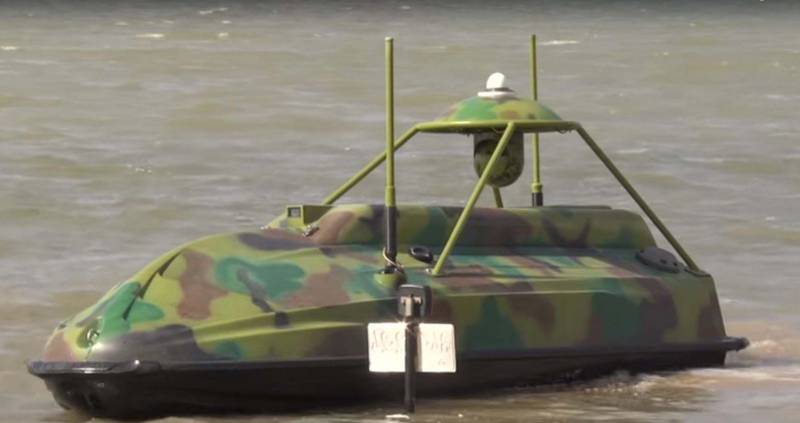 The device Barracuda, developed by Top I Vision companies on the basis of a jet ski, can be on duty in the reed beds for a week
PROTECTOR - RAFAEL
As already noted, the Silver Marlin boat has a good company in the form of the Rafael Protector robotic vehicle, which, according to the manufacturer, is the only system of its kind in service with several countries. The boat is available in two versions - length 9 and 11 meters. Currently, he is armed with a powerful water cannon, jetting on 80 meters. The boat is equipped with 8 cameras that provide all-round visibility to the 360 °, it can be armed with a Typhoon remote controlled installation, as well as a Spike missile launcher. 11 Protector 9 tons based on a V-shaped body, it is equipped with two powerful diesel engines Caterpillar C7, which put into operation two Hamilton / Kamewa water jet engines, which allow to develop the maximum speed to 38 nodes.
The Protector, of course, is equipped with a laser range finder, a search radar and an optical-electronic device for automatic or manual round-the-clock detection, identification, tracking and targeting. Thanks to modern electronic equipment, the automatic surface Protector unit easily becomes a component of operational control systems.
BARRACUDA - TOP I VISION
Another new system in this area, which has a smaller size, but not less intellectual abilities, has been developed by Top I Vision. The Barracuda system, based on a jet ski, is specifically designed to monitor the banks of the river, where it is easy to penetrate or smuggle. The device is equipped with a stabilized optic-electronic station (of course, produced by Top I Vision) and can hide in reed or mangroves. He can be in "sleep" mode with the engine shut off for a week and wake up on a signal from the sensors.
To be continued