Difficult times are coming for an army that successfully survived 90
Belarus was objectively lucky in terms of military construction. She inherited from the USSR one of the best military districts, located on the main - western strategic direction and acting as the second echelon of groups of troops deployed in the Warsaw Pact countries (GDR and Poland), as well as a number of military-industrial enterprises that produced, in particular complex electronic systems.
The article "Loop of Square" was considered the state of the Armed Forces of Ukraine. In other states of the former USSR, the situation at the moment is not as dramatic as in this country, but there are plenty of problems, including in the military sphere. This also applies to Belarus, which, unlike Ukraine, is listed as our main ally.

Greenhouse disposition
In Belarus, there were no such expensive and complex types of aircraft as the Strategic Missile Forces (the Topol ICBM stationed in its territory 81 Minsk returned Russia back to the 90) and the Navy. The republic has a compact territory in which there are no extreme climatic zones - mountains, deserts, tundra. All these circumstances made it easier and cheaper to create the Armed Forces.
Although objective circumstances are few. You can destroy the initially quite combat-ready and high-quality aircraft. This is exactly what happened in Ukraine, which received from the USSR three very powerful military districts of the same second echelon of the strategic echelon, as in the case of Byelorussian military education, had a relatively compact territory, natural conditions were even more favorable than those of its neighbors, and an even more developed military industrial complex. This, however, did not prevent the deep degradation of the Armed Forces of Ukraine.
And the Belarusian leadership managed to create the Armed Forces, which for a number of parameters have long been the best in the CIS. Despite the limited financial capabilities of the country, its army is distinguished by a high level of combat and psychological training of personnel, which also has very good social security. Structural reforms were carried out in the Armed Forces, strategic commands (Western and North-Western) were created, as well as territorial troops, providing protection and defense of the most important objects from the actions of enemy landings, sabotage and terrorist formations. The ground forces were transferred to a brigade structure, more adequate for the armies of small countries, while the corps link in connection with the creation of commands was abolished. True, objectively speaking, with such a territory and adjacent directions in terms of sources of threats, the creation of two strategic commands appears to be a somewhat redundant measure. Not surprisingly, in the Air Force, they have already been abolished.

Who, where and how much
Ground forces, as mentioned above, are divided into brigades, there are also separate regiments.
The mechanized brigades are 6 (Grodno), 11 (Slonim), 120 (Minsk). Mobile (assault landing) brigades - 38-I (Brest), 103-I (Polotsk). Special Forces Brigade - 5-I (Maryina Gorka). Mobile brigades and special forces brigade make up the command of the SSO.
Rocket brigades - 465-I (Osipovichi). Artillery Brigade - 111-I (Brest), 231-I (Borovka). Brigade MLRS - 336-I (Osipovichi). Anti-aircraft missile brigades - 62-I (Grodno), 740-I (Borisov). Communication brigades - 86 and 127-I (Kolodishchi, Minsk). Engineering and Sapper Brigade - 2-I (Pines), 188-I (Mogilev), 557-I (Grodno).
Artillery regiments - 1199 (Brest). Communication shelves - 60 (Borisov), 74 (Grodno). Radio shelves - 215, 255 th OSNAZ (Novogrudok).
There is almost 100 PU OTP - 36 with respect to the new "Tochka-U", 60 obsolete P-17.
Tank
The park consists of 1356 T-72. Other armored vehicles: about 1600 BMP and BMD (154 BMD-1, 26 BMP-1, 161 BRM-1, 1150 BMP-2), more than 600 armored personnel carriers (181 BTR-80, 374 BTR-70, 22 BTR-D, 66 MTLB).
The artillery has over 600 ACS (54 2S9, 260 2S1, 163 2S3, 120 2S5, 13 2S19, 24 2S7), 252 towed implements (66 D-30, 50 2A36, 136 2A65), 77 mortar 2S12, 316 MRL (201 BM-21, 75 "Hurricane", 40 "Smerch").
The armament consists of ATGM "Fagot", "Competition" (including 126 self-propelled), 110 "Sturm-S", 40 "Metis".
In the military air defense - 12 air defense missile system "Thor", no less than 80 "Wasp", approximately 200 "Strela-10", at least 64 "Igla" and 250 "Strela-2", 48 ZSU "Shilka".
The air force consists of four air bases: 61 fighter (Baranavichy), 116 th assault (Lida), 50 th mixed (Machulishchy), 181 th helicopter (Pruzhany). In service - 27 attack aircraft Su-25 (including 9 Su-25UB) and 36 fighter MiG-29 (12 BM, 8 UB). About X-NUMX Su-40 is stored (apparently in a completely non-flying state), Su-25 bombers (intended for sale abroad) and Su-23 fighters (including 24 Su-23 UM27) before 4, further fate which is unclear.
transport
aviation
It seems to be purely symbolic, in it there are only 2 Il-76 and 3 An-26. Another 5 An-26 and 1 An-24B are in storage.
Training aircraft: 4 newest Yak-130 and 10 old L-39.
There are 37 combat helicopters MI-24 (with modifications: 10 - B, 11 - P, 8 - K, 8 - P), at least 22 multipurpose Mi-8 and 2 transport Mi-26 (still 6 – 7 stored).
Ground defense includes 4 anti-aircraft missile brigades and a regiment, two radio brigades. Anti-aircraft missile brigades: 15-I (Fanipol, C-300PT), 56-I (Slutsk, "Beech"), 120-I (Baranovichi, "Beech"), 147-I (Bobruisk, C-300В). Shelves: 1 (Grodno, C-300PS), 115 (Brest, C-300PS), 377, 825 (Polotsk, C-200). Radio technical brigades: 8-I (Baranovichi), 49-I (Valerianovo). There are six C-300В divisions, nine C-300PT / PS, four each - C-200 and Buk air defense system. It is the ground defense - the only component of the Armed Forces, which was substantially updated in the post-Soviet period. In 2006, Russia supplied the 4 C-300PS air defense missile division to Belarus, which was adopted by the 115 air defense missile brigade (now the regiment) instead of the obsolete C-125. In 2014, there is also the 4 of the C-300PS ZRS division. In recent years, Belarus has received from Russia the 12 latest Tor-M2E short-range air defense systems for the ground defense of the ground forces, as well as the 4 training aircraft Yak-130 mentioned. All the rest equipment of the Soviet production.
On the territory of Belarus there are Russian military facilities - radar SPRN (Baranavichy) and a submarine control point (43 communication node of the Navy, Vileyka). In addition, as part of the 61 air base, combat duty is at least four fighters of the VKS RF (Su-27 or Su-30).

Zroblena have Belarus
Belarus received about 120 military-industrial complex enterprises from the USSR, but among them there were almost no plants of final assembly.
Weapons
as such, it was not produced here at all; only automotive vehicles and various equipment were produced. But in Belarus there was a number of repair enterprises.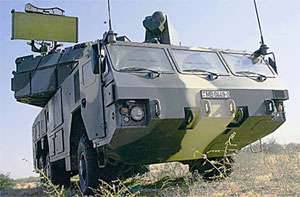 The leadership of the country, in contrast to the Ukrainian colleagues, very rationally disposed of the inheritance, retaining integration ties with Russia, the main consumer of the Belarusian defense industry. The bulk of supplies to this day are piloting systems, navigation instruments, satellite and space communications, radio stations, antenna devices, stationary and on-board computing systems, optical-mechanical, assembly and control equipment for the production of ultra-large integrated circuits, machines for the production of precision optics, chemical products, electronics, heavy wheeled chassis, trailers and semi-trailers. The Topol and Topol-M ICBMs are located on the MAZ-7310 and MAZ-7917 chassis. And the elements of the air defense system C-300P (radar, control points, PU ZUR) are installed on the chassis MAZ-543.
On the other hand, almost all the military equipment used by the Armed Forces of Belarus is made in the Russian Federation. True, there are modifications of Russian designs, for example, the MLRS BM-21 Grad (called Belgrade), the Shilka ZSU (ZSU-23-4М5), the Su-27 and MiG-29 fighters (Su-27BM and MiG -29BM). The 140 Repair Plant has designed a fundamentally new reconnaissance and sabotage machine 2T. There are automated control systems of various levels, electronic and optical systems. 558-th aircraft repair plant has successfully mastered several types of UAVs. Belarus has become the leader of the former Soviet Union for the production of UAVs, which are now the world's military mainstream.

Oil allowance
Moscow and Minsk are developing joint projects in the field of arms exports, both to the CSTO member countries and outside the former USSR. For example, the cooperation of Russian and Belarusian enterprises is upgrading light tanks PT-76, armored personnel carriers BTR-50P, ZRS C-125. This equipment has already been decommissioned in our countries, but still abounds in others that acquired weapons and military equipment from the USSR.
Belarus did not try to do everything herself. On the contrary, it deepens specialization, especially as it manufactures products that are extremely important in the new conditions: it is impossible to build a network-centric army without communication, navigation, reconnaissance, surveillance and control systems. Belarusians managed to create unique means of electronic warfare. As a result, the defense industry "pulled out of context" turned out to be much more successful and more viable than the much larger in size and capabilities and almost self-sufficient defense complex of Ukraine.
Nevertheless, now the situation in Belarus in general and in its Armed Forces is by no means cloudless. As is known, the Lukashenka "economic miracle", to which even now many of us continue to be surprised, was based on refining cheap Russian oil at local refineries (the best in the USSR) and selling fuel and lubricants to Europe at world prices. When Moscow began to shoot Minsk "with contentment", the miracle ended. Now there is no trace of him. The socio-economic situation in Belarus is catastrophic (for some reason, the majority of Russians do not know). It affects the sun. Began to reduce the level of combat training, pay and social security of military personnel. In addition, the problem of developing the resource of military equipment is becoming more and more obvious, and this is particularly acute for the Air Force. In essence, the Belarusian Armed Forces (as, indeed, both Russian and Ukrainian) require total rearmament, but there is no money for it and is not foreseen.
Alexander Lukashenko is confident that Russia must re-equip the Belarusian army at its own expense (at least at domestic prices). However, Moscow is less willing to do this, especially with its own economic problems.

Where is the Old Man
The Belarusian leader is really interested in one thing: the preservation of his own power. Declaring an alliance with Moscow is only a tool for solving this problem. At the same time, Lukashenko has never been a true ally. This manifested itself when he not only did not recognize the independence of Abkhazia and South Ossetia, but began to flirt openly with Saakashvili. Now it is still clearer - the position of Minsk in the conflict between Moscow and Kiev is not even neutral, but clearly pro-Ukrainian. Of course, Lukashenka has every right to do this, only then it is not necessary to broadcast about the Union State and demand various preferences from us.
The Belarusian president repeatedly blackmailed Russia with rapprochement with the West. Now he is doing it more than ever, actively. The West began to reciprocate. Despite the fact that Lukashenka's domestic policy has not changed at all. From the Western point of view, he must remain a dictator, and an illegitimate one. In fact, Lukashenko's methods inside the country do not in the least concern the West. Previously, the Old Man was punished for too close (outwardly) alliance with Russia, and now they are encouraging for moving away from it.
Milosevic and Gaddafi, too, were declared dictators of the West, then reconciled with him, and it seemed to both of them that they were now safe. But the political situation changed with tragic consequences for all. The leaders of Georgia and Ukraine were not declared dictators, they were friends with the West against Moscow by all means, for which they received from Russia in full under the non-resistance of the West. Although they also seemed to be protected. Abkhazia, South Ossetia, the Crimea, Syria were actually protected, for they were friends with Moscow (this was stated in the article "Army of the People"). For some reason, however, all these numerous lessons remain untapped.
Of course, now Lukashenko cannot share the fate of Gaddafi and Milosevic, because his army is currently stronger than any European. It is absolutely impossible to imagine a military confrontation between Belarus and Russia (our conflict with Georgia and even Ukraine never seemed incredible). Nevertheless, it seems that the Old Man makes a big mistake.