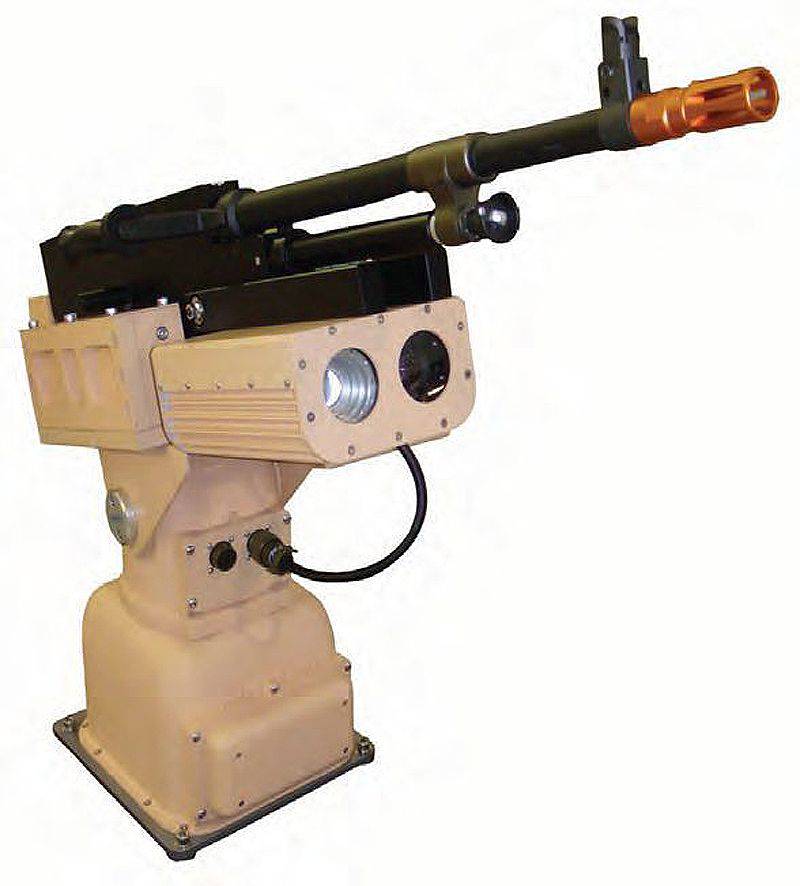 The South Korean company Whitebox Robotics has developed a family of remotely controlled combat modules (SDM). The Whitebox 12,7 MWD of an average category by weight is mainly intended for use on fixed and mobile platforms, but can also be installed on armored vehicles.
The remotely controlled Whitebox 12,7 combat unit mm consists of a base consisting of a horizontal rotation engine and a gearbox, and an upper unit, which includes a vertical guidance engine, weaponry, ammunition, and sensors. The base is installed directly on the roof of the vehicle and does not require mechanical penetration into the armor space. The rotation engine allows the combat module to rotate continuously at 360 °. Horizontal transfer speeds range from 0,01 / s to 57 / s.
The upper unit rotates at angles from -20 ° to + 60 °. The vertical transfer rate varies from 0,01 ° / s to 30 ° / s. All important elements of the system, such as electric motors, are protected in accordance with the STANAG level of protection 1. Optionally, the system has a two-axis gyrostabilization. The system was designed to install the 7,62-mm machine gun, 12,7-mm machine gun or 40-mm automatic grenade launcher MK19. Armament is installed along the centerline of the combat module, ammunition is served on the left side. Magazine capacity is 460 7,62 mm cartridges or 200 12,7 mm cartridges.
A sensory container is installed on the right side of the module, the sensors are placed in a weatherproof container and consist of a daytime CCD camera and an uncooled thermal imaging camera.
Images are displayed on a remote flat LCD display. The movements and firing of the combat module are remotely controlled using a hand controller. As an alternative to the LCD display, Whitebox Robotics offers a headset for the operator.
The headset consists of two displays on which the operator can see images from the sensors of the system. The headset also detects the movements of the operator's head and repeats the movements of the combat module. This thereby allows the operator to observe the situation around the combat module and direct weapons by turning his head in the right direction. In this configuration, the operator shoots weapons using a handheld controller.
The fire control system includes a trigger, an electronic and electromechanical safety device, a shot counter, a fire prohibition sensor, an image processor and a target tracking device.

TECH SPECS
Armament: 7,62-mm machine gun, 12,7-mm machine gun or 40-mm automatic grenade launcher MK19
Ammunition: 460 mm caliber 7,62 cartridges or 200 mm 12,7 caliber cartridges
Weight: <170 kg (unarmed)
Width: <750mm
Height: <600mm
Azimuth angles: 360 °
Elevation angles: from -20 ° to + 60 °
Transfer speed:
(maximum) 57 ° / s
(minimum) 0,01 ° / s
Vertical transfer speed:
(maximum) 30 ° / s
(minimum) 0,01 ° / s
Day Sight: Day CCD Camera
Thermal Scope: Uncooled Thermal Camera
Power requirements: 24 volts; MIL-STD-1275B
Power consumption: <50 amperes; MIL-STD-1275B
Operating temperatures: -20 to + 60 ° C
Storage temperatures: -30 to + 71 ° C
Vibration resistance: MIL-STD-810E
Electromagnetic compatibility: MIL-STD-461 / 2E