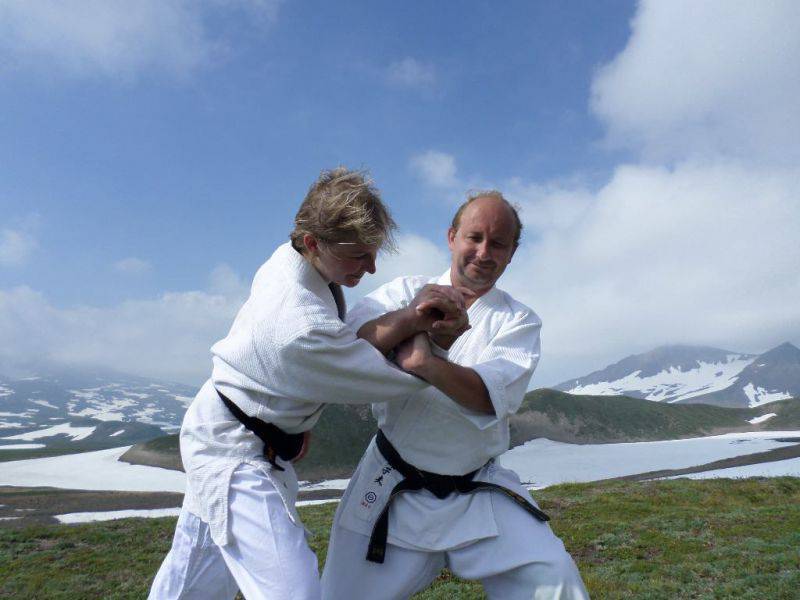 This article appeared after a number of events in my life and thanks to some articles on the "Russian" hand-to-hand combat, published on the website "Military Review". I already apologize for the quotes at the word "Russian", I just have my personal opinion on this subject based on the love for
stories
of our state, as well as on the basis of our own teaching and sports (and not only) experience. If this article is not published, as it looks like an advertisement, I will not be offended.
I often hear such a question, or rather they pass it to me, I don't have enough courage to ask him personally: "Why Seisinkan aikido is Russian aikido?" I'm not allowed the traditional Russian upbringing to call those questioning idiots, therefore I will call them very close personalities. Let's start as a Jew from question to question. Do I look like a Japanese? Looks like medium height, narrow shoulders, blue eyes and blond hair in me clearly betray the representative of a descendant of Tungus manjurs, and the name Kazakov gives me a true Amur samurai. Well, the blood of the first settlers-Old Believers in me in the Russian Far East clearly indicates that I am a real Japanese and therefore I have Japanese aikido.
Let me remind the great connoisseurs of aikido that Morihei Ueshiba said that everyone has his own aikido, which means the Japanese have Japanese, the Brazilians have Brazilian, the Russians have Russian, etc. And since I am not alone and we are quite a lot and we are all citizens of Russia, my dojo and my school is Russian. Of course, to the gizmo on the ground of federations and official papers, the functionary "Russian" is associated only in the context of "All-Russian", but I will disappoint him — this word sometimes denotes location. It would be strange that, living in Vladivostok, I would write that this is a Canadian school.
We know Brazilian jiu-jitsu (jujutsu), Okinawan or French karate, Vietnamese wushu and the Cuban school of boxing, but for some reason we only have aikido Japanese. Although this is the explanation. Well, now I, on behalf of all those who share my views, have a well-founded position: Any instructor, trainer, sensei, etc. - this is, first of all, the teacher and his main task is not so much to teach "receivers", but, above all, to educate students. Martial arts is
weapon
that implies responsibility. It is impossible for a person who is not morally ready to give it in his hands. This one side of the issue.
The second side is that we are citizens of the Russian Federation and the task of the teacher is to educate the future citizen of our country. Educating a future citizen within an alien culture and mentality leads only to the fact that, as an adult, a person does not perceive his country as his homeland. For him, she is the same as everyone. What is the difference: Russia, USA, Japan, China, Germany? What is the duty to the motherland? Yes, you go! Japan is closer to me! Anime, computers, kendo, nintendo, etc. I'll go there.
But this is half the trouble! I am struck by the blind imitation of a foreign culture. It is imitation! Because these "teachers" have no idea about the culture that they are trying to implant on their wards. With very few exceptions, they have no idea about history, for example, Japan, nor about religion, nor about the mentality, nor about the history of its relations with other states. No, he, of course, read the "Book of the Samurai" or the "Book of the Five Rings", but this is where all his knowledge ends. When such people try, through the prism of their stereotypes and complexes, to instill in students an understanding of a certain culture, except as a crime, it cannot be called.
As an instructor, it is much more important for me that the child be disciplined, assembled, concentrated, so that he has a developed sense of camaraderie, that he think not only about himself, show respect for everyone. In this context, the ability to say: "We thank for the training, Alexey Igorevich," is much more important than the ability to say: "Domo arigato gozaimasit". Aikido is only a means of education. This is one of the means of educating the Japanese in the proper spirit. Ask yourself, why bring up a Russian child in the Japanese spirit? Who are you cooking? When you get into a Japanese car, you don't learn the rules, the religion of the Japanese, the Japanese language, etc. You just take and eat according to the Russian rules.
In the Sejsinkan dojo (Seysinkan ryu Yoshinkan aikido, Aikido Seishinkan) we do what a teacher should do, we use aikido as a means or if you want a tool to educate students according to Russian culture. A child who, contrary to the current trend, instead of "you" learns to say "you" and instead of "hello" says "good day", is much more expensive than the next black belt or the next diplomat received at the next All-Russian Vanity Fair.
In my opinion, in the light of what is happening in the education system now, this is becoming increasingly relevant. Unfortunately, a generation of young instructors, brought up in the modern world and having values ​​far from the traditionally Russian, is now coming to the fore. Modern "teachers" perceive tradition as a ballast that prevents them from "developing" and "moving forward" and abandon it, forgetting that tradition is, above all, the basis of our mentality, culture and national character. Having rejected this, they instinctively seek support and find it in other cultures. And as a result, look at the behavior of those who adore everything, for example, American, well, or Japanese. I can say that the desire of young people and Wahhabism has a tighter reason.
And finally, the Japanese are neither better nor worse than the Russians — they are a different people with their own history, culture, mentality and national character. I practice aikido only because in the East, unlike in the West, there are conditions for creating clear training systems for soldiers, which we call schools (styles, etc.) I am personally attracted by the training system, not the Japanese tradition. And not the Japanese to learn Russian culture.
(In the photo with me, the true "non-Russian" is of Belarusian origin ... a hint to the Ukrainians)