Domestic thin-film piezoelectronics takes the leading position
Designed for the onboard equipment of the latest MiG-29KR / KUBR and Su-35 fighters, as well as Ka-52 helicopters, the PNP-10 piezoelectric tilting platform surpasses many of the world's analogues. It was developed and put into production by the Zelenograd Scientific-Research Institute "Elpa".
Russian arms exports have been growing rapidly for several consecutive years, according to the Stockholm Peace Research Institute (SIPRI). MiG-29 and Su-30 fighters, Mi-35M and Mi-28 helicopters,
Tanks
T-90A, TOS-1A heavy flamethrower systems are far from a complete list of hits of the Russian defense industry on the world market. But, as experts rightly point out, the methodology used by SIPRI - counting the so-called platforms, that is, finished products delivered to customers, does not give a reliable picture, because many countries supply abroad primarily microelectronics, high-tech elements, components and assemblies.
It should be recognized that, until recently, the problem of creating our own element base, as well as the development and serial production on its basis of components and assemblies for various types of weapons and military equipment, was rather acute for the domestic industry. The program of import substitution, albeit with difficulty, was able to unfold the situation, and now we already have something to be proud of.

The secret of super precision
If we compare the photos and videos of modern Russian fighters with their Western "competitors", a distinctive drop-shaped protrusion located in front of the cockpit — the so-called optical-radar station (OLS) immediately catches the eye on our machines. Previously, it was intended solely to search for enemy aircraft by their infrared radiation. The newest OLS-U (for MiG-29K / KUB fighters), OLS-35 (Su-35) and others are capable of detecting, capturing and tracking air, ground and surface targets, highlighting them with laser radiation, etc.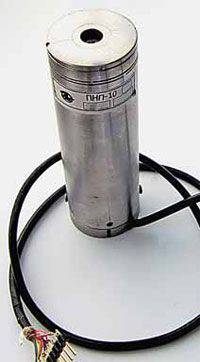 It is clear that for flying fighters at supersonic speeds in air combat conditions and when striking ground targets, the accuracy of movement of optical and laser systems that form the basis of optical-location stations should be measured not with centimeters and not even millimeters, but with micrometers. But how to achieve such accuracy?
At present, devices based on the so-called thin film piezo ceramic actuators are used to control precision and adaptive optical systems.
"A layer is made from 10 to 100 microns thick, and from these layers a piezopack is formed, which reaches thickness from 2 to 100 millimeters. When a certain potential is applied to the structure of a piezoelectric package, it can make quite large displacements, in some cases up to 100 microns. If the control of solid ceramics requires a voltage of up to one kilovolt, then for thin-layer ones - from 90 to 150 volts, "Sergei Nersesov, general director of the Elpa Research Institute, reveals the advantages of development.
Interestingly, to control the mirrors installed in the latest OLS-UE optical-location stations purchased by Indian naval forces MiG-29K / KUB fighter jets, a block with piezodrives of the S-330 family of the German company Physik Instruments was used.

The S-330 piezo-tilting platform is a high-tech product with tilt angles up to 10 mrad (milliradian), which is based on two pairs of differential-controlled actuators. It should be noted that these platforms are not only in Russian OLS, but are also actively purchased by American, French, Israeli firms - manufacturers of high-precision
aviation
optoelectronic systems.
But for our MiG-29K / KUBR, which will soon join the fleet of naval aviation of the Russian Navy, the development engineers of the Elpa Research Institute could create their own PNP-10 piezoplatform, which is not inferior to S-330, but also surpasses certain characteristics her.
"Our piezoplatform consists of four actuators expanding to 40 microns when energized. The control system of the PNP provides for the movement of actuators under a special program. The actuators themselves act on the platform on which the rotary mirror is located, deviating in two planes (axes X and U. — AR) on the 10 mrad. At a distance of up to five kilometers, our platforms provide pointing accuracy of up to one meter, "says Anatoly Gritsenko, developer of a unique piezoplatform.
In PNP-10, specialists from Zelenograd introduced their own know-how - strain gauges used for feedback and eliminating the so-called withdrawal. "On our actuators there are special strain gauges used for feedback, thereby increasing the resolution (the minimum possible movement of the actuator's working body per unit of applied voltage. - A.P.). To make it clear: without strain gauges, the accuracy of the actuators is 10 – 15 nanometers, and with the use of strain gauges this figure reaches one nanometer! Accordingly, the accuracy of the guidance increases, "explains Andrey Daineko, director of the project management center of the Elpa Research Institute.
But the accuracy of the actuator depends not only on the use of strain gages. The most important role is played by the power source, which directly supplies the current to several piezoplatforms. The PI itself is actually a mini-computer based on a programmable unit that, depending on the command received, sends electrical impulses to platform actuators using complex algorithms.
"Our power source is a separate original development made by SPP SPC from Veliky Novgorod. It ensures the accuracy of voltage supply up to ten nanovolts, due to this, the resolution of the positioning of the mirror itself increases. After all, the actuator monitors any voltage fluctuations, which seriously affects its accuracy, "says Andrei Daineko.
But not only high accuracy distinguishes the Russian product from foreign analogues. In particular, in electron-optical systems where the German S-330 is used, there are often failures, since the actuators do not always withstand too large lateral bends and fall apart when overloads occur. "While developing PNP-10, we immediately paid attention to the problem of survivability of actuators and increased the area of ​​their cross section by one and a half times. Strength has increased, and therefore, resource life has become higher. Conducted a durability test and achieved 30 thousands of hours. They put three actuators, applied voltage to them and continuously "hollowed" them at a temperature of + 85 degrees. In the process of testing, physical properties were measured every thousand hours. 30 thousands of hours - meaning continuous work. If measured in pulses, this figure will increase many times. The plane does not live so much! ", - said Viktor Nikiforov, deputy head of the research and production complex for science.
At present, PNP-10 are being tested as part of optical-location stations intended for MiG-29KR / KUBR, Su-35 fighters, and as part of the laser illumination system of the latest Ka-52 reconnaissance and attack helicopters.
The range of possible use of PNP-10 - for the sighting complex "Alligator", as well as a suspended sighting container, which is planned for use on such machines as the Su-35, MiG-29 and T-50.

Prospection
Designers and engineers of the Elpa Research and Development Institute do not stand still. Now, when PNP-10 has been brought to mass production, it is planned to create a line of piezoplatforms at its base that differ in resolution, displacement, etc. By the way, thanks to the unique technology of the thin-film piezoceramics developed at the Elpa Research Institute for several years from scratch , actuators are cheaper than foreign competitors.
"The actuator is multi-layered, which means there are many contacts on it. In the manufacture, the layers are sintered at very high temperatures, so palladium is used for contact pads - not the cheapest raw material. We found a way to reduce the sintering temperature, which reduced the palladium demand by more than 30 percent. Accordingly, the cost has fallen. To make it clear to readers: the actuator is recruited from the so-called cubes. For example, in one 70-millimeter actuator PNP-10 their 30. In the world market, the standard price of one 40 – 50-layer cube is about four euros. Our cost is about a quarter cheaper. And the line for the production of thin-film piezoceramics is already ready to produce up to a million of such cubes per year, "says Andrei Daineko.
On the basis of PNP-10, a piezoplatform of linear displacement is also created, that is, moving in planes not only X and Y, but also Z. Such a product is in demand both in aviation and in space programs, it is necessary for reconnaissance systems, as well as high-precision
weapons
. According to representatives of the Elpa Research Institute, the institute conducts joint work with several enterprises in this direction, but it is too early to talk about concrete results.
Another important application of thin-film piezo-ceramics is vibration damping systems. "They were first tested by American aircraft manufacturers on the F-16. To dampen the vibrations of the tail, special panels made of tape actuators were used. The principle of operation is quite simple. We have a structural element of the aircraft, which oscillates, and we in the opposite phase put the actuator, which presses from the opposite side. Our institute offers a more interesting option - to use piezoplatforms as a kind of shock absorbers. In particular, it is very important for units and assemblies of nuclear submarines. We carried out joint research with the Institute of Mechanics of the Russian Academy of Sciences and came to the conclusion: if the PNP is installed on some subassemblies and mechanisms of the nuclear submarine, then the vibration can be reduced to almost zero! "- summarizes Andrey Daineko.
The Elpa Research Institute is an enterprise that in the course of a few years has created not only its own piezoplatform, but also the unique technology of thin-film piezoelectric ceramics, which allows mass production of new, largely unparalleled products in the world, which are used in many branches of the defense industry.