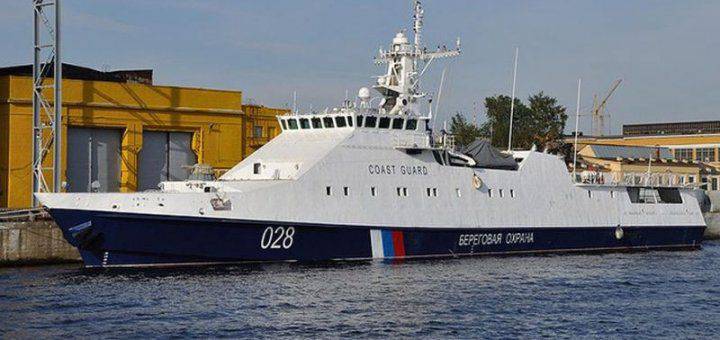 The new patrol ships of the Frontier Service of the FSB of the 22460 project will be equipped with diesel installations made in the PRC and not in the Federal Republic of Germany, as planned, Deputy Chief Engineer of the Almaz Shipbuilding Company Ilyaz Mukhutdinov told 16 in November at a press conference in the TASS regional center in St. Petersburg.
"We are talking about high-speed high-speed diesel engines of high power. We can say that their construction is outdated ",
- noted Mukhutdinov. He recalled that for the guard originally
"German diesel engines with a higher resource were chosen." "Our German partners refused to supply these products"
, and in the Russian Federation high-speed diesel engines of such aggregate power that meets the requirements of the customer,
"Not currently"
, said a representative of the firm "Almaz".
"In this regard, it was decided to install on the ships under construction, Chinese high-speed engines - modern, good, required power
, - noted Mukhutdinov. -
At the moment, the supply contract has already been concluded, and the diesel engines of our Chinese partners will be installed on the next ships of the 22460 project. "

The chief designer of the project of the Northern Design Bureau (SPKB) Alexey Naumov specified that
power plants of this type in China are manufactured under a German license.
"These are products that the Chinese produce on the basis of the German design"
, - he said.
REFERENCE
The patrol ships of the 22460 project Rubin cipher ("Hunter" type) are a type of diesel border (patrol) patrol ships of the territorial sea of ​​the second rank. It can be conditionally assigned to small corvettes.
On board the ship is a landing pad for a light helicopter (Ka-226 or Ansat) or a UAV (Gorizont G-Air S-100). For the helicopter can be equipped with a hangar shelter. In the stern of the vessel there is a slip for launching a rigid inflatable speedboat and other equipment. "Ruby" is equipped with a desalination plant, a sauna with a mini-pool (autonomy - 2 of the month, for such a small ship it is a lot). Range 3500 miles
The ship's armament is one 30-mm automatic six-barreled artillery mount and two 12,7-mm machine guns. Technically, it is possible to deploy launchers of the Uran anti-ship missiles and the A-220M art installations.
External contours are developed using elements of stealth technology. The total number of ships in the series is expected to be about 30 (of which 6 is already in service).
The watchdog of the 22460 project differs from its predecessors not so much in armament as in shipbuilding qualities. Thus, the ship will be able to serve in the excitement of the sea in 6 points, while freely maneuvering. The patrolman has a new hull shape, increased seaworthiness. Speed ​​on calm water - 30 knots.