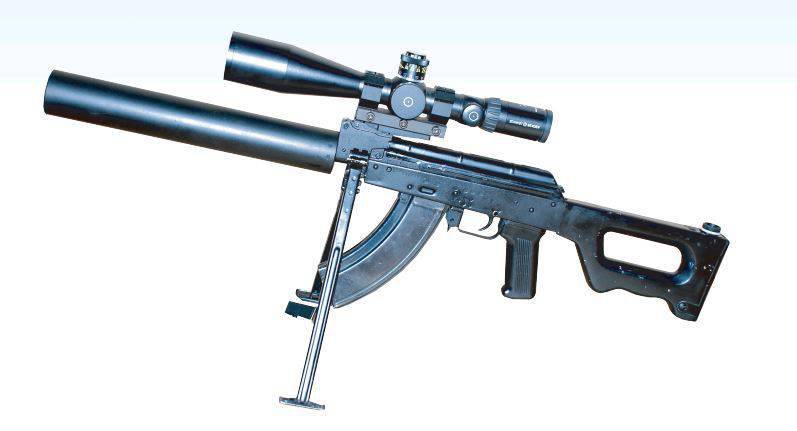 In the framework of the International specialized exhibition "
Weapon
and security - 2015 ", which took place in Kiev on September 22-25, Ukrainian gunsmiths presented a lot of new products of domestic military equipment and weapons. Among the new products was the Gopak operational-portable rifle, developed by the Mayak Plant, part of the Ukroboronprom state-owned enterprise.
According to the press service of the company, the new rifle will go into service with the Ukrainian army after conducting state tests.
The Gopak rifle is based on a Kalashnikov assault rifle. It has a weight of about 5 kilograms with a total length of 702 millimeter. The length of the barrel when it reaches 415 millimeters. The rifle is designed for a millimeter 7,62 cartridge. Cartridges are fed from the magazine on 10 and 30 cartridges. The rate of fire is 30 shots per minute. In addition, according to the state concern, if necessary, the rifle can be further equipped with a special silencer.
According to some experts, judging by the fairly low rate of fire, this rifle is either reloaded manually or semi-automatic. In their opinion, the new rifle has no advantages over the original Kalashnikov machine gun, but at a cost it is much more expensive. They also note that Gopak outwardly resembles a Kalashnikov assault rifle with a PKM machine gun butt, so it's not entirely clear why such a rifle should be produced if there are enterprises in the country that manufacture more modern and sophisticated weapons.
At the same time, it should be noted that the Mayak Plant enterprise is now actively involved in the technical re-equipment of the Ukrainian army and the renewal of the military arsenal, in particular, small arms and sniper weapons. The company's specialists have developed VPR-338 8,6-mm caliber sniper rifles with an 1,5 kilometer range, as well as VN-308 7,62-mm caliber with an 900 meter range, which have already been adopted. In addition, at present, state testing is undergoing another development of the enterprise - a large-caliber sniper rifle 12,7-millimeter caliber with an aimed range 1,5 kilometer. At the stage of state testing is another development of the "Mayak Plant" - a mortar "Hammer" of caliber 120 millimeters, as well as special combat modules for armored vehicles Saxon and HMMWV.
Recall, the state enterprise "Mayak Plant" specializes in the production of radar systems and equipment, navigation and control aircraft equipment. In addition, such areas as modernization, development, production and utilization of weapons and military equipment, as well as design and experimental research and development work on the development and implementation of new types of weapons and military equipment, have been successfully mastered.
Thus, we can say that the new development is not entirely competitive, and all possible flaws of it will already be revealed during the tests.
Materials used:
http://bmpd.livejournal.com/1534360.html
http://vpk-news.ru/news/27604
http://so-l.ru/news/show/na_vooruzhenie_ukrainskoy_armii_postupit_vintovka