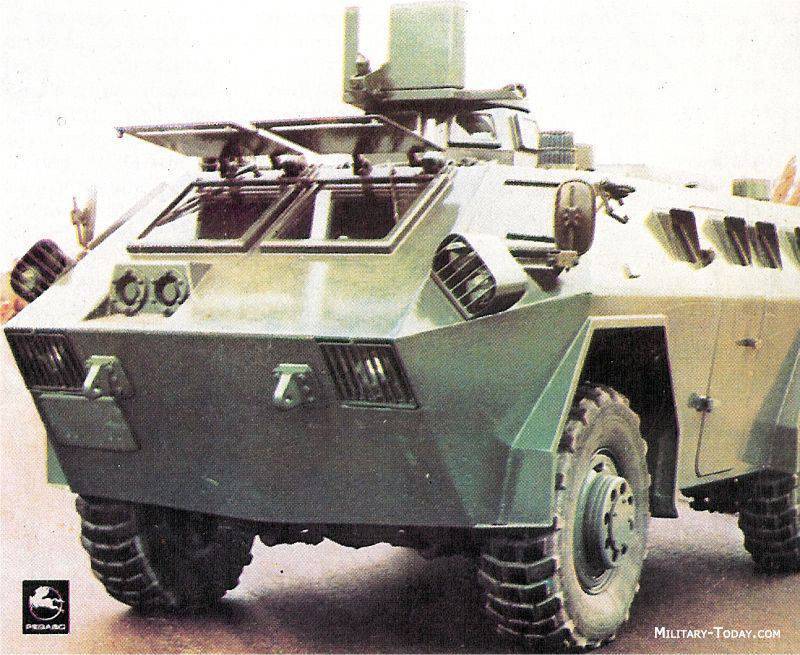 The BLR armored personnel carrier has a rear mounted engine.
The BLR wheeled armored personnel carrier was designed to meet the needs of the Spanish army in a cheap, secure off-road vehicle that could perform various tasks, ranging from ensuring internal security to guarding borders and airports. The BLR BTR was developed by the Santa Barbara Group, which gave it the designation BLR 3545.
The layout of the BLR 4x4 differs from most other machines of this type in that the engine is mounted behind the rear axle. This is in combination with the fact that the landing forces land and disembark through two stern doors (there are one more doors on each side), it allowed to get a relatively large amount of armor, the car can accommodate also 12 people other than the driver. Inspection devices are installed along each side, while the squad leader has a turret with all-round viewing devices installed in the center of the vehicle. If necessary, this turret can be installed 7,62-mm or 12,7-mm machine gun. It was assumed that the machine would be able to accept a small turret into which more heavy weapons could be installed, such as an 20-mm or 25-mm cannon, or even an 90-mm cannon, but in practice none of this was established.
Special equipment for internal security tasks includes a blade or a device for clearing the barricades, sirens, loudspeakers, spotlights and launchers of smoke grenades or tear gas. There is also an unusual semi-automatic fire extinguishing system over each wheel. Other optional equipment includes additional radios, armor wheels, a front winch and night vision devices.
The Spanish Marines are armed with the BLR armored personnel carrier, along with units of the Spanish police and paramilitary forces in rural areas. These cars were also sold in Ecuador.
Although not a single variant of the BLR was made, it is assumed that commander and sanitary options were ready for production. The production of the BLR armored personnel carrier is currently discontinued.
Admission to service?
Crew - 1
Landing - 12
Dimensions and weight
Mass 12 tons
Length 5,65 m
Width 2,5 m
Height 2 m
weaponry
Machine guns 1 x 12,7-mm (optional)
Mobility
Pegaso diesel engine
Power - 210 hp
Maximum speed - 93 km / h
Power reserve - 570 km
Maneuverability
Slope - 60%
Side bias - 30%
Vertical scarp - 0,3 m
Ford - 1,1 m
Materials used:
www.military-today.com
www.armyrecognition.com
www.wikipedia.org