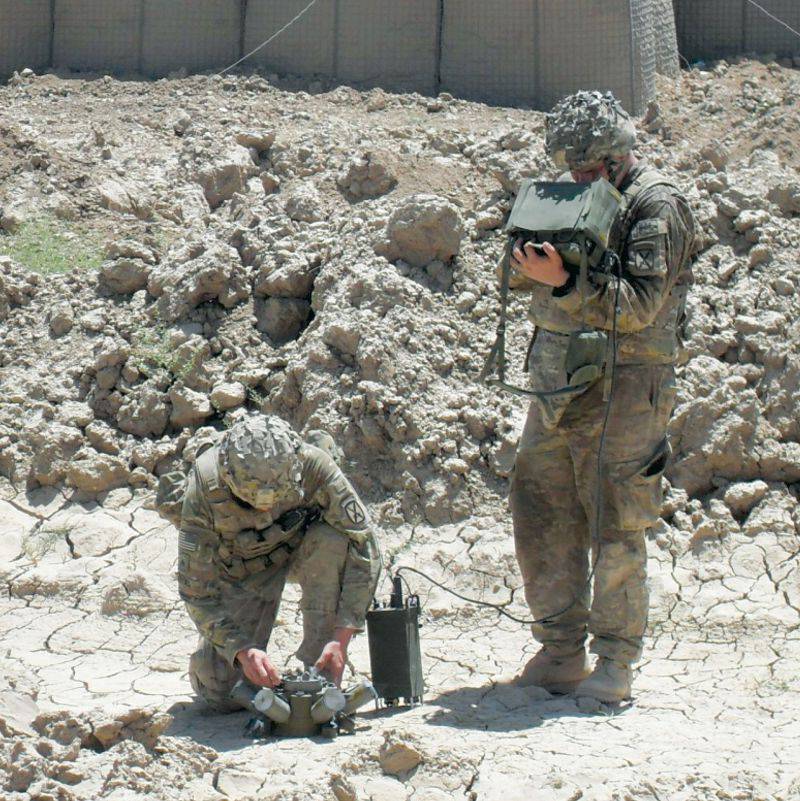 US Army personnel install the M7 Spider network system. The Combined Non-lethal Weapons Authority is developing a version of the M7 Spider, in which non-lethal actuators can be, for example, noise-noise or grenades with rubber balls.
Non-lethal technologies are increasingly affecting the entire spectrum of military operations. Consider the existing and promising systems in this area.
Modern armed forces are expected to conduct complex operations of various types, starting with the provision of humanitarian assistance and assistance in natural disasters, peacekeeping operations and peacekeeping operations to full-scale military operations.
Ground forces, in particular, are increasingly confronted by asymmetric non-state opponents, such as organized rebels and terrorist groups — amorphous entities that, as a rule, do not have wide access to modern weapons and combat training, but avoid traditional methods of warfare, force civilians or enjoy his support, disguised among him, and also use the damage to life and property accompanying hostilities as propaganda information rational
weapons
. In addition, the civilian population itself may be hostile, deprived of voting rights, it questions the presence of the interventionists on their land.
These modern operational realities, it seems, will only get worse. For example, the Research Center (SIC) of the American Army conducted a survey in 2014 among 314 soldiers who had recently taken part in military operations. Seventy percent of respondents said that their unit was in situations where it was necessary to control the behavior of a crowd of civilians ranging in size from 20 to 200 people. The largest gathering of people, however, was a crowd of more than 1000 people. 84% of respondents admitted that in the majority of cases of this kind, when exercising control over crowds, as a rule, their numbers were platooned or even less.
Conventional common sense and doctrine dictate that the military, when operating in such conditions, must adhere to the principle of minimum force and use force commensurate with the magnitude of the threat. However, in practice, the application of such verified response measures is especially problematic when the participating troops are usually armed with weapons, which by default are already deadly. In other words, the average soldier is under strong pressure regarding his response, varying between the two extremes - intimidation and armed retribution.
As a result, in order to fill the gap between "shouting" and "shooting", weapons and corresponding means are being developed that are capable of delivering a precisely non-lethal impact, which will allow the military to react to changing situations.

Airguns FN 303 from the company FN Herstal is able to neutralize targets at close range
Definition of non-lethal weapons
Non-lethal weapons or non-lethal weapons (OND) cover a huge range of technologies. The US Department of Defense gives its definition of UPD: "weapons, devices, and ammunition that are directly created and are primarily used for the immediate decommissioning of targeted biological objects or materiel while minimizing deaths, irreparable damage to a living target, and undesirable damage to property in an area or exposure conditions. The concept of OND implies the reversibility of human and tangible property. "
A representative of the Joint Non-Lethal Weapons Directorate of the Ministry of Defense, the main structure for financing and managing the UPD for the armed forces, Kelly Hughes said that his NLWP Non-Lethal Weapons Program allows us to provide the US military with so-called escalation systems of force, which are intended both for use against manpower and against the material part. The annual budget of the NLWP is approximately 140 million dollars.
"The UPM is intended and used to achieve military objectives with minimal loss of human life or damage to property and property," Hughes continued. "BDI can also help clarify an opponent's intentions."
Within the framework of the NLWP program, 14 OND types for fighting manpower were successfully put into service. The list includes acoustic devices, non-lethal ammunition and optical blinding devices. There were also deployed OND of five types, designed to eliminate mobility or deterioration of mobility of vehicles, as well as damage to the material part.
One of the flexible tools is the FN Herstal FN 103 non-lethal grenade launcher, which was used to support various types of missions, including mob dispersal, defensive and offensive operations, and defense of its forces. The FN 303 pneumatic grenade launcher is designed to disable people at a distance of 50 meters using 18-mm feathered plastic projectiles containing various charges, for example for causing blunt injuries, with marking paint (washable pink, indelible yellow) and with liquid irritants like peppermint gas Oleoresin Capsicum.
The FN 303 has a total length of 740 mm, the 2,7 kg weighs with a fully loaded 15 projectile magazine and a compressed air tank, the latter designed for 100 shots. According to the IHS Jane's Directory of Security and Equipment, some of the main characteristics of the FN 303 are as follows: high accuracy and ease of use, it does not create flashes or recoil, almost silent, which reduces the chances of panic in the crowd when shooting from conventional weapons. The system is also capable of hitting targets at very short distances, the minimum safe distance is one meter.
There is also another OND against manpower available on the market, for example 40-mm non-lethal ammunition, which is suitable for firing from the widespread 40-mm M203 under-barrel grenade launcher. As an additional tactical tool, the M203 allows the operator to respond both lethally, from the assault rifle itself and high-explosive fragmentation grenades, and non-lethal, for example, ammunition such as rubber bullets, traumatic bullets and various types of gas.
However, the growing interest in OND has also led in recent years to the emergence of specialized non-lethal rocket launchers developed by various companies.
For example, the South African manufacturer of military equipment and systems company - Rippel Effect has included new non-lethal capabilities in the newest version of its well-known multiply-charged 40-mm grenade launcher with an increased XRGL40 range. Executive Director Fritz Visser told 2015 in April in an interview that the company had to solve several technical problems in order to obtain new functionality.
"In multiply charged grenade launchers, the pressure created by the ammunition leaving the charging chamber (the cylinder in our case) is used to repeat the cycle and prepare the cylinder for the next projectile. In order for the grenade launcher to work in semi-automatic mode, sufficient pressure is necessary. This is not a problem for lethal 40-mm projectiles, but an obvious problem for modern non-lethal ammunition. The problem is that the grenade launcher performed the cycle in semi-automatic mode, in other words, fired the next projectile as quickly as you press the trigger. Manufacturers tried to solve this problem by using reloading weapons through reciprocating motion or by adding a gas cylinder like paintball guns. We solved the problem with our patented Variable Port Pressure Device [VPPD] device, which allows us to use gas pressure in the gas port to perform a non-lethal ammunition cycle with very low 2,4 bar pressure, as well as a lethal ammunition cycle with 30 pressure bar without any grenade launcher design changes.
The company also developed the latest series of RLL Less Lethal non-lethal multiply charged grenade launchers which are available in the 37 / 38 mm configuration for law enforcement and internal security forces and in the 40 mm configuration for the military. The RLL system, released at the beginning of 2015, has a length of 780 mm with a butt-out and weighs 3,7 kg.
"We are in the pre-production stage of developing our own specialized non-lethal weapons of the 40 mm and 37 / 38 mm calibers," said Visser. These grenade launchers make a cycle at the expense of mechanics and, therefore, can make a cycle in semi-automatic mode with any non-lethal ammunition, regardless of pressure. "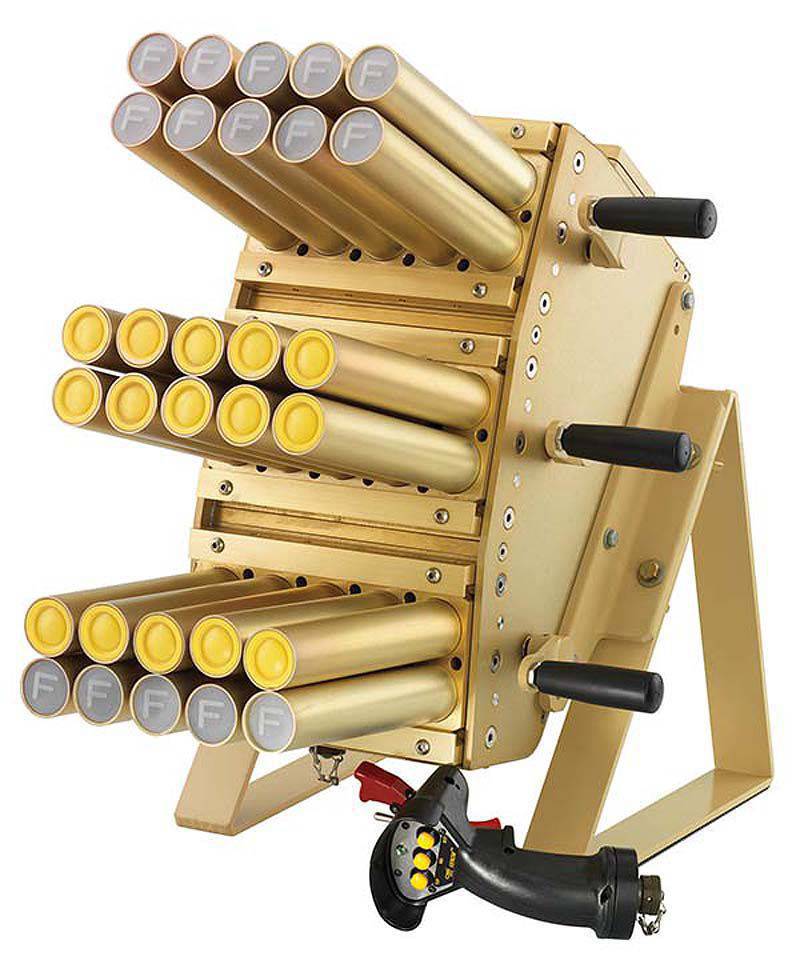 Venom's non-lethal pipe launch system is deployed in several Marine Corps units. The system is installed on light tactical vehicles.
Rippel Effect from South Africa developed a new multi-shot grenade launcher specifically for non-lethal ammunition caliber 37 / 38 mm and 40 mm
Replacing mines
Under the NLWP program, a non-lethal version of the M7 Spider network destruction system was also developed, which is currently being commissioned by the American army. The M7 system was originally created by Textron Defense Systems and AlliantTechsystems (ATK) as part of an alternative development program for anti-personnel mines.
According to the office of the NLWP, the non-lethal Spider variant will generate light and sound effects, as well as be able to inflict blunt injuries due to the launch of noise-noise and grenades with rubber balls. Operators also have the ability to deactivate the system or enable self-destruct mode. Replaceable batteries provide system operation for approximately 30 days.
The manually installed system consists of a remote control station that can control ammunition control units (MCUs) up to 63 units. They are triggered at a distance of more than 1000 meters via a wireless network or on site using wire tension sensors attached to a control station. The MCU is a launcher with six non-lethal projectiles; each of them covers the 60 ° sector for an all-sweeping coverage with a radius of up to 10 meters from the unit deployment site. NLWP defines the minimum safe distance in 5 meters.
In addition to portable OND, several systems installed on machines also appeared. For example, the United States Marine Corps successfully deployed the non-lethal Venom NL / TLMS (Non-Lethal / Tube-Launched Munition System) pipe launch system developed by Combined Systems Inc., an ammunition and armament manufacturer.
Venom NL / TLMS is designed for installation on combat modules and installation of Mine-Resistant Ambush Protected (MRAP) and High-Mobility Multipurpose Wheeled Vehicles (HMMWV) machines. The system consists of 30 one-time smooth-bore pipes according to the scheme 3x10, organized in fixed angles 10 °, 20 ° and 30 °. Venom NL / TLMS is capable of deploying various 38-mm non-lethal ammunition to the maximum range of 100 meters.
According to the company, the system measures 49x38x26 cm and weighs 15 kg. It is also compatible with a number of fire control systems that use IP-based control algorithms for launching wired and wireless commands for individual cartridges or sequential firing. The Marine Corps announced in August 2014 that the system was distributed into several units, including expeditionary battalions II and III, command of the marine corps and reserve units.
Shout and warning
"Marines need a system that can hail and warn from a distance," said Anita Tate, head of the procurement and logistics team at Venom NL / TLMS. "This is a very safe, very easy-to-operate system that will allow infantrymen protecting roadblocks to better understand the intentions of the approaching vehicle."
The corps also considers another system installed on the vehicle according to the program, designated MPM-NLWS (Mission Payload Module-Non-Lethal Weapons System). The current program envisages the development of a new movable tube-start system, which is capable of having various selective and scalable non-lethal effects on humans, including sound and visual disturbances, as well as thermal heating. The main goal of the program, which is currently at the stage of design and preparation of production, is to supply the troops with a system that surpasses the existing OND systems in range, coverage, duration of exposure and rate of fire.
"MPM-NLWS will allow the combat commander to use non-lethal capabilities across the entire spectrum of escalating power from early warning to dispersal and non-lethal suppression, thus increasing the commander's capabilities regarding a point response to threats," a corps spokesman said. He further added that the first version of the MPM-NLWS will most likely be installed on HMMWV jeeps, although the following options may be compatible with other tactical vehicles, such as the JLTV (Joint Light Tactical Vehicle) and military medium-duty vehicle MTVR (Medium Tactical Vehicle Replacement), ground-based remote-controlled vehicles and surface vessels.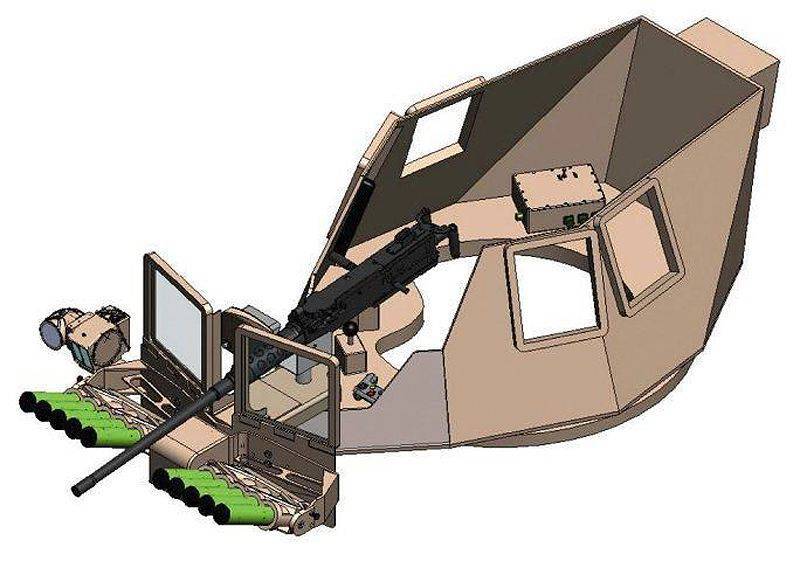 General Dynamics developed the Medusa 66 mm caliber grenade launcher system, which is being evaluated for compliance with the requirements of the Marine Corps for a non-lethal weapon system for the HMMWV and its future replacement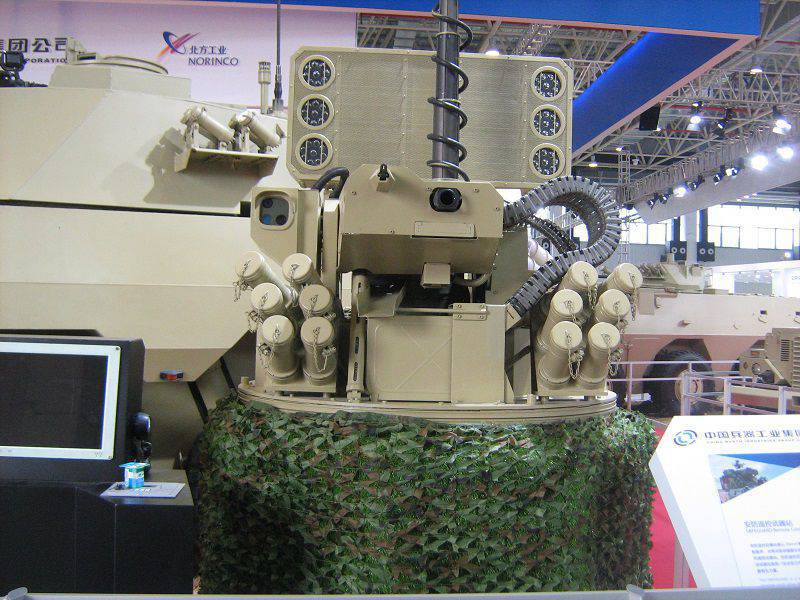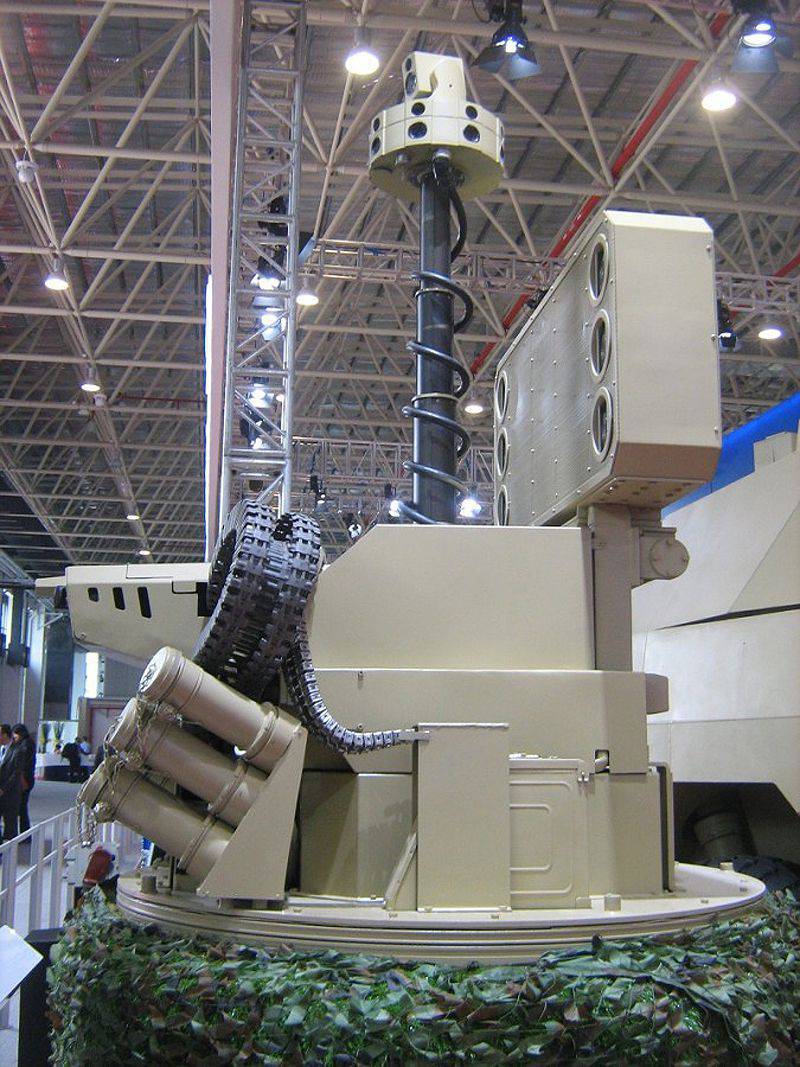 At the China Airshow 2014, NORINCO showed its remote-controlled Safeguard combat module. It is equipped with various lethal and non-lethal weapons, such as a machine gun, an 35-mm automatic grenade launcher, an acoustic device, and a blinding device.
The main candidate for the MPM-NLWS program is the non-lethal Medusa People Suppression System, developed by General Dynamics Ordnance and Tactical Systems (GD-OTS). Medusa has an integrated fire control unit, a laser rangefinder and dual rotary launchers of 66 mm caliber grenades with a range from 30 to 250 meters. According to the company, the spherical probable deviation is 0,8 meters at a distance of 30 meters, 2,5 meters at 90 meters and 4 meters at a distance of 150 meters. Grenades, developed in parallel with the launcher, can be programmed to shoot at distances determined by the operator in order to provide different levels of impact on the targets.
The contract for initial production is expected when a positive decision is made at the beginning of 2017 of the year, initial commissioning in 2018 of the year, and full-scale entry into the troops in 2019 of the year. It is planned to purchase up to 312 of such systems.
In addition, according to a GD-OTS spokesperson in April 2015, she works closely with SIC Armaments on integrating the Medusa option into the Objective Gunner Protection Kit (OGPK) arrow protection kit for possible use on promising military vehicles. "The US Army has needs for power escalation systems for all of its vehicles, and Medusa is a good candidate for meeting those needs."
In recent years, non-lethal capabilities have also found their place on a number of remotely controlled weapons modules; An example is the M151 Protector module line developed by Kongsberg Protech Systems. The stabilized Protector platform with a modular architecture allows the operator to select a set of sensors and weapons for their specific needs. According to the IHS Jane's Land Warfare Platforms directory, a typical Protector system consists of a Rheinmetall Vingeye CCD camera with an 45 ° field of view and x30 optical zoom, as well as a Thales Thermal Imaging Module (TIM) thermal imaging camera. The system can rotate 360 ° and has vertical angles from -20 ° to + 60 °.
Kongsberg Protech Systems offers a range of sensory options, including infrared chilled / uncooled cameras, color or black and white daytime CCD cameras, eye-safe laser range finders and infrared pointers. The Rheinmetall universal mount allows you to install a variety of weapons, including the M5,56 249-mm automatic rifle, the M7,62B 240-mm, M12,7-2-mm M40 automatic rifle and the MN 19 automatic grenade launcher.
The company has also developed an option that is specifically designed to meet the needs of a wide range of non-lethal operations, including humanitarian and natural disasters, peacekeeping, and peace enforcement. The Non-Lethal Effector model is distinguished by a set of restraints, including optical blinds for visual impairment, such as a green laser with veiling brightness and a powerful white-light projector, as well as a long-range acoustic device for broadcasting recorded or spoken warnings. The 40 mm or 66 mm group of flash-noise grenades is the last means of warning potential intruders, although the main weapon ensures that the operator retains the possibility of lethal force.
In addition to lethal weapons, the Protector module can accept various acoustic devices and laser blinds.
Such systems are deployed in the Chinese military and paramilitary forces. For example, at the Airshow China 2014 airshow in the Chinese city of Zhuhai, China North Industries Corporation (NORINCO) for the first time showed its Safeguard combat module, which is designed for anti-terrorism and peacekeeping tasks and is capable of using non-lethal and lethal weapons.
The Safeguard module is distinguished by an integrated laser-diode blinding searchlight and a long-range acoustic device capable of temporarily disorienting at once many people with intense directional radiation, as well as sound waves causing pain. In addition, a telescopic mast with a set of opto-electronic devices allows operators to monitor targets on the roofs of buildings, etc., and also conduct circular monitoring of the situation near the car. The non-lethal capabilities of the system are supplemented by two groups of six smoke grenade launchers, which, quite understandably, can create a cloud of tear gas in addition to the smoke screen itself.
When the situation worsens, in addition to resolving it peacefully, Safeguard operators may use lethal weapons, namely the 35-mm QLZ04 automatic grenade launcher with a tape feed. It is not known whether designed for him special ammunition, but it is clear that QLZ04 being newer grenade QLZ8 7, can shoot high-explosive fragmentation grenade DFS87-35 with the declared lethal radius of up to 12 meters and armor-piercing high-explosive grenade DFJ87-35 with punching steel armor thickness up to 80 mm depending on the meeting angle and fragmentation exposure of at least 5 meters. Also, the new grenade launcher is compatible with other 35-mm grenades, such as the DFR87 incendiary, DFN87 incendiary incendiary and DFD87 smoke grenade. Paired "small-caliber" machine gun provides an additional lethal effect.
A representative of NORINCO said that, depending on customer requirements, weapon options include 5,56 mm, 5,8 mm and 7,62 mm weapons, suggesting that the Safeguard module received an export permit, although he refused to specify or name foreign customers. However, he confirmed that the system is in service with the Chinese army and militias (most likely the military police).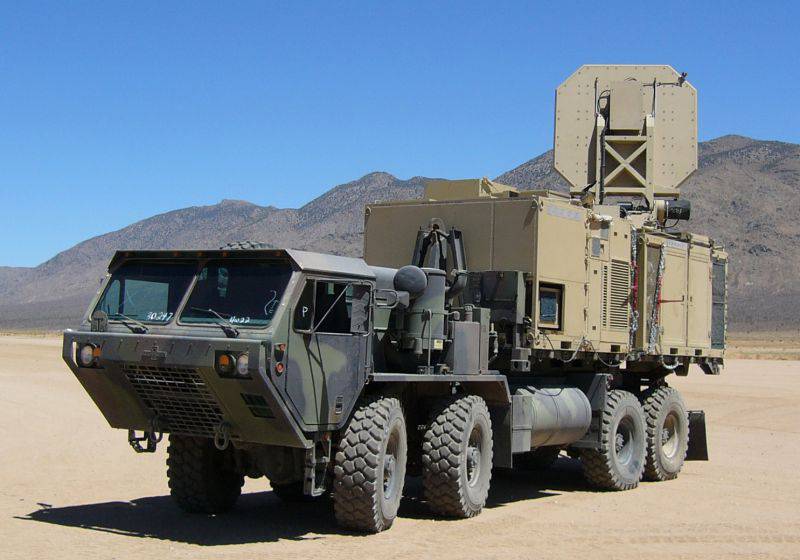 The integrated non-lethal weapons administration continues to develop the Active Denial System 2 container system. The ADS 2 system uses millimeter-wave energy of the 95 GHz frequency, which causes severe but temporary discomfort to its targets, forcing them to stay out of the protected area
Perspective development
Directed energy technologies also offer certain prospects for non-lethal systems. According to Hughes, in the framework of the program on non-lethal weapons, work is currently underway to search for technologies of directed energy that can stop people at great distances with minimal risk of injury and indirect damage. The current technologies use high-power gyrotrons based on a vacuum tube to generate millimeter-wave energy at a frequency of 95 GHz in the target area of ​​1,5 meters and the maximum range of 1000 meters.
At least two working systems have been developed - Active Denial System (ADS) 1 and ADS 2, which are used for possible demonstrations and deployments.
"According to the program, the ADS 1 system is being finalized into a more robust, mobile platform that can meet the needs of a possible deployment or demonstration. The program also developed a container version of ADS 2, suitable for rapid deployment. Upon receiving a request from the customer, it is planned to deploy the system, train the operators and provide technical support on the spot, "says Hughes.
She added that the Directorate of Non-lethal Weapons and the SIC of Armaments are jointly developing the next generation active interdiction system, which will use semiconductor technology, which makes it possible to potentially get a lighter system of smaller size, lower cost and reduced readiness time.
"The semiconductor technology has the potential to create active interdiction systems with a short range (100 meters) and a smaller sighting spot (0,5 meters), whose dimensions and weight are significantly reduced compared with current long-range systems that generate large sights. When using a gallium nitride energy source to generate millimeter-wave 95 GHz frequencies, semiconductor systems can be used as separate "additional" systems integrated into new or existing platforms. "
The Chinese company Poly Technologies showed at its Airshow China 2014 airshow its non-lethal WB-1 riot control system. It is similar in operation with the American ADS system. WB-1 projects a millimeter-wave beam to heat water molecules under the skin, resulting in severe but temporary pain. In November, 2014, the company said that, depending on the available capacity, the system could potentially have a maximum range of one kilometer. Despite the widespread opinion in the political and military spheres that security and stability operations in the future form some of the preferred forms of intervention, the main use of UPM by the armed forces has yet to be demonstrated. Documented arguments against it indicate that the BND is not suitable for a modern operational space, where lethal force must meet with an appropriate response. In addition, long-standing suspicions about the negative impact of OND on human anatomy over time persist.
Therefore, an accurate understanding of the effectiveness and risks of injury lies at the center of almost every project to develop and deploy non-lethal opportunities for the US military. According to Lieutenant Colonel Scott McKeem, the head of research on human exposure in JNLWD, the non-lethal weapons program coordinates these research works using experts in the field throughout the development process, resulting in the deployment of non-lethal opportunities with well-understood risks of injury.
"Part of the process of developing any non-lethal weapons is to describe the impact on humans, both in terms of system efficiency and in terms of risks," said McKim, noting that the guidance for this process was defined in the instructions of the US Department of Defense No. XXUMX. Description of the impact of non-lethal weapons on humans. "
"This process ensures the development and deployment of non-lethal weapons capabilities that meet the needs of the soldiers and give confidence in the effectiveness and understanding of the risks. Knowledge of the impact of non-lethal weapons on humans, along with information on the development of tactics and methods of use, as well as training in the use of them, can help combat commanders avoid irreparable mistakes. "
Comment
Although potentially applicable across a wide range of possible situations that the military is increasingly encountering in combat, it is unlikely that UPM will ever supersede the supremacy of lethal force in any single conflict.
However, the correct use of UPD as an additional or auxiliary capability, along with lethal weapons, will allow the military to accurately respond to events occurring in close proximity, with the prospect of reducing indirect damage to people and property.
Emphasis is placed on the appropriate use of non-lethal weapons, as their incorrect use can lead to serious injuries or even death.
Materials used:
www.janes.com
www.textronsystems.com
www.fnherstal.com
www.rippeleffect.co.za
www.combinedsystems.com
www.norinco.com
www.kongsberg.com
www.poly.com.cn
www.wikipedia.org
en.wikipedia.org