At the opening of the Army-2015 forum, Defense Minister Sergei Shoigu said: "A complex has been created here that can be figuratively called a" defense supermarket "where other countries' armed forces can come, see, try, train, shoot, purchase and, as suggested by the - Colonel Sergey Chemezov (general director of corporation "Rostec" - approx. "VO"), learn how to handle a new technique. Therefore, we also plan the creation of a training center for colleagues who will acquire one or another weapon from us. "
And here buyers from different countries, who with undisguised curiosity studied the newest models, opened different hatches and doors, sat down in the cabins of combat vehicles, gladly fired from brand new Kalash.
Well, with the military, everything is clear. And what can ordinary citizens acquire here? First of all, the "Army of Russia" store attracted attention, the network of which opened throughout the country. I tried on a complete set. Seems not bad.
Shoes m.516-2 - 5290 rubles. Tactical trousers, color kink - 2460 rubles. Children's shirt "Polite Bears" - 750 rubles. Jacket "like Sergei Lavrov" with a leather vest with fur - 82000 rubles.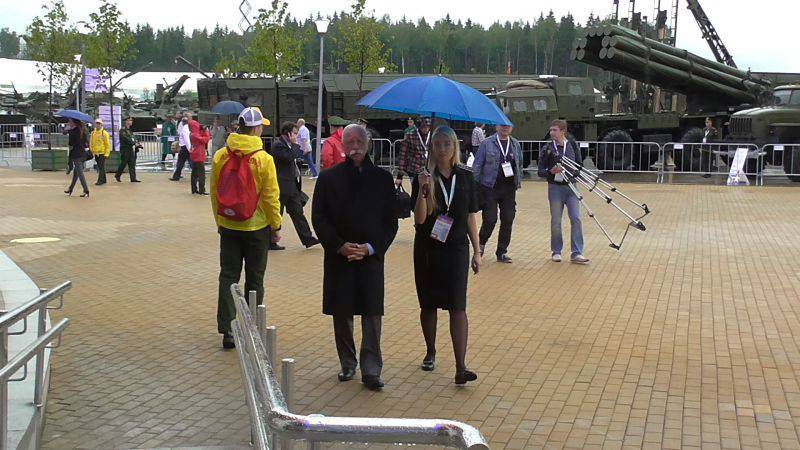 TV host Leonid Yakubovich met. He was wearing a stylish black cloak, and a pretty blonde was carrying an umbrella over him. In a personal conversation, Leonid told the "VO" correspondent that he was already aware of the problems of the Simferopol Aerosports Club, about which our site wrote a month ago.
Military Review
. And he is even ready to solve them somehow, since he has already taken off from this airfield more than once, but "everyone has gone somewhere."
Leonid spent another sale on the forum. This time it was the implementation of unused military property. Now the main platform for these purposes will constantly operate in the Patriot Park. The list (it is completely possible to get acquainted with it on the website of the Ministry of Defense) includes hundreds of items from old-style tarpaulin boots and general's caps to field kitchens, cisterns, cars and power stations.
Director of the Department of Property Relations of the Ministry of Defense of Russia Dmitry Kurakin told a VO correspondent that any inhabitant of the planet Earth can participate in the auction if he submits the necessary documents personally and pledges that constitute 10% of the initial value of the lot.
He also said: "Today, all 10 lots are gone. There was a real struggle, excitement. We only sold cars and earned something around 1,2 million rubles. Leonid Yakubovich set the tone by inventing a "trick" with a bottle of champagne, which costs 200 rubles in the store, and, as a result, the bidding reached 5,5 thousand, and it was presented to the winner from the Russian Ministry of Defense with good luck wishes.
We get rid of trash in our warehouses, bases and arsenals for a long time. Since 2011, we have been selling "engine" (several thousand units of road transport, trailers, and so on) and scrap metal (almost 400 thousand tons) already for 5,5 billion rubles. But even this is not enough. This is a key problem for the military, because the amount of unnecessary property is not reduced. As in a children's fairy tale, remember, "The pot, do not cook!" What is the novelty?
We are trying to correct the shortcomings and to intensify this process as much as possible. Today we have the opportunity to simplify it and get away from many bureaucratic procedures. We want to significantly simplify the process, make it more adequate. We are preparing a more radical proposal for scrap metal to the government in order to be able to send it to factories as usual deliverers. "