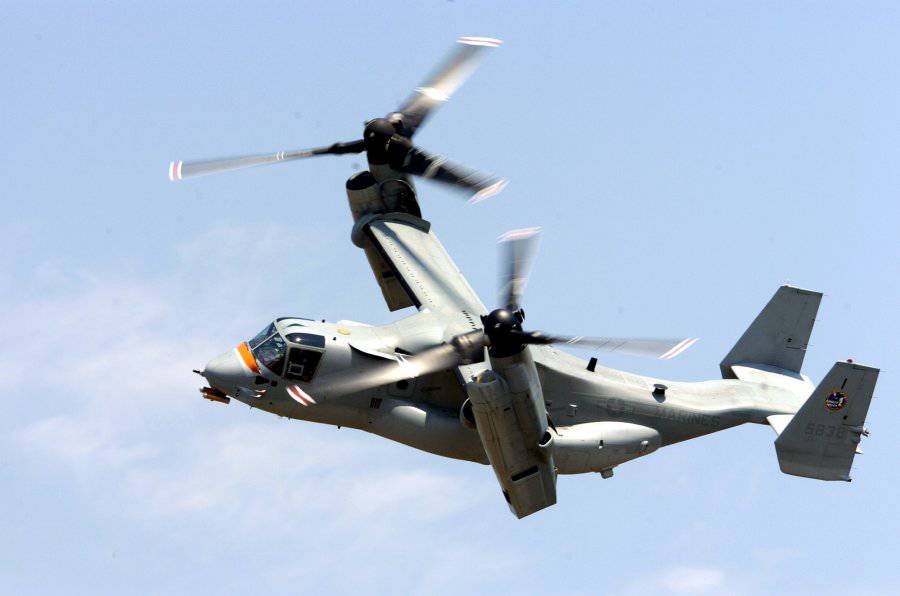 The unique and one-of-a-kind military serial convertiplane "V-22 Osprey", thanks to the usual updating of on-board software, received an additional speed to the existing speed of 37 km / h.
The company Boeing, which has developed a unique aircraft, has upgraded the software. Thanks to this improvement, the cruise speed of the convertible was increased to 481 km / h. The software has undergone modernization, which controls the angle of attack and the speed of the blades of the V-22 propellers. Such a software update in the near future will still provide an opportunity to increase the lifting power of the engines in the hang mode by 453 kg.
"V-22" thus demonstrated another unique feature that allows the usual updating of a software product, to significantly improve the flight characteristics of the aircraft. Increasing the efficiency of the blades and the engine was achieved only through the modernization of control algorithms. This made it possible, without the need for transportation to the factory, to upgrade the entire V-22 to replace the transmission or engine.
The V-22 Osprey is considered to be a unique device that combines the possibility of helicopter vertical take-off and the rapid flight of an aircraft. The advantage is achieved by turning the engine nacelle with a rotor of a screw with a diameter of 11,6. The V-22 can transport 24's soldiers with full combat gear, 9 tons of cargo in the cabin, 6,8 tons on the outer suspension. The combat radius of the V-22 with the greatest number of troops is 796 km. If we compare it with the technical characteristics of the UH-60 Black Hawk helicopter, its combat radius is less than 600 km with a maximum cruising speed of 278 km / h and with 14 infantrymen in the landing party.