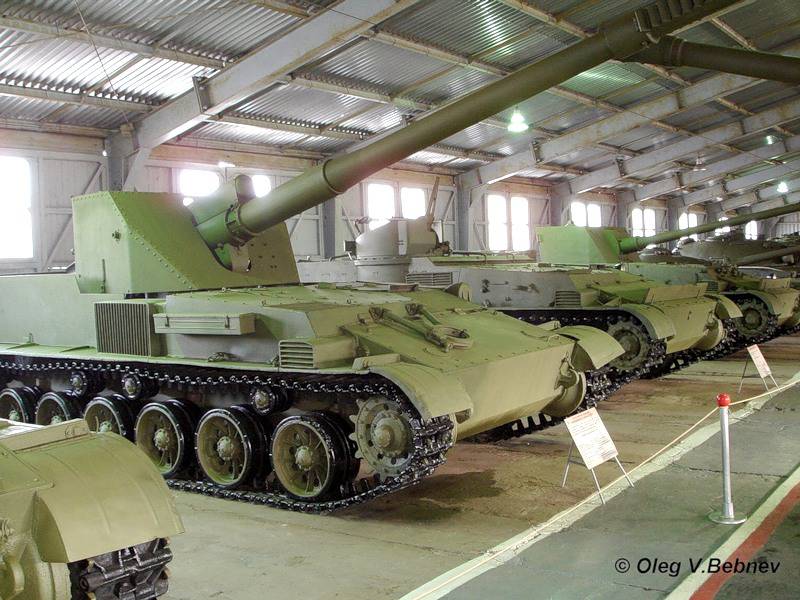 Self-propelled artillery mount SU-152P was developed in Sverdlovsk on the basis of SU-100P units and had the designation "Object 116". The self-propelled gun was intended both for striking from a closed position, and for fighting
tanks
the enemy, a very powerful 152,4-mm M-53 gun had a horizontal angle of 143 °, which provided sufficient maneuverability for anti-tank warfare, and the transportable 30-round ammunition made it possible to shoot well .. But, not everything was so rosy, despite to lengthen the chassis by one rink, the self-propelled unit weighing 28,7 tons was too easy to recoil such a powerful gun.

Therefore, we had to install a rather exotic looking slit muzzle brake, which helped to reduce the return to a reasonable value, but I believe that it was possible to forget about the inconspicuous firing with small elevation angles. Powder gases from such a construction should, in my opinion, unmask the gun even on asphalt.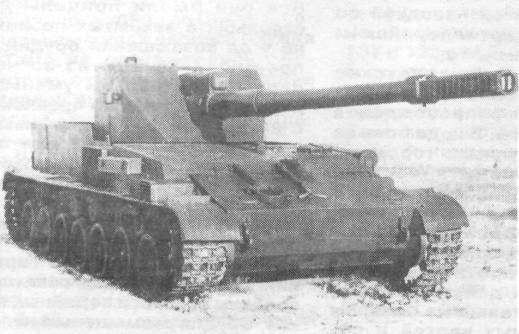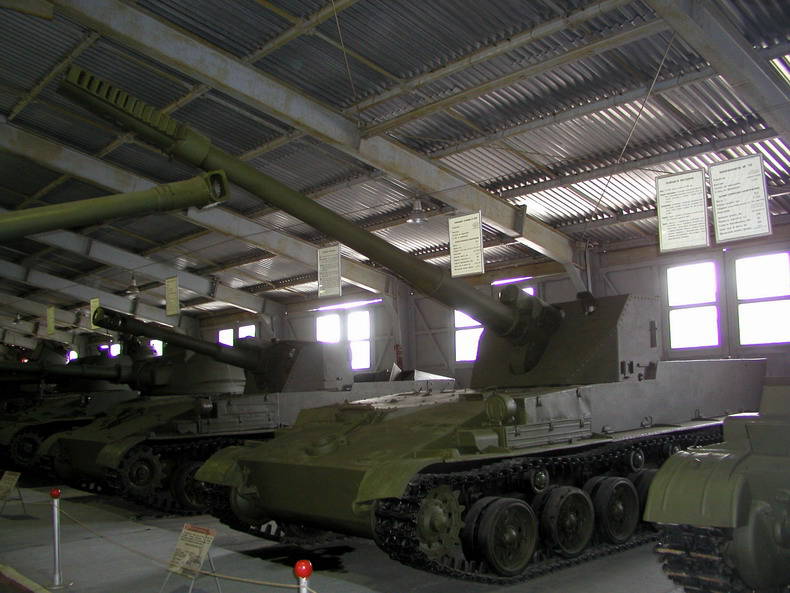 SU-152P was not accepted for service. At that time, there was no need for an SAU of this type working from a closed position, and from that point. VET machine had a bunch of irrecoverable flaws. But, it should be noted that the designers of UZTM for this did not calm down ....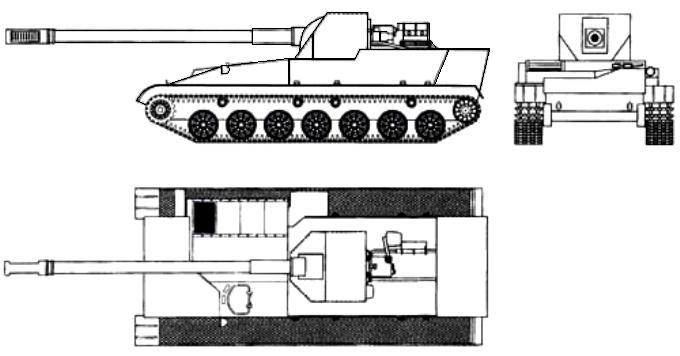 120 Taran object
It is time, apparently, to bring together everything that is available on the most powerful anti-tank SAU, "Object 120", it is "Taran". So, I'll say right away that it seems to me that this machine is unmatched by the muzzle energy of an armor-piercing projectile. 18.5MJ (12.5kg with speed 1720м / s) - modern tank guns are noticeably more modest. And, I will note in addition - modern smoothbolks for tanks are also less accurate, but the X-NUMX-mm M-152 cannon has a rifled barrel, that is to say, very heap. However, nothing is given for free - no wonder this super-powerful car is only in the museum hall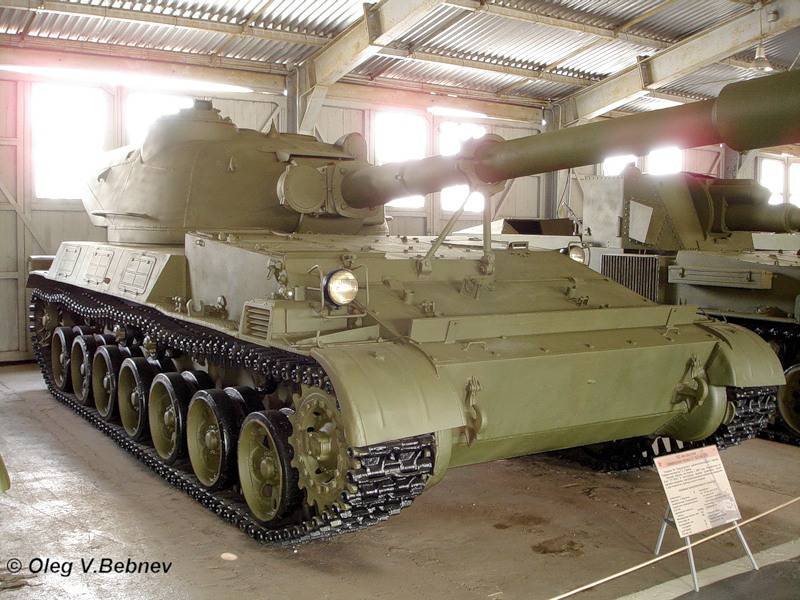 But it all started well. When at the beginning of 60-x it turned out that the armor-piercing caliber shells of tank guns D-10T, D-25 and M-62, which are armed with medium tanks T-54 and T-55 and heavy tanks T-10 and T-10M, cannot to pierce the frontal armor of either the hull or the turret of the American tank M-60 and the English "Chief" - the Soviet military leadership hastily initiated several parallel projects at once. A super-power SAU, new smooth-bore and rifled guns with OBPS and ATGM, new projectiles to the old guns - in general, everything that came to mind could come at the same time. The self-propelled gun "Taran" was created in one of these areas. The gun developed by OKB-9 with an incredibly long 59.5-caliber * (9045 mm without a rather large muzzle brake) barrel pierced with an 2000mm armor plate 290mm thick, which made the new self-propelled gun almost super-armed, - at that time there were no tanks capable of withstanding such a blow. And even if someone could stand it out of the new ones, it would hardly be able to retain its combat capability after such a blow.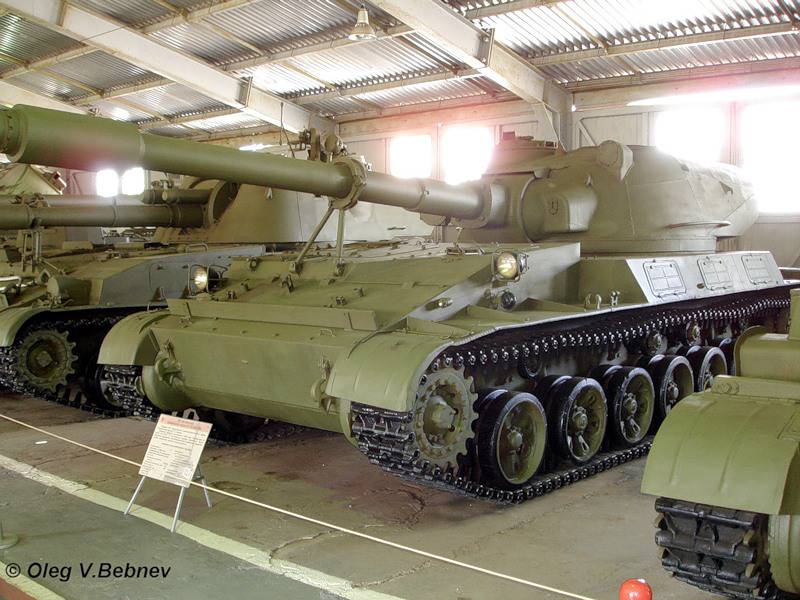 Of course, this monster weighed a lot, but the chassis from the SU-152P completely coped with it. That, in fact, is not surprising - after all, the "Taran", in fact, was the same SU-152P with a closed tower and a modernized gun of the same caliber (6 "). In general, the self-propelled gun came out pretty light - only 27 with a tail tons, and if it were not for a huge muzzle brake - probably, they would have famously jumped when firing.
However, the lightweight, but even the installed rammer did not make the work of charging in a compact turret particularly easy - with an armor-piercing projectile still coming back and forth, since loading is separate, but with the CFS, in 43kg (according to other sources, "only" 35kg ), yes in motion ... It will not seem a little, I assure you.

Apparently, due to the extreme weight of the barrel, the developers did not even plan to install a stabilizer for firing on the move, it was supposed to use self-propelled guns only from the scene and from ambushes - especially since the maximum thickness of armor did not exceed 30mm, what kind of attacks there ...
All this together led to the realization that the time of extensive development, justified during the war, had already passed. While the self-propelled gun was tested, it turned out that a similar result could be achieved with the aid of an ATGM transported by one person, and if you need something of a barreled, smooth-bore D-81 gun with a caliber of 125-mm and one and a half times shorter - with the same two kilometers it breaks through OBPS 270mm armor.
It turned out that no specialized PTU SAU, it turns out, is not needed - it was time for tank fighters and smooth-bore guns with OBPS. Therefore, the mighty "Taran" went straight to Kubinka, to the BTT museum, where it remains to this day ...