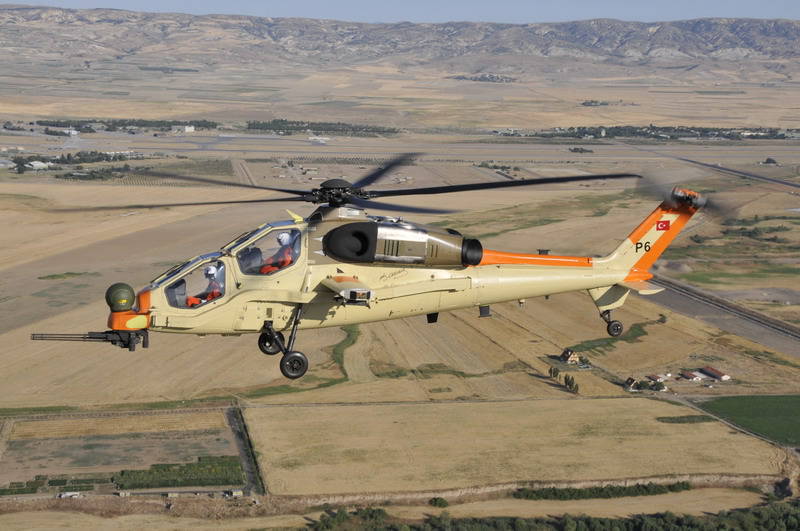 The development of the first attack helicopter T-129 intended for transfer to the armament of the Turkish Air Force is carried out according to the schedule. The accident that occurred in March 2010 of the year and led to the fall of the Mongoose A-129 helicopter did not cause a delay in the implementation of the national ATAK program to develop a modern T-129 reconnaissance-impact tactical helicopter for the Turkish Air Force.
7 August 2011, the prototype of a combat helicopter T129B made its first flight. The peculiarity of this helicopter, which received the P6 serial number, is that it is not only assembled in Turkey, but also developed by local engineers at the Turkish Aerospace Industries (TAI) state association in Ankara. The prototype Р6 is equipped with a prototype of an all-weather and around-the-clock search and aiming complex of the type AselFLIR-300T produced by the Turkish company Aselsan. As the main
weapons
The layout of the 20-mm turret gun was installed.
The main model of the T129 helicopter is a modified and improved version of the Italian-made AgustaWestland A129 International combat helicopter, which won the well-known long-term competition of the Turkish military aircraft ATAK for a combat helicopter. The $ 2007 billion 2,7 contract provides for the manufacture of the first T51B serial helicopter with the option to supply the 129 machine in TAI 41, Turkey. In 2010, a contract was additionally signed for the "accelerated" assembly of nine T129A configuration air machines from the kits supplied by AgustaWestland. In the future, 9 combat helicopters, delivered in the primary configuration, will be supplemented to the full version of the serial model.
These machines will partially satisfy the urgent needs of the Turkish Air Force and will differ from the final version with a simplified weapon system, avionics and less powerful engines. For example, they will not be equipped with anti-tank missiles. The final version of the T-129 ATAK will, according to the creators, be equipped with a powerful CTS800-4A engine, which is selected to enhance the technical capabilities of the helicopter for useful operation in hot and high-altitude conditions.
During the international exhibition IDEF-2011, Aselsan demonstrated the cabin layout of the T-129 ATAK helicopter, which is used in tests of the AselFLIR-300T thermal aiming and surveillance system, as well as the special helmet-mounted target indication system AVCI. Aselsan is also working on the development of all software for the helicopter.