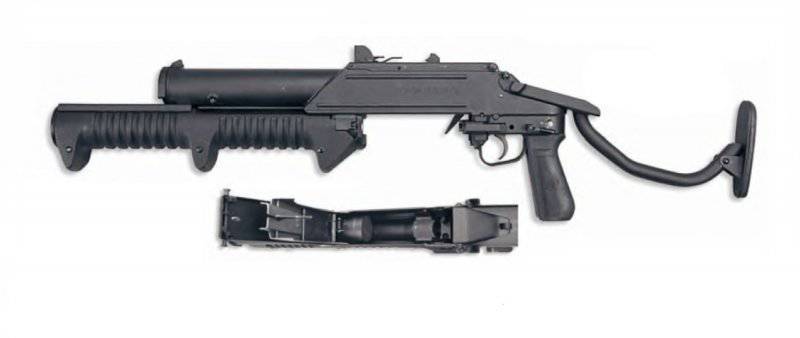 Description.
The GM-94 multipurpose grenade launcher was developed in the Tula Instrument Design Bureau at the beginning of the 1990-s. The main purpose of the new
weapons
Providing fire support for infantry in the conditions of close combat, especially in the city, as well as conducting police special operations, designed to destroy manpower in urban areas, basements, fortifications, folds of the terrain and in the mountains; damage lightly armored vehicles; creating smoke screens and fires. Especially for GM-94, a whole range of 43-mm unitary shots was developed, including high-explosive shatter-proof grenades, tear gas grenades, and rubber bullet shots. Of particular interest are high-explosive ammunition having thermobaric equipment with a high specific gravity of explosive to the mass of the shot. This is achieved through the use of a plastic grenade body. Such an unusual decision was made to ensure the safe use of a grenade launcher at minimum ranges, excluding the shooter being hit by shrapnel from his own grenade. The damage zone of the enemy's manpower by the high-explosive effect (shock wave, high temperature) of the thermobaric charge has a radius of up to 3 meters, and the minimum (conditionally) safe shooting distance is only 5 meters. The mass of thermobaric (high-explosive) grenades VGM-93 is about 250 g, of which 160 g fall on the explosive charge. The initial grenade speed of the order of 85 m / s.
It was designed to arm the special forces of the Ministry of Internal Affairs.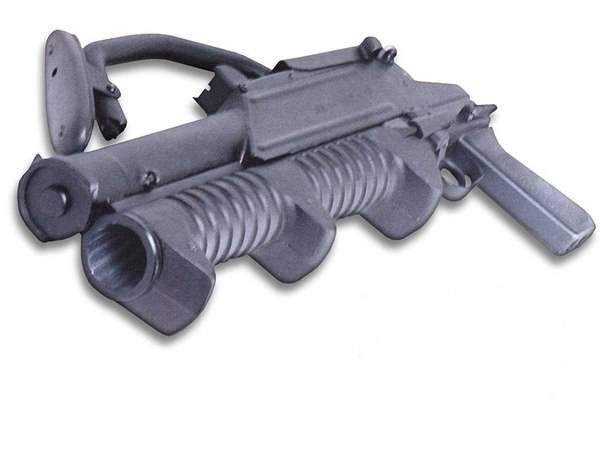 Device.
According to the device, the grenade launcher is a magazine weapon with pump reloading with the help of a barrel moving back and forth. A tubular magazine containing three grenades is located above the barrel. To recharge it on the upper surface of the receiver made charging window, covered with a hinged lid. The mirror of the bolt is motionless, the coupling of the barrel moving forward with the bolt is provided by two hooks on the sides of the breech breech. Release of spent cartridges carried down. Trigger mechanism self-cocking. On the left side of the receiver is a flag fuse. Folded shoulder rest serves as a handle for carrying a grenade launcher. The stock can be metal, foldable upwards, or a fixed skeletal structure made of plastic.
For shooting from GM-93 / 94 the following types of grenades are used: high-explosive, thermobaric, cumulative, fragmentation, lighting, gas, signal, marker with a rubber element.
Features:
Caliber, mm: 43
Mass not gear. rocket launcher, kg: 5,0
Store capacity, shots: 3 — 4
Initial grenade speed, m / s: 100
Aim range of shooting, m: 75, 150, 300
Maximum shooting range, m: 600