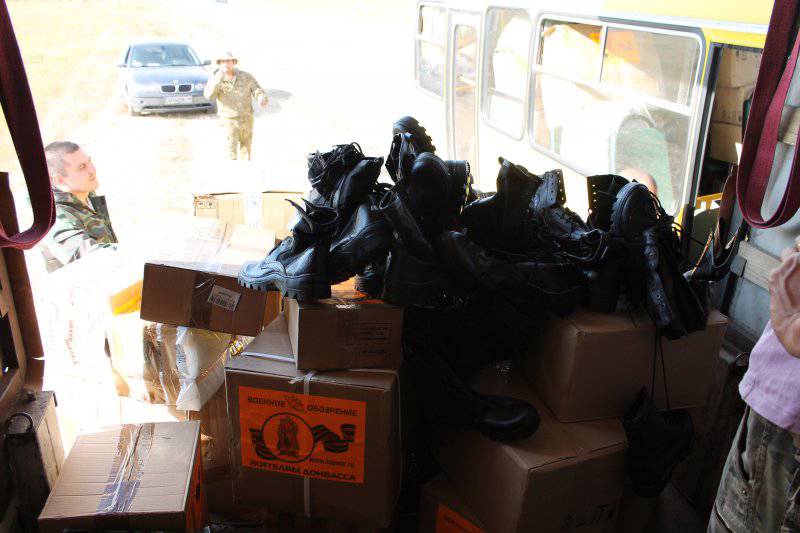 Well, finally, everything turned out. Our shipment is delivered.
Immediately I apologize for the fact that the photo and video almost did not work out, but I transmitted all this, officially crossing the border of Russia, and there photography is not welcome (poorly said). Yes, there was no time.
This was immediately warned, as soon as during the first inspection they saw our stickers. And since swearing and swinging rights is not the right place, alas ...
But first things first.
The venue this time was already in 730 km from me. Unlike previous - on the border in the LC. There are battles currently taking place, and nobody wanted to risk our cargo. Therefore, it was decided to transfer to the border with the DNI, where everything is quiet and peaceful. There, however, calmly, but somewhat peculiar.
So, 31.08 in 19: 00 we started loading, and an hour later started in the direction of the settlement specified to me. At 7 hours we were already at the venue. Further the madhouse began ...
In general, all these trips require considerable moral strength. Because the pads follow one after the other. At this time, "nakosyachili" those who went to a meeting with me. They did not really discuss all aspects, which, alas, are numerous. Especially in the new place. Moreover, there is a full-fledged checkpoint, not like in the previous place.
It turned out that they would not be allowed into the territory of the Russian Federation. Accordingly, we must cross the border and meet at least in the neutral zone. Which is in this place a width of "only" 3 km.
Since I did not plan such actions, then, naturally, there was no complete set of documents for the cargo. Yes, it is as if complete and did not exist at all. About the customs declaration I am silent in the oiled rag.
Having exhaled, I went to the first attack. It was possible to agree with the FPS almost immediately. But customs has become an insurmountable wall. Deployed. Because of the bronikov, which can not be officially transported. More precisely, it is possible, but expertise is required, which takes about two days. Despite the fact that they are pretty used. This to me Sasha Kombat threw, not ours.
At about 13 hours I turned completely and irrevocably. The captain of the FPS, who was trying to help us with the measure of strength and capabilities, offered another option, but alas, he did not suit me. Too much was a risk.
Then a man appeared from there and said that tomorrow he would organize a corridor in Izvarino. And if we move there, everything will be decided. Our people knew this Michael and recommended "send". I am a relatively polite person, I did not "send", but I also didn't really want to go to Izvarino. Especially since Maxim (the owner of the car) had plans of a slightly different nature. We decided to fight all the way here ...
A day in Taganrog district is something like hell. Shadows cannot be found even for euros. Solid fields. And wind. The feeling that you stuck in a hair dryer. But we managed to deliver a thoroughly heated truck in the forest plantation. There we ate suhpay, Maxim disconnected for the first time in a day, and I took up the phone ...
Miracles happen sometimes. And man-made. About 17 hours Kombat calls and informs that they are waiting for us at the checkpoint. Extend.
Then everything was like in a dream. Together with the truck, we are politely taken under our arms and pushed out to the other side. Very quickly and out of turn solving all the formalities. Maxim asserted that it was God's fishing, I thought it was Kombatov fishing, but in any case, forty minutes after the call, we were on neutral.
We were there waiting for a slightly toasted squad "berkutovtsev." The whole overload took about forty minutes. They were really in a hurry, so they rebooted, took a few pictures, five words into the lens, and their "boomer", full of medicines, and the yellow minibus, loaded under the ceiling with everything else, rushed off towards the other checkpoint. And we began to return ...
We missed as quickly. Thanks to both customs officers and border guards. All people are forced, everyone needs an order from above. But once such an order came - no one began to put a spoke in the wheel. Thank.
That's all. Exactly one day after the start, we began our journey back. He took a little more time, because ... well, more. And yet around 8 in the morning we ended up in Voronezh.
On the way back, Maxim picked up two guys from Lugansk in an already empty body. They made their way to Sergiev Posad. But this will be a separate material, a little later.
What we passed this time:
Medicines 9 seats. (107 160,00).
Medicines. 8 seats (collected Natalia, "Nina Zima").
Radio stations Р-84 (long-range) - 3 pcs. (30 000,00).
Radio stations TC-8UF with headsets - 22 pcs. (55 000,00).
Bertsy - 153 pairs (117000,00).
Form - 156 comp. (165712,00).
Parka jackets - 15 (22000,00).
Body armor - 50 pcs. (24640,00).
Flask with a cover of the USSR - 110 pcs. (22000,00).
Field pot - 110 pcs. (22000,00).
Cloak Tent - 20 pcs. (5000,00).
Belt for SKS - 30 pcs. (7500,00).
KZS suit - 30 pcs. (15000,00).
IRP - 440 pcs. (132000,00).
Unloading vests and RPS - 142 pcs. (151300,00).
Pouches for AK under RPS - 103 (60450,00).
Artillery busol - 1 (8600,00).
Hard belts - 40 pcs. (26000,00).
Mobile phones - 5 pcs. (Natalia gave, "Nina Zima").
Canned food - 12 box (Natalia gathered, "Nina Zima").
Set for the sniper (RPS with cartridge pouches under the SVD, "Kikimora", kneecaps, sidushka) - 1.
Camouflage net (from Ruslan from Ostrogozhsk) - 1 pcs.
The total value of valuables for checks is a little more than 971 thousand rubles. And if you add something for which there were no checks, and what Zima transferred, it is definitely over a million.
These are the results. There is something to be proud of.
Everything will be dealt with in the very near future. In a conversation, Sasha Karabakh said that while it is warm, they want to take a ride to Zhdanov ...
I express my deepest gratitude to everyone who participated in this event, on behalf of those to whom it all went. Namely SVD "Berkut", which included fighters of the battalion "8 company." Ruslan for the net (very much thanked), Alpha for the compass (mortar enthusiastic), Evgeny (Strannik72) and Karen for excellent unloading.
My personal appreciation:
Maxim, the driver and just a very beautiful person who has been with me all this time. I hope he will continue to cooperate. With him was safe and secure.
Natalia, without whose help it would be difficult. For Max special thanks.
Igor from Kazan, who turned the case with armor.
Mokey and Frol, the "tricolors" from Voronezh, with whose help I overstocked with very important drugs.
According to the materials of this trip will be a few more articles in the near future.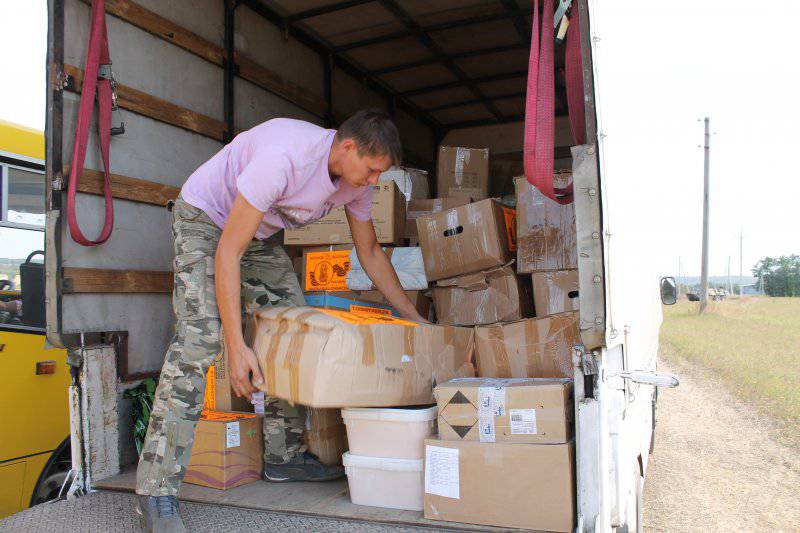 This is Maxim and his "Condor".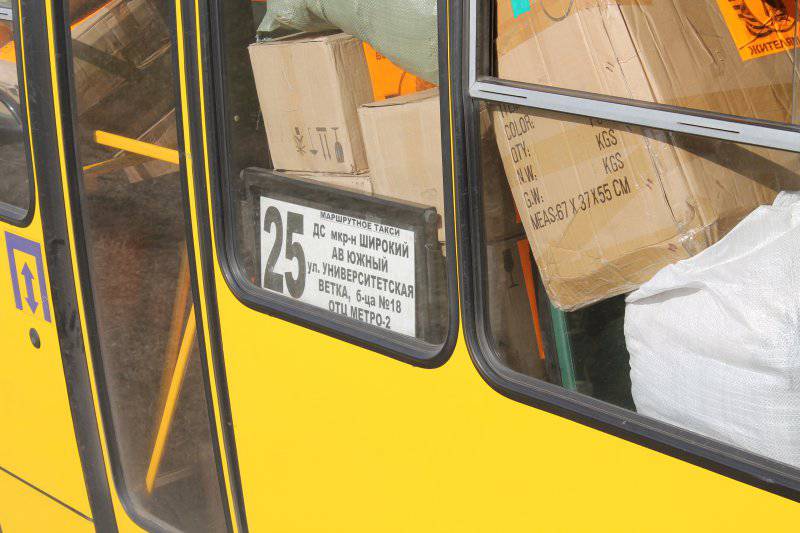 Seeing m / s, I was a little stunned. But we were assured that everything would fit, even the place would remain. Left.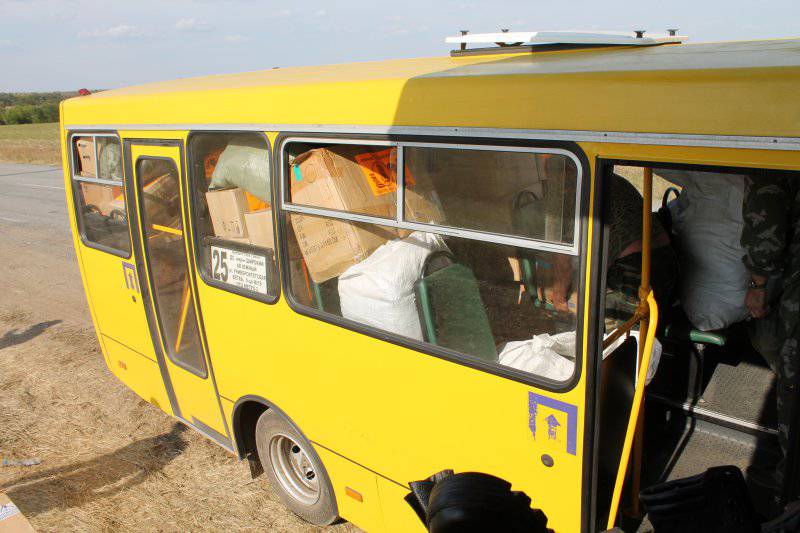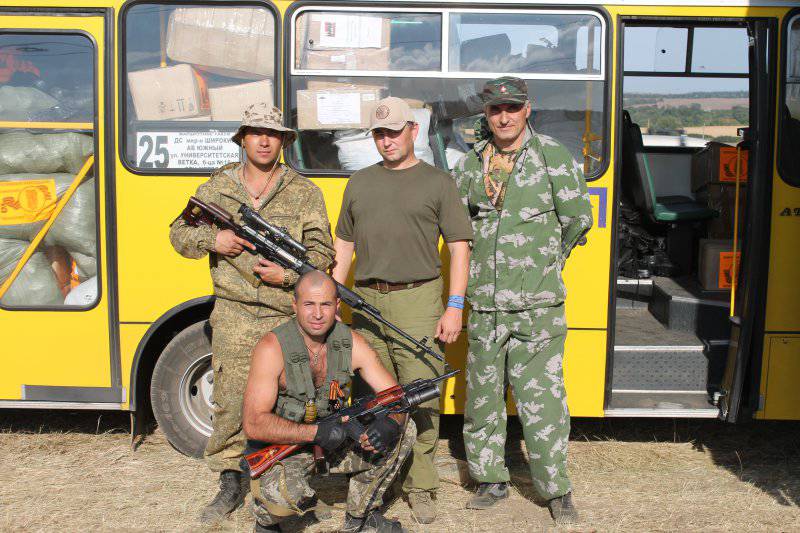 In general, there were more people, but the photo might hurt some comrades.
If someone decides to join:
SAT card number 676196000358069319
WebMoney: R298931083765
Yandex.Money: 41001132679901