The TKB-059 volley fire automatic machine is a unique example of domestic design thought, created by the Soviet designer of infantry
weapons
German Alexandrovich Korobov (1912-2006). Three-barreled automatic (Pribor-3B) German Korobov created 1962 in the Tula Design Bureau.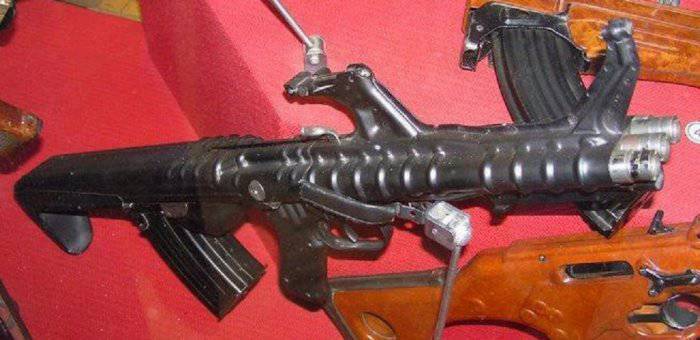 The design of the machine is based on the Bullpup scheme (English bullpup) - this is the layout scheme of the small arms mechanisms, in which the percussion mechanism and the magazine are located in the butt, behind the trigger. This arrangement allows you to increase the length of the barrel without increasing the total length and weight of the weapon, which contributes to the improvement of characteristics in range and firing accuracy.
Herman Korobov, when creating the TKB-059, put an ultra-fast queue at the forefront in which the recoil from the shots did not have time to deflect the barrel, which allows for high accuracy of fire.
Several barrels on one machine allowed for a salvo shot, the rate of firing from the TKB-059 (Pribor-3B) submachine gun reached 1400-1800 shots per minute. Many units and parts of the Pribor-3B were borrowed from the Kalashnikov assault rifle, which made it possible to achieve a high degree of unification with the main small arms of the Armed Forces of the USSR.

The fire from TKB-059 was conducted either by volleys of three shots, or in bursts. Three barrels in the machine are assembled in a single carriage and have a common mobile automation system. TKB-059 showed unprecedented accuracy when firing bursts due to the super-speed and monitors the mounting scheme of trunks.
During the state tests, due to the simultaneous firing of three bullets in the queue, the weapon really showed very high accuracy. However, the unusual design and complexity of equipment built-in stores led to the fact that the state commission refused to accept this machine. The fact that the troops were armed with an AKM machine gun also played a role, and there was no need to retool a new type of small arms.
The TKB-059 automatic salvo fire (Pribor-3B) remained a prototype, but still it is the clearest illustration of the talent of the outstanding Soviet designer German Alexandrovich Korobov.
Performance characteristics of TKB-059 (Pribor-3B):
Designed: 1962 year
Manufacturer: Tula Design Bureau (TKB)
Mass: 4,3, g
Cartridge: 7,62x39 mm
Caliber: 7,62 mm
Principles of operation: removal of powder gases
Rate of Fire: 1400-1800 shots / min
Type of ammunition: boxed store on 90 cartridges