The changing world of artillery (Part 1)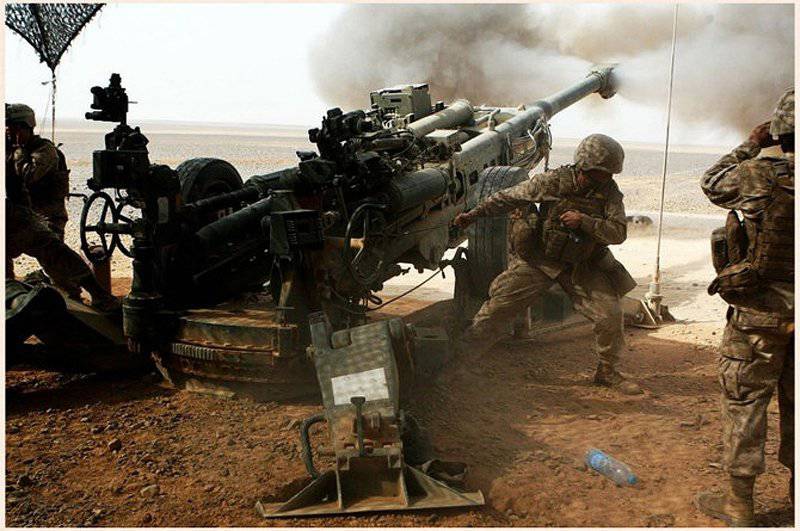 The current emphasis on operations in difficult terrain has led to a growing interest in light 155-mm howitzers transported by helicopters, such as BAE Systems M777 photo. It is worth noting in this regard that the Marine Corps ordered more M777A1 / A2 (380 howitzers) than the US Army (273 howitzers)
The available material part is rapidly becoming obsolete, at the same time many armies have gone through a radical process of reduction in numbers and in some cases have been completely transferred to a professional basis. As part of multinational operations, an increased emphasis is placed on the deployment of missions abroad. Gradual standardization of weapons based on a single caliber (155 mm), plus several 105-mm models for special applications and remnants of 152-mm systems in the former Warsaw Pact countries and Russian / Soviet customers. The emergence of new standards (in particular 155 mm / 52 caliber artillery) and new concepts (self-propelled howitzers mounted on truck chassis). The introduction of new types of "intellectual" long-range ammunition, along with highly effective command and control systems. All of these factors speak of a large-scale process of upgrading cannon artillery, including material and operational doctrines. This process is already underway; it is planned to speed it up in the coming years due to the consistent implementation of a number of important programs.
At the end of 80, the global artillery fleet was estimated at over 122000 guns and howitzers, but this total was divided into two parts: 78% of towed systems (mostly 105 mm, 122 mm, 130 mm, 152 mm and 155 mm) and the remaining 22% - self-propelled systems (122 mm, 152 mm, 155 mm and 203 mm, as well as several "strange" models of smaller or larger caliber). Twenty years later, the total number was reduced by more than 20%, to about 96000 pieces, many of which were delivered for long-term storage.
However, it is interesting to note that this reduction process was not symmetrical. The towed vehicles took a full blow, their number decreased from 95000 units from the fall of the Berlin Wall to less than 67000 units today, while the number of self-propelled systems actually increased by 8% (from 27000 to more than 29000 units).
Operational, technological and commercial trends
At present, there are three main classes of cannon artillery systems on the world market and weapons of the world's armies, and each of them is accompanied by its own operational doctrine: towed systems, self-propelled tracked systems and self-propelled wheeled systems. The respective advantages and disadvantages of the first two classes are very well known and recognized, and, thus, these classes are not in direct competition with each other, neither in commercial nor in operational sense. Towed systems are less expensive and easier to use, they are usually deployed to provide fire support for light units (motorized infantry, mountain units, parachute troops, marines, etc.), while self-propelled tracked howitzers (SG) are usually a component heavy mechanized and armored troops. However, the Dutch systems PzH-2000 showed excellent results in Afghanistan when performing counter-insurgency operations, which are completely different from the traditional battlefield for which these howitzers were created. At the same time, wheel SS are in the heart of the promised (but mostly still not begun) revolution. On the one hand, these systems are offered as a win-win replacement for towed systems (except for a few special cases when ultralight howitzers are needed), and on the other hand, they gradually "eat off" the market share of their tracked counterparts, using their best strategic mobility to advantage and, thus, , suitability for deployment abroad.
Although the vast majority of artillery systems in the current inventories are still tracked, in less than 10 years the number of 155-mm wheel systems actually increased fourfold. A confirmation of such a pronounced global trend is the fact that more and more orders come to the wheeled artillery while reducing orders for heavy towed systems. The latter's share seems to be declining more and more in the global market, especially if they do not have an APU (auxiliary power unit) that would allow at least short autonomous movements.
The second important global trend is the above-mentioned gradual restriction in the market for a set of standard calibers. Although outdated calibers (75 mm, 76 mm, 85 mm, 88 mm) still have some share in world reserves, a certain number of 170-mm and 240-mm guns remain, the modern fleet is mainly based on six different calibers for towed artillery and seven calibers for self-propelled howitzers. In addition, even within each caliber there are several different standards regarding the size of the chamber and the length of the barrel, which leads to numerous configurations and models (no less than 36 for 155-mm artillery!).
This rather chaotic variety is gradually changing, at least throughout the world, new orders include two or three (maximum four) main calibres. In particular, the NATO standard 155 mm / 52 cal quickly becomes the preferred standard of artillery. By the way, even Chinese and Russian manufacturers currently offer artillery guns that meet this standard.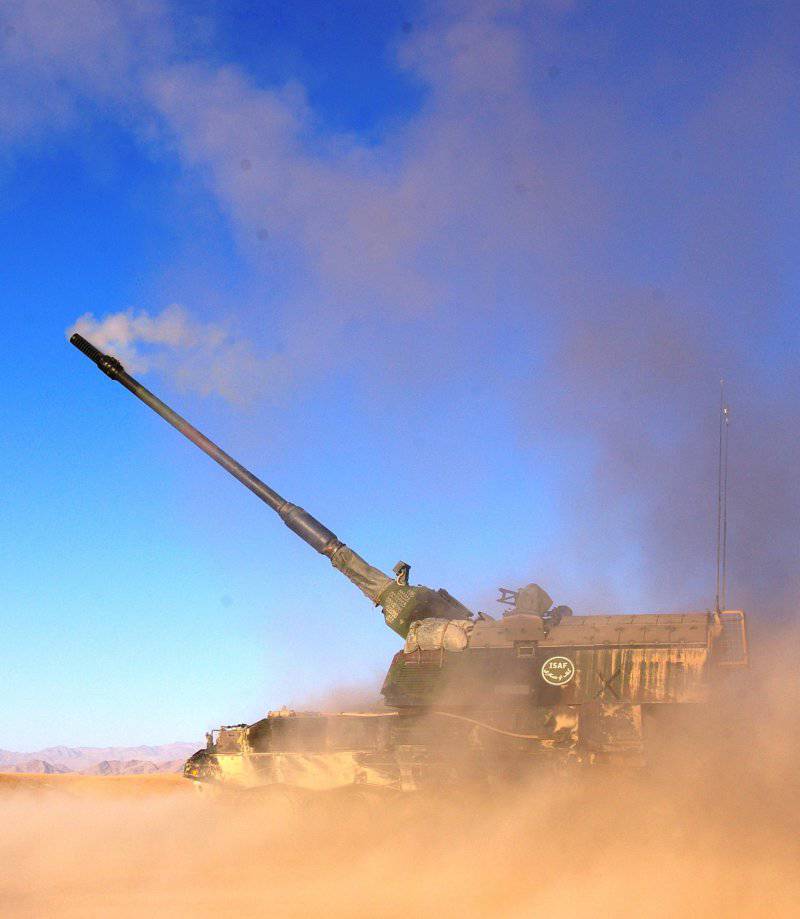 In June 2007, the Dutch SG PzH 2000 shoots at Taliban positions in Afghanistan. Since that time PzH 2000 has received the nickname "the long arm of the international security assistance forces in Afghanistan"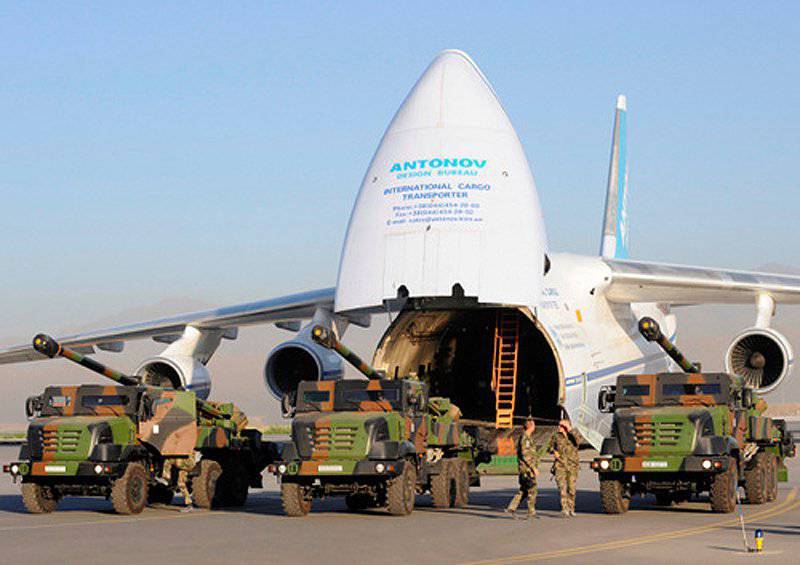 One of the main operational advantages of the SG mounted on the cargo chassis is light air transport. The photo shows the first three CAESAR systems arrived in Kabul 1 August 2009 of the year to support the French contingent
The gauges in serviceTowed artillery
In the world, this type of main armament includes 105 mm calibers (in service with 83 countries), 122 mm (69 countries), 130 mm (39 countries), 152 mm (36 countries) and 155 mm (59 countries), whereas half a dozen countries to 203-mm systems are still available.
Thus, the 105-mm model remains the most common artillery caliber in the world, although its share in the world order book is greatly reduced due to the appearance of ultra-light 155-mm howitzers, and more importantly, due to competition from modern mortars (in particular, 120- mm rifled samples). The two most common 105-mm howitzers, the Italian M56 and the American M101, were created more than half a century ago and are no longer produced. More modern models with better performance, such as the British L118 Light Gun (with the Indian Clone of Light Gun and the American version of M119) and the French Nexter 105 LG1, remain in production for light weapons, but there is a tendency by replacing them with ultralight 155-mm models. The South African Denel G7 is in its own class and rather a competitor to the 155 mm / 39 caliber gun, designed for both towed and wheeled systems, with respect to the equivalent range (about 30 km with a projectile with a bottom gas generator).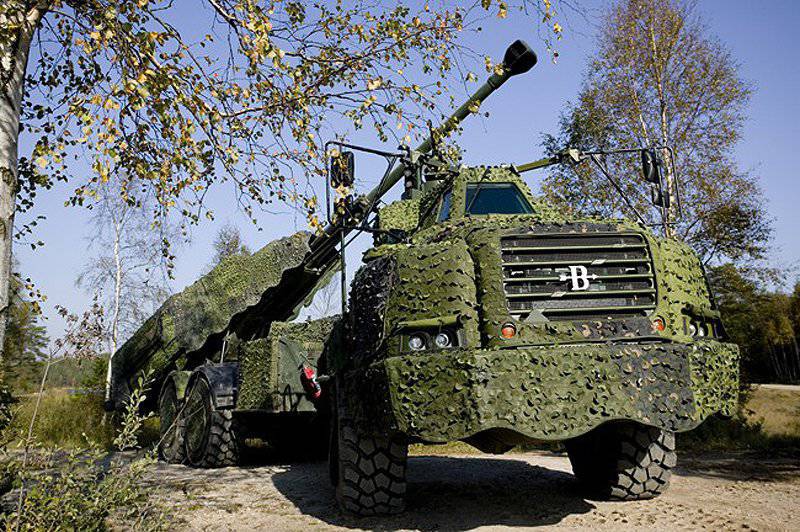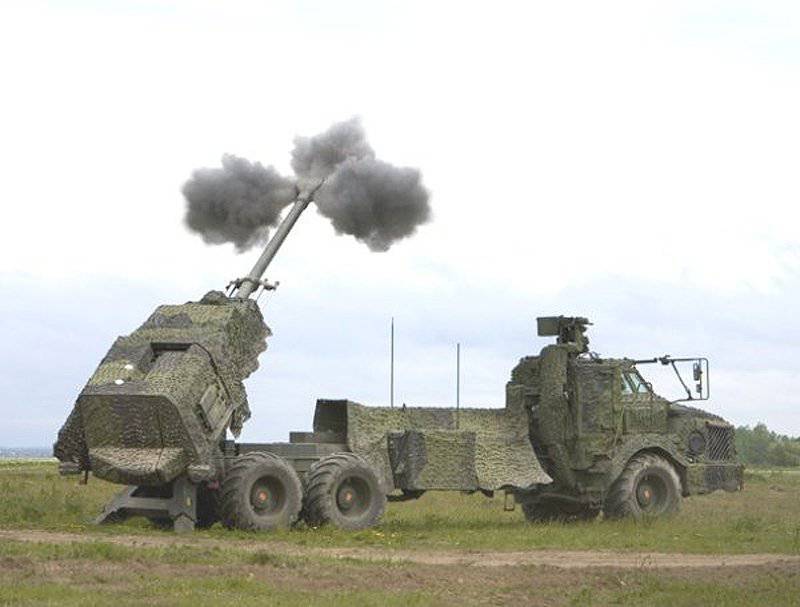 SG ARCHER 155-mm / 52 caliber from BAE Systems Bofors. The self-propelled howitzer on a wheeled articulated chassis is equipped with an advanced automatic loader, allowing you to shoot 20 shells without leaving the crew protected cockpit. The Swedish and Norwegian armies have ordered 24 such systems
Caterpillar ordnance
Global stocks of self-propelled tracked artillery include the following systems: 105 mm (in 7 countries), 122 mm (33 countries), 130 mm (2 countries, but this is temporary), 152 mm (23 countries), 155 mm (46 countries), 175 mm mm (6 countries) and 203 mm (19 countries). It is pretty obvious that 105 mm, 130 mm and 175 mm systems will disappear in the near future, while 203 mm systems can remain in service until the expiration date of ammunition. A large number of 122-mm systems (most of the 2C1 Carnation) remain in operation in the former Warsaw Pact countries and among Soviet / Russian customers; they are increasingly viewed as obsolete and thus of interest only to countries with limited financial resources and modest operational requirements. Today, the struggle is only between two calibers and two military concepts, between Russia and China with 152 mm on the one hand and the West with 155 mm on the other, the latter caliber is becoming more and more common (155-mm systems currently represent more than a third of the world's tracked SG). As for specific models, the M109 family still holds the lion's share of the existing fleet, until the end of the 80-i years it completely dominated its sector. Currently, more and more howitzers of this family are successfully replaced by more modern and effective models.
Wheeled self-propelled artillery
The concept of wheeled self-propelled artillery was initially viewed as some form of quaintness (when the first systems were presented, for example, the Czechoslovak DANA (152 mm) and later the South African G6 (155 mm / 45 cal)) but over time it was a formidable and credible competition towed and tracked SG, albeit for different reasons. The advantages over towed guns consist in better survivability (personnel under cover of armor, at least in motion, less time to move from a traveling position to shooting position and vice versa), higher tactical mobility and simplified logistics (one truck transports gun, , the initial ammunition and control system), whereas the advantages over the track systems consist in a lower detection probability, reduced operating costs, simplified maintenance requirements and better strategic mobility.
The systems in service are divided between 152-mm (4 countries) and 155-mm (9 countries) models, although there are also industry proposals for wheeled self-propelled systems of 105 mm or 122 mm. So far, only ten countries have ordered about 1000 systems and the potential market for wheel systems can be assessed in 1000 units over the next 10 years.
Video presentation of Korean wheeled self-propelled howitzer EVO-105 with my subtitles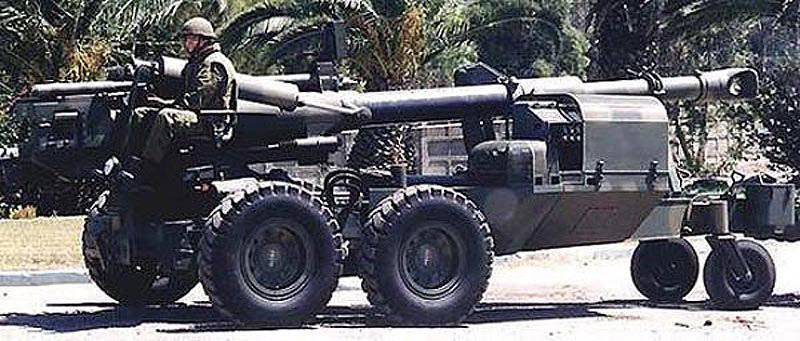 The Soltam ATHOS towed howitzer can be equipped with an APU in order to be able to move independently.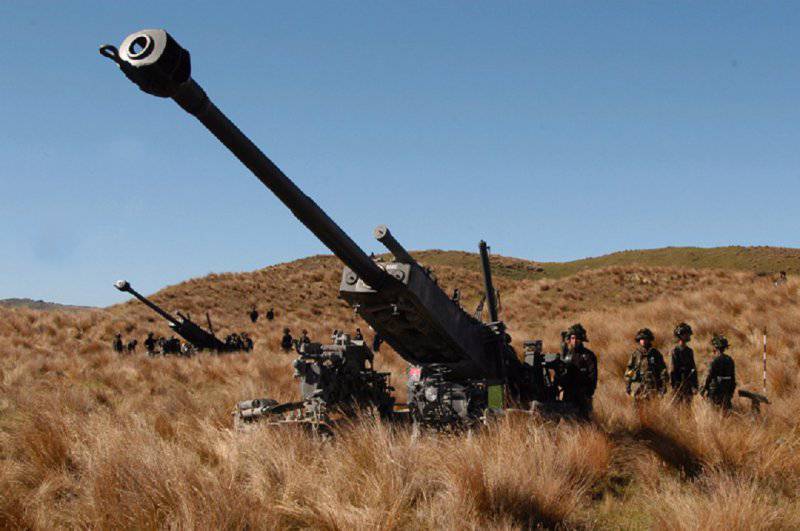 As stated, the Singapore PEGASUS light howitzer is the world's first self-propelled and helicopter-transported light 155-mm gun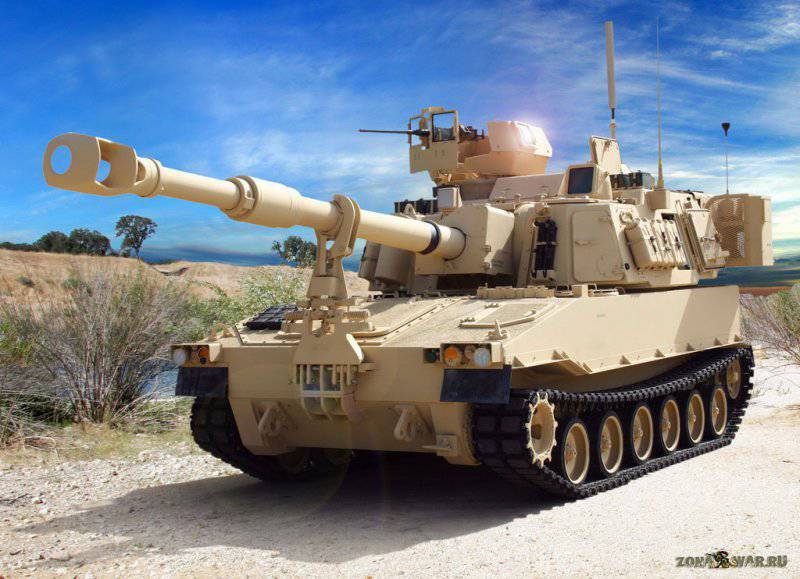 BAE Systems showed the first upgraded 155-mm SG M-109 PIM (PALADIN Integrated Management), the ceremony was held at the New York plant 20 January 2010. The company was awarded a contract worth 63,9 million in August 2009 for the manufacture of seven PIM prototypes (five SGs and two ammunition loading machines). The PIM uses the existing main armament and the M-109A6 PALADIN cab design, replacing the outdated chassis components with new ones from the M2 / M3 BRADLEY. Modernization of PIM, in addition, includes a modern "digital architecture", reliable power generation capabilities, electric drives of horizontal and vertical targeting, electric rammer and digital SLA. PALADIN will be upgraded with Anniston Army Depot in Alabama and BAE Systems
152 mm vs. 155 mm
The fact that once was a very energetic technological and commercial competition between the Russian 152 caliber mm and the western 155 mm has since made a noticeable turn in favor of the latter, especially with the advent of the NATO standard 155 mm / 52 caliber, which has no ballistic characteristics can match.
Around 40, countries around the world have already ordered or formulated requirements for modern 155-mm towed or self-propelled systems with an increasing standardization process for 52 caliber. The total number of systems already delivered, existing reliable orders and options on the world market is approximately 4500 units, with an estimate that at least the same amount will be added in the next 10-15 years.
China, despite being the leading operator, manufacturer and exporter of 152-mm artillery systems, quickly responded to the changing trends and Norinco currently offers 155-mm models, both tracked PLZ45 and wheeled SH1 systems. Russian manufacturers claim they have 155-mm / 45 caliber implements for the export version of the 2-19M1 tracked system.
Israel and South Africa are following rather intriguing commercial policies, offering a choice of several different solutions for their 155-mm wheeled howitzers. The new version of the Denel G6 is available with both the 45 barrel and the 52 caliber (the latter can also have two combustion chambers of different sizes), while the Soltam ATMOS 2000 may have an 39, 45 or 52 barrel.
Tracked self-propelled systems
The 155-mm self-propelled tracked systems line currently available on the market can be roughly divided into two main classes of heavy (40 - 60 tons) and medium (25 - 40 tons) machines. Heavy systems include:
KMW / Rheinmetall PzH 2000 (Germany). It is the heaviest (55,3 tons) and the most expensive self-propelled howitzer currently available, but also of course the most advanced and effective in terms of automatic operation, fire power and survivability. So far, it has been adopted by Germany (185 systems), Italy (2 x 68 systems manufactured under license by OTO Melara), the Netherlands (57 systems, subsequently reduced to 24) and Greece (24).
While the potential market for systems with such capabilities and cost is inevitably limited, the PzH 2000 will definitely receive future orders from those armies that want (and can afford) to support their heavy armored units with the highest-capacity 155 mm / 52 system.
K9 THUNDER from Samsung Techwin (South Korea). It weighs 47 tons in combat configuration, the K9 howitzer is also built under license in Turkey under the designation T155 FIRTINA. These two countries ordered in aggregate 850 machines, that is, approximately 20% of the total current volume of SG orders, which most likely will grow in the near future due to additional orders from other export customers.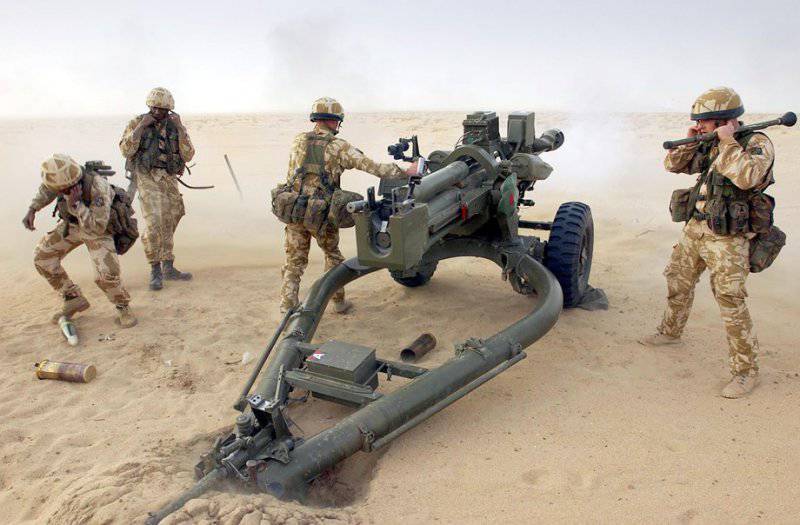 And at present, light 105-mm artillery is needed for light units, such as airborne troops. In the photo, British soldiers serving in G Battery, 7 of the paratroopers' paratroop division, firing their 105-mm Light Gun at direct fire.
BAE Systems AS90 (UK). A total of 179 AS90 howitzers were delivered to the British Army and 96 of them were subsequently upgraded by installing a 52 caliber gun, replacing the original 39 caliber model (weight increased to 45 tons). The same BRAVEHEART turret with a 155 mm / 52 caliber gun was to be installed by Huta Stalows Wola and XB Electronics on a 52-ton Polish KRAB concept. It is a modified chassis of the main combat
tank
(MBT) T-72 with AZALIA command and control system.
Medium systems include:
SSPH1 PRIMUS (Singapore). This 28,3 tonne tonnage system with 155-mm / 39 caliber gun was developed by Singapore Defense Science and Technology Agency and SI Kinetics based on the specific requirements of the Singapore army, which determined the total mass less than 30 tons and the maximum width less than 3 m to maintain compatibility with local road infrastructure (especially bridges) and terrain.
PRIMUS is in service with the Singapore Army (54 system), and production for local needs is apparently complete. Export orders are not reported.
Norinco PLZ45 (Type 88) (China). In 1997, PLZ45 caused a slight sensation by defeating American and European models in the competition of the Kuwaiti army (51 system). The winning bid of Norinco was based on the existing 152-mm model, however, it was modified to accept the same 155-mm / 45 barrel of a caliber installed in the Type 89 towed gun (PLL01). The system has since been sold in Bangladesh (number unknown) with supplies for the 2011 year, while rumors of a possible sale to Saudi Arabia have not been confirmed.
BAN Systems M109 PIM (formerly United Defense) (USA). M109 PIM (PALADIN Integrated Management) is the latest (at the moment) version of the "eternal" M109 series, whose original design is currently over 60 years old. BAE Systems was awarded a contract worth 63,9 million dollars in August for the production of seven prototype PIM machines in August 2009, the first one made in January 2010.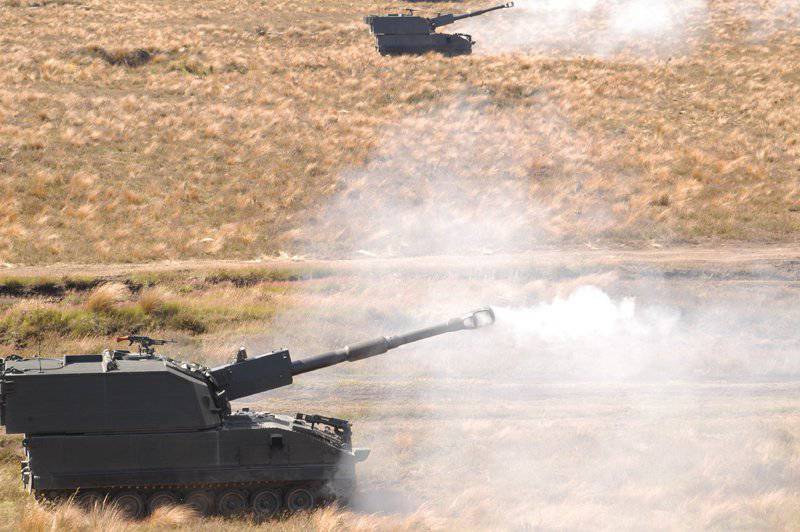 PRIMUS was created to meet the stringent requirements of the Singapore Army's road maneuverability. This was mainly the reason for choosing an 39 caliber gun, rather than a more modern and high-performance 52 caliber gun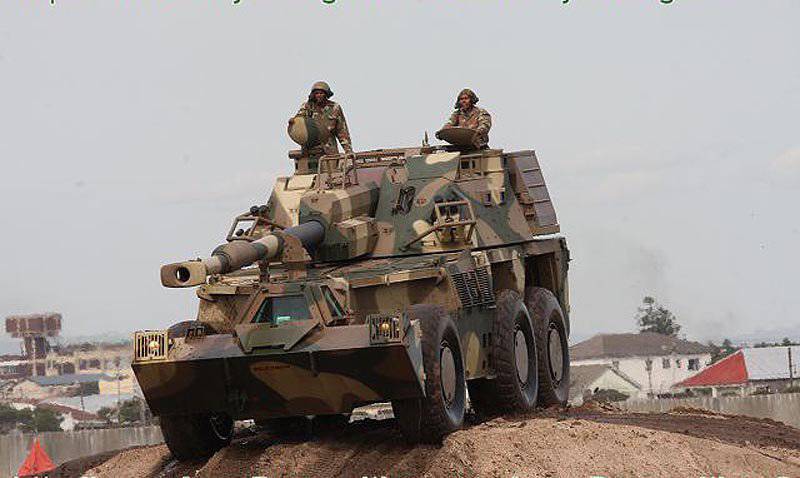 The Denel G6-52 howitzer has an 155-mm / 52 caliber gun and is available with a fire chamber with a volume of 25 liters, which makes it possible to reach a range of 67 km with a VLAP projectile (Velocity-enhanced Long-range Artillery Projectile - a long-range artillery projectile with an increased distance
PIM has installed the existing main armament and turret from M109A6 PALADIN (rather a radical reconstruction / modernization of existing machines than a new product), the outdated chassis components in it are replaced by modern ones from the BMN MXX / M2 BRADLEY. PIM integrates modern "digital architecture", improves the reliability of power generation, installs vertical and horizontal targeting drives, an electric rammer and digital MSA. Modernization of PIM ensures maximum unification with existing systems in the HBCT (Heavy Brigade Combat Team) armored brigade, reduces logistic load and maintenance costs by replacing outdated components in the chassis. PIM is also the first production machine equipped with an improved power management system from BAE Systems, which is the first implementation of the American Army's requirements for the Common Modular Power System (CMPS) modular energy system.
The modernization of the PALADIN fleet is carried out in collaboration with the Anniston Army Depot and BAE Systems plants.
With the cancellation of the 155-mm / 38 program for the XM1203 howitzer (NLOS Cannon), the PIM is currently the only self-propelled artillery system in the USA.
KMW Artillery Gun Model (AGM) / DONAR (Germany). AGM is in a class of its own, as it is an industrial offer for an autonomous 155-mm / 52 caliber turret, which can be installed on various tracked and wheeled chassis in order to get middle-class SGs compatible with air transportation in the A400M aircraft. The system retains the same barrel, mass of sliding parts and hydraulic rammer as are available on the PzH 2000. The system has a modified version of the automatic loader; for howitzers, shells and modular propelling charges are used according to the specifications of the joint memorandum on ballistics. The demonstration model was implemented on the basis of a modified MLRS chassis (MLRS).
In 2008, KMW and General Dynamics Europe Land Systems (GDELS) joined forces and announced the creation of DONAR, a new self-propelled tracked system, obtained by installing the AGM tower on the modified ASCOD 2 BMP chassis. With a combat mass of 35 tons (including ammunition with 30 shells and 145 charges), in DONAR all operations are automated (including loading shells and charges), the crew is only two people, the tower is controlled by an operator located remotely in the hull. On the basis of these characteristics and capabilities, it was stated that DONAR "turned the current idea of ​​artillery upside down." To date, no orders for either AGM or DONAR have been reported.