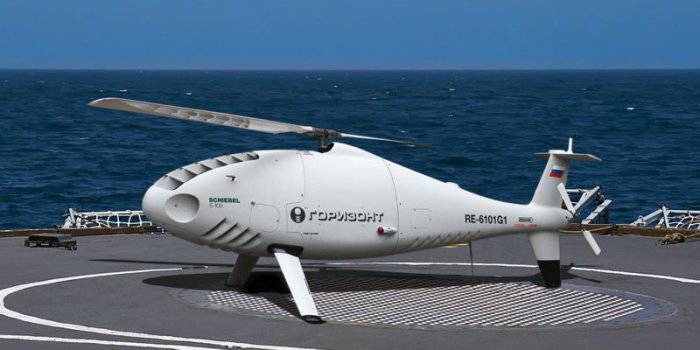 Austrian Schiebel Elektronische Gerаte GmbH and the Russian JSC Horizon presented an unmanned aerial system that is adapted for the needs of Russian consumers of the Camcopter S-100 helicopter.
The S-100 is a relatively small unmanned helicopter with a length of just over 3 m. It is designed to operate on an Austrian rotary engine with a capacity of 55 horsepower. The maximum carrying capacity of the helicopter is 50 kg. Standard equipment - a head with a day-night camera and an infrared camera - has a mass of 25 kg. In this configuration, the UAV can be in the air for six hours at an economical speed of 100 km / h. The maximum speed is more than 220 km / h. The joint project of the two companies is not accidental. For many years, the Russian company has been supplying Russian
the fleet
electronic systems, in particular, airborne radars, and in recent years, new systems, including command and control systems equipped with liquid crystal displays.
This experience makes it possible to build an effective detection and identification system based on the base of the S-100 helicopter and making it possible for the Russian Navy to make decisions with high efficiency.
For Austrians, cooperation provides an opportunity to offer their products in a different market. Until now, S-100 was made on the orders of the UAE and Pakistan. It is also possible the production of S-100 for India and Spain. A number of other countries, including Germany and France, have already conducted UAV tests.
Schiebel representatives said that the next recipient will be one of the government agencies in Russia, it is quite possible that this will be a non-military office. Already received an order for one UAV. However, Schiebel's representatives didn't give any other details.