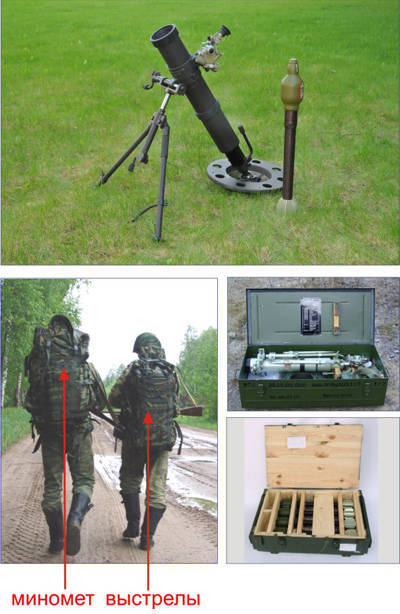 The main event at the international exhibition of military equipment and weapons MILEX-2011 in Minsk was the presentation by Russia of a completely unique silent mortar. This view
weapons
it is intended for special forces units, and its main distinguishing feature is maximum secrecy during combat use. It is interesting that a serial model was presented at the exhibition, but the manufacturer's representatives refused to report to whom. The new mortar has no own name yet, there is only an index - 2B25.
The design of the new mortar was developed by employees of the Central Scientific Research Institute "Petrel" from Nizhny Novgorod. As stated in the comments to the mortar, his appointment - the defeat of enemy personnel using the means of individual armor. Fire to kill can be carried out both by the enemy in open areas and by those located in field shelters. The uniqueness of the mortar is that it is possible to fire at any time of the day, from closed firing positions, and the enemy can hardly detect the place from which the shots are fired, considering the fact that the shot is practically silent and remains undefined visually.
How a similar effect is achieved, explained Aleksey Zelentsov, design engineer of the Central Research Institute: "When fired, the separated powder gases are locked in a special shank of the mine, therefore no smoke, no flame, no sound, no shock wave are formed". According to the engineer, the sound when fired is heard not louder than when firing from a conventional Kalashnikov submachine gun, equipped with a silencer.
A similar design scheme was already used by Soviet gunsmiths in 1983, when the first "Special Self-loading Pistol" (PSS) was created in the Soviet Union, when firing powder gases were also locked in the sleeve. Earlier, in 60-ies in the USSR, special forces were created to arm special forces units, a silent mortar "Product D" entered, the design of which is kept secret today, but it was built according to a similar product scheme with the 2B25 index.