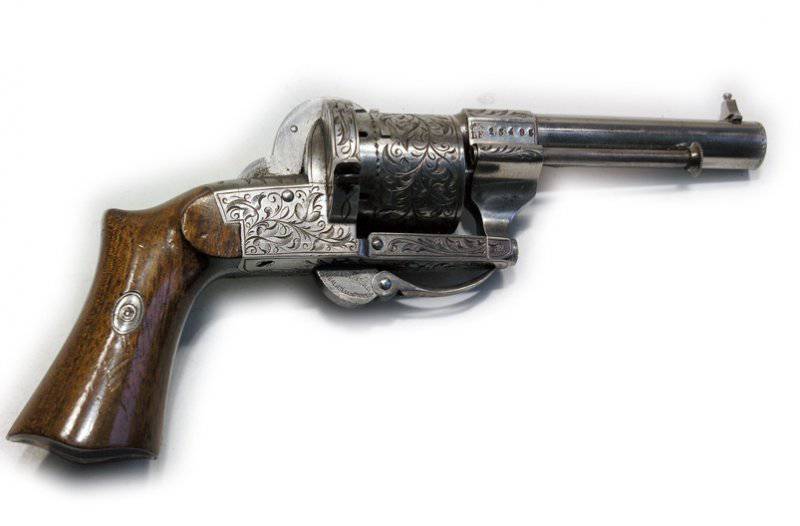 Spike six-shot self-cocking revolver, caliber 7mm, total length
weapons
184 mm., Barrel length 87 mm. Revolver made in France, the manufacturer firm Eugene Lefoshe. Year of manufacture is approximately 1850 — 1860 year.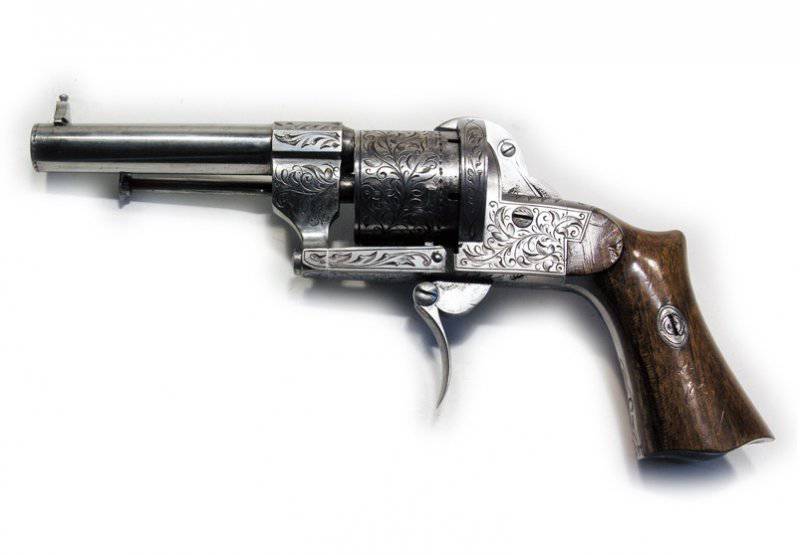 The frame of the revolver is open, at the base it has large buttock plates of a semi-circular drum. In the right back plate there is a cut-out of a segmented form in which a hinged door is installed, equipped with a spring-loaded latch for loading and removing shells. Loading and extraction of the sleeves from the drum chamber takes place alternately. The drum has a cylindrical shape without dolov, has six chambers. Chambers of the drums have cuts on the breech side to accommodate the cartridge studs. In the back of the drum there are protruding teeth for fixing the drum during rotation.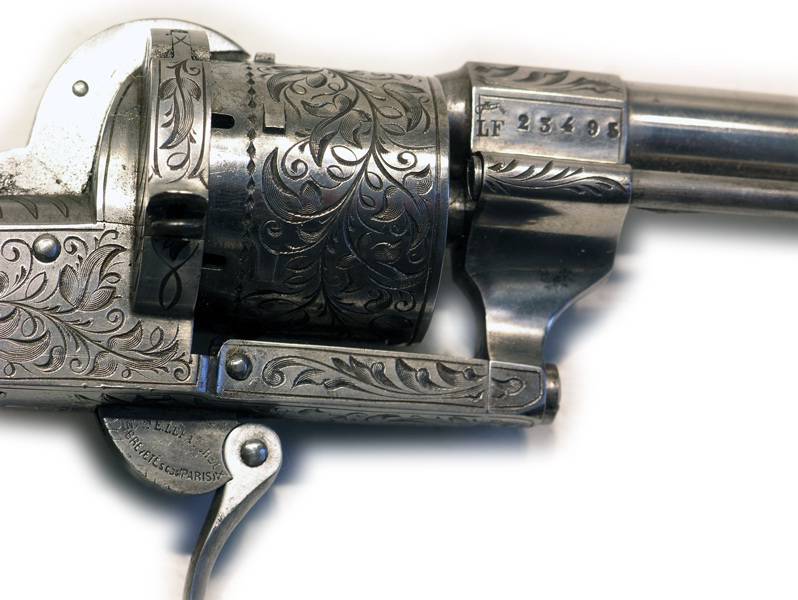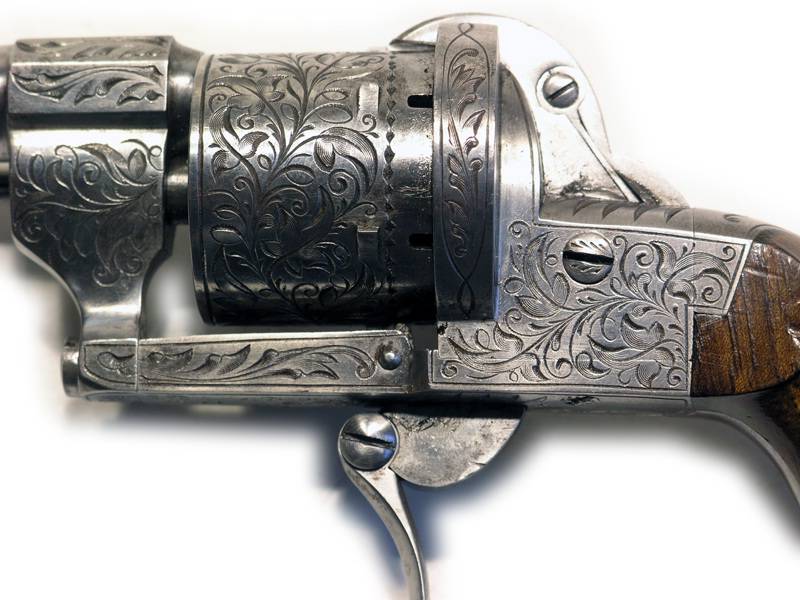 In front of the frame there is a tide-stand that is fastened to the frame with a screw at the bottom. The axis of the drum passes through the tide rack.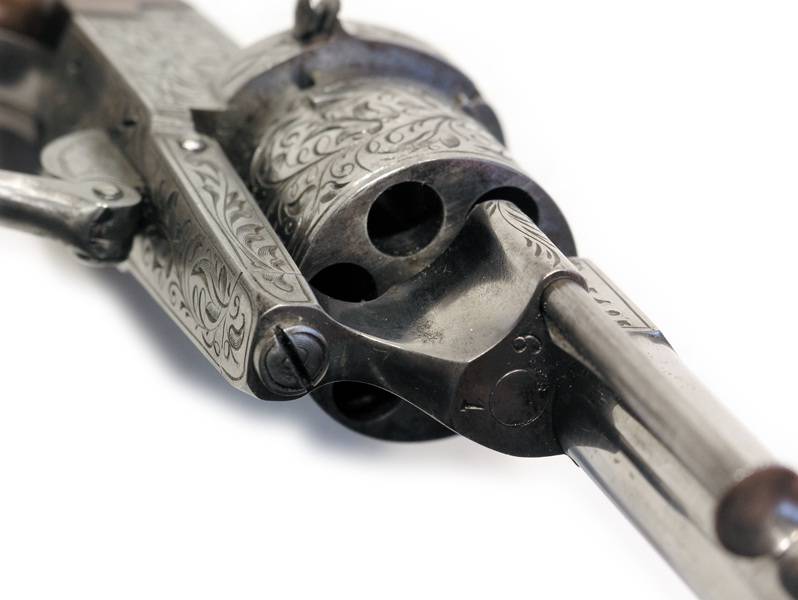 The core of the extractor is located to the right of the axis of the drum in the protruding part of the tide-rack. The extractor has a flat round head, fixed with a spring-loaded flat bracket, located in the longitudinal groove in the needle of the extractor.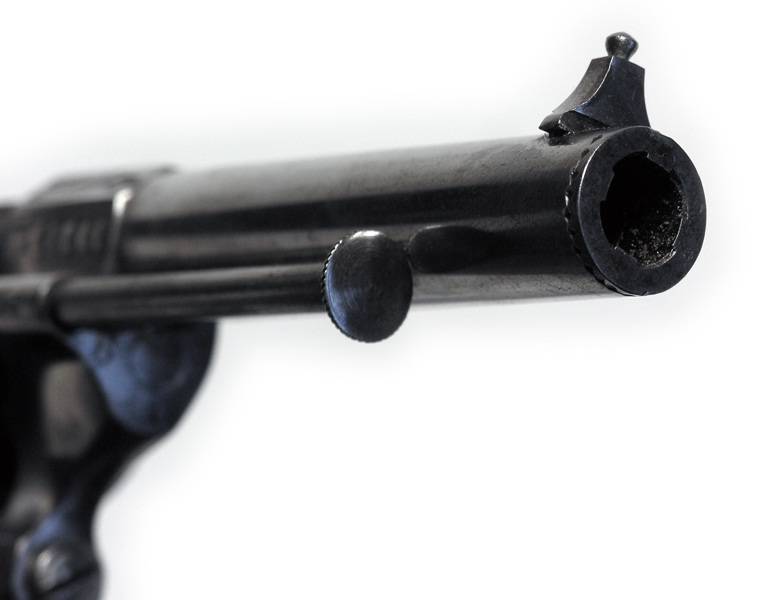 The barrel of the revolver is steel, round shape, the breech of the octahedral. The barrel bore is 4 rifled. The front sight is flat, wide with a ball in the upper part. The fly is attached to the trunk connection "dovetail".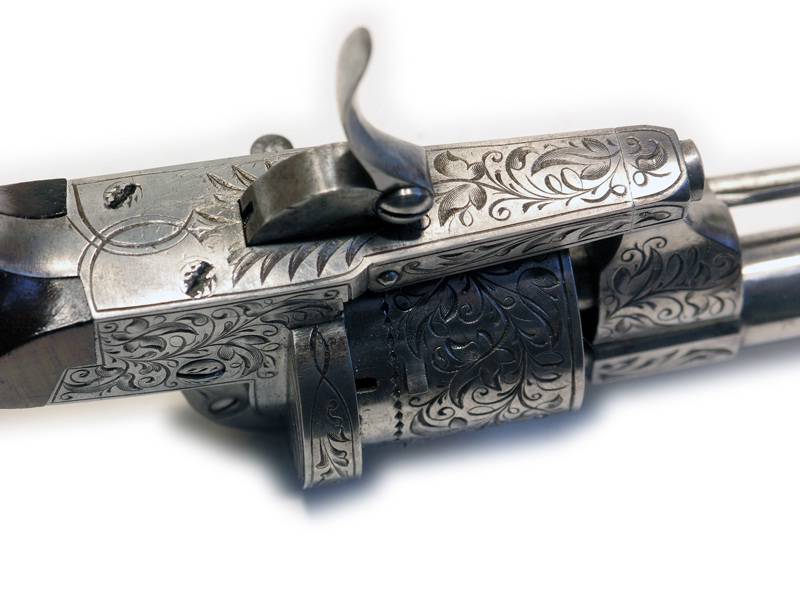 The trigger is open, the spoke is missing, the drummer is flat. The trigger is curved, foldable, the hinge is the axis of the screw.
The handle is a wooden lacquered cheeks, figure shaped, connected by a screw. In the upper part of the handle there is a protrusion, the lower part is slightly expanded. Frame revolver and drum engraved pattern in the form of floral ornament. On the surface of the revolver there are markings and marks characteristic of the company Evgeny Lefoshe (son of the famous inventor of the hairpin cartridge Kazimir Lefoshe): on the side of the breech to the right is an image of a pistol with a folded barrel, under which there is a monogram "LF" and the serial number, based on Trigger the inscription "... PARIS ...".