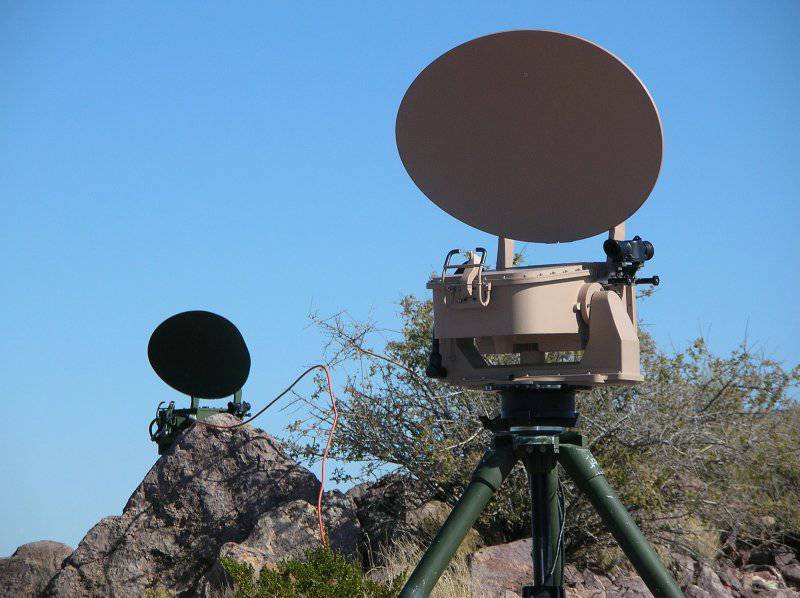 The protection system of its divisions of the American program BETSS-C (Expeditionary Targeting and Surveillance Systems - Combined, the expeditionary detection and observation system - combined) includes in its membership the MSTAR V6 radar developed by DRS.
Recent operations in Iraq and Afghanistan have identified the need to ensure the protection of many advanced operational sites from which the military advance to combat operations in order to control local zones and ensure the security of supplies, services and recreation.
These sites can be very different: from the main operational bases, for example, the Camp Bastion or Herat, which have runways, and the forward operational bases near the main settlements with stationed forces of the size of a combat group and ending with combat posts and temporary bases. Ensuring the safety of these bases requires a combination of surveillance, preventive measures and targeted response measures. Based on the experience of fighting overseas and looking at specialized developments, coming mainly from civilian intrusion warning systems or border surveillance, the armed forces require industry to develop a certain number of camp and base protection systems.
These systems are based on a command and control module that collects and combines data from various systems, including day / night cameras, optoelectronic and all-weather surveillance radars, automatic ground sensors, as well as aerial platforms, such as balloons and UAVs, in order to develop fairly accurate solutions. direct and indirect fire targeting to avoid the risk of indirect damage.
U.S.
Urgent requirements for the provision of base and camp protection systems during operations in Iraq led Raytheon to develop a Rapid Aerostat Initial Deployment (Raid) / Persistent Surveillance and Dissemination System of Systems (PSDS2) surveillance system kit, which began to be supplied to the US Army from the middle 2005 of the year.
As a result of the subsequent efforts of the Ministry of Defense in this area, the BETSS-C (Base Expeditionary Targeting and Surveillance Systems - Combined) program appeared, the basic expeditionary observation and determination systems - combined), which consists of a combination of defense systems of its forces. One such system includes the Raid system in configurations for aerostat, mast and tower, the Cerberus system on the tower, the Force Protection Suite (FPS) and the integrated rapid deployment system RDISS (Rapid Deployment Integrated Surveillance System). The army is equipped with various versions of the BETSS-C / Raid transportable, quickly deployable mast system, consisting of an Flir System Star Safire III optoelectronic / infrared sensor and ground surveillance radar, a data channel, a generator and a standard ground station supplied by SRI Sarnoff and which is common to all BETSS-C systems. Data from the sensors of the system is collected, processed and displayed on displays, which allows you to organize an effective base defense and target acquisition.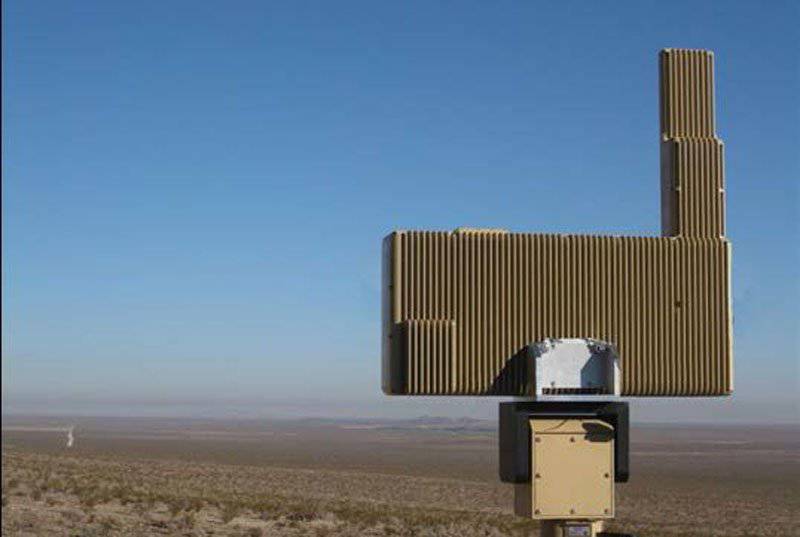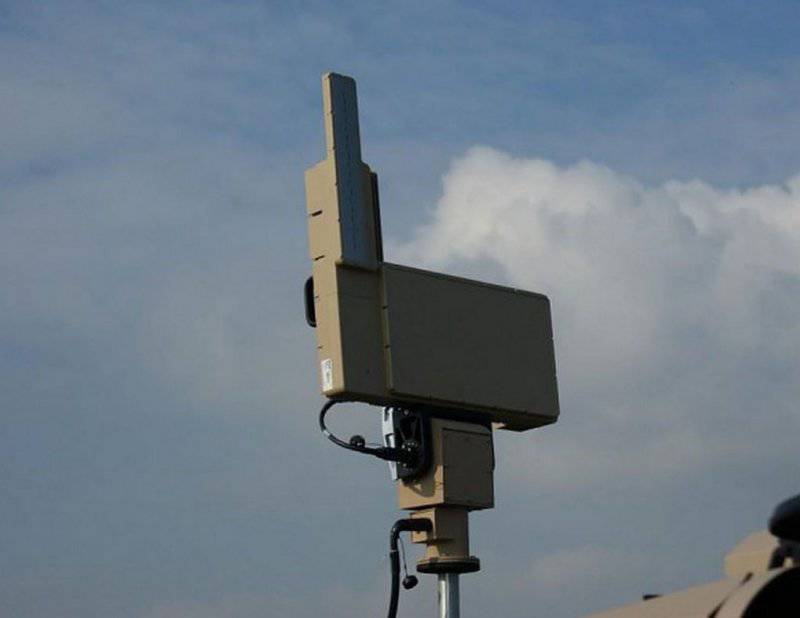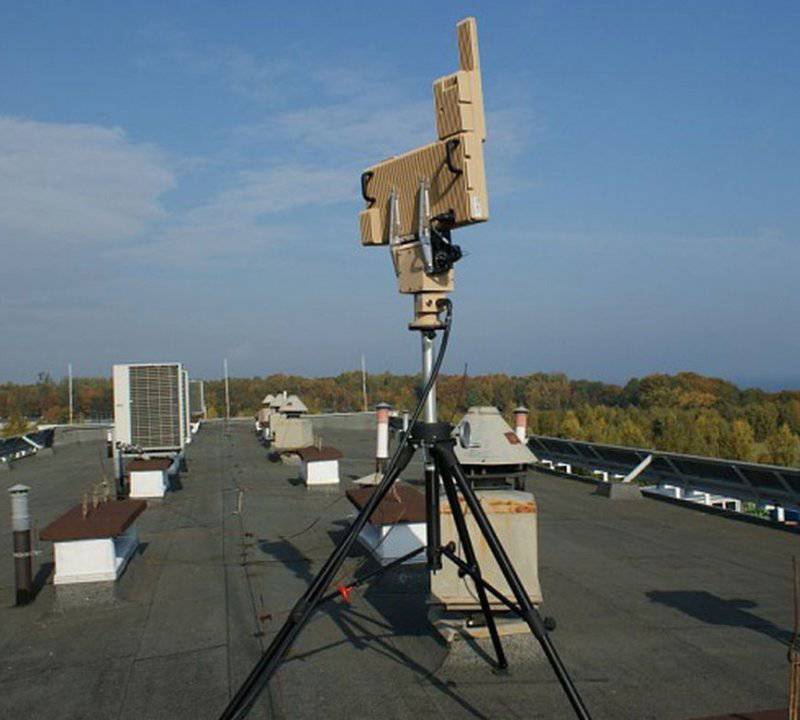 Flir Systems recently expanded its radar range and introduced the portable Ranger R20SS. It has an 90 ° coverage and determines a person at a distance of 20 km
Together with the Cerberus observation tower, installed on a cargo platform and equipped with optoelectronic devices (OE) and a surveillance radar, the Raid system provides continuous round-the-clock detection and monitoring. The FPS kit includes panoramic cameras with zoom, long-range thermal imagers, illuminators, automatic ground sensors and ground-based radar. The RDISS system, which includes day / night cameras, is designed to increase the situational awareness of soldiers at the integrated security posts and combat posts. The BETSS-C program also manages the enhanced tactical automated security system eTASS (enhanced Tactical Automated Security System) designed for the US Air Force, while the Marine Corps purchased similar equipment using the G-Boss (Ground-Based Operational Surveillance System) ground program. Combat Surveillance System) plus a lightweight Cerberus system mounted on a trailer and tripods.
In accordance with the JFPASS technology program (Joint Force Advanced Security System - United Advanced Security System), the US Army developed the Combat Outpost Surveillance and Force Protection System COSFPS (Combat Outpost) and the main contractor for Flir Systems . This troop protection system employs several advanced cameras and optoelectronics, such as the Flir Systems Star Safire sensor family, including SS III, III XR +, High Definition, Thermo Vision 3000 and Ranger T3000 / III models, while the ground-based surveillance radars are supplied by DRS, Flir Systems , Telephonics and Israeli IAI / Elta. The US division of Finmeccanica supplies the latest version of MSTAR (Manportable Surveillance and Targeting Acquisition Radar) portable radar monitoring and detection radar from Thales (see the first photo), sold to many countries, including Australia, Canada, Colombia and Poland. Internet Protocol IP and compatible with all current integrated solutions Ku-Band radar offers typical detection ranges for moving people and light vehicles, respectively, over 13 and over 25 km.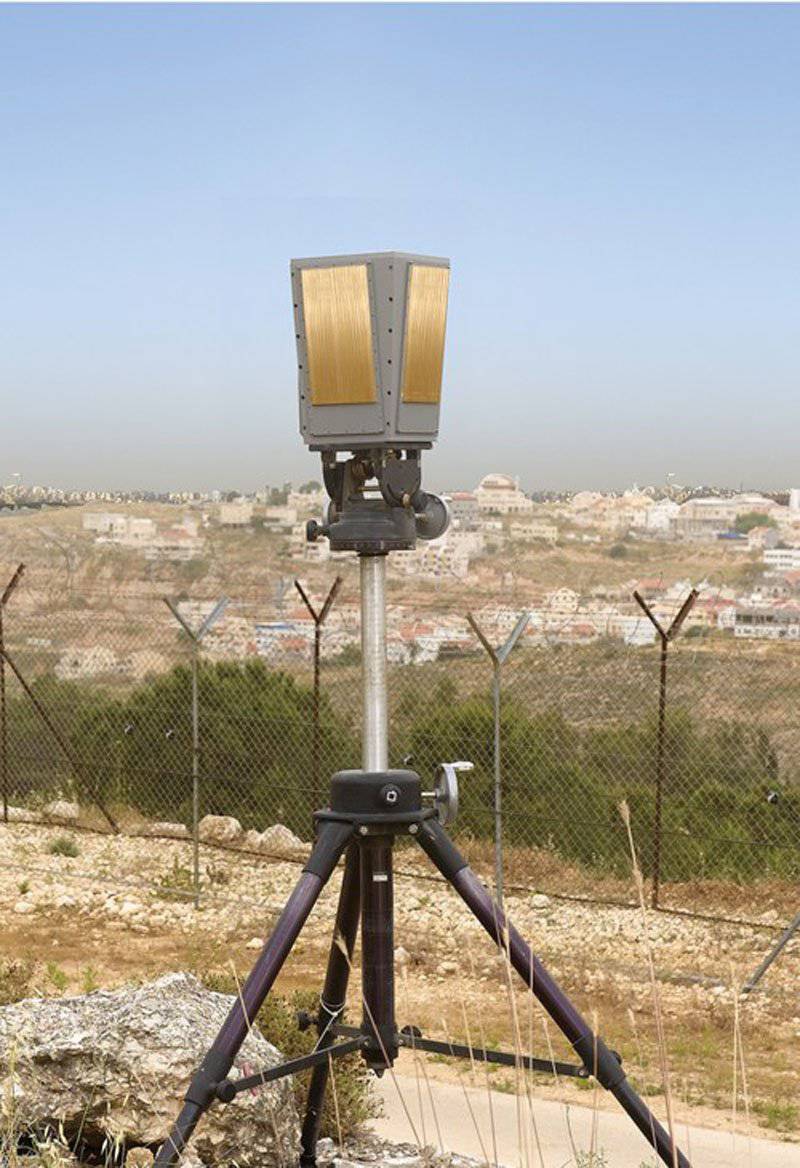 Lightweight radar Elta EL / M-2112 from the company IAI Elta
According to Flir Systems, the Ranger radar family has recently been expanded to include the new Ranger R20SS radar and the Ranger R5D, a longer range dual-range radar specially designed for the Middle East. Telephonics offers X-band compact and lightweight semiconductor surveillance radar ARSS (Advanced Radar Surveillance System) with 10 kg, while the Elta EL / M-2112 lightweight radar was purchased by US border guards, customs and the army.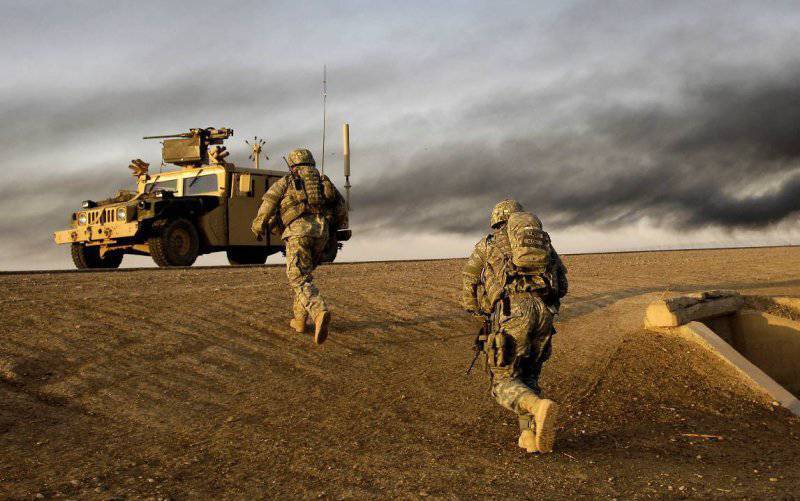 The Boomerang sniper detection system is a standard acoustic sensor for protecting bases and troops. It also comes in a version for an individual soldier.
Automatic ground and acoustic sensors include the Rembass II sensor system from L-3 Communications (sensors of this system can be monitored at distances up to 15 km) and a Raytheon BBN Technologies Boomerang sniper detection system. In addition, the Raid balloon version, based on the 17 meter-long platform and supplied by Lockheed Martin, comes in a new configuration with an optoelectronic kit and a surveillance radar, including Wescam stations and a small tactical 29-kg radar from Northrop Grumman StarLite, which provides radar with synthesized aperture / selection of ground moving targets (man and vehicles).
Israel
All major industrial groups in the field of security and defense in Israel, including the IAI / Elta, Rafael, Elbit, as well as a number of small companies are actively working in this field. They developed, manufactured and delivered to the troops several decisions on border surveillance and the protection of their forces. Some of them can easily find application in the defense systems of temporary bases and camps.
The company IAI / Elta offers a new generation of surveillance radars of continuous observation including a multibeam plane antenna with electronic scanning with a special digital receiver for each beam. The main member of the family, produced in four different versions, is the Elta EL / M-2112 ground X-band modular radar. It has up to four stationary flat antenna arrays that provide instant and continuous all-view coverage with a variable detection range from 300 meters to 20 km for a walking person and up to 40 km for vehicles.
At the AUSA 2012 exhibition, Radar Electronic Industries presented a new family of fixed and mobile radars that were specially created to protect borders and their units. This family has already passed field trials, and radar production should have begun in the first quarter of 2013. The family of advanced, multi-purpose hemispherical (MHR), semiconductor, pulsed, Doppler S-band radars with an active antenna array and electronic scanning includes the RHS-44 model optimized for border guarding. It can have up to four independent and interchangeable radar panels of reduced dimensions (each with an 90 ° coverage area), which can be installed on vehicle masts or in fixed positions. The radar is capable of ground, air and sea targets, it has a detection range of six kilometers in people and 40 kilometers in large vessels. This same MHR family includes the innovative enemy fire detection system RPS-40, which detects, tracks, classifies and locates direct and air threats, such as missiles, artillery and mortar shells, rocket projectiles, fired from a site or from a mobile object.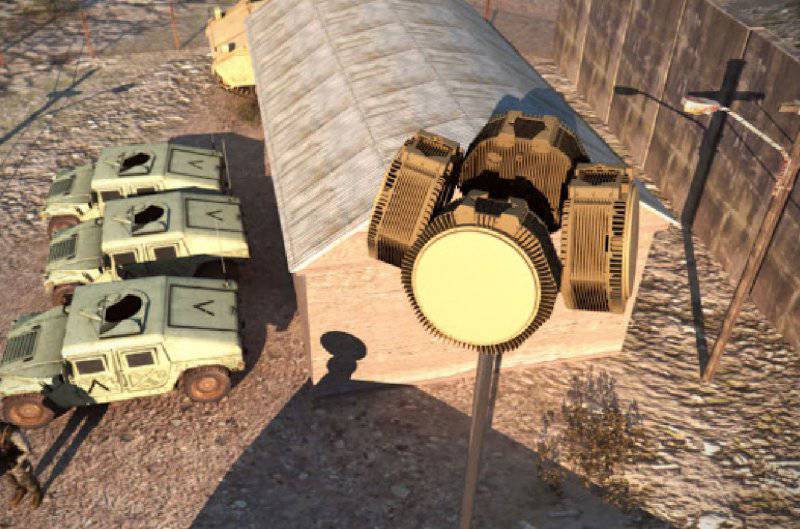 Multi-Purpose Hemispherical Radar MHR (Multi-Mission Hemispheric Radar) from Radar Electronic Industries
Companies such as the IAI Elta, Aerostat / RT LTA and Rafael provide surveillance systems for balloons equipped with optoelectronic or radar surveillance devices, including the Skystar family, intended for combat use and sold to many countries. These balloons are also used in Afghanistan by the US and Canadian contingents, where they are equipped with T-Stamp or Speed-A optoelectronic stations from the company Controp, which are stabilized along three axes. The company also provides panoramic automatic intrusion detection systems Cedar and Spider, the latter is stabilized and equipped with a thermal imager, a CCD camera and a laser range finder / pointer. Both systems are able to scan and detect targets automatically in a wide area of ​​search.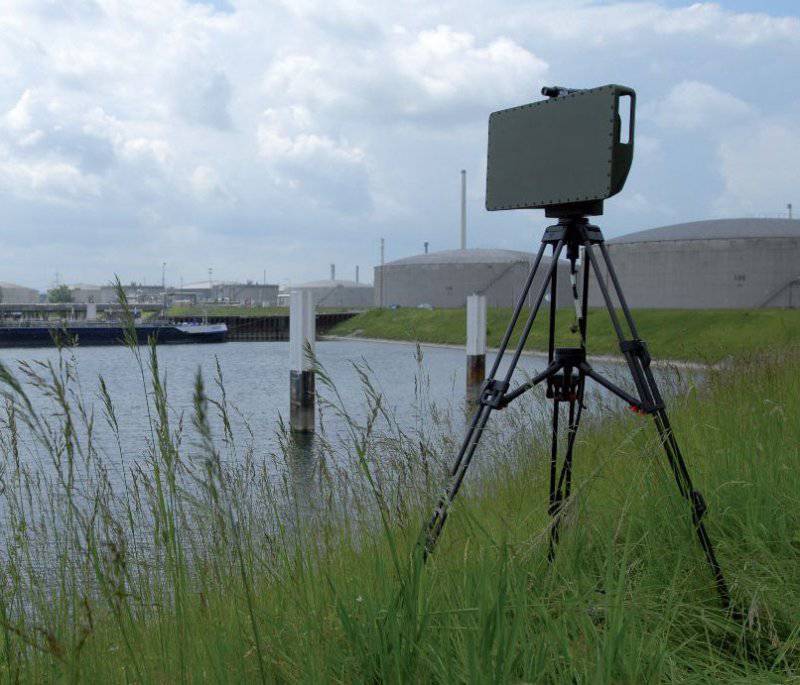 Survey radar GO12 Ku range with a circular coating and a human detection range 10 km. The kit weighs 30 kg and is carried by two people. The radar is used by the French and German armies and was recently chosen by one of the countries of South America.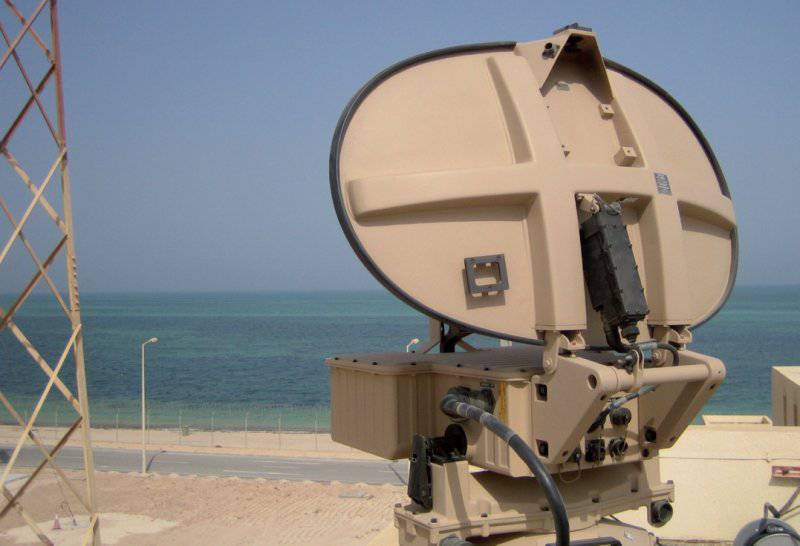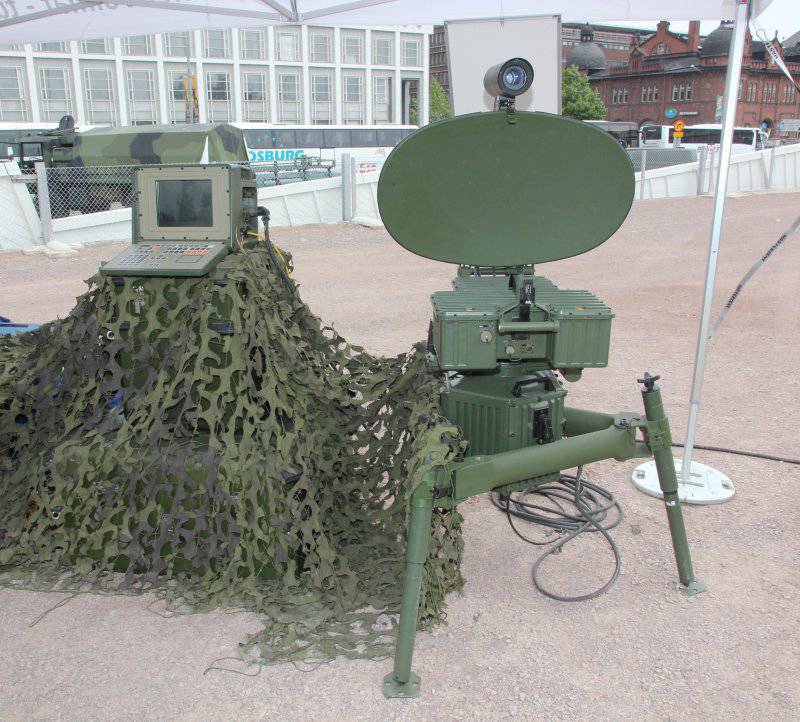 The BOR-A 550 / 560 I-Range Surveillance Radar is the flagship product in the long-range segment, delivered to 20 customers from 18 countries. The company also supplies the newer GO80 system, which has improved features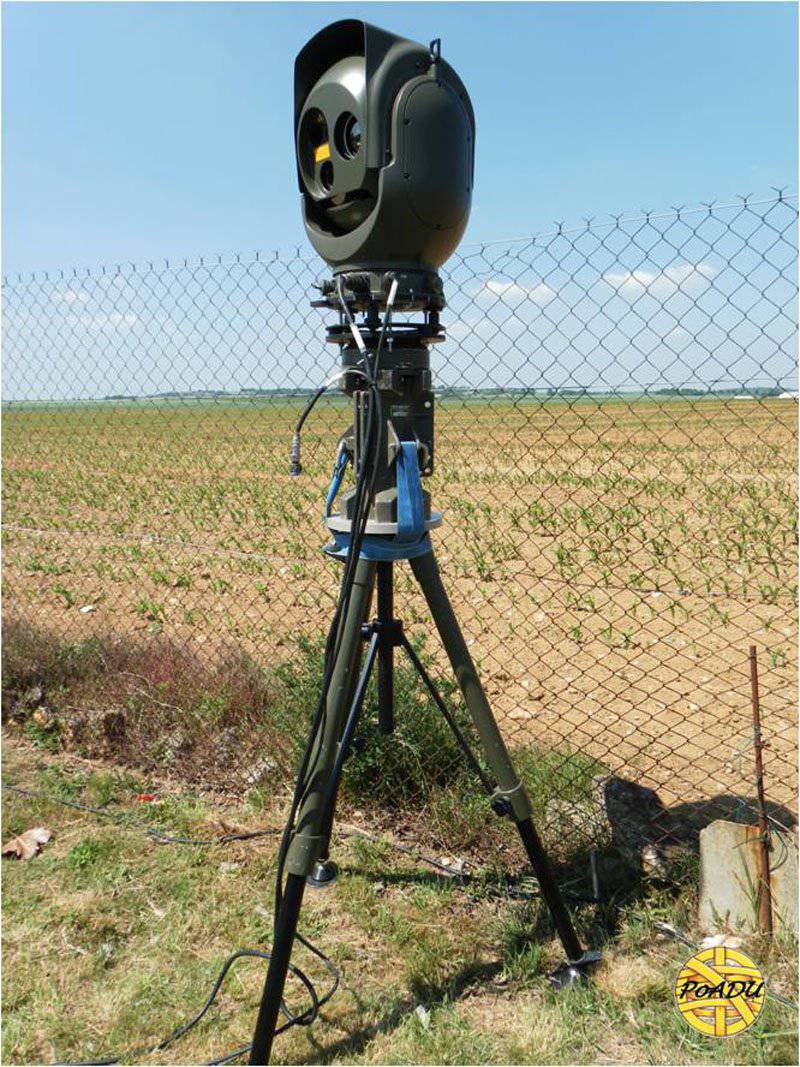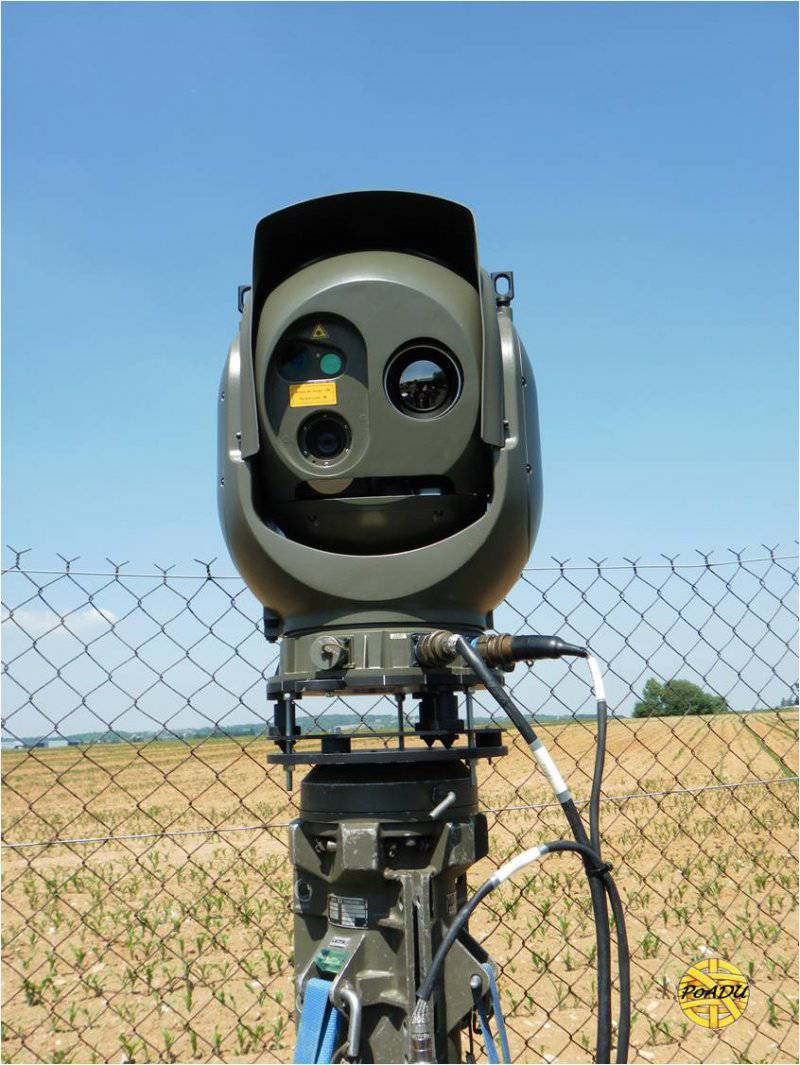 The Thales Margot 5000 includes the newest Catherine XP thermal imager of the 8-12 micron range, a daytime color CCD camera and a laser range finder. The system works on the Astar software family (Assisted Surveillance Tracking Analysis and Report - for observing analysis and message tracking)
ESC Baz recently sold its short- and mid-wave Aviv surveillance system to an Asian customer, which is an electrically powered Smart Panoramic Station with a day CCD camera, a Layla uncooled thermal imaging camera and a focusing light. To monitor objects and boundaries, IAI Taman offers its modular optoelectronic equipment (POP) for installation on retractable masts and in centralized control centers.
Europe
The growing number of dislocations abroad has forced a number of NATO countries, their allies and industry to supply various defense complexes for their military bases.
Thales Deutschland has developed the Musec2 system (Multi-Sensor Command & Control - multi-sensor, command and control). It absorbed the experience gained with the battle-proven Discus system (Deployable Integrated Sensors for CompoUnd Security - deployable integrated sensors for ensuring the security of objects), delivered to Afghanistan since 2006 to the Dutch contingent and later to the Canadian, absorbed the experience gained from creating an experimental system Specter (Système de Protection des Elements Terrestres), tested by France, as well as experience in operating the Mobids (Modular Intrusion Detection System) system, which is in service with the German army and deployed in Afghanistan and Kosovo. Sold in various multi-sensor variants in Europe and the Middle East, Musec2 forms the basis of Thales' expandable and modular defense kits for their troops and military bases.
The Musec2 system is based on an open and flexible architecture that allows you to add different types of surveillance sensors and easily integrate with multifunctional information control systems or surveillance, reconnaissance and identification systems. Musec2 is an operational management system whose typical applications include position monitoring, camp protection, local area monitoring, and sensor networking. Musec2 is the core of Thales Combined Surveillance and Intrusion Detection System CSIDS (Combined Surveillance and Intrusion Detection System) designed to protect stationary objects and monitor borders. The system was shown in February 2012 at the Singapore Air Show. The system is able to control a large number of radars, optoelectronic sensors and process more than 320 tracks; its specialized options for the protection of perimeters and borders, including the configuration for vehicles, were sold to Germany and two unnamed countries of the Middle East.
Thales manufactures a wide variety of devices, from ground radar GO12 (Ground Observer 12), Squire, BOR-A 5 E / O or the new GO80 to optical-electronic systems (including multi-sensor cameras on panoramic rotary supports), robotic ground systems, radar and acoustic weapons detection systems and electronic intelligence sensors. GO12 is a two-sided (mass of a complete set of 30 kg) ground-based Ku-band radar with a circular 360 ° coverage and a pedestrian detection distance of 10 km. It is in service with the French and German armies and was recently chosen by the South American country.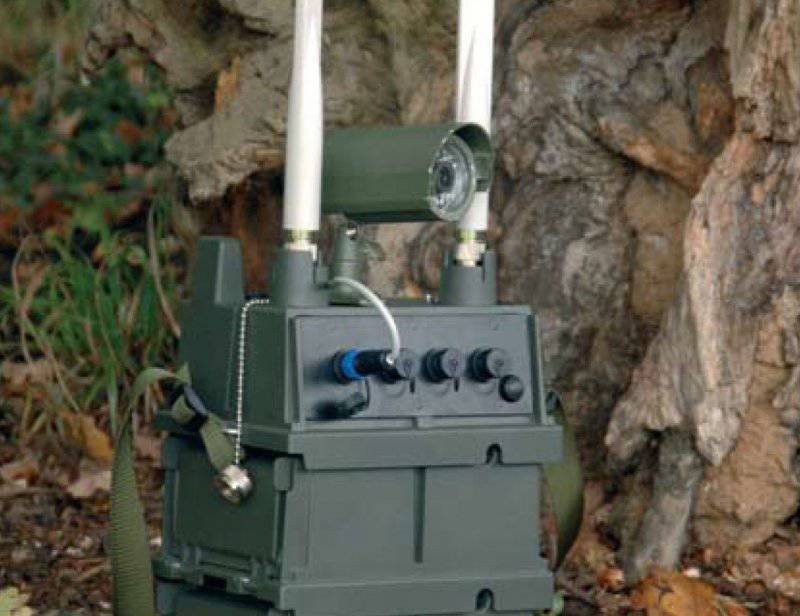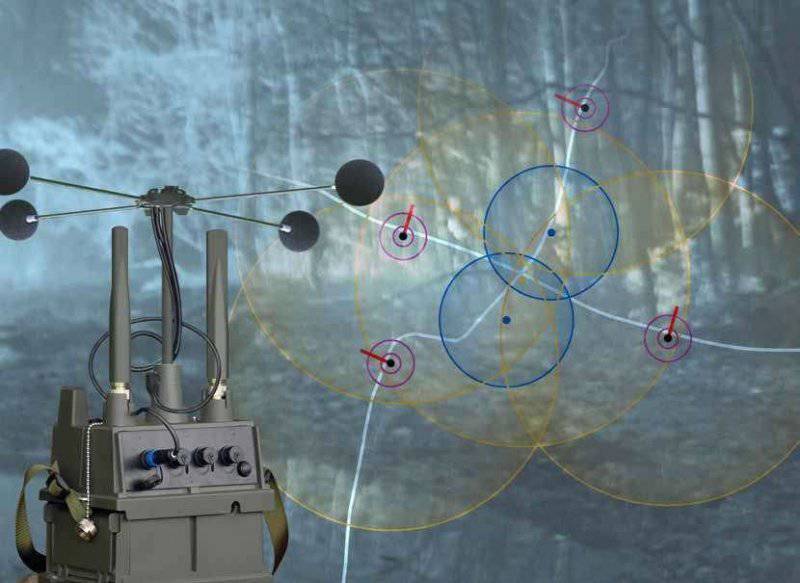 Acoustic sensors in the Hydra range enable you to build versatile, reliable wireless sensor networks.
Thales Nederland's mid-range Squire medium-range radar was integrated into the Discus system, over 300 systems were sold to different customers around the world. The BOR-A 550 / 560 I-Band Radar is a flagship product in the long-range category that has found its 20 buyers from 18 countries. At IDEX 2011, Thales presented the GO80 radar, which expands its portfolio not only through the BOR-A family. This radar has a large antenna, provides higher transmission power and high-performance signal processing. The new X-band radar has a range of 24 km by person and about 60 km by large vehicle (20 sq. Meters).
The range of Thales optoelectronic applications includes the Teoss 350 radar, which is used in Discus configurations, and Margot 5000 sensor systems. The latter consists of the latest generation Catherine XP thermal imager with 8 wavelength - 12 micron, daytime color CCD camera and laser rangefinder and works on the whole Astar software (Assisted Surveillance Tracking Analysis and Report - for observing analysis and message tracking). The Thales portfolio also includes the Wasp system (Wide Area Surveillance Platform - a wide area monitoring platform), which is a trailer on which an observation mast based on optoelectronic solutions is installed, connected to a light standard ground station GO12. Wasp can also be part of a management system consisting of the Ultra Electronic Command and Control System (UECCS) and the Situational Awareness Management System (SAMS) situational awareness management system (UMSC).
UECCS SAMS is part of the British Camp Camp Protection System Project Cortez. It is based on an open and reconfigurable architecture and is designed to merge data from various sensors (it can automatically track several hundreds of individual targets). In the open market, it is known as ISO Persistence Surveillance (ISOPS), is operated with 2009 and is supplied by General Dynamics UK's main contractor. First shown at the Eurosatory 2010, it consists of a surveillance and command kit in an 20-foot ISO container, including an 20-meter tower with a set of touch options. British troops, for example, use Thales MSTAR surveillance radar in its structure, but it can also integrate Elta and Plextek radars, Kylmar cameras and Cobham automatic sensors.
Selex Galileo is promoting its trailer-based Observer 100 and 250 mobile surveillance systems that are equipped with 10- and 25-meter mast and a specialized multi-touch kit, including thermal imaging cameras with continuous optical zoom, color camera and surveillance radar, all under control of the software. Vintage. Selex also offers the maintenance-free ground-based multi-touch system Hydra.
Stabilized Surveillance Saps from Sagem
Sagem offers the Saps omnidirectional stabilized surveillance device, providing continuous 360 ° situational awareness in real time thanks to the innovative Pan Scanb and Track & While Scan and Teos (Territory Electro-Optic Surveillance) operating modes. The tower-mounted 20 km class long-range station has a Matis thermal imaging camera with 18x continuous optical zoom and a surveillance video camera with 60x optical zoom, plus VGA IR detectors (6 colors at 640 x 480 resolution).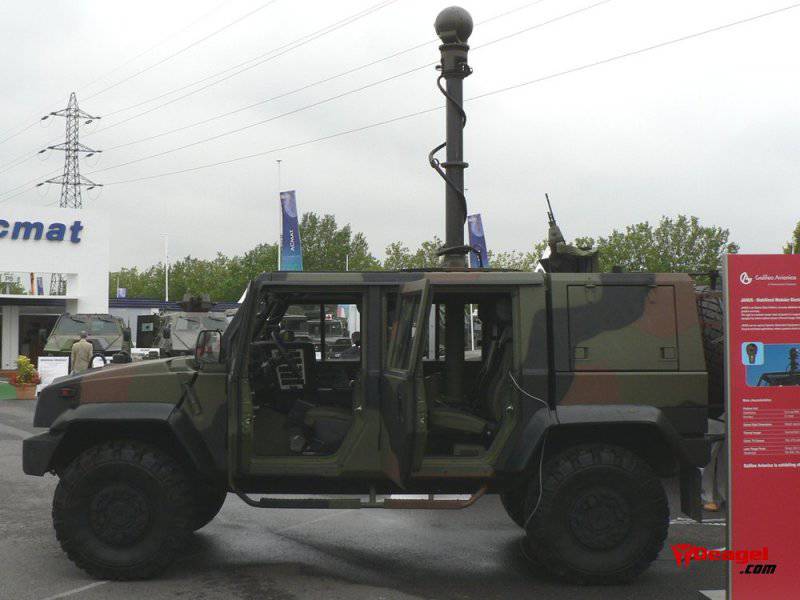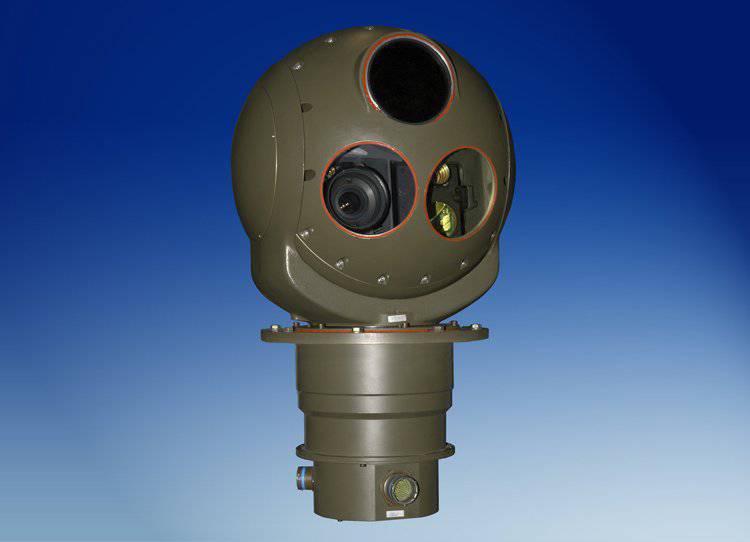 Janus consists of a third-generation thermal imager with a full-format video converter matrix, a Superhad color CCD camera with continuous zoom and a laser rangefinder. Above Janus station on LMV car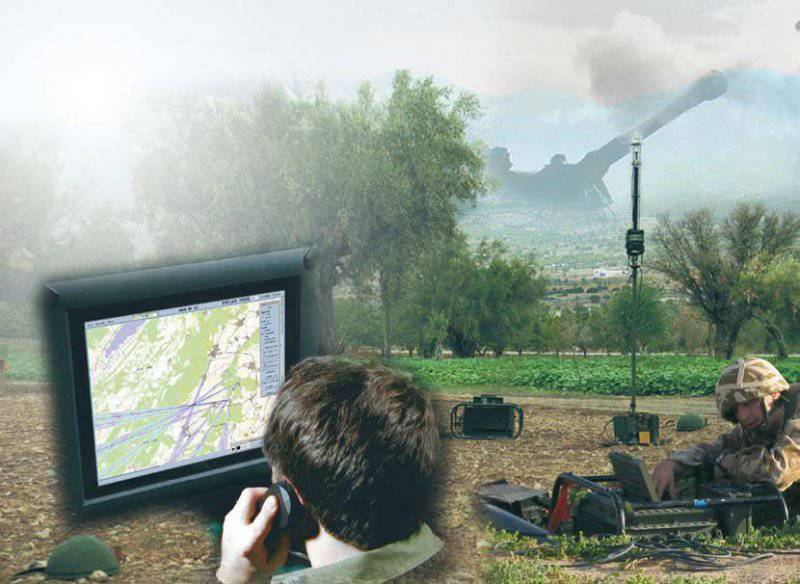 Acoustic sensor Halo is in service with the United States, Canada and the UK. He was chosen by the Italian army as part of a defense kit for military camps along with a small weapons Metravib Pilar MkIIW
A consortium of German and French companies, led by Rheinmetall, successfully tested the defense system of military facilities in accordance with a three-year Camp Protection Systems contract (FICAPS) issued by a European defense agency in 2010. The ultimate goal is to create a system for protection in multinational operations of military equipment and objects. In previous years, the German Federal Agency for Defense Technologies and Procurement issued a contract for the network prototype of this system under the SEO program (Schutz von Einrichtungen und Objekten) to the Rheinmetall, Thales Deutschland and Diehl Defense consortium, which was demonstrated in 2011 year.
Cassidian also received a contract for a demonstration of opportunities for the same program, but based on its Dome system (Defense Of Mission-critical Entities - defense of critical facilities). The latter is concentrated around the working module of protection of the OCIP infrastructure with a combination of sensors and actuators. Cassidian has developed the new-generation Spexer radar family using electronic scanning antenna array and innovative digital beam-forming technologies. The Spexer family uses the all-in-one principle, it consists of a Spexer 500 portable radar with a pedestrian detection range of 5 km, and the Spexer 1500 model, which has higher performance (15 km by person and 18 km for light vehicles) to protect objects larger area. Spexer 2000 radar is more powerful and optimized for border security. It is made for the Middle Eastern buyer, the military version was developed for the German army.
Based on already proven solutions to protect borders and infrastructure, an industrial group led by Selex Sistemi Integrati received a contract from the Italian Ministry of Defense in December 2011 to develop and supply an unnamed number of deployable kits to protect military bases abroad.
As a side effect of its activities carried out under the Forza NEC (Network Enabled Capability) Italian digitization program, the group of companies led by Selex Sistemi Integrati offers a specialized system that includes an operational management component and a set consisting of radar, optoelectronic and acoustic sensors The system was evaluated and certified by the Italian army, and the first set should be sent to Afghanistan. In addition to the perimeter-mounted cameras, microphones and infrared detectors, the system includes a container module on a trailer and providing equipment to reduce installation and setup times. The Selex Sistemi Integrati Lyra 10 ground radar is installed on an 18-meter retractable tower, it provides full-coverage coverage and has standard human and vehicle detection ranges of 10 km and 24 km, respectively.
The Lyra 10 radar, thanks to its 25 kg antenna and reduced dimensions, can be installed on small vehicles, such as ATVs, to protect advanced posts or fill gaps in cross-border surveillance networks. Selex Galileo also provides an opto-electronic kit. It includes a stabilized Janus medium / long-range multisensor system and four Mini Colibr day / night compact systems (this guarantees interaction with the equipment of vehicles of the Italian army). The specialized version of Janus, installed on the 18-meter tower, consists of a cooled thermal imager Erica FF (Full Format) of the 3-5 micron range with two fields of view, a Superhad color CCD camera with continuous zoom and a laser rangefinder.
The 6,5-kg Mini Colibr system incorporates uncooled infrared cameras 8-12 microns, a laser rangefinder and a Superhad color CCD camera. The acoustic kit includes the Halo (Hostile Artillery Locating System - the enemy artillery detection system), which is a fourth-generation system for localizing weapons from Selex Galileo, already used by American, Canadian and British forces. It has a typical range of 15 km and 6 km for artillery shells and mortar shells, respectively, while the location of small arms fire is provided by Metravib Pilar MkIIW. The entire system is controlled from a module with six jobs, but, as a rule, it is managed by three people. It is based on an open architecture, sensors with automatic configuration, software based on Linux and IP protocol; The system collects, combines and correlates data from different sensors, determining the best response for the identified target. The Italian army signed a contract with Selex for the supply of an additional single aerodrome protection kit, which, in addition to the Lyra 10 radar, includes the Israeli Aeronautics Skystar 300 balloon equipped with a three-axis-stabilized Controp optical-electronic equipment and ground-based panoramic automatic detection system and recognition of invading Spider from the same company Controp.
Materials used:
Armada International 1 / 2013
www.thalesgroup.com
www.flir.com
www.selexgalileo.com
www.sagem.com