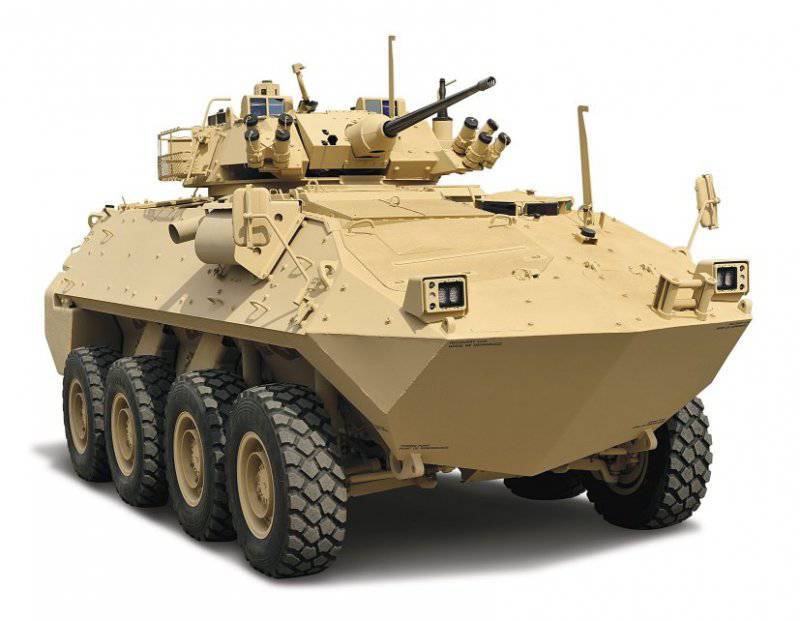 The US Army wants to purchase a sufficient number of new DVH kits (Double-V Hull - Double V-shaped hull) for wheeled armored vehicles to equip all nine Stryker combat vehicle brigades with them.
True, at the present time, it seems, the money will be enough only to equip DVH with only three brigades.
Stryker light combat vehicles have earned a good reputation in Iraq, and there many foreign experts were interested in this wheeled armored vehicle. But there is little money and, probably, it will still be missed for ten years or even more. So for now, only the old Stryker 600 will be replaced with models from DVH to save specialized production equipment for upgrading the Stryker in the hope that enough money will eventually be allocated. To date, some of the old Stryker have been converted to DVH models to provide a sufficient number of machines in the third DVH brigade.
The DVH design is designed to increase stability against mines (more common in Afghanistan than in Iraq), by adding a V-shaped bottom. This solution is one of the key elements of MRAP (Mine Resistant Ambush Protected — mines and ambush protection machines), but DVH is cheaper to operate and better suited for a wider range of tasks.
Some of the DVH prototypes drove through the mines and land mines during the tests (with the help of a remote control). These tests showed that the V-shaped hull made the machine much safer. The development of a new design cost about $ 58 million. Currently, 762 units of DVH Stryker are in operation, and the last of them are delivered in 2013 year. DVH models will cost about $ 2,1 million per car. They acquired their first combat experience in 2011. They showed themselves as expected.
The army initially purchased enough DVH models to equip two Stryker brigades. Each brigade of Stryker is armed with 332 machines. There are ten different models of the Stryker, but mostly they are made in the form of an armored personnel carrier. The initial cost of Stryker was about a million dollars for each, plus the cost of weapons and additional equipment. This version is 6,95 meters long, 2,72 meters high, and 2,64 meters wide. With a mass of 17 tons, the car has a maximum speed of 100 kilometers per hour, as well as a power reserve (on a paved road) 500 kilometers. Stryker has a crew of two, a turret with a remote-controlled machine gun caliber 12,7 mm, and can carry nine infantrymen. An 7,62-mm machine gun is also used, and often a second machine gun of the caliber 12,7mm is installed.
The Army plans to use a V-shaped hull in the design of the new Stryker 2.0, while the DVH model is unofficially called the Stryker 1.5. The Stryker 2.0 will weigh about a ton more than current models and will have a more powerful engine (450 horsepower versus current 350), plus the suspension system and other mechanical components will be upgraded to make the machine weight up to 27 tons, there will be increased tires , improved brakes and improved sensors (so that the soldiers inside the vehicle will have a better understanding of what is happening outside). These are the main changes, in addition to which there will be a few more minor improvements (improved air conditioning, sniper detector, increased on-board electricity generation, and so on). Outside, the appearance will not change, except for the appearance of a V-shaped body.
Stryker 2.0 provides for weight gain (more armor and equipment), and the machine will also become more maneuverable and reliable. The changes are based on receiving feedback from users and are considered an upgrade project, that is, strictly speaking, they are not a new version of Stryker. Most of the Stryker 3300 units, which are now in the US Army, have been in combat, and those that were in Afghanistan were the first to be upgraded.
Meanwhile, manufacturers Stryker DVH created a model that works on tracks (like a tank or a bulldozer). This demonstration model was presented at trade shows as a replacement for thousands of M113 armored personnel carriers that are being decommissioned in the United States and many other countries. Tracked Stryker had one obvious drawback - it is larger and much heavier (on 32 tons). But the tracked model will solve one problem of the Stryker (as well as any other wheeled armored vehicle) - limiting mobility in difficult or rough terrain. On roads or flat terrain wheels exceed the tracks. So far, the tracked version has not attracted enough interest to justify the costs of moving from a technology demonstrator to a production model. The big problem is the need to secure any sales at a time when the US defense budget is facing serious cuts over the next decade. The only way out is the prospect of overseas sales. Stryker has gained a good reputation in Iraq among the oil-rich Arab countries of the Persian Gulf, which are the main buyers.
weapons
these days. But to pay for the improvement and modernization of the Stryker you need to pay a lot of money, and no significant foreign customer has yet been found.