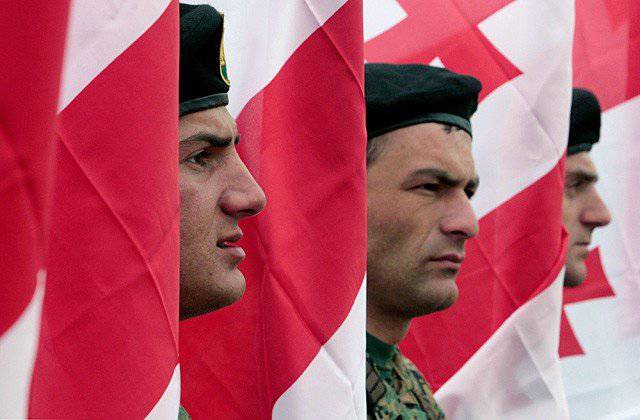 Georgian soldiers at the mourning ceremony in memory of those killed in the 2008 war of the year. Photo: Shakh Aivazov / AP, archive
Georgian President Mikhail Saakashvili was convinced that he had created a modern army capable of defeating not only Abkhazia and South Ossetia, but also Russia.
The Georgian Armed Forces, like many other post-Soviet armies, were built from a state of complete chaos, becoming a synthesis of the remnants of the Soviet army and the local people's militia. In the Georgian case, more local specifics were added - in the early 90s, the country was undergoing a "triple" civil war - for power in Tbilisi and for keeping Abkhazia and South Ossetia. The first of these wars was, to a large extent, the cause of the loss of the other two. In 1993, Georgia had 108 inherited from the USSR
tanks
, 121 infantry fighting vehicles and armored personnel carriers, 17 artillery pieces, four combat aircraft and a helicopter. However, a significant part of this technique was lost in Abkhazia. After that, for ten years, the Georgian army remained, in fact, a "legitimate gang formation", extremely underfunded and absolutely incompetent.
Saakashvili, who came to power at the end of 2003, achieved a radical change in the situation in the country in general and in the army in particular. Thanks to the improvement of the economic situation and curbing "grassroots" corruption, funding for the Armed Forces has increased even by several orders of magnitude. In addition, Western military assistance appeared, the scale of which, however, is greatly exaggerated (in reality it was a few percent of the country's military budget). Georgia began to massively purchase
weapon
abroad, primarily in the Czech Republic and Ukraine, among other suppliers were Bulgaria, Serbia, Greece, Turkey, Israel, and the USA. It was acquired almost exclusively by the former Soviet weapons, or Eastern European created on its basis, which, however, was modernized using Western technologies. There were almost no non-Soviet systems of origin. The exceptions were the Spider 1 battery of the Israeli anti-aircraft missile system (ZRK), the extremely obsolete American IH-6H Iroquois helicopters and a French-made Greek rocket boat.
By August 2008, the ground forces of Georgia had five infantry brigades, as well as one artillery and special forces brigade. They were armed with 247 tanks (191 T-72, 56 T-55), more than 150 BMP, around 150 BTR, near 50 SAU, about 200 towed guns, about 300 mortars, about 30 launcher; self-propelled anti-aircraft installations (ZSU) and anti-aircraft guns.
Air forces of the country were armed with X-NUMX attack aircraft Su-12, 25 training aircraft L-12С (theoretically can be used as light attack aircraft), 39 transport "maize" An-6, 2 attack helicopters Mi-8, 24 multi-purpose helicopters Mi-18 8 of the aforementioned UH-6H.
Ground defense included the 7 divisions of the old C-125 air defense system remaining from the USSR, as well as the more modern two divisions of the Buk-М1 air defense system received from Ukraine (each with three batteries, each with two launchers and one ROM, 16 SAM, each) , from 6 to 18 SAMs "Osa-AK" and "Osa-AKM" (and from 48 to 72 missiles to them), and also, perhaps, 50 MANPADS "Igla" and to 400 missiles to them.
Apparently, the Ukrainian instructors, at least partially, were served by Ukrainian instructors, including during the war. In addition, thirty "Grom" MANPADS were received from Poland and up to one hundred SAMs to them, from Israel - one battery of the newest Spider air defense system (five or six launchers). Ukraine also delivered a significant number of various radars to Georgia, including the most modern ones.
The Georgian Navy had two missile boats (the aforementioned Greek-French Combat-2 type with an Exochet anti-ship missile and a former Soviet 206MR ave. With anti-ship anti-ship missile P-20) and several patrol boats.
Although the military draft was formally preserved in Georgia, the combat units were completed with contract servicemen, that is, they were a "professional army".
On the whole, the Georgian armed forces for 4,5 have gone very far from the state of the "legal gang formation" of the times of Shevardnadze. Nevertheless, their potential was not enough to establish effective control over Abkhazia and South Ossetia, and even more so for the war with Russia. But the decisive role in the further development of events was played by the subjective factor.
Joint exercises of the Georgian military and NATO based on Vaziani, 2009 year. Photo: Nina Shlamova / AP
Saakashvili was very dizzy from the successes he really had in politics and economics, and he was distinguished by obvious psychological instability, complete incompetence in military matters and faith in the West. He believed that he had created a modern professional network-centric army that would not only instantly crush the armed forces of Abkhazia and South Ossetia, but, if necessary, would easily win over the Russian armed forces. And in the case of some extremely unlikely unforeseen circumstances, of course, NATO will immediately come to the rescue. By the way, there is nothing ridiculous in this, because even here the majority of the population are absolutely sure of the advantage of the "professional army", of the gigantic combat power of NATO and its aggressive essence. Another thing is that the president of the country should not be guided by philistine ideas, but must see reality.
At the beginning of the Georgian offensive on the night of 7 on 8 of August, almost all of the military and political leadership of South Ossetia fled from Tskhinvali to Java. However, Georgian troops were bogged down in street battles with virtually unmanaged Ossetian militias. And then the Russian army entered the battle.
Contrary to stable opinion, Russian troops had no numerical superiority on land. There were very big problems in the air. During the August war, the Air Force of the Russian Federation for the first time in its practice, faced with modern air defense, although not very large in size. The results of this collision were rather sad for us: one Tu-22М, one-two Su-24, three-four Su-25 were lost. True, the share of the Georgian air defense of them exactly accounted for only Tu-22M and one Su-24. There are significant discrepancies about other lost cars. It is possible that all the Su-25 were shot down by their own. The Georgians did not lose a single combat aircraft and only three helicopters, all on the ground.
Nevertheless, the war ended with an almost instantaneous crushing defeat of the "modern professional" army of Georgia. Already on the third day of the war, the Georgian army, in fact, simply collapsed, ceasing all resistance and throwing a huge amount of weapons, ammunition and fully serviceable equipment. Which, by the way, was confirmed by a well-known fact, which we now consider unfashionable or even indecent: with other things being equal, the draft army always defeats the hired ("professional") at least due to a much higher motivation of the personnel. The Russian army will die only in one case - if it is nevertheless made "professional". That's when she will never win anyone.
And NATO, of course, didn't lift a finger to save Georgia. This could have been very easy to guess in advance if it were not guided by propaganda, but by a real study of the activities of the alliance.
During the war, Georgia retained the Air Force, which, however, did not help it at all. The Georgian naval forces ceased to exist, it was not the Black Sea fleet that was destroyed in the mythical "naval battle", but the landing force that captured Poti from land and exploded both missile ships and most of the patrol boats in the harbor. At the same time, Georgian sailors simply fled.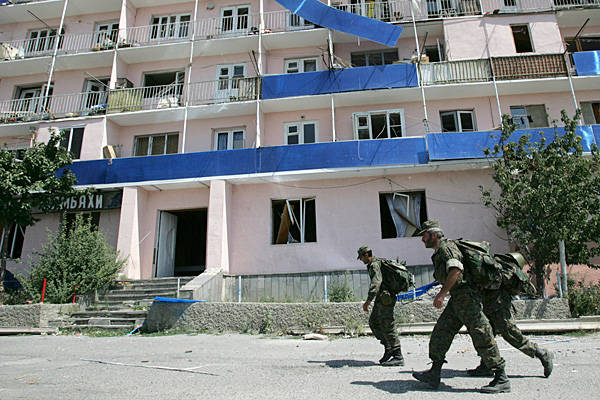 Georgian soldiers in Gori, Georgia, August 10 2008. Photo: Sergey Grits / AP
Despite the relative success, she suffered very substantial air defense losses in Georgia. In particular, five Osa air defense systems were captured by Russian troops, as well as, apparently, an entire Buk-М1 battalion with full ammunition, which had just been unloaded in Poti from a Ukrainian ship, but never put into a combat position. Therefore, not two fought, but only one division, set earlier, he shot down a Tu-22M. Probably, one Spider air defense missile system was captured. Apparently, all C-125 divisions were somehow suppressed. It was spent or lost the vast majority of missiles. Therefore, by the end of the five-day war there was little left of the Georgian air defense. The loss of ground forces amounted to at least 46 tanks (possibly from 80 to 100), approximately forty infantry fighting vehicles and fifteen armored personnel carriers, around 30 guns, mortars and MLRS. For comparison - Russia lost three or four tanks, 20 BRDM, BMP, BMD and BTR, there were no losses in artillery. At the same time, the losses were almost completely compensated, since a significant part of the equipment lost by Georgia was not destroyed, but was seized by Russian troops without any damage.
Currently, the Georgian Armed Forces consist only of ground forces, which include five infantry, two artillery, one engineer, one air defense and one
aviation
brigades (the latter is the former Air Force). The Navy was abolished, several surviving patrol boats were brought to the Coast Guard. Bulgaria became the only supplier of weapons to Georgia in the post-war period, from where twelve self-propelled guns, guns and MLRS were received (we can say that Georgia compensated for the losses in artillery due to this), as well as ten Su-25 attack aircraft, which were in non-flying condition and intended for disassembly for parts for 12 Georgian attack aircraft. Georgia received no more equipment from anywhere. Accordingly, there is no question of any restoration of its potential. Now in service there are about 140 tanks (mainly T-72, there are also twenty-thirty T-55), about 200 infantry fighting vehicles and armored personnel carriers, about 250 self-propelled guns, guns and MLRS. All this equipment, including the "new" acquired in Bulgaria, is still Soviet in origin and production time, only aged 5 more years. It is impossible to build a modern network-centric army on its basis, which Saakashvili did not understand. Own defense industry certainly will not fix it. Although the country went to the Tbilisi aircraft factory, where Su-25s were manufactured in Soviet times, Georgia naturally failed to establish their production without Russian components. In the past three years, the Russian BMP "Lazika" and BTR "Digori" have been created at the Tbilisi Tank Repair Plant, but they cannot strengthen the country's military potential either in quantity or in quality.
Of course, the admission of Georgia to NATO is out of the question at least for purely formal reasons: it has not settled its territorial problems. The real reason is that neither the United States, nor Turkey, nor, especially, Europe, are going to not only fight, but at least get the theoretical risk of a war with Russia because of some wild highlanders. And, all the more, there can be no talk of Georgia itself returning Abkhazia and South Ossetia by military means. The talk popular in some media that "Georgia is preparing for revenge" is nothing more than cheap propaganda. The country does not have the resources to create truly powerful and capable armed forces, NATO is not going to provide any assistance to Tbilisi. It is difficult to assume that the aged philosopher Margvelashvili, the new president of Georgia, and the young businessman Garibashvili, her future prime minister, will begin preparations for a war with Russia.
The Georgian army was created for the sake of one war and lost this war. Therefore, now the army is meaningless and useless. But do not give it up because of this.