In an effort to reduce their dependence on energy resource-exporting countries, governments around the world continue to think about how to provide energy needs.
Renewable energy sources require large areas for generation. Nuclear power leaves behind a lot of expensive waste.
Recently, scientists have paid attention to thorium - another radioactive element of the Mendeleev system. It is found throughout the world, and, according to experts, its splitting does not leave waste that must be stored for centuries.
A Norwegian private company with the support of the British government is conducting research on an experimental nuclear reactor. Representatives of the company say that the experiments are going well. Similar work is underway in India, China, and Japan.
Spokesman for Thor Energy Oisten Asphiel, says: "There is a lot of thorium in the world, it is widespread all over the globe. In reactors, it has physical and chemical properties that uranium does not have. As a result of use, there is no waste that needs to be stored for a long time. "
There are advantageous differences in terms of safety: when the tsunami hit the nuclear power plant at Fukushima in Japan, the reaction in the uranium reactor got out of control, specialists from Norway say that this would not have happened with thorium.
In addition to getting rid of dependence on hydrocarbon fuels, the use of thorium reactors allows radically reducing greenhouse gas emissions into the atmosphere, as well as reducing the cost of electricity.
The risk of an accident at a nuclear power plant with a uranium reactor was a serious deterrent that impeded the widespread use of nuclear energy. New safe thorium reactors lack this drawback.
In 2011, the UK government announced a list of eight locations in England and Wales, where a new generation of nuclear power plants will be built by the year, with a uranium reactor. New nuclear power plants will be built taking into account the causes of the accident at the Japanese nuclear power plant "Fukushima-2025". Reactors of new generation are practically safe, and, unlike many other types of energy production, they have the least impact on the environment. Four of the eight stations will be built by Centrica in partnership with France's largest energy company EDF.
"Today, we (the UK) are importing about half of the gas needed by the country, and by 2020, this proportion will increase to 75%," said Centrica CEO Sam Leidlow. Such a scenario of events weakens the security of the UK, putting it in energy dependence on the countries exporting fuel, says Laydlow.
In 2013, the British government issued an official permit for the construction of the first nuclear power plant in the country over the past 30 years. This is a commercial project implemented by private companies. The Hinckley Point station will be located at the site of an existing nuclear power plant in Somerset county in the south-west of England. It will be constructed by a consortium led by French companies EDF, which will also include Chinese state-owned companies as investors.
A statement from the British Cabinet says that the commissioning of this power plant will reduce greenhouse gas emissions into the atmosphere, as well as reduce the cost of electricity in the future. The ruling coalition says a lot about the need to transfer British energy to alternative sources that are not based on fossil fuels.
The construction of a nuclear power plant will cost 16 billion pounds (about 26 billion dollars).
The new power plant will have two reactors with a life span of about 60 years. A nuclear power plant, the construction of which should be completed in 10 years, according to preliminary data, will provide about 7% of British electricity. During the construction of a new nuclear power plant, about 25 thousands of jobs will be created, and 60 people will be working at the power plant itself for 900 years.
The newest developments in the field of batteries will also contribute to the complete elimination of hydrocarbon fuels. In Western countries, electrical
aviation
engines. For example, Rolls-Royce unveiled the concept of an electric aircraft engine at this year's Paris Air Show.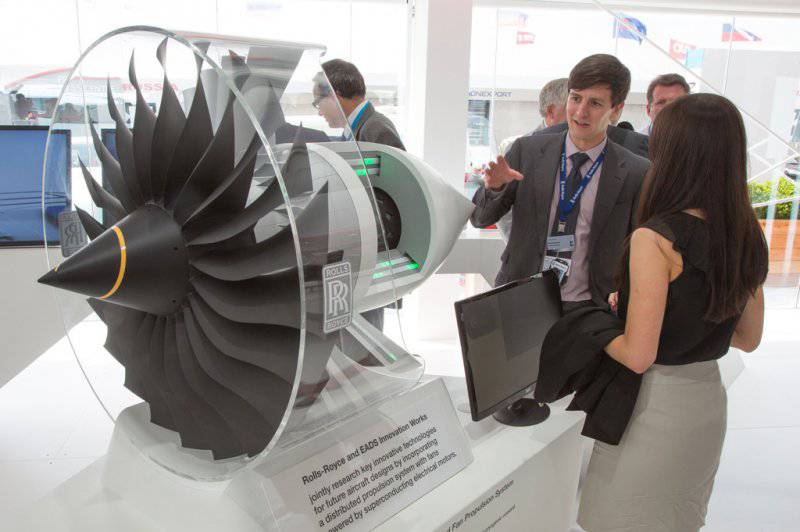 According to the American Petroleum Institute, in the United States, 43% of petroleum products is used as fuel for cars, 9% is used as jet fuel, 11% is used as diesel fuel, 16% is used to make asphalt, plastic, oils, etc., 4 % - used for home heating, 5% - as ship fuel, 12% - for other needs.
As you can see, more than half of all petroleum products are used as fuel.
In the case of widespread use of nuclear power plants with a thorium reactor, there will be a huge drop in demand for hydrocarbons. And in this situation there will be not only Russia, but also other countries-exporters of hydrocarbons (Saudi Arabia, Venezuela, Qatar, the United Arab Emirates, etc.). This, in turn, will lead to a gigantic oversupply of hydrocarbons supply. Low industrial countries will not be able to satisfy such a proposal, which will lead to a monstrous fall in oil and gas prices.
Conclusion: Russia should urgently change the structure of the economy in order to get off the "oil needle", otherwise it will lead to the collapse of the Russian economy.
According to materials http://www.bbc.co.uk/russian/