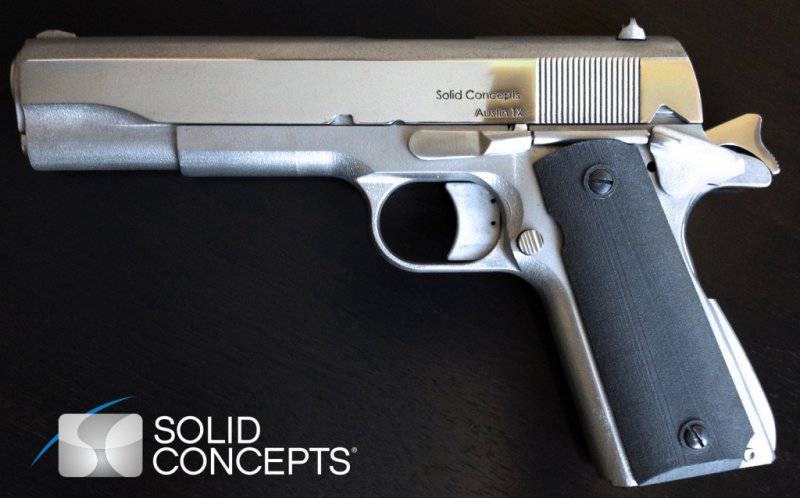 Half a year has passed since the plastic "World's First Fire Gun, fully printed on an 3D printer" was introduced. And here engineers from the Texan company Solid Concepts for the first time in the world printed a metal pistol. They did this to demonstrate the capabilities of modern industrial 3D printing and do not set a goal to make technology available in every home. However, sooner or later it will inevitably happen.
For the demonstration was made cult gun M1911, created by John Browning. This is the first self-loading pistol, which began to be used in the US Army, before that they had only revolvers.
Pictured: A working copy of a M1911 self-loading pistol developed by John Browning. The gun was in service with the US Army from 1911 to 1985 years.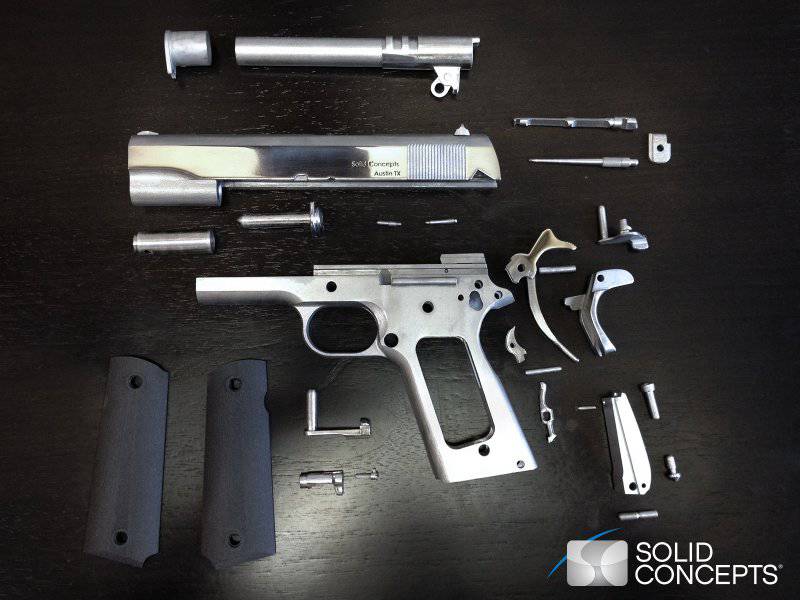 Parts of the gun are made by the method of direct laser sintering of metal (DMLS), the same method that NASA uses to print rocket engine parts. Only the springs were made separately. After printing, the parts were polished and fitted to each other by hand.
During tests, the gun proved high accuracy of shooting.
Representatives of the company say that they printed the gun not to make this process cheaper and more accessible to every man in the street, but simply to demonstrate the reliability of parts manufactured by the DMLS method. Metal printing equipment cannot be bought for less than $ 10 thousand, which most 3D print enthusiasts cannot afford. The company itself Solid Concepts used an even more expensive industrial printer, see video.
Solid Concepts is licensed to manufacture
weapons
and promises to produce within five days and send to the buyer a set of 3D parts for assembling a pistol. Naturally, only a US citizen who has the appropriate permission can make a purchase.
▶ ▶ ▶ 3D Printed Metal Gun Test Fire (screenshots taken from both videos)
"Our pants-gun expert released 50 charges and hit several silhouettes in more than 30 meters. The weapon consists of more than 30 preprinted stainless steel components 17-4 and Inconel-625. It is completed by a selective laser-sintered (SLS) three-dimensional laser grip. "

"The whole concept of using a laser sintering process for three-dimensional printing of weapons from metal revolves around evidence of reliability, accuracy, ease of use for printing metal functional prototypes and end-use products," says Kent Firestone. "It is a common misconception that laser sintering is not accurate or durable enough, and we are working to change technological prospects for humanity."

Another common misconception about three-dimensional printing is that it is limited to desktop printers, which can only squeeze plastic threads.

For the sake of debunking all the myths and misconceptions surrounding the three-dimensional printing, the engineers built a technology demonstrator, no doubt. Leaders will no longer be able to pretend and diminish the prospects of this industry.

Laser sintering is one of the most accurate manufacturing processes available, with an excess sufficient to create interchangeable, requiring tight tolerances of the interacting parts of the gun. Printed metal surpasses precision casting in terms of porosity and machining accuracy.

Weapon rifles were built, or "grown", cleanly, without being further machined. Hand tools are used only in the decoration, without affecting the mechanism obtained solely through printing.