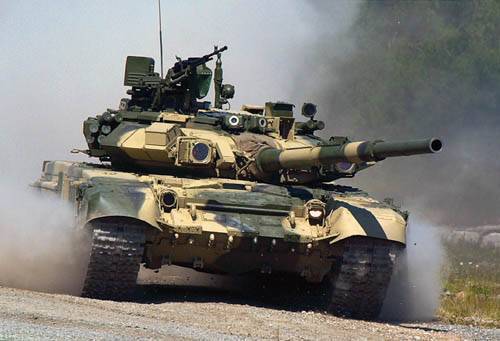 The Russian-made tank T-90С "Vladimir" during testing in one Arab country turned out to be more viable than its counterparts made in other states. This was stated on Tuesday by the head of the Rosobronexport delegation N. Dimidyuk at the international IDEX-2011 exhibition, which is being held in Abu Dhabi. The tests took place in the 2009 year, but they were reported only now. The name of the country where the tests took place is not yet advertised.
N. Dimidyuk said: "Two years ago, in one of the Arab countries, tests of the main combat
tanks
a number of states in really severe climatic conditions. "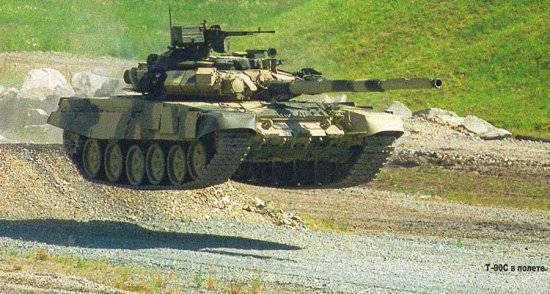 In his words, the tests of the domestic tank began quite curiously: the receiving party wondered why the Russians brought only one tank, because according to their conviction, one machine must surely break down during the tests. But our tank did not fail.
N. Dimidyuk said: "For two days we taught their driver — it was a unique professional. During 10 days, the tank passed 1300 km, and it was not just in the sand, but in the flying dust, in the mountains at night…. the tank was closed at night so that we didn't repair and tilt anything. After the tests, they asked to remove the engine. When it was removed, there was not a single oil leak in the pan "
T-90 made shooting various ammunition. During use
weapons
at a distance that, at the request of the host representatives, exceeded the limit per 3 kilometer, sixty percent of the targets were hit.
According to Dimidyuk, Leclerc (France), Leopard (Germany) and Abrams (USA) tanks took part in these tests, but they did not pass such tests. To the question of journalists why the Arabs have so far not purchased Russian tanks, Dimidyuk replied: "Next is politics."
At the same time, it is necessary to ascertain that along with the existing advantages, some parameters of the T-90C are already outdated. So, it uses the Otor protection complex "Curtain", which is able to withstand the 2 generation missiles. On the newer missiles 3-th generation "Curtain" can not influence. There is hope for the active protection of the Arena, but it cannot fight the attack cores and armor-piercing projectiles (BPS) and, in addition, it is exposed to microwave weapons.
But the main drawback of the tank is its practical insecurity from above, which makes it incapable of warfare. So, at present, high-precision cluster guided combat elements have been created that can be delivered in various ways (
aviation
, missiles and artillery) and can effectively hit armored vehicles from above.