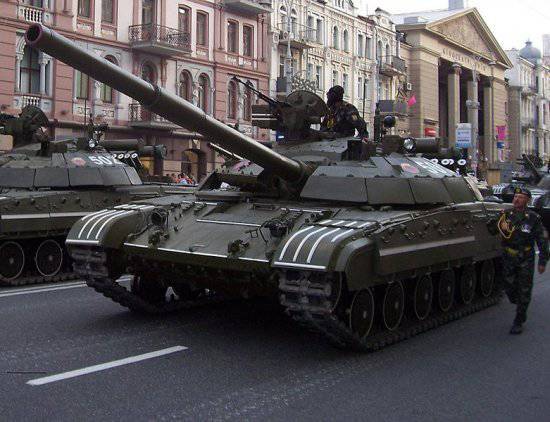 Kiev after the collapse of the Soviet Union received very good stocks of weapons for the ground forces, air forces and part of the Black Sea
fleet
THE USSR. In addition, in Ukraine, since the time of the Russian Empire (for example, a shipyard) and especially the Union, a powerful military-industrial complex was created - tank building, aircraft building, engine building, shipbuilding, etc.
But, over the 20 years of independence, Kiev practically didn't put into service new equipment, a part of the Soviet legacy sold off, the military industrial complex degraded a lot, many enterprises closed down, or repurposed. The latest developments, or deep modernization of the Soviet technology, are mainly offered only for export, and not the Ukrainian army.
State of the land forces
The number is 73 thousand people. At the heart of
tank
and mechanized brigades, they are armed with: T-64B, T-64BM, T-72, T-84 "Oplot" tanks, infantry and assault vehicles BMP-1, BMP-2, BMP-3, BMD-2, BTR-60PB, BTR-70, BTR-80 armored personnel carriers, MTLB armored tractors, BRDM-2 combat reconnaissance and patrol vehicles. In total, Ukraine now has 774 tanks of all types.
Almost everything is a legacy of the USSR, T-64BM Bulat can be called new (56 units, 2009 was ordered in 29, 2010 was armed with a separate tank brigade in the Chernihiv region in the Chernigov region) and Ukrainian T-61 tanks "Stronghold" (84 units). But T-10 "Bulat", despite the advertisement, is a tank based on the development of the X-NUMX-ies of the T-64 tank. It replaced the 60TDF engine with an 64TDFM engine with 5 horsepower, installed a new air cleaner with increased air flow to power the engine, and finalize the exhaust system. Also installed a new fire control system and enhanced armor.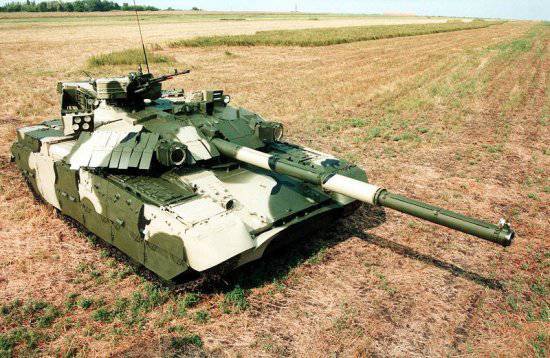 But the main thing is the prospects for their entry into the troops, Bulatov of all 6 dozens. The program of accepting "Strongholds", is due to lack of funds - the Ministry of Defense, even 10 tanks manufactured by the Malyshev Plant software, cannot be redeemed.
According to the draft Strategic Defense Bulletin for the period up to 2025, tanks are planned to leave 660 units. Other armored vehicles with 2332 units are planning to reduce to 1900. Here the situation is even worse than with tanks - all this technique of the USSR. The military-industrial complex of Ukraine has developed schemes for the modernization of all models of armored vehicles. So, KP "Kharkov Design Bureau for Mechanical Engineering. A.A. Morozova can change the BTR-60PB powerplant for new Ukrainian-made UTD-20 diesel engines instead of the GAZ-49B carburetor engines. On the BTR-70, instead of the ZMZ-4905 carburetor engines, it is proposed to install the UTD-20 diesel engine, and instead of the KPVT machine gun of 14,5 mm caliber - XBAUM 2 gun of mm caliber. The combat reconnaissance and patrol vehicles BRDM-30 offer to install the diesel engine SMD-2-21.
The modernization scheme for the MTLB was developed: a weapon module was developed, including an 30-mm cannon, a 7,62-mm machine gun, a 2 sight, as well as a smoke screen system. There is also the possibility of upgrading the BMP-1, the BMP-2, at Ukrainian enterprises, which would enable us to survive, and people will have jobs. But nothing is done in Kiev, politicians are busy with the division of power.
New Ukrainian BTR-4, ordered all 10 units, there is still a contract for 420 machines for Iraq, but it is delayed, the military industrial complex fails, 2 is affected by decades of downtime and collapse.
Land forces have missile units armed with the old systems "Tochka" and "Tochka-U" with a launch range of 70-120 km. Complexes 9K72 "Scuds", with weapons removed. In fact, Ukraine has almost lost "
weapons
deterrence ", although the military industrial complex has developed a new multi-functional missile system" Sapsan "with a range of 280 km. According to the statements of the military, its development should be completed by 2016, and in 2020, the first battery will be in service. But there is no funding.
Ukrainian artillery is armed with guns are good and reliable, but also Soviet-made: it 122 mm self-propelled howitzer 2S1 "Carnation", self-propelled gun 120 mm 2S9 "Nona-C», 152 mm self-propelled howitzer 2S3 "Acacia", 152 mm self-propelled howitzer 2S19 "MSTA-S", 152 mm SAU 2C5 "Hyacinth", 203 mm SAU 2C7 "Peony", 152 mm howitzer D-20, 152-mm howitzer "Msta-B", 152-mm howitzer "chi-chi-chi-chi-chi-chi-chi-chi" mm mortars 120C2 "Sleigh" and 12 mm howitzer D-122. Anti-tank 30 mm guns T-100 and MT-12 "Rapier".
The only innovation for the BM-21 "Grad", 9K57 "Uragan", 9K58 "Smerch" salvo fire systems, is that the "Grads" are being reinstalled from the base of the "Ural" car to "KrAZ".
Air Defense Systems: these are C-300B1 air defense systems, Thor air defense system, Kub-M3 air defense system, Buk-M air defense system, Osa-AK air defense system, Tungusk air defense missile system and Shilka air defense missile system, as well as portable Igla. All Soviet-made and requires modernization, but its prospects are not observed.
The situation with anti-tank missile systems (ATGM) is somewhat better, most of them are Soviet "Sturm-S", "Konkurs", "Fagot", but there are already Ukrainian "Kombat", "Skif" and "Corsair" weapons. In 2010, 10 complexes were ordered, from the Luch Kiev design bureau, 10-new Stugna-P anti-tank missile systems, after their testing, if they receive funding, they will go to the troops.
Armed with the army
aviation
Soviet helicopters: Mi-2, Mi-8, Mi-26, Mi-24. There are certain opportunities for its modernization, for example, on Mi-24 attack helicopters, new power plants TVZ-117VMA-SBM1V of the Motor Sec. Company can be used. In 2010, 19 Mi-24 and Mi-8 helicopters were repaired for UN peacekeeping operations in Africa. And so, Kiev has no money for a full-scale repair and modernization of the helicopter fleet.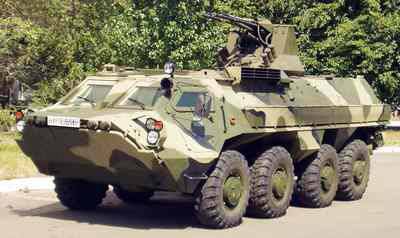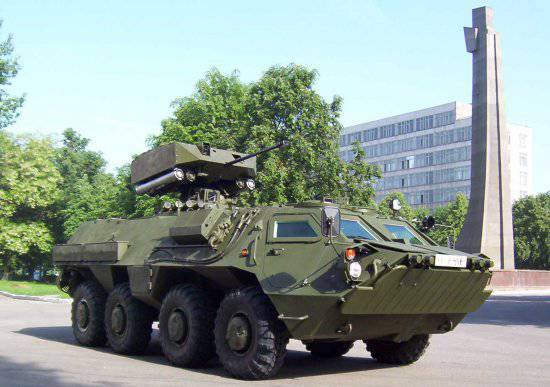 Ukrainian Air Force
The number is about 48 thousand people. Armed: Sukhoi Su-24M, MiG-29 and MiG-29MU1, Su-27, 25-Su and Su-25M1, reconnaissance Su-24MR, combat-capable A-39, and L-39M1, transport An- 24, An-26, An-30, Tu-134, IL-76MD, Mi-8MT helicopters. All this technique is Soviet. Officially, An-2000 was adopted in the 70 year, but it was only seen in the military during the tests. There is an order for 10 aircraft, but when they go into service, it is not clear, according to official data, not earlier than 2012.
The list of the Air Force - 208 combat and 37 transport aircraft. According to data released by President V. Yushchenko, in 2008, 116 fighters were 31 fighter, 24 bomber 10, 12 reconnaissance planes 6, 36 8 attack aircraft 30 (about XNUMX% of military aviation personnel) Now the situation has not changed, apparently only became worse.
The military industrial complex is ready to repair and upgrade almost all types of aircraft, but there is no money and it probably won't be. Only modernization and repair of single aircraft takes place: in 2010, at the NARP plant in Nikolaev, the life of 2's Il-76 military transport aircraft was extended (work with another aircraft of this type is now ending), and at the Lviv aircraft repair plant - multipurpose MiG-29 fighters . Today, even the 3 and Su-27 aircraft are under repair, and the 5 aircraft L-29 are being upgraded at the aircraft repair facilities in Chuguev and Odessa. The General Staff promises to extend the resource or upgrade 2011-40 aircraft of various types throughout 45.
If Kiev does not repair and modernize its air force, in a few years, its air force will only be on the ground.
The air defenses as part of the Air Force are armed with: The Buk-М1 air defense system, С-300В1 air defense system, С-300ПС air defense system, С-200В air defense system. Also in the Air Force there are complexes of unmanned aerial reconnaissance BP-2 "Strizh" and BP-3 "Reis". As in the air defense of the Soviet Union all Soviet-made, requires deep modernization, its prospects are not observed. Almost no combat training.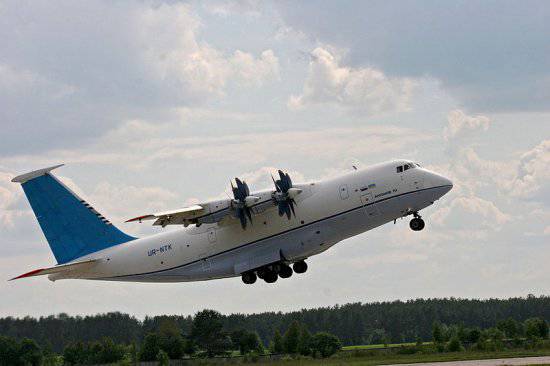 The Ukrainian Navy
Here, perhaps the worst situation. After the division of the Black Sea Fleet of the USSR in 1997, Kiev received a rich inheritance - more than 70 ships and vessels. However, today, most of these transferred units are written off and disassembled "on needles". Currently in service approximately 20 thousand people. The Ukrainian Navy has more than 30 warships and support vessels, 4 anti-submarine aircraft and 8 anti-submarine helicopters, 39 tanks, 178 combat armored vehicles and 66 artillery systems of a caliber over 100 mm, as well as coastal batteries PKRC. But
no more than 20% Navy.
The Ukrainian Navy is even unable to patrol the Red Sea to fight piracy, since The remaining ships, basically, are ships of the near zone, with autonomy of no more than 14 days. For example: a guard (according to the Ukrainian classification "frigate") "Getman Sagaidachny" may reach the Gulf of Aden, but for further actions it is necessary to escort them with supply vessels for refueling, replenishment of food stocks and technical support. They were in Ukraine, but have long been "sawn" or sold
Kiev adopted a program for the construction of ships of the type "corvette" to protect its maritime border. But the question of financing, there is no money - the project is frozen.
Apparently, soon the level of the Ukrainian Navy will be lowered to the Georgian. It will receive free, or almost free, decommissioned boats and ships of Turkey, the United States and other NATO countries.
The general situation with the armed forces of Ukraine is very deplorable, according to military experts, it has almost lost the ability to protect its sovereignty.
Even Romania, which has territorial claims against Ukraine, may well take away the disputed lands by force. The Navy and the Air Force are highly degraded and practically non-capable, the ground forces are also not in unsatisfactory condition, and without support from the air and the sea, they cannot defend the position of Kiev. The situation is worsened by the almost complete cessation of combat training - due to the crisis, it has almost not been conducted since 2009. Soon Kiev will have to ask to take under its protection from the countries of NATO or the Russian Federation.