Recently in the German popular science magazine Welt Der Wunder, an article by Sebastian Hess, The Long-Term Killer, was published, describing the unique characteristics of the British sniper rifle L115A3. We offer our readers an abridged translation of this article and a commentary on it by the gunsmith Dmitry Shiryayev.
Afghanistan. Helmand province, south of Musa-Kala. A combat alarm signal was provided by Corporal Creg Harrison: "We are observing two rebels firing a large-caliber machine-gun on the compound, which we must maintain. The weather conditions are perfect - full calm, the air is crystal clear. I follow them through the sight of my rifle. The driver of our Jeep Cliff 0, Farrell tells me the distance to the target, determined by his binoculars, is more than 2000 meters. "
Corporal Craig Garrison is a sniper of a British military unit, in his hands is a new rifle L11 5А3 of the British firm Accuracy International, abbreviated AI. 1,2 rifle length meter, weight 6,9 kg, .338 Lapua Magnum cartridges (8,58x70). Replaceable rifle magazine holds ten rounds, staggered. This order of placement of cartridges allows you to make the store short, which, in turn, ensures its replacement without changing the position of the rifle.
L115AZ rifle - it is quite expensive
weapon
. Its cost is comparable to the cost of a middle-class Mercedes car.
To solve sniper problems, where a small weight of the weapon is needed, the AI ​​company produces more compact and lightweight AX308 rifles for a reduced cartridge.
AI sniper rifles are the finest rifles of all time. They are distributed in special compounds of more than 60 countries of the world.

Sniper rifle L115A3 of the British company Accuracy International. According to Sebastian Hess, this is the most long-range and accurate rifle in the world.
But back on the battlefield. According to Harrison, the first bullet fired by him hit the machine gunner in the stomach. The second Taliban began to leave, but was shot in the side. The third shot was disabled machine gun itself. This operation was completed. The distance to the target determined by the laser rangefinder was 2475 meters.
As AI Ir Director Tom Irvine noted, Harrison's unusually accurate shooting is a considerable element of luck.
According to sniper trainer John D. Taylor and ballistic expert Dean Michaels, the .338 Lapua Magnum cartridge is the best sniper cartridge in the world. Its gigantic powder charge ejects an 15-gram bullet with a muzzle velocity of 936 m / s and with an energy of 6782 J — almost twice as large as that of a normal machine-gun bullet. 2000 meters this bullet flies in 2,64 seconds.
A world-class runner the same distance runs over 4 minutes 44 seconds, in the Formula 1 this distance is covered in about 1 minutes 19 seconds, and a passenger plane covers it in 10 seconds.
So, assuming that the 2475 m range noted above can be taken as the effective range for shooting the English rifle L115A3 by the Finnish Lapua cartridge 8,58x70, we give below a similar characteristic for other types of weapons:
Large-caliber rifle Barret mod, 82,
12,7x99 Nato.
Effective range 2000 m Machine gun NK 21 7,62x51 Nato.
1200 effective range m
PKM machine gun 7,6x54.
800 effective range m
Colt М4А1 5,56x45 Nato assault rifle.
600 effective range m
Submachine gun NK MP5 9x19 Nato.
200 effective range m
Submachine gun FN P90 5,7x28 or 9x19.
150 effective range m
Pistol Beretta M9 Nato.
25 effective range m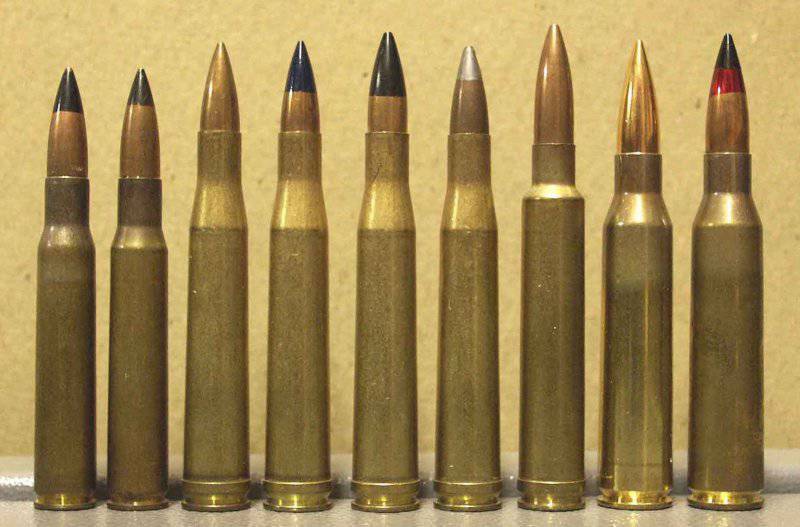 Rifle cartridges (right to left): .30 "Springfield Model 1906 AP M2 (Belgium), .30" Springfield Model 1906 AP M2 (USA), .300 "H&H Magnum Sniper Ball (UK), .300" H&H Magnum Incendiary (UK) ), .300 "H&H Magnum Armor-Piercing (UK), .300" H&H Magnum Armor-Piercing-Incendiary (UK), .300 "AMU Ball (USA), .338" Lapua Magnum Ball (Finland), .338 " Lapua Magnum Armor-Piercing-Incendiary Hard-Core (Finland) The L115A3 rifle is designed for the last two (regular and armor-piercing incendiary).
Specialist commentary

Advertising Article
The article by Sebastian Hess can only be treated as an advertisement, since the technical characteristics of weapons and ammunition given in it bear traces of fraud. Some of them are simply erroneous. For example, the effective range of the NK 21 machine gun chambered for NATO 7,62x51 is listed as 1200 m, and the Russian single (i.e. company and battalion) PKM machine gun for the 7,6X54 cartridge is understated by almost half the 800 m that for more than a decade the Armed Forces of the Russian Federation have been equipped with a much more advanced single 6P41 "Pecheneg" machine gun, developed at TsNIITOCHMASH in the A.S. Negodova designers V.I. Suslov and L.A. Morozova.
The accuracy of shooting from Pechenega from the Stepanov machine is 1,7-1,9 times higher than that of the basic PCM. Barrel survivability doubled. This made it possible to abandon the replacement barrel, which compensates for the increase in the mass of the machine gun. Now the calculation may not be worn; a removable barrel, although the mount of the Pecheneg's barrel remains a quick-release.
The Pechenegs showed themselves excellently in Chechnya in 2000, being in service with the detachment of the Khanty-Mansiysky Special Intelligence Division.
The cartridge for Pechenega was also modified. Head of the Research and Development of Small Arms Ammunition of TsNIITOCHMASH V.N. Dual-ryaninovym based on the domestic cartridge 7,62x54 developed ammunition7H1 high accuracy.
At this point, it is hardly permissible to argue about the advantage of foreign NK 21 over our single machine gun.
The LXNUMHAZ rifle advertised above for the Finnish cartridge can hardly be called an army weapon — it is too expensive for that. In addition, a similar weapon under the brand ORSIS T-115 and under the same Finnish cartridge produces Moscow weapons factory "ORSIS". This company launched in May 5000.
Honestly, the ambitious statements of the ORSIS plant raise some doubts - the Tula and Kovrov arms factories, staffed by graduates from the Tula and Leningrad arms departments, have been forming for many years. It is difficult to say whether it has the same qualified designers and technologists as ORSIS.
When in Russia there was a question about the need to supplement the army SVD with more powerful weapons, then in Tula KHNUMXP, Professor V.P. Gryazev and his assistants created the 5-mm self-loading rifle B-12,7 (OCW-94), which was adopted in 95. Why Sebastian Hess does not consider it necessary to mention it in his article, one can only guess.
Since the staff domestic 12,7-mm cartridge according to its characteristics is not very suitable for accurate shooting, it was necessary to modernize it. 12,7-mm cartridge, satisfying the requirements for sniper shooting, was created in TsNIITOCHMASH V.N. Nobleman.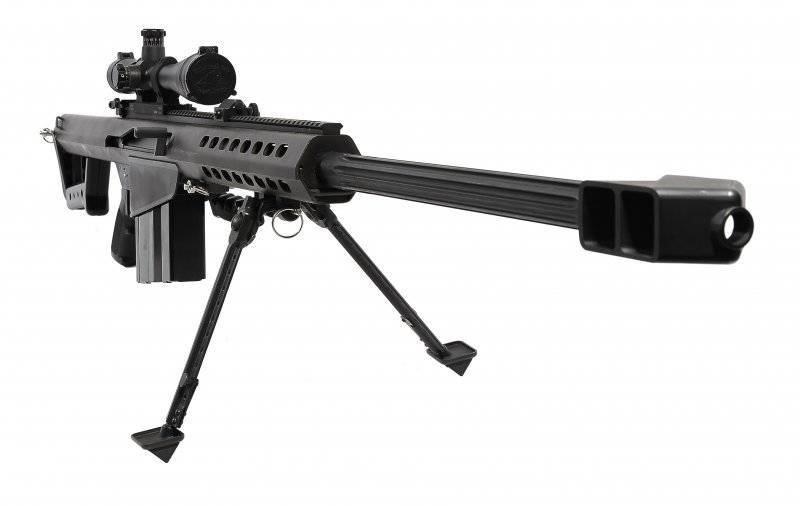 Large-caliber rifle Barret mod.82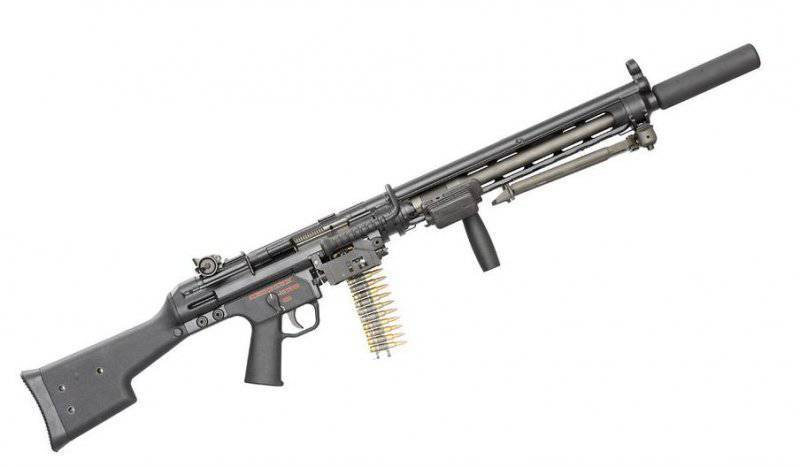 Machine gun НК21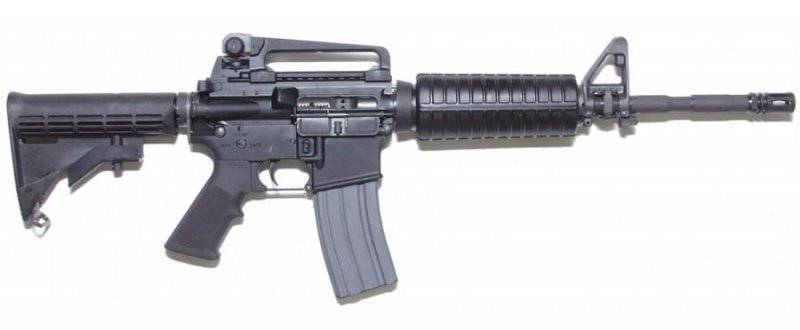 Colt М4А1 assault rifle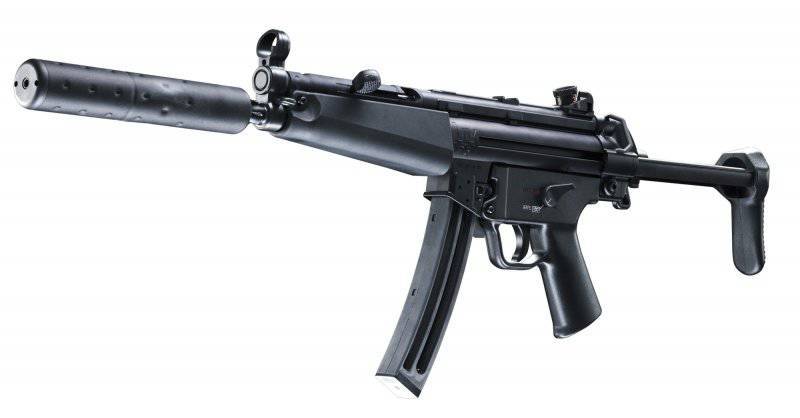 Submachine gun NK MP5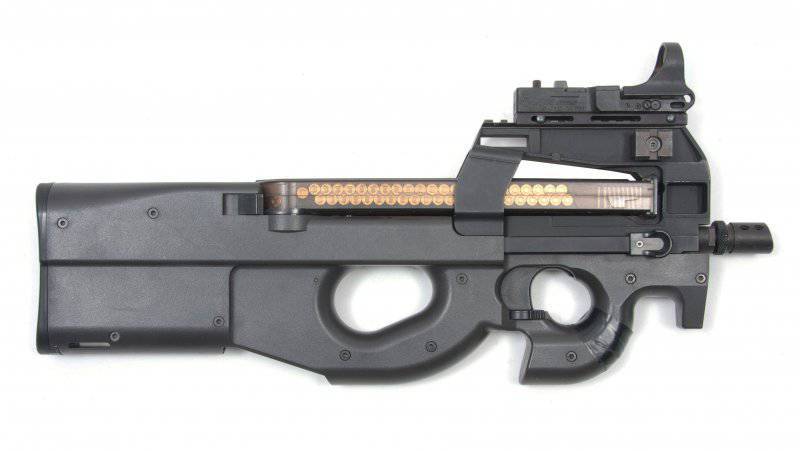 Submachine gun FN P90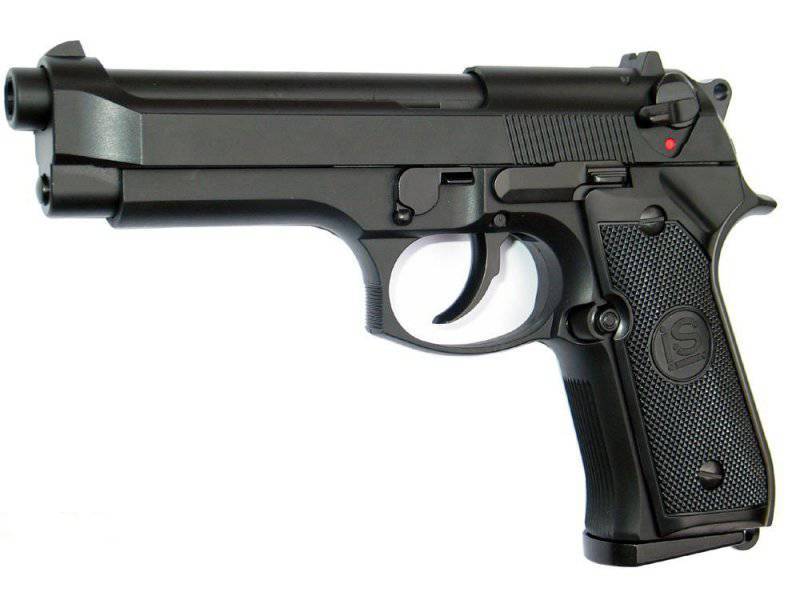 Pistol M9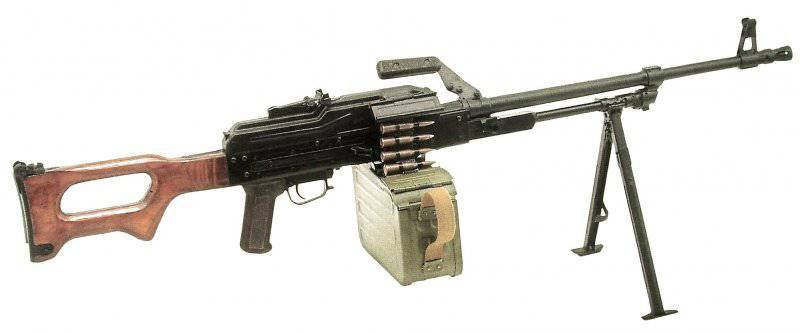 Domestic single machine gun PKM
In Kovrov, JSC "Plant them. V.A. Degtyarev ", designer V.I. Negrulenko in 1998, completed the development of a large-caliber sniper rifle KSVK (Large-caliber Sniper Kovrovskaya Rifle).
This rifle was a modification of the SVN-98 (Sniper Rifle Negrulenko). Negrulenko set a goal to create a weapon for the same cartridge as the Gryazevskaya B-94, but cheaper to manufacture. And in this field, according to Gryazev himself, he succeeded.
Combat experience using 12,7-mm rifles in Chechnya has shown that this is an excellent anti-sniper weapon. It should be noted that such rifles are not intended to replace the standard 7,62 sniper rifle of the SVD Dragunov, they only complement the sniper's weapons, allowing him, in addition to manpower, to hit and equipment.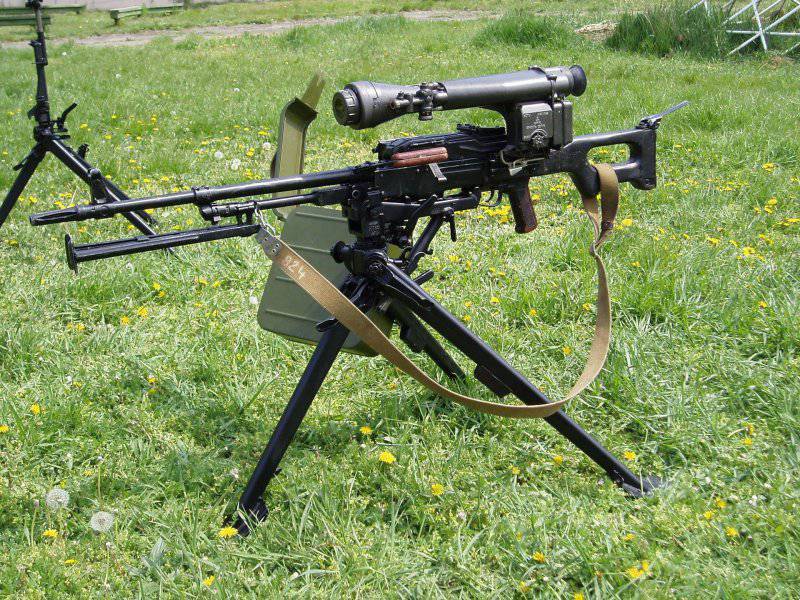 The PKM machine gun on the 6Т5 machine by Stepanov's design

Modern Russian uniform Pecheneg machine gun without an ammunition box, but with a wide-angle sight Rakurs A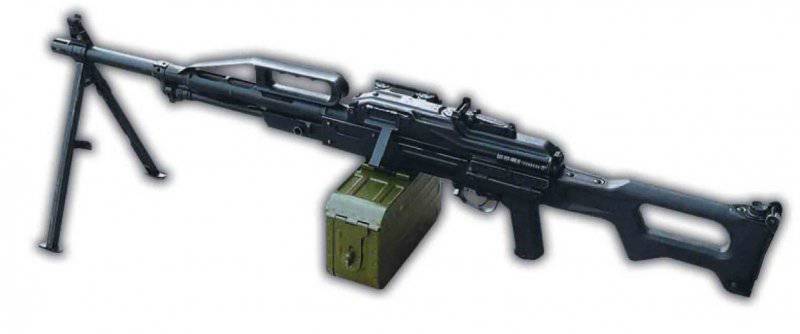 Machine gun "Pecheneg" on bipod with sided cartridge box
Sniper rifle T-5000 Moscow plant "ORSIS"
As for the fact that 2475 m can be considered as an effective range for a rifle L115A3, then there is a big doubt about that. It is unlikely that the result achieved by Harrison will be consistently repeated. The conditions of his shooting were perfect, and he was lucky. Most likely, another shooter, and Harrison himself in other circumstances will not be able to repeat such successful shots. So, to fire from such a distance is meaningless.
Basic data rifle KSVK
Chuck .......................................... 12.7СН (12,7x107)
The length in the combat position ......................... 1400 mm
Barrel length ................................................ ..1000 mm
Initial bullet speed .............................. 800 m / s
Magazine capacity ................................... 5 cartridges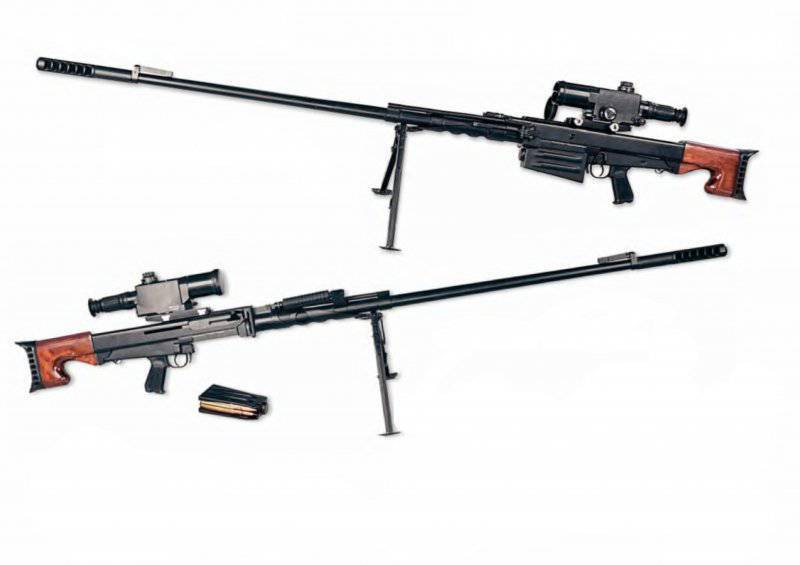 Russian large-caliber sniper rifle B-94 (OCB-96)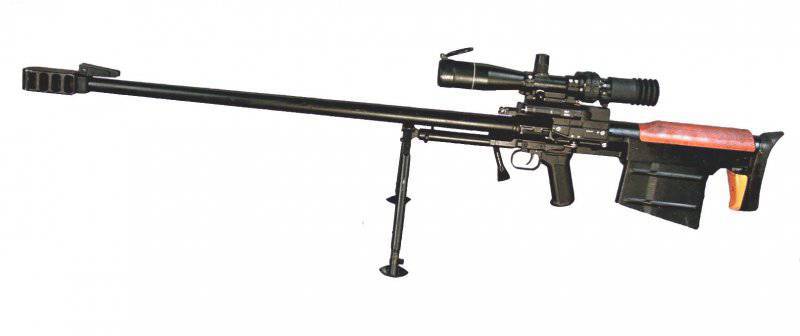 Russian large-caliber sniper rifle KSVK