The Ukrainian company Arsenal together with the German Rheinmetall Defense created a new modern mobile anti-aircraft missile system (ZRK) ASGLA. This complex was developed on the basis of the Igla air defense missile system and the German ASRAD-2 and is designed to protect important strategic facilities located on the ground, as well as the locations of troops.
ASGLA is made on the basis of the BTR-80 chassis, which in the best way affected its mobility and maneuverability; this is also due to the relatively small mass of the complex - 1300 kg. The launcher itself is an almost complete copy of the German ASRAD-2. The crew of the air defense system consists of three people - the commander, driver and gunner. As means of destruction, four ready-to-launch Igla-1M missiles are used, as well as a machine gun of the 12,7 caliber mm capable, in addition to aerial targets, to also hit ground-based ones. Another eight missiles are inside the air defense system. The turret of the complex allows for horizontal guidance in the 360 degrees sector, and vertically from -10 to + 55 degrees. The speed of rotation of the tower - 60 degrees in one second.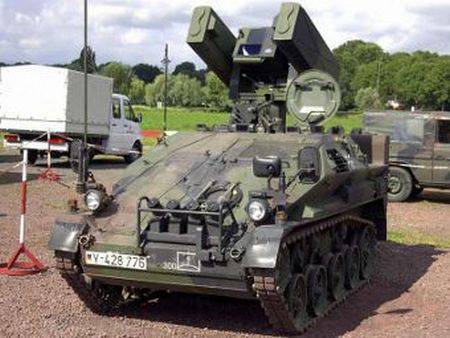 Due to the presence of a night vision device, a laser rangefinder and an optional day camera, the ASGLA is able to successfully perform the tasks of detecting and identifying targets in all weather conditions. The detection range is slightly more than 12 km, and the zone of successful destruction 7 km. Target interception can be carried out at a distance of 5 km or more, depending on the technical characteristics of the missiles.
The ASGLA platoon consists of: a fire detection and control post, a platoon command post, as well as up to the 8-launchers themselves.
The command post is responsible for coordinating the actions between all launchers, as well as evaluating the firing results. The command post consists of: the commander, driver and operator.
The X-Tar 3D radar station developed by Rheinmetall Defense is part of the fire detection and control station. The station monitors the situation in the air and has a recognition system "friend-foe". X-Tar 3D is able to detect all air objects located within 25-30 km, and the period for updating information about each target is from one to two seconds.
As we can see, with the help of Germany, Ukraine managed to create a fairly modern and effective anti-aircraft complex, which will be useful not only for protecting its own borders, but can also bring good financial gain, because such mobile air defense systems are traditionally in great demand on the world market.