Today it's already difficult to imagine a combat-ready army without armored vehicles: without armored personnel carriers, self-propelled guns,
tanks
. Who came up with the brilliant idea of ​​using a well-protected machine for conducting military operations against enemy equipment and manpower. Historians are still arguing about this.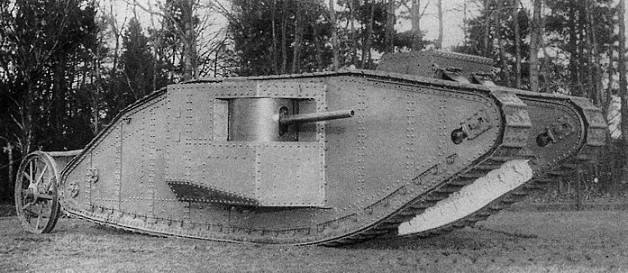 Today it is believed that the first tank, which was not just designed and drawn on paper, but after its creation became involved in real combat, was Mark I of the 1916 model of the year. This tank is often called the "English tank", as it was released by the British company William Foster and Co. This British company owns the patent for the invention of the tank in the form in which Mark I. appeared before humanity.
Generally speaking, this British-made tank had two options from the first days of development. The first option was called "male", the second, respectively, "female". Differences "male" from the "female" consisted in the mass, and in the presence of certain weapons. So the "male" had a mass of about 28,5 tons and in service had a machine gun and two guns 57-mm. The "female" weighed a ton less and had only machine guns in service.
However, many
stories
They claim that the British-made Mark I tank was not the first, and that the so-called "Little Willy", which was built in the same UK a year earlier, should be put in the first place. Representatives of the company "William Foster and Co." do not particularly argue, since it was her employees who also created "Little Willie". Perhaps the main difference between the "Mark" and the "Little Willie" was not even a significant difference in the mass, but the fact that the "Willie" was not in service with the British army and remained nothing more than a prototype of a real tank.
"Little Willie" had a 105-strong engine from the company "Daimler" and did not have full armor. Only on the cap of the car were placed steel plates about half a centimeter thick. To control this armored vehicle, it was necessary to use an impressive crew - no less than 6 people. At the same time, the speed that "Little Willy" could develop was not impressive — no more than 3-4 km / h. The model "Little Willie" can be seen today in the UK, in the Bovington Museum.