Turkmen armed forces easily fit in a mid-sized stadium
The armed forces of Turkmenistan have 22 thousands of people (according to some sources, 26 thousands) and occupy the 91-e place in the list of states in terms of numbers. They consist of ground forces, air force and navy. Since Turkmenistan is in fact a totalitarian state and remains one of the most closed countries in the world, information about its armed forces is not published anywhere. Apparently, nothing to be proud of. Based on available sources, one can imagine what kind of a Turkmen army it is.
In July 1992, Russia and Turkmenistan signed an agreement on joint actions in the field of defense. In accordance with this document, the Russian Federation acted as a security guarantor of Turkmenistan and transferred parts of the former Soviet army stationed on Turkmen territory for the formation of national armed forces. Part of the Border Troops, Air Force and Air Defense remained under the Russian command. The rest are under combined command with a gradual transfer of it to the Turkmen side over 10 years.
During the transition period, Russia pledged to provide military-technical and operational-tactical support, as well as to pay compensation to the Turkmen side for the right to deploy its equipment on its territory, while Turkmenistan assumed the costs of maintaining and ensuring joint subordination. In 1993, Moscow and Ashgabat signed an agreement on the joint protection of the state border of Turkmenistan and the status of Russian military personnel on Turkmen territory. At the request of Ashgabat, Russian border guards left Turkmenistan by the end of 2000.
Structure, goals and objectives
The Supreme Commander-in-Chief of the Armed Forces of Turkmenistan is the President (since 2006, Gurbanguly Berdimuhamedov). The General Staff of the Armed Forces is the main operational management body of the armed forces. The Ministry of Defense is developing, with the participation of relevant executive authorities, the concept of adopting systems
weapons
, military and special equipment and property, the state program of equipping the Armed Forces with modern types of weapons, and also forms the state defense order.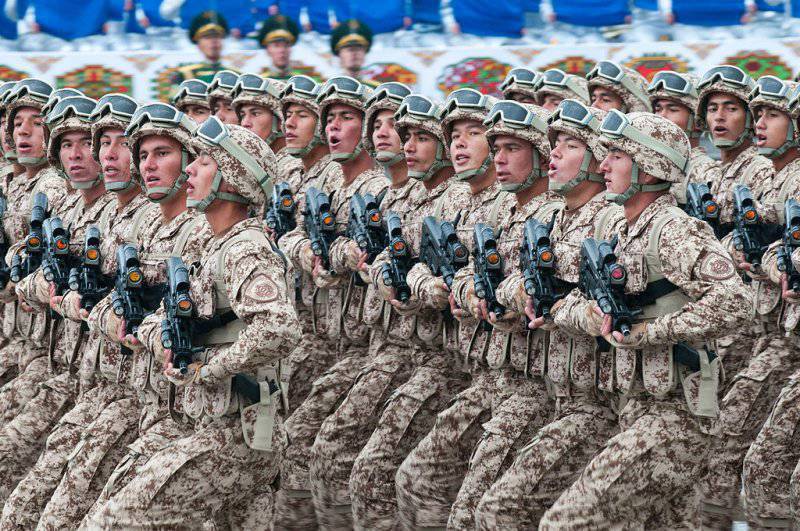 Turkmenistan maintains a neutral status. Resolution No. 50 / 80 "On Permanent Neutrality" was officially adopted by the UN General Assembly 12 December 1995. The new military doctrine was signed in January of 2009. It provides that, as a neutral state, Turkmenistan does not belong to any military alliances and blocs, does not produce or distribute weapons of mass destruction, does not participate in local and regional conflicts and does not deploy foreign military bases on its territory. It allows for the future transition to contractual service and plans to equip the army with the latest weapons. Military doctrine is defensive in nature. Subordinated to the goals of safeguarding peace in the country, respecting the integrity of its borders, maintaining the unity of the people, protecting its peaceful and prosperous life, strengthening the power of the armed forces and other troops, enhancing the international authority of Turkmenistan, developing friendship and fraternity with neighboring states.
As a threat to the country, the military doctrine considers:
unleashing local and large-scale wars;

the formation and strengthening of separatist and other movements,

strengthening national, ethnic and religious extremism;

the proliferation of weapons of mass destruction and their means of delivery;

aggravation of information confrontation.

According to the military doctrine, Turkmenistan does not treat any state as its adversary.

Recruitment of the armed forces carried out by conscription. The draft age is from 18 to 30 years. Service life - 24 month. In 2010, the male population at the age of 16 – 49 was 1 381 000 people, of which 1 067 000 people were suitable for military service. Every year, thousands of men reach 53,8 military age. Up to 80 percent of officers are ethnic Turkmen. Since Turkmenistan has strong clan contradictions, conscripts are usually sent to serve in the wrong regions from where they were called. Thus, they seek to reduce desertion and ensure the loyalty of the troops in case they have to prevent inter-clan clashes. During the reign of Turkmenbashi Niyazov in 1991 – 2006, up to a third of the servicemen were engaged in economic work, but with the reduction of the army this practice was discontinued.

Turkmenistan's military expenditures amount to 1,6 per cent of GDP, which in 2012 was equal to 535,5 million dollars at the official exchange rate and 760,8 million dollars at purchasing power parity.

Turkmenistan cannot solve the problem of dividing the Caspian seabed, which is rich in oil fields, with Iran, Azerbaijan and Kazakhstan. Turkmenistan is a transit country for the supply of Afghan drugs to Russia and Western Europe. Disputes continue with Uzbekistan over the distribution of the water resources of the Amu Darya. Since the beginning of the US military operation in Afghanistan, Ashgabat has provided a transport corridor for humanitarian aid to this country.

Turkmenistan, which has a large-scale export of oil and gas, has no difficulty in financing the army. The main problems of the country's armed forces lie in the low level of training of soldiers and officers, in the lack of spare parts for military equipment, and especially in the lack of trained pilots. Therefore, it is difficult to determine how many units of armored vehicles, airplanes and helicopters are really combat-capable.

Ground troops

18 500 people count. They consist of three framed motorized divisions, two motorized brigades and an air assault battalion, as well as one training division. In addition, there is one artillery brigade, one brigade of multiple launch rocket systems, one missile regiment with Scud missiles, one anti-tank regiment, two anti-aircraft brigades and one engineering regiment.

As part of the modernization of the air defense system of the ground forces, the newest Kolchuga radar stations were purchased from Ukraine, capable of detecting surface, air and ground targets unnoticed by enemy tracking equipment.

Turkmenistan is the only CIS country that has not signed an agreement on measures to control the proliferation of Igla and Strela man-portable air defense systems.

The armed forces are 10 tanks T-90S, 670 T-72, 170 BRDM-1 and BRDM-2, 930 BMP-1 and BMP-2, 12 BRM-1K, 829 BTR-60, BTR-70 and BTR-80.

Artillery represented 40 122-mm ACS 2S1 "Carnation», 16 152-mm ACS 2S3 "Acacia», 17 ACS 2S9 "Nona-C», 180 122-mm howitzers D-30, 17 152-mm cannons, howitzers D-1 , 72 152-mm howitzer guns D-20, 66 120-mm PM-38 mortars and 31 82-mm Cornflower 2B9 mortars.

The following salvo fire jet systems are in service: nine BM-21 "Grad-1", 56 BM-21 "Grad", 60 BM-27 "Hurricane" and six BM-30 "Smerch".

Anti-tank armament is presented by 100 ATGM "Baby", "Competition", "Storm" and "Metis" and 72 100-mm anti-tank guns MT-12. There is also a Scud 10 tactical missile system.

Systems VOP ground troops represented 40 SAM 9K33 «OSA-AK», 13 SAM "Arrow-10" and several SAM "Arrow-2», 48 SoL-23-4 "shilka" and 22 57-mm anti-aircraft guns C-60.

A military institute of the Ministry of Defense of Turkmenistan was established in Ashgabat. Officers are also trained in Russia, Ukraine, Turkey, Pakistan and the United States.

Air Force

The number of air forces is 3000. They include two squadrons of fighters and fighter-bombers, one squadron of transport aviation and one training squadron. There is also one helicopter assault and one helicopter transport squadron and several divisions of anti-aircraft missile launchers.

The 22 fighter Mig-29 and two Mig-29UB, three fighter-bomber Su-7B, 65 fighter-bomber Su-17, two Su-25MC attack aircraft (another 41 aircraft of this type is being upgraded (another 26 aircraft of this type is being upgraded); An-39 transport and two training L-10. There are also 24 assault helicopters MI-8 and eight transport MI-XNUMX.

The country's air defense system is represented by the X-NUMX of the Dvina C-50, the Pechora B-75 and the Angara C-125.

Naval forces

The Navy consists of 500 people. Together with civilian service personnel, their number may reach two thousand people. The fleet in the Caspian has a base in Turkmenbashi. Caspian flotilla acts as part of a joint Russian-Kazakh-Turkmen flotilla under the Russian command with headquarters in Astrakhan. It includes five Ukrainian-made Grif-T patrol boats, two Lightning missile boats of Russian project 12418, and one American Point Jackson patrol boat. Since February 2012, the first ship has been under construction at the shipbuilding and ship-repairing enterprise of the State Border Service of Turkmenistan in Turkmenbashi - the Arkadag border guard ship ("Lord").

In 2010, the program of development of the naval forces of the armed forces of Turkmenistan was adopted for the period up to 2015, but its content is not disclosed.

Military formations of other departments

In addition to the Ministry of Defense, military units have the Ministry of Internal Affairs, the National Security Committee, the State Border Service, the Presidential Security Service. There is no reliable data on their number and structure. According to some estimates, the staff of the State Border Service is about 12 thousand people. The border troops include eight border detachments, including Bekdash, Kushkinsky, Kerkinsky and Koytendag. The presidential security service is approximately one to two thousand people.

In general, the armed forces of Turkmenistan by their fighting efficiency occupy a middle position in the region. They are superior to the armies of Kyrgyzstan and Tajikistan, but significantly inferior to the armies of Uzbekistan and Kazakhstan. The Turkmen army, in all likelihood, may repel an invasion of small armed groups, but is unable to independently endure a local conflict with any of its neighbors.