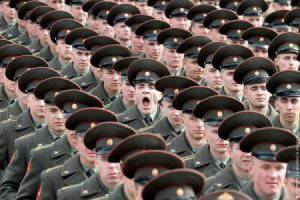 Military service has always been a special profession in Russia. Obviously, this is due to the importance and seriousness of this area of ​​specialties. Practically all military professions are distinguished by significantly higher complexity compared to civilian counterparts. However, it should be noted that the military
work today
not as popular and prestigious as some time ago. This is determined by various factors, among which are payment, and various social reasons, and the conditions in which the families of the military have to live.
If we talk about the monetary component, then military specialists currently receive no more than comparable professions in civilian conditions, and more often even significantly less. Therefore, very often graduates of military schools, after undergoing compulsory service, leave the ranks of the armed forces in more profitable areas of activity. And this is despite the fact that it is not at all that easy to enter such educational institutions, since, as a rule, quite serious training of the future officers is carried out in them.
Considering the various social advantages of the military, we can note a tendency to reduce the number of different benefits for military personnel and their family members. Most of these benefits are associated with discounts on utility bills, as well as travel expenses. Obviously, such social benefits cannot be exhaustive and are unlikely to fully compensate for the expenditure of energy in some military industries. The living conditions of many military men are also far from acceptable to everyone at the present time. And although housing programs for military personnel related to providing military personnel with full-fledged apartments are now functioning and improving, they are still not able to fill the gaps in very many regions of the country. All these problems reduce the attractiveness of military service for young specialists and, as a result, there is now a shortage of competent military experts in the country's armed forces, as many of them are engaged in civil affairs.
The big problem is, also, the fact that some branches of the Russian paramilitary forces are now declining. Accordingly, the military remain as a result of reductions without work. It is obvious that many of them find it difficult to find suitable work outside the army in view of the specificity of individual professions.
At the same time, it is impossible not to note that what is now in the country's armed forces is still quite a strong reserve of its defense potential. And those who serve in the army perform a major task of ensuring the country's military security. Each military officer, possessing unique knowledge gained in the process of training in the relevant military institutions, is now worth its weight in gold. In addition to the main state, there are still various special purpose units, where the service is considered prestigious and highly paid, but of course it will be extremely difficult to get there, since there are very hard tests in such areas of the paramilitary forces.