More than 40 years have passed since the first man came to the surface of a natural earth satellite, but until now the debate about how full-bodied the explorations of the Moon were, and whether all the riddles of the Moon have been solved, has not stopped. Millions of photographs from Earth's satellite over the years give food for thought to millions of people on our planet.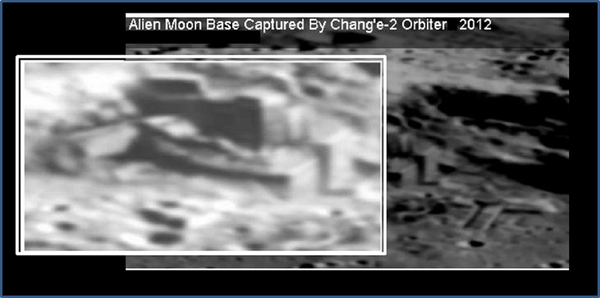 Often in these photos appear such images that for more than forty years even experienced professionals cannot explain. Photos are replicated, many appear as
photo on the cup, cups for sublimation
, giving rise to new and new attempts to explain the origin of what is imprinted on them.
One of the strangest photographs of the lunar surface is the photograph, which was obtained as a result of the work of the Chinese lunar satellite "Chang'-2". The satellite made the photo in 2010 year. It is not the photo itself that is strange, but what is depicted on it.
The photo clearly shows a certain structure with areas of regular geometric shape. If we take into account that the American astronauts on the Moon did not conduct any construction work (at least according to official data), then the question arises: what then did the Chinese satellite photograph?
A certain circle of scientists believes that this is a clear structure that appeared on the surface of the moon by artificial means - someone built it. Their opponents respond with photos of the Sahara, where you can see something similar, and declare that this is just a fancy work of sand and stone. The arguments of the latter could be taken into account, if for a moment we forget that there are winds in the Sahara, which sand and "launch" on the stone at high speed. There is no atmosphere on the natural satellite of the Earth, which means that there is no wind either.
If so, then either there was once a rather dense atmosphere on the moon, or a structure filmed by the Chinese was the work of intelligent beings who either inhabited the moon or arrived at it from other celestial bodies (or, alternatively, Earth). The riddle remains unsolved, and new images of the same lunar section have not yet been received. Only photos with higher resolution will allow us to understand the nature of a strange object, located in 380 thousands of kilometers from Earth.