History
creating a prototype:
"... In 1944, the head of the armament brigade of the Tupolev Design Bureau A.V. Nadashkevich and the leading engineer S.I. Saveliev suggested using machine guns designed by G.Shpagin to attack enemy infantry columns. For this purpose, they designed a platform on which secured 88 PCA machines (11 rows of 8 trunks in each).
The whole system is called the "PPSh battery". Each machine had a magazine with 71 mm 7,62 cartridges. In a combat position, the battery was rigidly attached to the Tu-2 bomb bay. When attacking, the pilot opened the sash of the luggage compartment and, using a special sight, fired heavy fire at the enemy.
To recharge the platform with the PPSH down on the cables down.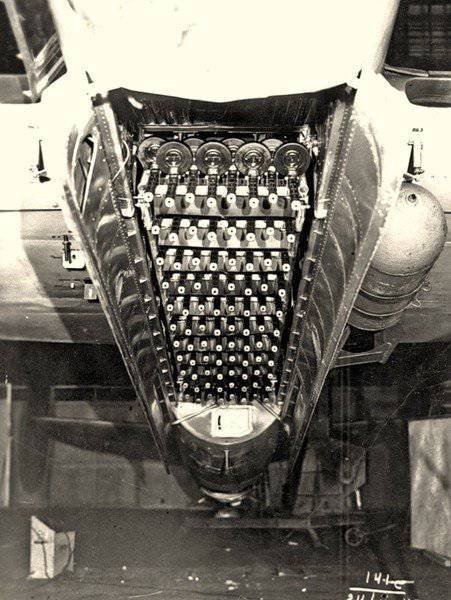 The decision to install such systems on two Tu-2S was made at a meeting with the Chief Marshal
aviation
A. A. Novikov October 10, 1944
Ten days later, Major-General of the IAS A.N. Tupolev addressed the request of the Chief Engineer of the Red Army Air Force, Colonel-General IAS A.K. Repin with a request to issue an order for the allocation of the number PCN sample 156 of the city with the prescribed number of disk stores and 180 cartridges to them.
In early February, the 1946 PPSh battery, which received the unofficial name "fire hedgehog", passed flight tests at the test site. They showed her great efficiency. However, a powerful barrage of fire was short-lived, and the need to return to the base for reloading the machine guns nullified its advantages. As a result, it was recognized that it was more expedient to use small-caliber bombs placed in cassettes to destroy enemy manpower ... "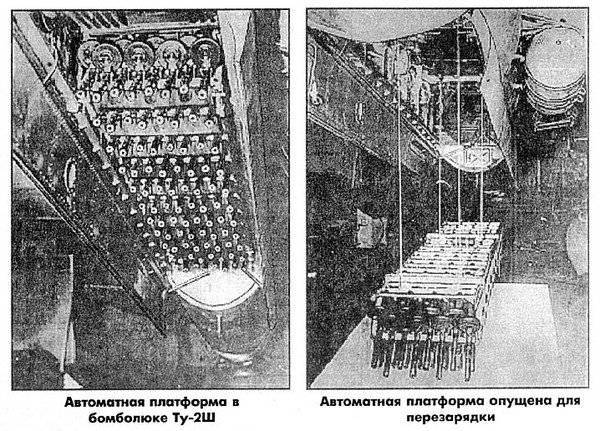 It must be admitted that this aircraft, although it was built in a single copy, was the only aircraft with the largest number of trunks.