Development
aviation
in different countries it often goes in parallel ways. And there is nothing surprising in the fact that there are machines very similar in appearance, with similar flight performance. This is not necessarily about direct copying, with spring similarity, the design and execution can be completely different. For example, you can recall: Tu-144 and Concord, Tu-160 and B-1B, IL-38 and R-3 Orion, etc. From the same series that appeared almost simultaneously, in the mid-50s in the USA: S-130 Hercules, in the USSR: An-12.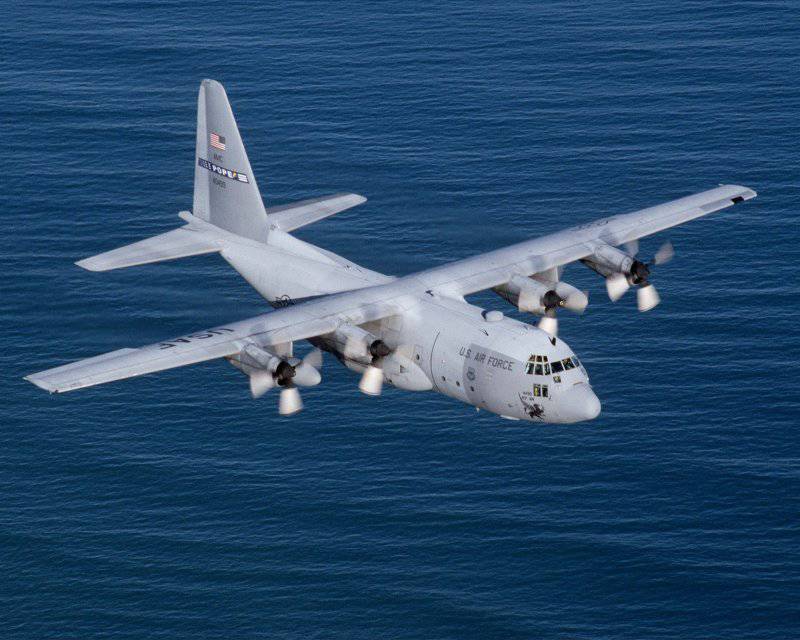 C-130 "Hercules"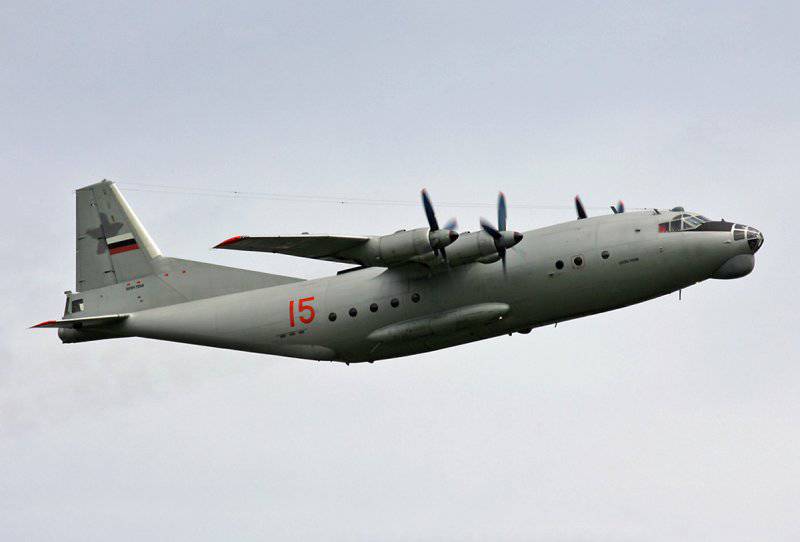 An-12
Developed by Lockheed at the start of 50, the C-130 Hercules is the main tactical transport aircraft not only for the US Air Force, but also for many other countries. It is intended for tactical shipments, as well as for landing by troops and combat equipment by landing and parachute methods.
The first flight of the prototype aircraft took place on 23 August 1954 of the year, mass production was started at the end of 1956 year after the elimination of deficiencies identified during the tests.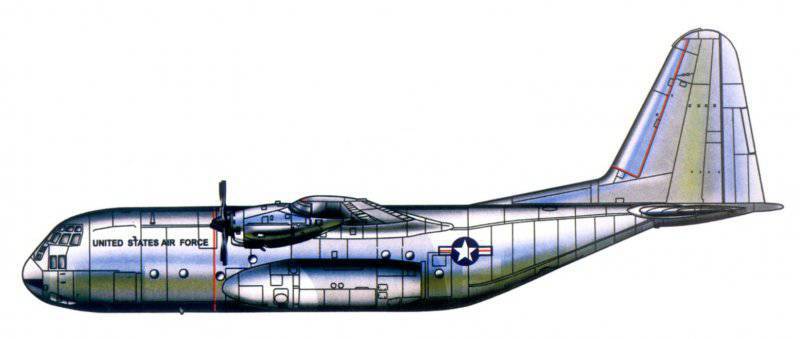 Experienced aircraft YC-130
The first serial of the numerous family of "Hercules" was the C-130A. Test flights on it were made in April 1955-th, and the delivery to customers began in December 1956-th. The take-off mass of its 56,4 t. Built 231 aircraft of this type. The next was C-130B. It was produced from 1958-th to 1963-th years. The take-off weight of its 61,2 t. Total produced 230 machines. These were the first "Hercules". And then the most various modifications of these transports were produced - С-130А, С-130Н, С-130К. Over the past more than 50 years since the start of mass production, more than 2000 machines have been released in more than 70 versions. Developed by Lockheed in the early 50-ies, this aircraft is the main tactical transport aircraft not only of the US Air Force, but also of many other countries. It is intended for tactical shipments, as well as for landing by troops and combat equipment by landing and parachute methods.
When the C-130 entered service with the US Air Force, it became the main element of the CASF mobile air strike forces concept, formulated in the middle of the 1950's. The Hercules - the most common medium-carrying transport aircraft operating in 65 countries - have been built by Lockheed for more than 50 years. During this time, more than 2200 C-130 military vehicles and civilian L-100 of various modifications were released, including around 1270 for the United States.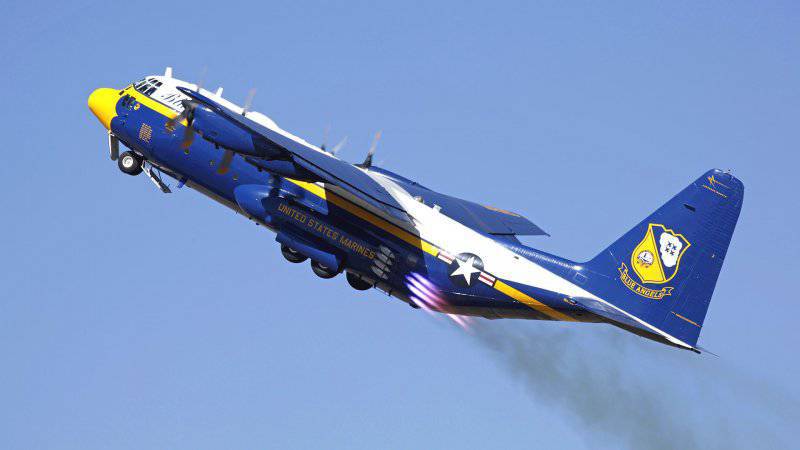 Take off with solid fuel boosters
Unlike its closest counterparts - An-12 and Transal S.160, the Hercules continues to be built in series and enjoys steady demand in the global market.
LTH: Modification of the C-130H
Wingspan, m 40.41
Aircraft Length m 29.79
Aircraft height, m ​​11.56
Wing area, m2 152.12
Weight, kg of empty 34686 aircraft
normal takeoff 70310
maximum take-off 79380
Fuel, kg internal 20520, PTB 8020 (2 x 5148 l)
Engine Type 4 TVD Allison T56-A-15
Power, hp 4 x 4508
The maximum speed, km / h 621
Cruising speed, km / h 602
Economic speed, km / h 556
Practical range, km 7876
Range with maximum load, km 3791
Practical ceiling, m 10060
Crew, people 4-5
Payload: 92 soldier or 64 paratrooper or 74 stretcher with 2 accompanying or 19356 kg of cargo
In the bulk cargo cabin can accommodate various heavy equipment, in particular, tank trailer
or 155-mm howitzer with a tractor, or up to five cargo platforms. At the rear of the cab are the main cargo door with dimensions 2,77x3,05 m and a loading and unloading ramp with a hydraulic drive. Paratroopers ejection
through the side door in the left side of the chassis fairing.
Two emergency exits are installed. Crew cabs and cargo - hermetic with air conditioning. The length of the C-130H-30, L-100-30 and X-130Т-30 aircraft fuselage has been increased by 4,57. Chassis - tricycle. The main rack retracts into the fairings on the sides of the fuselage. Front strut with twin wheels has a steering mechanism.
Many modifications have been created on the basis of this aircraft, including: drums, special forces planes, reconnaissance, AWAC, tankers, etc.
Modifications:
C-130A first modification based on the Lockheed Model 82 prototype.
C-XNUMHA-II modification for special electronic operations.
AC-130А attack aircraft based on C-130А with 7.62-mm six-barreled machine guns МХU-5470 Minigun and 20-mm six-barreled guns M61A1 Vulcan. Control system
weapons
based on NASAAR radar.
AC-130A Pave Pronto strike aircraft with electronic warfare system ALQ-87 and 2 PU reflectors SUU-42A / A.
C-130B improved performance with more powerful TV engines T56-A-7 and 7А., Greater capacity of fuel tanks and with a reinforced chassis. Aircraft of this modification were produced from June 1959 year. Total 461 aircraft was released versions A and B;
WС-130В weather reconnaissance aircraft.
RC-130В Sun Valley JС-130В reconnaissance aircraft. Rocket tracking aircraft.
KS-130V aircraft tanker.
C-130D is the arctic version of the C-130А with a combined wheel-ski chassis.
The C-130E is the third modification of the 1962 aircraft of the year based on the Lockheed Model 382 prototype with the APQ-122 (V) 1 radar. Modification option C-130B with additional fuel tanks under the wings. Airplanes of this modification have been produced since April 1962, in total more than 504 machines of this modification were manufactured.
C-130E-I special purpose aircraft with a STAR (Suface To Air Recovery) rescue system.
The AU-130E Pave Aegis 1971 strike aircraft built with 20-mm M61A1 and 2 cannons, 40-mm Bofors cannons and 105-mm howitzer.
AU-130E Pave Specter I strike aircraft for destroying convoys with APN-59N and AVQ-17 radars, with ASQ-5 Black Crow and APQ-150 radar, with television, laser and IR guidance systems
APQ-18 and EW ALQ-87 system.
The DC-130E is a launch and control aircraft for the 4 BLA.EC-130E - a coastal defense aircraft with the LORAN.MC-130E Combat TalonI system. service tasks VMS.KS-130F - aircraft tanker.
C-130G modification of C-130F with HDD T56-A-16.
EC-130G aircraft electronic communication with nuclear submarines with the system TACAMO II.
The C-130H is an export version of the aircraft produced from the 1965 of the year. The aircraft is based on C-130 with HDD T56-A-15. Radar RDR-1F or APS-13 and radar APN-59N and APQ-122 are installed on the aircraft. Aircraft of this modification were delivered to more than 20 countries of the world. With-130H (AEH) flying hospital for 52 stretcher, made to order the Air Force of Saudi Arabia.
The AC-130H Specter is a modification of the AC-130E strike aircraft.
DC-130H aircraft launch and control 4 UAV.
EC-130H aircraft electronic control system Compass Call II.
KC-130H aircraft tanker.
MS-130H Combat Talon II special purpose aircraft.
PC-130H patrol aircraft designed by order of the Indonesian and Malaysian Navy.
VС-130H VIP transport for the Air Force of Saudi Arabia.
C-130H-30 modification based on the civilian version of L-100-30.
C-130J version of the aircraft with 2 pilots and 4 TVD Allison GMA2100 (T56-IV).
KC-130R aircraft tanker for the Marine Corps.
C-130T modification of the 1991 year of manufacture with TVS T56-A-423.
AC-130U strike aircraft based on the AC-130H, manufactured under license by Rockwell. The aircraft is equipped with APQ-180 radar, AAQ-117 IR sensor, IBM IP-102 computers with MIL-1553B bus data, ALR-69, ALQ-156, ALQ-172 warning systems. Aircraft armament - 25-mm six-gun GAU-12 / U, 40-mm Bofors cannon and 105-mm howitzer. Aircraft reservation was made on the basis of Kevlar armor.
EU-130V NS-130H Coastal Defense aircraft with APS-145 radar to combat drug smuggling.

KC-130F, flying from the deck of the aircraft carrier Forrestal in October 1963 g
On the most massive modifications of the C-130H and K-installed engines with power limited to 4571l.s. Specific fuel consumption in cruising mode 0,231 kg / ehp.h. Four-bladed propellers, vane-reversible diameter 4,11m. In the left fairing chassis installed APU. The fuel is placed in six wing compartments with a total capacity of 26344 l and two additional underwing tanks with a capacity of 5146 l. Some variants of the aircraft are equipped with an in-flight refueling system. The anti-icing system of the wing, tail assembly, air intakes and the radome of the radar antenna is air-thermal with air extraction from the engines. Propellers, screw fairings and frontal glazing are electrically heated. Flight control system - booster reversible. The C-130 is equipped with a DS / FD digital autopilot. Aeronautical equipment includes a receiver system TACAN AN / ARN-153 (V) and duplicated INS on Honeywell gyroscopes of the firm "Honeywell", interlocked with the satellite navigation receiver.
Navigation radar low power LPCR130-1B with a color indicator.
The defense complex of the REB equipment includes the AN / ALR-69 electronic intelligence system, a radar receiver for warning UR attacks with radar guidance systems, an infrared jamming system, and also an infrared and radar trap shooting system. In the cockpit can be mounted local booking, protecting pilots from small arms fire.
The newest and most advanced option for today is the C-130J Super Hercules. The aircraft has an elongated fuselage (34,37 m). Equipped with improved avionics, which allowed to reduce the crew size to two people.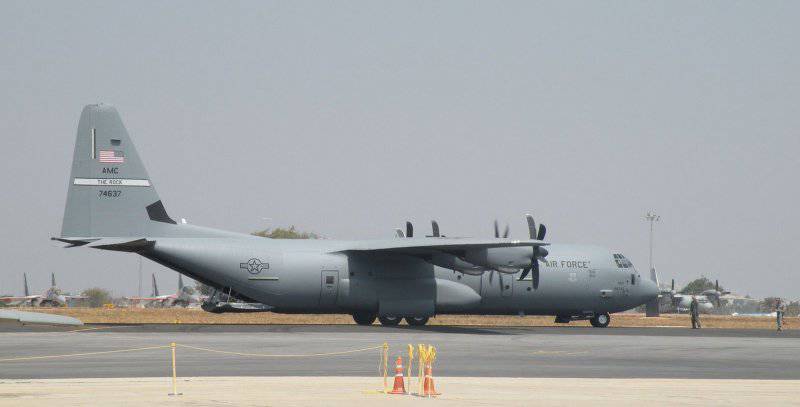 C-130J Super Hercules
Compared to its predecessor, the new aircraft should have increased the practical range by 40%, increased flight altitude on 40% in cruise mode, 50% less set cruise altitude time, 22% less required runway length and increased cruising speed by 21% . For ground handling of a squadron of 18 new aircraft, 406 personnel would be needed compared with 661 on the Hercules of previous modifications (a decrease of 38%).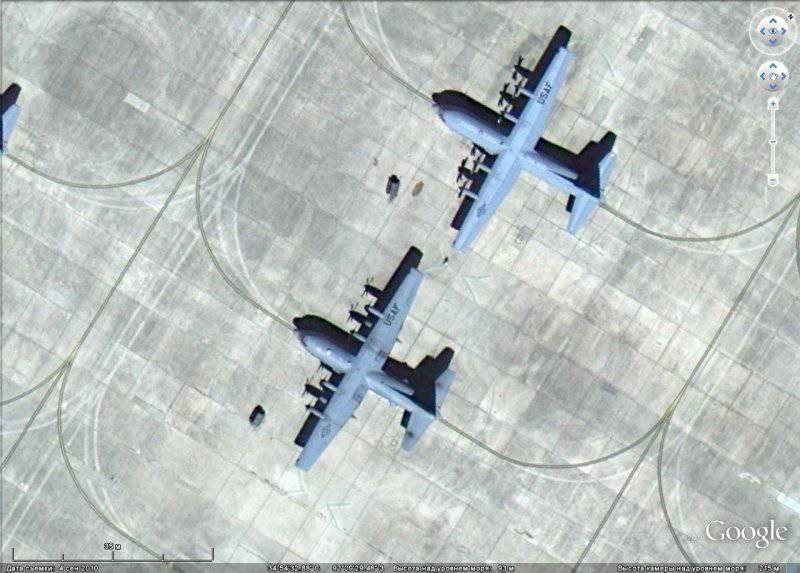 Google Earth Satellite Image: C-130H and C-130J
On the C-130J, the new Allison GMA 2100 engines were installed with a capacity limited to 4590 l. with. with a digital control system with full responsibility, six-blade all-composite propellers and new instrumentation with two HUDs and flat-panel color multifunctional indicators.
Total shipments in the 1996-2016 period. can make 400-700 aircraft C-130J. The cost of one C-130J aircraft is estimated at $ 40 million, which roughly corresponds to the cost of the most common aircraft modification
Hercules - C-130H ($ 30-40 million).
"Hercules" so firmly took its position in the system of military transport vehicles of the Air Force that after many decades of its operation, in the 21 century, it again found a worthy place as a reliable transport worker.
The An-12 military transport aircraft (MTC) was created as a unified aircraft, together with the An-10 passenger aircraft.
Which, if necessary, could easily be converted into a military transport. However, this was later abandoned. An-10 was less successful than IL-18.

An-10 passenger aircraft

And the unified BTS An-12 fuselage was unjustifiably overweight. Subsequently, only the cargo version of the An-12 was produced.
The aircraft for the first time took off on December 16 1957 of the year. In 1959, An-12 began to enter the army. They were first mastered by two regiments of the Tula 12 th Guards Military Transport Division, which was entrusted with the task of conducting military tests and practicing the tactics of using the new aircraft. The impact force of the Airborne Forces increased significantly after the development of airborne landing with An-12 not only people (up to 60 people from one aircraft), but also armored self-propelled vehicles.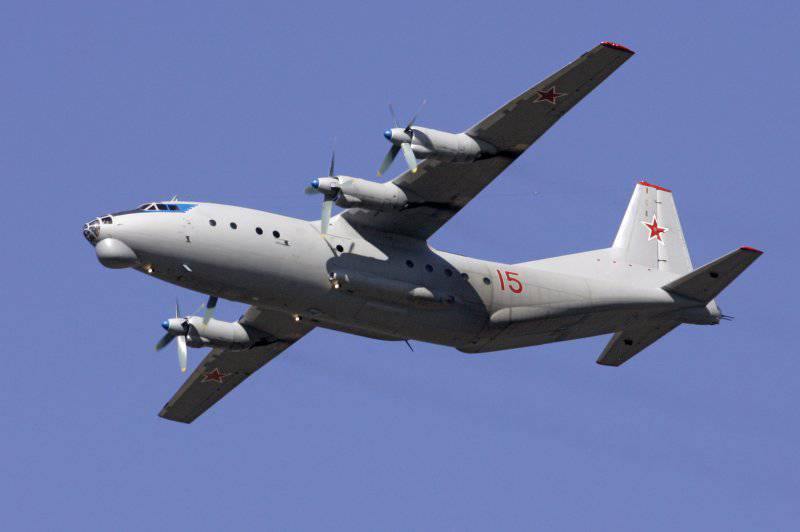 An-12 became the aircraft, thanks to which the airborne troops of the USSR became one of the powerful tools of the country's geopolitical influence. The Soviet Union also received the opportunity to quickly respond to events on the planet: to help victims of natural disasters, to support national liberation movements, etc. An-12 aircraft of various modifications for a long time constituted the basis of the country's military transport aviation, and their numerous special variants were successfully used to solve a wide range of tasks.
In all, 1957 units were manufactured from 1973 to 1248 in the USSR. AN12.
LTH: An-12
Wingspan, m 38.00
Aircraft Length m 33.10
Aircraft height, m ​​10.53
Wing area, m2 121.7
Weight, kg
empty 28000 aircraft
normal takeoff 55100
maximum take-off 61000
Internal fuel, l 18100
Engine type 4 TVD Progress (Ivchenko) AI-20K
Power, hp 4 x 4250
The maximum speed, km / h 777
Cruising speed, km / h 670
Practical range, km 5700
Range, km 3200
Practical ceiling, m 10200
Crew, people 5 + 1
Payload: 90 soldiers or 60 paratroopers or 20000 kg of cargo
Armament: two X-NUMX-mm guns AM-23.
An-12 was widely exported and used not only for its intended purpose. During the Indo-Pakistan conflict in 1971. used as a night bomber. There are several night raids on objects in Western Pakistan, during which they took on board up to 16 (!) Tons of bombs. One An-12 was intercepted by the Mirage, but managed to escape from danger.
The successful use of An-12 in this quality prompted the Antonov Design Bureau experts to create a special bomber version of the machine, capable of taking 70 kg bombs 100 (OFAB, ZAB) or 29 kg bombs (OFAB, ZAB, PTAB, RBC) or 32-250 kg bombs of caliber 18 (FAB, ZAB, FZAB, RBC) or 22 aviamine UDM-500 for dropping from the TG-18MB conveyor. This option was subsequently successfully applied in Afghanistan.
The following options were released: An-12 (product "T") - basic. At the Irkutsk aircraft factory in 1959-1962, the 154 aircraft was launched. An-12 "Tanker" - a flying water-spraying laboratory to create artificial icing conditions. Notable for a water tank on the 8000 l in the cargo compartment
manifold in front of the wing. Converted 1 aircraft in the 1981 year.
An-12A (product "TA") - the first serial modification. Differs engines AI-20A, increased to 16600 l fuel stock. The take-off weight increased to 61 t, payload - to 20 t. Produced at the Voronezh Aviation Plant (1961 — 1965) and the Tashkent Aviation Plant (1961 — 1972). Made 155 aircraft.
An-12B (product "TB") - modernized. It features a reinforced center section, increased to 19500 l supply of fuel, equipment. Produced from 1963 year at the Voronezh Aviation Plant and Tashkent Aviation Plant.
An-12B (LIAT) - laboratory research aviation equipment. Designed for work on the field of flight accidents. Converted 1 aircraft in the 1972 year.
An-12B "Kubrick" - the aircraft for the study of infrared radiation of surface, ground and air targets. Made in 1969 year.
An-12-I - EW aircraft. Differs station individual electronic countermeasures "Beans". In the 1964 year built 7 aircraft.
An-12БЗ-1, An-12БЗ-2 - flying laboratories for testing the system for refueling in the air (project). Developed in 1969 year.
An-12BK (product "TBC") - modernized. Differs updated onboard equipment and engines AI-20M. The width of the cargo compartment is increased to 3,12 m. It was produced from 1966, at the Tashkent Aviation Plant.
An-12BK - commercial. Designed for civil aviation. Notable for the lack of defensive weapons.
An-12BK-IS - EW aircraft. Installed on board the station "Beans" and "Lilac". In 1970, 45 aircraft was manufactured. In 1974, the 105 was also refitted.
An-12BKV - bomber and director min. Could take on board 12 t bombs. In 1969, several aircraft were made.
An-12BKK "Capsule" - the aircraft cabin of the commander of the VTA.
Equipped with a sealed capsule cab for 20 people. In 1975, the 1 aircraft was refitted.
An-12BKT - aircraft front-line aircraft carrier. Could simultaneously refuel on the ground 2 aircraft (the volume of fuel delivered 19500 l). Developed in 1972.
An-12BCC "Cyclone" - a laboratory for the study of meteorological processes. In 1979, the 2 An-12BK AN-12BL was re-equipped - the aircraft equipped with the X-28 anti-radar missile system. In 1970, the 1 An-12B was retooled.
An-12BM - aircraft for the study of the possibility of long-range radio communication through the satellite "Lightning-1". In 1962, the 1 An-12B was retooled. The "51 product" is a scout for the radiation contamination of the atmosphere at the An-12BP base. Notable for filter nacelle for air intake, dosimeters DP-35, laboratory equipment. Produced in 1968-1969's.
An-12BSM - civil aircraft for the transport of containers. Notable for the presence of two crane beams and roller tracks. Could transport 8 pallets PA-2,5 or 4 PA-5,6, 8 containers WAC-2,5 or 4 WAK-5. Designed in 1973 year.
An-12BSH, An-12BKSH - aircraft for group training navigators. In the cargo compartment equipped 10 jobs. In 1970, several airplanes were converted. An 12D is an experienced aircraft with a larger fuselage diameter.
Developed in 1965 year. Equipped with AI-20DC engines with screws with a diameter of 5,1 m. Take-off weight increased to 83 t.
An-12LL - flying laboratory. Over the years, converted several aircraft.
An-12M - upgraded. Differs engines AI-20ДМ Power of HP 5180, screws АВ-68ДМ. Made in 1972 in one copy.
An-12M LL - flying laboratory for testing ejection systems. Differs aft swivel cabin. Made in 1975.
An-12P - with underground fuel tanks. Produced with 1963 year. According to the type of An-12П in 1963-1989, the An-12А and An-12Б (marked as An-12AP and An-12БП, respectively) were finalized. On the An-12BP aircraft the radio equipment was partially changed.
An-12PL - polar on a ski non-retractable chassis. In 1961, the 2 aircraft was built.
An-12PP, An-12Б-ПП, An-12БК-ПП, An-12БК-ППС - jammers.
An-12PS - search and rescue. It has on board a rescue boat "Ruff" or "Loon". Developed in 1969 year. AN-12RU - with 2 starting accelerators PRD-63 (draft). Developed in 1962 year.
An-12SN - special purpose aircraft (project). It was intended for transportation
tank
T-54 at a distance of 1500 km. It was distinguished by AI-20DK engines, an additional RD-9 turbojet engine, an increased cargo compartment, and a reduced composition of equipment. Designed in 1965.
An-12T - fuel (experienced). Intended for the transport of various types of fuel. Made in 1961 year.
An-12TP-2 - aircraft for polar aviation. It is distinguished by the TG-16 turbo-generator in the left landing gear, underfloor fuel tanks, astronavigation and long-distance radio communication equipment, and resting places in the tracking cabin. In September, 1961 of the year participated in the long-distance flight Moscow-Mirny (26423 km).
An-12UD - aircraft extended range. Developed in 1960 year. It is distinguished by two additional fuel tanks with a total capacity of 7600 l (from the 3М bomber). At the same time, the fuel supply was 21870 l.
An-12UD-3 - extended range with three additional tanks in the cargo compartment.
Removal of An-12 from production was, of course, a hasty step. Came to replace the IL-76, with greater speed and capacity. He had a much worse fuel efficiency, demanded higher class airfields, turned out to be more expensive to manufacture and maintain. The An-12, which have survived to this day, have been repeatedly repaired and renewed, the main part being operated by private airlines.
The fate of the aircraft An-70, which in the future should replace those written off by An-12 is not defined.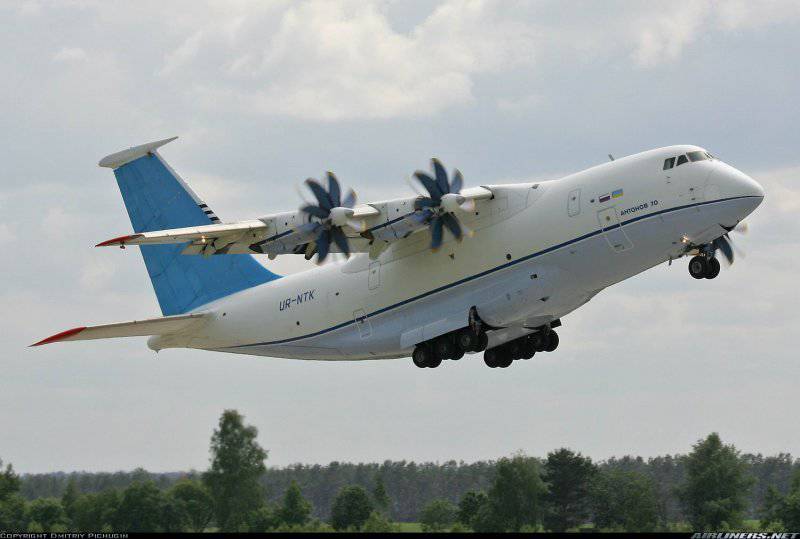 An-70
An-12 variant called Y-8 was also produced in China.

The aircraft was created by copying the An-12BK available in the People's Republic of China. The first flight of Y-8 was made by 25.12.1974. It was produced in modifications: passenger, civilian transport, military transport, sea patrol, carrier of unmanned aircraft, electronic warfare and radio reconnaissance, AWAC, "Ganship", VKP.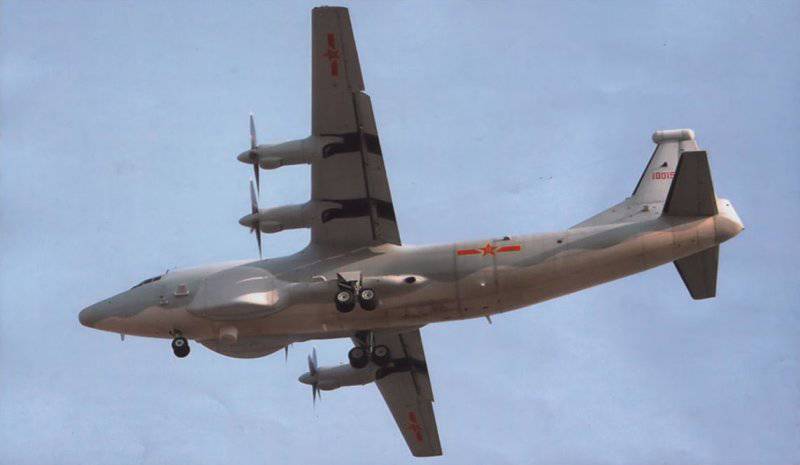 Aircraft EW YG-8 (K / YG-8) "Kaoxin-4"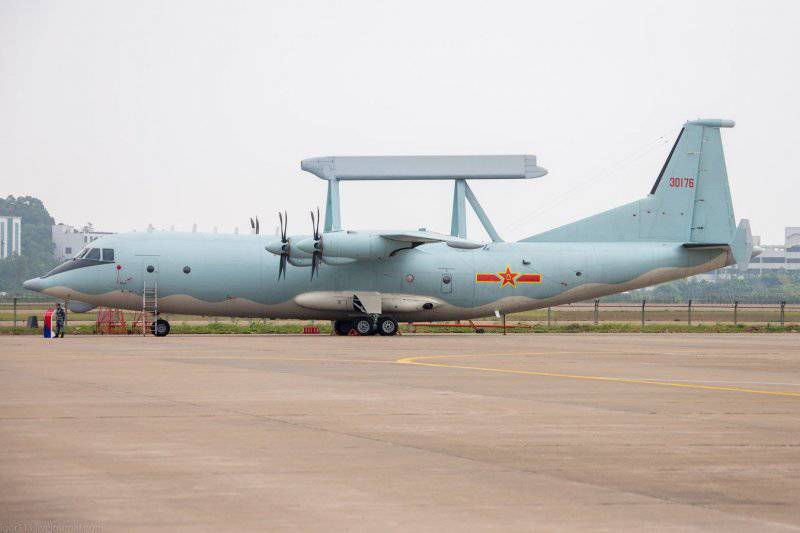 DRLO KJ-200 Air Force Air Force
In total, according to Chinese data, 667 copies were built. Airplanes are a success in the world market, and not long ago, the Y-8 BTC consignment was delivered to Venezuela, where they should replace the C-130 written off early versions.
On the Chinese web resources, there appeared photos of the Y-9 military aircraft undergoing testing, which is undergoing a typical Chinese PLA Air Force coloring.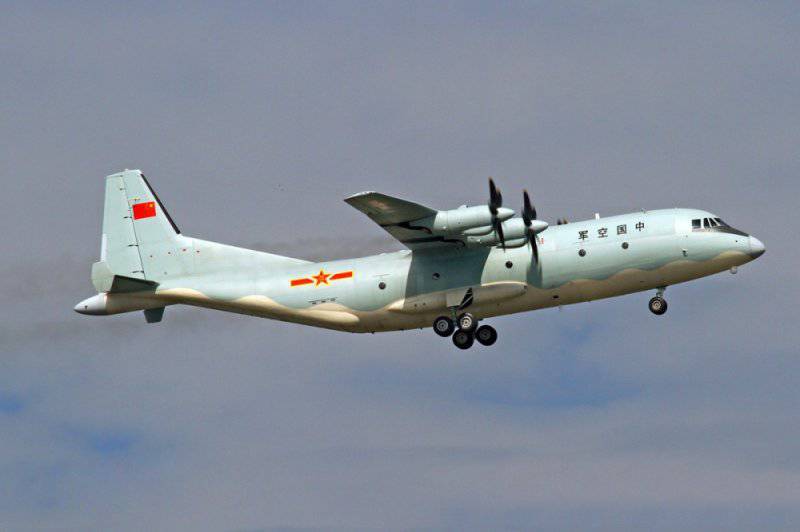 The Y-9 aircraft, which is a deep modernization of the Y-8 military transport aircraft (copies of An-12), was developed by the Chinese aviation enterprise Shaanxi Aircraft Industries Company in Hanzhong (Shaanxi Province) with the assistance of Antonov GP. The first prototype of the Y-9 (onboard number 741) made the first flight of 5 on November 2010.
Based on:
http://www.aviaport.ru/directory/aviation/an12bk/
http://bmpd.livejournal.com/352883.html
http://www.uhlib.ru/transport_i_aviacija/aviacija_i_kosmonavtika_2000_01/p9.php
http://aerosvitva.aero/base/?mode=3&id=9070:Y-8
http://ria.ru/defense_safety/20090520/171657479.html