On Thursday in Tula, at the age of 85, the outstanding Soviet designer, the developer of automatic small arms of aviation, sea and land-based Arkady Shipunov, died.
"Arkady Georgievich Shipunov, one of the outstanding Soviet and Russian weapons designers, has died today," follows from an unofficial blog post by the Center for Analysis of Strategies and Technologies.
Shipunov Arkady G. (07.11.1927 g. - 25.04.2013 g.)
Designer of automatic aviation and not only artillery armament, general designer of instrument making design bureau (Tula)
Hero of Socialist Labor (1979)
Winner of the State Prize of the USSR (1968, 1975, 1981)
Winner of the Lenin Prize (1982)
Winner of State Prizes of the Russian Federation (1998 g., 1999 g.)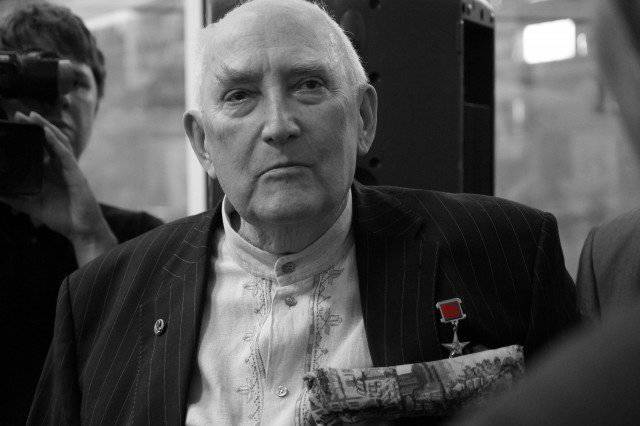 A.G.Shipunov (photo 2012 g.)
Chief and Lead Designer:
Aviation
gun GSH-23
Aviation gun GSH-6-23
Aviation gun GSH-301
Aviation gun GSH-30-2
Aviation gun GSH-6-30
Aviation machine gun GSHG-7.62
etc.
Shipunov Arkady Georgievich, born 07.11.1927, Livny of the Oryol Province.
In 1950, he graduated with honors from the Tula Mechanical Institute with a degree in Rifle and Artillery Systems and Installations. He began his labor activity in 1950 in the Scientific Research Institute-61 (later - TsNIItochmash) in the city of Klimovsk, Moscow Region, where he went from engineer to deputy chief engineer. In 1955, he defended his thesis for the degree of candidate of technical sciences.
From 1962 to 2006, he has headed the Instrument Engineering Design Bureau in Tula, making him the leading enterprise for the development of high-precision
weapons
anti-tank and anti-aircraft areas.
In 1973, he received the degree of Doctor of Technical Sciences, in 1975, the academic title of professor.
In 1984, he is elected a corresponding member of the USSR Academy of Sciences; in 1991, he is a full member of the Russian Academy of Sciences.
Since 2008, A.G.Shipunov - Scientific Director of the VC "KBP".
State awards of the Russian Federation and the USSR
:
Hero of Socialist Labor (Decree of the Presidium of the Supreme Soviet of the USSR ("closed") from 1979, Order of Lenin and the Hammer and Sickle Medal)
Order of Merit for the Fatherland, II degree (October 28 2002)
Order "For Services to the Fatherland" III degree (November 7 1997) - for services to the state, a great personal contribution to the creation of special equipment and strengthening the country's defense [2]
Order of Lenin (1984)
Order of the October Revolution (1971)
Order of the Red Banner of Labor (1989)
Order Badge of Honor (1966)
Medal of Military Merit (1966)
Medal "In commemoration of the Vladimir Lenin's 100 anniversary" (1970)
Zhukov Medal (1996)
Award
:
Winner of State Prizes of the USSR (1968, 1975, 1981)
Winner of the Lenin Prize (1982)
Laureate of State Prizes of the Russian Federation (1998, 1999)
Laureate of them. S.I. Mosin (1966, 1975, 1981, 1986, 2002)
Winner of the Prize of the Government of the Russian Federation in the field of science and technology (2005)
Winner of the Man of the Year Award (2000, 2005)
Ranks
:
Freeman of Tula (November 14 1997) and the Tula region
Honorary Worker of Higher Professional Education of the Russian Federation (2000).
Corresponding Member c 26.12.1984 - Department of Computer Science, Computer Engineering and Automation (automated systems), Academician c 07.12.1991 - Section of Engineering Science (Mechanical Engineering).
Many people know Arkady Shipunov as a talented gunsmith, but not everyone guesses that he was also a philosopher. Of his aphorisms would make a book.
"We must live by what you know how to do well",
- he always repeated. And in the Tula Instrument Design Bureau, which 35-year-old Shipunov headed in the 1962 year, they always knew how to make weapons. One of its first developments, the GS-23 aviation gun, named after its creators, Gryazev and Shipunov, immediately became a sensation. She equipped almost all military aircraft: fighters, attack aircraft, bombers, helicopters. Since then, all the inventions of the design bureau invariably entered into service, first in the Soviet and then in the Russian army.
"If you see a gun somewhere: on a BMP, or by helicopter, on an airplane, do not ask a stupid question: Whose is it? It was developed by the Tula Instrument Engineering Design Bureau and only," said Arkady Shipunov.
"A well-fed person is less inclined towards creativity", is another motto of Shipunov. So he usually answered everyone who complained about the modest salary of designers. Worked for the idea.
"If you don't have a weapon, you are defenseless, and any activist can do anything with you. I don't want our country, our Fatherland to be in that position. Why?", Argued Shipunov.
That is why he did not go abroad. In the dashing 1990, when defense enterprises were closed one after another, Shipunov showed himself also as a skillful manager - he kept his own design bureau, and most importantly - the staff, managing to attract and attract foreign customers.
Together with his friend and colleague Vasily Gryazev, Shipunov arranged revolutions where, it seemed, everything had already been invented long before them. So it was with the gun GSH-18. Today he is in service with the Russian law enforcement agencies. There is still no release from orders from abroad.
"The question is, is it possible to raise the power of the shot? It turns out you can - for this you need to ease the bullet. And we made a cartridge with a bullet that weighs half as much," - said Shipunov.
Shipunov never discussed the tasks of the country's leadership, but immediately took up their implementation. Moreover, his thought often went ahead of opportunities that could only be imagined. "Weapons must be soldier's," he always repeated. Simple, reliable and cost-effective. In addition to guns for aviation,
fleet
and ground forces on the account of Shipunov anti-aircraft missile systems Tunguska and Kortik, anti-tank Metis and Fagot, artillery Krasnopol and Kitolov.
"Well, I don't want to give in to any Americans, no British, no French. There is such a thing. It's like sportsmen's," the designer compared.
Perhaps, it is difficult in our time to find a person who would be so in love with his business. Work did not let him even at home. Shipunov could not understand why the people of Tula complain of gunshots coming at night from the test site at the design bureau.
"When I heard guns firing at night through a dream, and I, of course, distinguished them from voices, as I heard that they work normally - this is also by ear - I always noticed that my face was distorted in a completely stupid, blissful smile, "- recalled Arkady Shipunov.
A pacifist by nature, a gunsmith by vocation, he himself loved to shoot his dash at his pleasure. Once he was invited to a small arms factory in Argentina, where the Russian delegation was offered to test a new pistol. The choice fell on Shipunova.
"I took off my shirt so as not to mess with butter, and stayed in such a half-naked form. And - from the hip with a pistol. I broke all the targets," the gunsmith proudly told.
In recent years, almost no Victory Parade has done without Shipunov's inventions. In 2013, May 9 on the pavement of Red Square will pass one of the latest developments of its design office - the complex "Pantsir-С1". The genius was so productive that it would be possible to arrange a separate parade from the equipment he created in his entire life.
In February there was an article on Arkady Georgievich on HE - Arkady G. Shipunov - famous Tula gunsmith