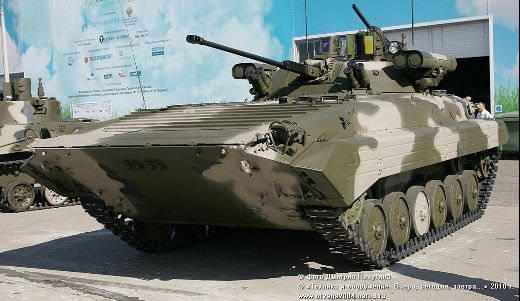 For many years, the BMP-2 infantry fighting vehicle was considered one of the best in the world. But as they say, time goes on, and now the beauty and pride of Soviet military industry is already considered obsolete. For a number of characteristics, this machine is significantly inferior to foreign counterparts. So, the BMP-2 firing range at night is 800 m, while most modern
tanks
and BMPs are equipped with thermal imaging observation devices with a range of at least 2000-2500 m.
Earlier it was noted that the reloading of the anti-tank complex "Competition" is associated with large losses of time and the danger of hitting one of the crew members with shrapnel or gunfire weapons. In addition, there is no possibility to use ATGM in motion.
For a significant increase in the characteristics of the BMP-2, a version of the modernization of the combat compartment has been developed, which has received the designation "Berezhok". In the course of the work produced
replacement of the main units of the fire control system; installation of the modern Kornet anti-tank complex and the automatic Flame-30-mm grenade launcher.
Installing a combined gunner's unified sight allows you to increase the accuracy of firing all types of ammunition, including on the move, and to conduct round-the-clock combat work.
The laser rangefinder is built into the sight, it is also the ATGM guidance device. A digital ballistic computer is also installed with a system of sensors (the angle of inclination of the gun trunnions, the parameters of the atmosphere, the type of projectile, the angular velocity of the target, etc.).
The commander of the car received a panoramic sight. He had the opportunity to duplicate the work of the gunner operator.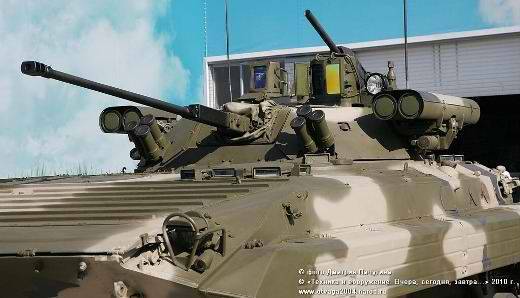 In the ammunition of the gun, a new armored-piercing sub-caliber "Trident" projectile was introduced with improved armor penetration characteristics (compared to the armored vehicle) (the effective range of the BTR - 2200 m).
ATGM "Kornet" with a laser-beam semi-automatic guidance system due to higher armor penetration (up to 1200 mm) affects almost all existing tanks, including those equipped with dynamic protection, at a distance of up to 5500 m.
It is installed on a multi-charge launcher that does not require recharging during combat. At the same time, besides increasing the power of the action, the combat rate of fire increases and the danger of the crew's defeat decreases. Provided shooting volley of two missiles.
As an additional weapon, the 2-mm AG-30 automatic grenade launcher was included in the upgraded BMP-17. A vertical stabilized installation with an armored magazine on an 250-300 grenade is located on the back of the tower.
The use of a grenade launcher in combat, including firing on the move, makes it possible to successfully combat manpower in the trenches, in the folds of the terrain, and behind obstacles at a distance of 1700 meters.
As a result, combat effectiveness in comparison with the standard version increases 3,2 times.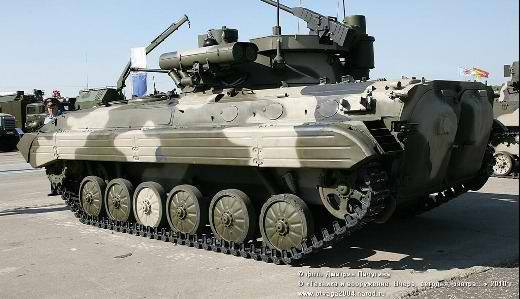 At present, this modernization option is of great interest in international arms markets. So the Algerian armed forces modernized their BMP-2. It is expected that orders from other states will be received.