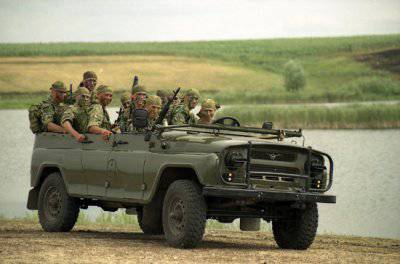 One of the new cars for the Russian army is the Tigr armored car. After getting acquainted with this production of the GAZ car factory, Deputy Prime Minister Dmitry Rogozin was delighted and said that the Tiger could well be produced in a civilian version.
SUVs
the army series, by the way, often migrated from the military sphere to the civil sphere. Suffice it to recall the famous UAZ-469, which was exploited and continues to be exploited by many armies of the world, and its modification Hunter has now become an indispensable helper for those who are used to overcome road difficulties with the help of such military equipment.
If we talk about
stories
469-th Oise, it begins with the beginning of the 60-x. The development of the car was carried out at the Ulyanovsk Automobile Plant. In 1962, the factory workers implemented a prototype, which however did not go into mass production. Only at the end of 1972, new cars began to be produced in the mass version. Prior to that, the famous GAZ-69 was king of the Soviet army in terms of transportation of commanders. He more than 20 years served properly, having received a series of "nicknames" - from "Goat" to "Gazik." One of the developers of GAZ-69 is the designer F.A. Lependin. This military vehicle was also used for civilian purposes. It could be seen as an official car of the chairmen of collective and state farms, nomenklatura in the cities of the USSR.
The car was produced on GAZ only for 3 years: from 1951 to 1953 years, and then its production was moved to Ulyanovsk, where it was in 1972 year and lost its position to UAZ-469. The design of the UAZ-469 was, to put it mildly, uncomplicated. About any comfort in this car for the driver and passengers it was not, although with comfort in military cars in Russia and today is not all right (if we consider the same "Tiger"). The design development of the UAZ-469 was done by Albert Rakhmanov, and, admittedly, this design was firmly established in the mass consciousness. Today in Russia there is no such person who would not distinguish this UAZ from other automobile models of off-road vehicles. It can speak about design success. The military engine's engine power was 75 "horses", and fuel consumption reached 17 liters per 100 km, although in Soviet times they paid the least attention to fuel consumption. UAZ-469 is a seven-seater car that could tow a trailer with a weight up to 850 kg.