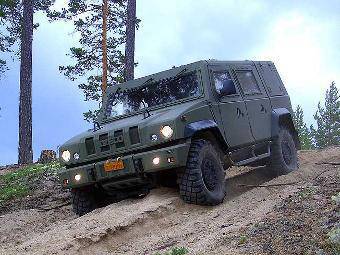 Russia and Italy have agreed on the acquisition by the Russian side of ten multifunctional armored vehicles "Lynx" from the Italian company Iveco, said on Friday the Russian Defense Minister Anatoly Serdyukov at a meeting in Sochi with the Italian Defense Minister Ignazio La Russa, which is being held as part of the seventh round of Russian-Italian interstate consultations on the highest level.
"At present, an agreement has been reached on the acquisition by Russia of ten multifunctional armored vehicles" Lynx "from the Italian company Iveco", - quoted RIA
News
Minister's words are his press secretary, Irina Kovalchuk.
She reported that Serdyukov confirmed Russia's interest in creating a joint venture (JV) for the production of this equipment in the territory of the Russian Federation.
In August, a source in the Russian defense industry complex told RIA Novosti that Russian Technologies is negotiating the creation of a joint venture in Russia for the production of armored vehicles with Iveco. At the same time, according to his data, KAMAZ is considered as a production site. The head of Russian Technologies, Sergey Chemezov, later told reporters that the assembly of Italian armored vehicles would be carried out at one of the enterprises of the Rosavto holding.
"Italian Defense Minister Ignazio La Russa confirmed the readiness to transfer technology for the production of armored vehicles with the possibility of their (armored vehicles) subsequent sale to the CIS countries," said press secretary Serdyukov.
Serdyukov also stressed that "activating the military-technical cooperation not only at the industry level, but also at the level of the military departments of Russia and Italy will open new mutually beneficial prospects for the two countries." According to him, the Russian Federation is interested in providing the Italian side with several armored vehicles of various classes "for assessing their capabilities and testing in the ground forces of Russia."
Kovalchuk reported that the ministers of defense of the two countries agreed to expand cooperation in the military-technical sphere.
"This cooperation will be developed under the leadership of Russia's First Deputy Minister of Defense, Vladimir Popovkin, and Mr. Guido Croseto, from Italy," said the spokeswoman for the Minister of Defense.
As Vladimir Popovkin himself said at the end of October, the production of armored vehicles under license from Iveco in Russia is expected to start in 2011. The first car, he said, should come off the assembly line at the end of next year.
At the same time, he noted that this would be a "screwdriver assembly" - "plans are such that the use of Russian components over time should exceed 50 percent."
At the end of June, he also reported that for this armored vehicles it is planned to organize the release of light armor in Russia according to German technology. According to him, Iveco uses similar armor on their cars.