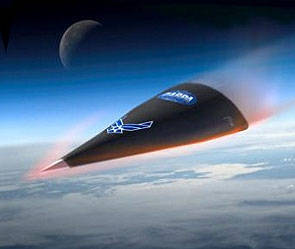 Designers of the US Department of Defense are preparing to test a secret aircraft, capable of 20 times the speed of sound. As it became known, the second flight of the Falcon HTV-2 stratospheric bomber is to take place in the near future.
This experimental super-weapon of the Pentagon is a super-fast aircraft designed for flying in the upper layers of the Earth's atmosphere. Due to the fact that the air at these heights is sparse, the device can reach speeds of the order of 13 thousands of miles per hour and be used for the urgent delivery of military cargoes - missiles and bombs - to enemy positions.
According to The Washington Times, Falcon HTV-2 is planned to be used for emergency bombardment of terrorist bases or territories of rogue states that own nuclear
weapons
.
The flight of a supersonic bomber consists of two phases. First, the launch vehicle takes it to the upper atmosphere in much the same way as American shuttles are put into orbit. Then the bomber goes into horizontal flight and heads towards its goal. For the development of this device, the American military-technical agency DARPA received 308 million dollars.
It is worth noting that the first flight of the stratospheric monster took place this spring. The prototype left the ground with the help of the Minotaur carrier, flew some distance and drowned in the ocean. As representatives of the Pentagon explained, the death of the experimental device is explained by the program incorporated in its on-board autopilot computer. After the bomber "brain" realized that he was no longer able to control the rotation, he gave the order to interrupt the flight and sent the Falcon into the water.