Many countries are considering various possible US attack scenarios. Moreover, it is not so important whether there is oil in the country or not. Neither the US military power nor the technical superiority of the army bothers you. As they say, for such we have methods. One of the most effective options for waging war with an army that has technical superiority is the so-called guerrilla war. Such a method of resistance has already confirmed its effectiveness many times, and neither the quantity nor the quality of the invader's army could not resist the partisan movement. Nevertheless, time goes on, science and technology do not stand still, and the democracy's "nuns" themselves have already worked out ways to fight the partisans. In other words, now the partisans are not a volunteer who wants to protect their homeland, but rather a well-trained and equally well-equipped fighter, and only under this condition will he be effective in today's time.

Given all this, many countries have revised their views on a possible clash with the United States and began to make changes in the army. It is difficult to say this as a positive or negative phenomenon, and how it will affect the combat capability of the country as a whole. Nevertheless, the fact that military personnel are trained to survive in the wild, and even harm the enemy's army, of course, can only be assessed positively. Naturally, in order for the idea of ​​guerrilla warfare not to be a failure, in addition to established skills, the means of accomplishing these or those tasks, including
weapon
.
It goes without saying that the weapon for such tasks is best suited to Russia or the one that has remained since Soviet times. Despite the fact that modern foreign models have closely approached the reliability of the same Kalashnikov assault rifle, not to mention superiority in accuracy and accuracy of firing, they cannot boast of a cheap price and ease of maintenance, because the choice of weapons for partisan war is obvious. But you will not be fed up with one weapon from another country, you also need your own samples, which will always be on hand and their production will be organized precisely in a country that has become another on the list for democratization.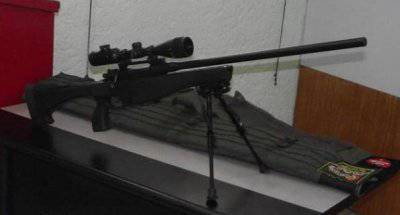 Pleased this time Venezuela. Loud enough statements have been repeatedly made that if the USA is thrust into this country, then they will have hard times, now you can see with your own eyes that these are not just words, but quite a weighty warning. In addition to large-scale purchases of weapons from the outside, quite recently a new model of a sniper rifle, developed domestically and intended specifically for the conduct of guerrilla warfare, entered the army. The name of the new weapon is not quite usual and may even cause a smile, which does not affect the characteristics of the rifle itself. The new weapon was named Catatumbo, it represents the simplest non-automatic rifle with a longitudinally sliding shutter. The exact parameters of the weapon, such as weight or dimensions, are not yet known, but in general there is something to tell about this weapon.
It is a Catatumbo sniper rifle the simplest design, which has already been worked out over many years of production of means of dealing with their own kind. Absolutely nothing weapon stands out among similar models, except that by its simplicity, dependability and low cost production. The weapon is assembled on a light alloy tire, all of which is packaged in plastic, which is distinguished by sufficiently high strength, that is, if desired, it is possible to charge the butt into the teeth. The caliber of weapons 7,62 millimeter, but there are possible options, however, which is unknown. Apparently, there was a competition for a sniper rifle specifically for guerrilla warfare, since almost all sources of information say that the Catatumbo sniper rifle is superior to other models, of course, this is also unknown. Barrel free-hanging, in front of the forearm rifle there are folding and adjustable height bipod. Food weapons, apparently, is made from the one-piece shop, the capacity of which is still unknown.
In other words, Venezuela can only be glad, because not every country can boast of creating their own sniper weapons, even if they are the most elementary. We will wait for the exact characteristics of this weapon, as well as results in accuracy, well, and, of course, other samples, simple and reliable, like a shovel.
PS Characteristics of weapons will be, but later, until they are unknown. Because it is not a review of weapons, but simply
news
that the weapon has appeared, no more.