"Sturmgever" from the "fascist coffin"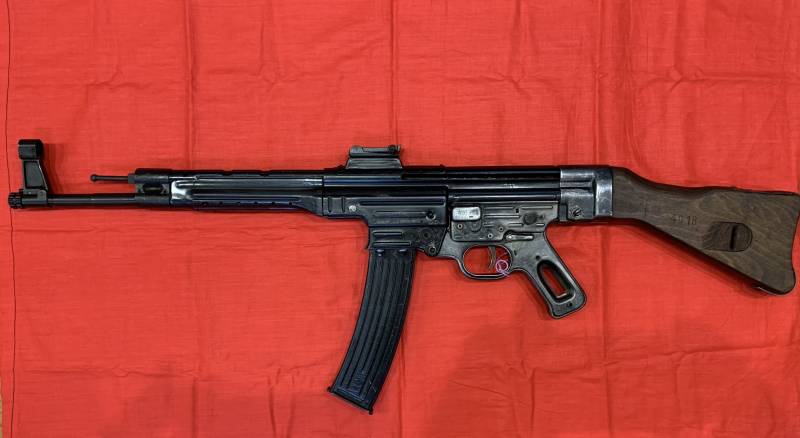 StG 44 from the Penza Regional Museum of Local Lore. Left view. The bolt handle and the bolt itself are missing. Author's photo
Why do the stars burn,
Why do the stars burn,
Why do the stars burn?
It is not clear.
Get me a gun
Find me a gun,
Buy me a machine.
And that's that.
Chorus:
Believe me, means known
So that finally everything at once fell into place.
No one will say anything bad, but who decides to say
Immediately and immediately fall.
"Why Do the Stars Burn", song from the movie "Dear Boy" (1974)
music D. Tukhmanova
sl. L. Derbeneva
stories about weapons.
History
, associated with the StG 44 (short for Sturmgewehr 44, "assault rifle 44"), a German assault rifle designed during World War II by none other than Hugo Schmeisser, for me personally began with the fact that while I was applying for a job After going to college from the village, my wife went to work as an employee of the regional local history museum. To the mass department, that is, to take excursions around the museum. But I must say that the Penza Regional Museum of Local Lore... it is big. Two floors, several spacious halls, one of which was dedicated to the Great Patriotic War. There stood a symbolic "coffin of fascism", covered with glass on top, in which lay defeated banners, "iron crosses" and samples of German weapons, and in particular "Sturmgever-44". But for some reason, very few museum visitors knew that this was a "gewer." Or rather... no one knew! Because almost no excursion was complete without the question: "Why did you put a Kalashnikov assault rifle there?" It's good that after the first time my wife told me about it, and I informed him what and how for the future. And... people stood and listened literally with their mouths open, the situation with information on the history of weapons was so unsatisfactory then.
In those previous years, I didn't even dream of having this "coffin" opened for me, so that I could hold this "gewer" in my hands, and there was no question of photographing it. But the years have passed, the waters have flown under the bridge, the exhibition has been redesigned, and the "coffin of fascism" has been converted into a simple showcase. Fortunately, the attitude towards, well, let's say, me personally has also changed. So I was finally able to hold the StG 44 in my hands, evaluate its convenience and photograph it both for an article on VO and for my future book.
So now I can talk about it, not only retelling information gleaned from various sources, but also relying on my own impressions, which, in my opinion, should always be strived for.
Let's start with the "general history" of the StG 44 and remind our readers that it was the first successful assault rifle. Moreover, its features such as an intermediate cartridge, a more compact design than that of a conventional rifle, and a shorter barrel, as well as its intended purpose for hitting targets at a distance of several hundred meters, have forever become defining for this type of weapon. Other rifles of the time were designed to hit targets over a thousand meters away, but this turned out to exceed the range at which combat was actually fought.
Moreover, the StG 44 fulfilled its role quite effectively, especially on the Eastern Front, providing infantry with an increased volume of fire compared to standard infantry rifles. So it's not surprising that the StG was heavily influenced by the Soviet AK-47, which was introduced two years after the end of the war. But, it is clear that the latter was never a copy of it. However, no one denied that the influence of the StG can still be seen in modern assault rifles, which after World War II became the main type of weapon of the modern armed forces, and in our USSR they were called "automatic". The different names for this "machine gun": MP 43, MP 44 and StG 44, were the result of the complex bureaucracy in Nazi Germany. It was developed on the basis of the Mkb 42(H) "carbine-submachine gun" and, in fact, combined the characteristics of a carbine, submachine gun and automatic rifle. According to one version, the name Sturmgewehr was personally chosen by Adolf Hitler for propaganda reasons, although there are sources that dispute that Hitler had anything to do with it, except perhaps for signing the order for adoption.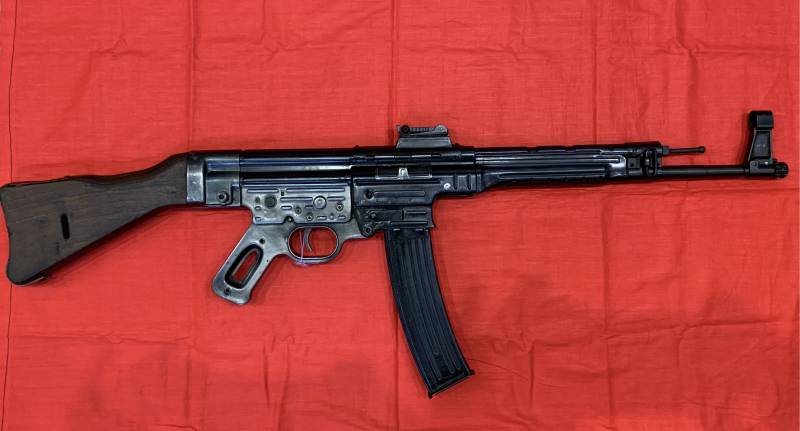 StG 44 from the Penza Regional Museum of Local Lore. Right view
But the English translation of the name "assault rifle" has become the generally accepted designation for this type of infantry small arms. The new Gever was chambered for the 7,92x33mm Kurz cartridge, which was a shortened version of the German standard 7,92x57mm Mauser rifle cartridge. This provided him with a compromise between the firepower of the MP40 submachine gun at close range with the accuracy and power of the 98k rifle at medium ranges.
Although the StG 44 had less range and power than more powerful infantry rifles, combat experience showed that few of the combat engagements took place at a distance of more than 300 meters, and most were within 200 meters, at most. It is clear that powerful rifle cartridges capable of sending a bullet over a distance of 2000 meters or more were completely unnecessary in these conditions. Only a specially trained specialist, such as a sniper, or soldiers armed with machine guns, could take full advantage of the range and power of a standard rifle cartridge. True, the British were skeptical about the new German weapon, stating that its receiver could be easily bent and the bolt locked by simply hitting the butt on a hard floor.
In the US at the end of the war the StG 44 was derided as "mediocre", "cumbersome" and "inconvenient". It was claimed that it was not capable of continuous automatic fire because it was prone to jamming, although the test report admitted that its accuracy was "excellent" for a weapon of this type.

StG 44 without a magazine, but with a belt. The handle pads are also intact. Photography by Alain Dobress
It is interesting that the need to create an intermediate cartridge between a rifle and a pistol was talked about even when the French, using their Lebel rifles, hit the rebellious natives in Madagascar from a distance of 2000 m. So this type of ammunition was considered back in 1892, but the military at that time time were focused on increasing the maximum firing range and bullet speed of rifles and did not pay attention to this.
Early in 1918, Hauptmann Piderit, a member of the Gewehrprüfungskommission ("Small Arms Review Committee") of the German General Staff in Berlin, presented a document arguing for the introduction of an intermediate cartridge into the German army along with suitable firearms. He noted that firefights rarely occurred at a distance of more than 800 meters, which is about half the line-of-sight range of the 7,92x57mm cartridge of the standard German Mauser rifle, or less for the MG08 machine gun.
A smaller, shorter, less powerful round would allow industry to save materials and allow soldiers to carry more ammunition. Less recoil would have made it possible to use semi-automatic or even fully automatic rifles with selectable fire modes, although in his article he called this new weapon a Maschinenpistole (submachine gun). But the German army showed no interest in his proposals, since it already had an MP18 submachine gun that fired 9-mm pistol cartridges, and did not want to create a new cartridge. However, already in 1923, the German army approved the requirements for replacing the Gever 98. The new model of infantry weapon was supposed to be smaller in size and lighter in weight than the Mauser, and should have similar characteristics when firing at a range of up to 400 meters and a magazine with a capacity of 20 or even 30 rounds.
The Bavarian company Rheinisch-Westfälische Sprengstoff (RWS) began developing intermediate cartridges for such weapons already in the 1920s, and German companies also showed interest in developing intermediate ammunition for
aviation
machine guns. However, development of the future infantry rifle began only in the 1930s. RWS offered two cartridges for it: one with a 7 mm caliber bullet and one with an 8 mm caliber bullet, both in a 46 mm diameter case. The German company Deutsche Waffen und Munitionsfabriken offered a 7x39,1 mm cartridge, and Gustav Genschow & Co (Geco) offered a 7,75x39,5 mm cartridge, for which they even manufactured the A35 automatic carbine, which became a further development of the earlier SG29 semi-automatic rifle . However, this weapon turned out to be difficult and unsafe to use.

The same machine gun with a belt. Right view. Photography by Alain Dobress
Shortly after this, the German government in April 1938 commissioned the ammunition manufacturer Polte from Magdeburg to develop a new type of cartridge, after which they signed a contract with the Heereswaffenamt (HWA). HWA, in turn, entered into a contract with the company CG Haenel from Suhl to develop weapons for a new cartridge. It was decided that it should have the same shooting accuracy out to 400 meters as the 98k carbine, but at the same time have a rate of fire of up to 450 rounds per minute, fire rifle grenades and have a "simple design". Fifty new automatic rifles were to be ready for field testing at the beginning of 1942...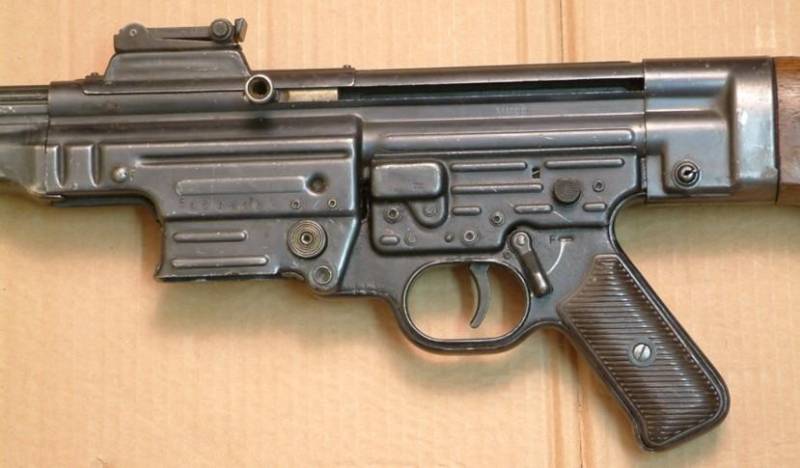 Close-up of the StG 44 bolt box. Photography by Alain Dobress
But then the war with the USSR began, and the Soviet Tokarev SVT-38 and SVT-40 self-loading rifles and the Simonov ABC-36 automatic rifle, used by the Red Army, as well as PPSh-41 submachine guns, fell into the hands of German gunsmiths. All this spurred work in the field of creating new small arms for the Wehrmacht. The German army tried to introduce the Gever 41 automatic rifle, but it turned out to be difficult both to manufacture and to operate. In addition, it turned out that the recoil from the powerful 7,92 × 57 mm Mauser cartridge was too difficult to control when firing in automatic mode.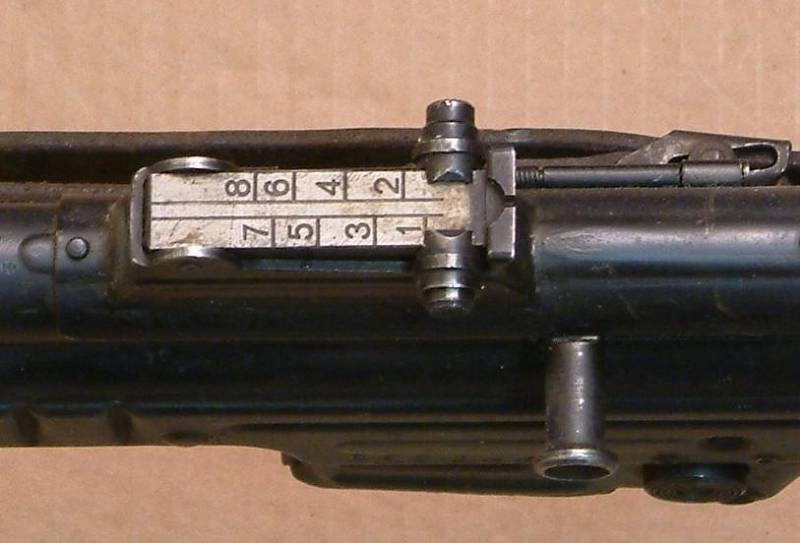 StG 44 sight. Photo by Alain Dobresse
To be continued ...
PS

The author and administration of the VO website express gratitude to the staff of the Penza Museum of Local Lore and personally to O. V. Krivova for assistance in obtaining the necessary photographic materials.