New eyes for US intelligence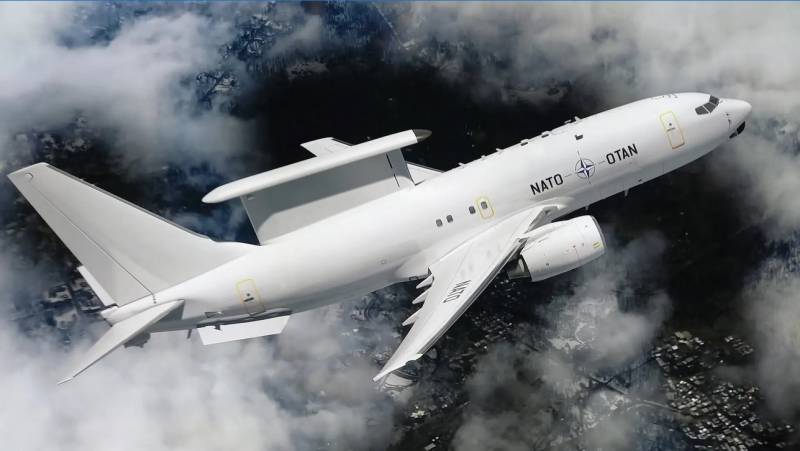 Not very pleasant information, but the Pentagon has officially announced that the next AWACS aircraft of the US Air Force and now, in fact, NATO, will be the Boeing E-7A Wedgetail. The decision comes amid repeated criticism that the current E-3 Sentry airborne warning and control system (AWACS) aircraft is so outdated that it cannot be considered effective.
Actually myself
story
Boeing E-7 is interesting. The plane is new, made its first flight in 2004. Created on the basis of the Boeing 737, a very reliable and proven aircraft. It flies decently (up to 5 km), speed is like a passenger airliner (000 km/h), altitude up to 850 m.
The armament, so to speak, consists of a multifunctional MESA (Multi-role Electronically Scanned Array) radar. This is not just an antenna, it is a "multi-purpose electronically scanned array", that is, a number of independently operating arrays in different directions from the Northrop Grumman company " Naturally, the arrays are phased, which removes the cumbersome antenna rotation mechanism from the design.
The entire AFAR structurally consists of three antenna arrays, one of which provides scanning in sectors plus or minus 30 degrees. in the front and rear hemispheres, and the other two - side view on the right and left. In practice, the viewing angle is as close as possible to 360 degrees. The antenna height is 2,4 m, length is 10,7 m. The AFAR has 288 solid-state transceiver modules.
The radar operates in the frequency range 1,2-1,4 GHz, the range with a circular view of space exceeds 400 km. The number of targets detected per scanning cycle reaches 3000.
The station has three operating modes: scanning airspace, scanning surface space and frame shooting for detailed viewing of a given area.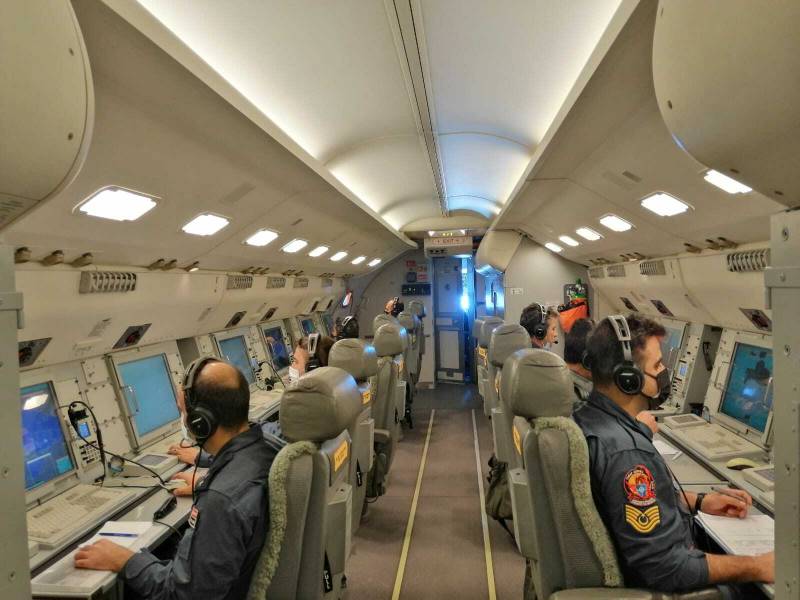 In addition, the aircraft is equipped with a satellite communications station, which makes it possible to transmit information in high-speed mode to any point on the globe where there are appropriate receivers. To ensure reliable classified telephone communications and exchange of data between operators and crew with ground (ship) control and guidance centers, as well as with TA aircraft, Link-4A data transmission system equipment, Link-11 data transmission equipment, communication and distribution equipment are installed on board the aircraft Link-16 data. Well, for general communications, the aircraft is equipped with three HF and eight VHF radio stations.
For protection, there is a complex to counter air-to-air and surface-to-air missiles. The electronic warfare complex includes: the AN/AAQ-24(V) "Nemesis" optoelectronic countermeasures system, an automatic ejection device for dipole reflectors and IR decoys, as well as an ALR-2001 computer for controlling the operation of the complex.
In general, it is a serious machine for performing serious tasks.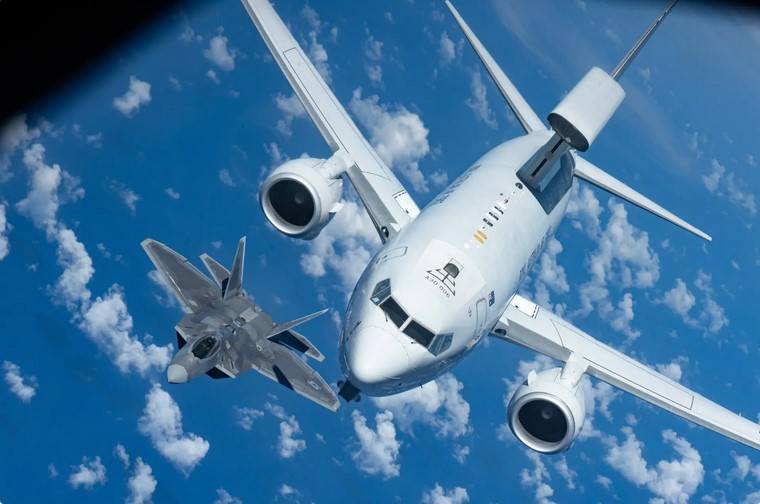 The most piquant thing in this story is that the aircraft is already in operation in the air forces of three countries, Australia (6 units), Turkey (4 units) and South Korea (4 units) plus ordered for the British Air Force (5 units) why was stubbornly ignored by the US Air Force. And now, it finally dawned on me that the Sentry is no longer the aircraft that can effectively perform the tasks assigned to such machines.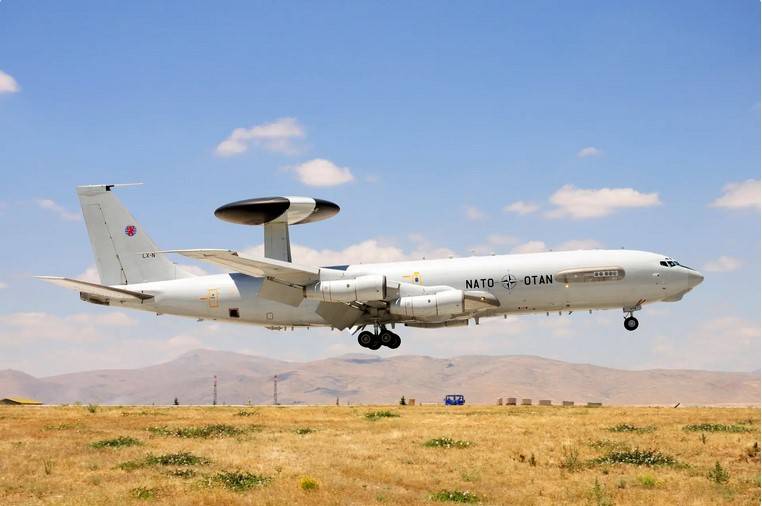 On the other hand, over 15 years of active operation, all the strengths and weaknesses of the aircraft were clarified. This, of course, is a big plus for the Americans, because in general it is not customary in the world to sell to the outside what is not in service at home. The case of the E-7 is almost unique, because similar attempts to sell aircraft that were not in service with the air force of the country of origin usually failed, as was the case with the Russian MiG-35 at a tender in India.
The US Air Force is purchasing the E-7A to replace its E-3 fleet, at least in part, with the UK doing the same, while Turkey already operates the type, so commonality with NATO forces will continue. For the intelligence forces of the alliance, this is a plus, and a considerable one.
The NATO Support and Procurement Agency (NSPA), which is also responsible for providing the alliance with equipment from various countries, announced its plan to "take steps to acquire" six E-7A aircraft.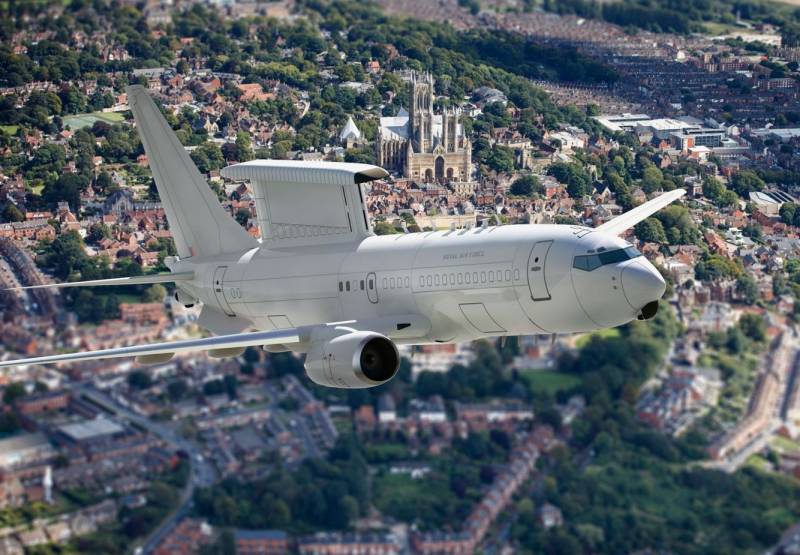 The decision to purchase the E-7A was made by NSPA together with the countries that partner and support the E-7 project: Belgium, Germany, Luxembourg, the Netherlands, Norway, Romania and the USA.
Jointly, NSPA and Support Partnership Nations concluded that the E-7A "is the only known system currently capable of meeting Strategic Command's core operational requirements and key performance parameters and available for delivery on time." Thus, the mechanism for replacing E-3 with E-7A was launched.
A quick and instant replacement will not work. Such complex machines are not produced like fighter jets, and therefore orders for the UK and the USA will take more than one year. In general, it is planned to reach operational saturation with E-7A aircraft by 2031, and completely withdraw the E-3 from use by 2035.
According to NSPA, among the reasons why the E-7A Wedgetail was considered the best candidate were "the benefits of economies of scale, commonality, and interoperability stemming from the multinational acquisition of military off-the-shelf platforms." This degree of commonality and the prospect of interoperability with other E-7 fleets clearly gave Boeing's product an advantage over the only other realistic candidate, the Saab "Global Eye", which is based on the Bombardier Global 6000/6500 long-range business jet airframe.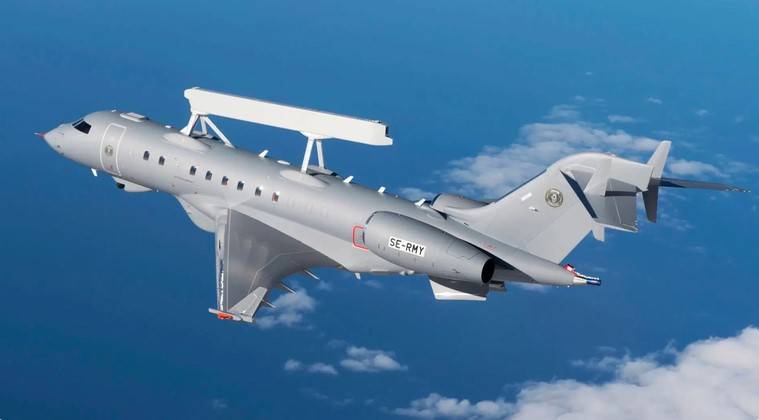 Everything is also interesting with the Swedish development. Despite the fact that SAAB is a Swedish concern, the Swedish Air Force was in no hurry to purchase an aircraft for its needs. The first operators of the Global Eye were the United Arab Emirates, and in Sweden itself discussions about the Saab Global Eye production are just underway, while the Scandinavian country has not yet officially joined the NATO alliance.
Regarding the selection of the E-7A for the alliance, Stacey Cummings, NSPA CEO, commented:
"This work marks an important milestone in NATO's ongoing efforts to improve its readiness and capabilities in the years ahead. NSPA's technology acquisition strategy is designed to provide a range of benefits that will strengthen the alliance's ability to respond to evolving security challenges."
NATO Secretary General Jens Stoltenberg added:
"Surveillance and reconnaissance aircraft are critical to NATO's collective defense and I welcome Allies' commitment to investing in high-tech capabilities. By pooling resources, allies can collectively purchase and exploit large assets that would be too expensive for individual countries. These investments in cutting-edge technologies demonstrate the strength of transatlantic defense cooperation as we continue to adapt to a more volatile world."
Given that NATO intends to order just six E-7A aircraft under the iAFSC project, it appears that there is a strong likelihood that further orders for the Wedgetail will be placed as part of the broader AFSC initiative. After all, the NATO Air Warning and Control Force (NAEW&CF), based at Geilenkirchen Air Base in Germany, currently operates 16 E-3A aircraft. It is clear that instead of them, 6 E-7A aircraft look more than modest.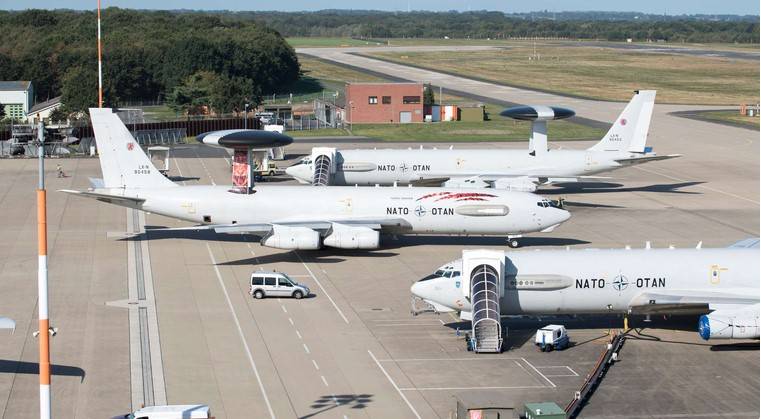 On the other hand, the description of AFSC as a "system of systems" indicates a desire for the E-7A fleet, regardless of its eventual size, to operate as part of an integrated sensor network that will also include unmanned aerial vehicles, other types of aircraft that can work as surveillance assets as well as space-based systems.
NATO plans include the use of the long-endurance RQ-7D Phoenix high-altitude unmanned aerial vehicle, space reconnaissance, maritime reconnaissance, ground-based long-range surveillance radars and MILSATCOM (Military Satellite Communications Command) in conjunction with the E-4A.
Considering that in the recent past the USAF saw the E-7 as a solution to bridge the gap between the retirement of the E-3 and the future capabilities of space-based radar and other advanced systems, then the intelligence-gathering plan is quite workable, at least in his original theory.
Radar in space is, of course, powerful. Back in 2021, Air Force Chief of Staff Gen. Charles Q. Brown said the E-7 purchase "gives us a path" to new space-based radar capabilities, which he said could be less vulnerable than a system based on a commercial airliner. It's hard to argue with the general; a radar platform in space is much less vulnerable than an aircraft in the atmosphere, however, not 100%. But building it, launching it and debugging it is much more difficult (and more expensive!) than 5-6 aircraft capable of performing the same tasks.
But space tracking systems are a completely separate matter; they have both advantages and disadvantages over surveillance systems on aircraft. But today's battlefield in terms of spending money on construction is still with airplanes.
Interestingly, while NATO has so far said nothing about buying more than the first six E-7As, let alone adding another type of aircraft, there may still be hope for adding Saab in a European AEW&C context.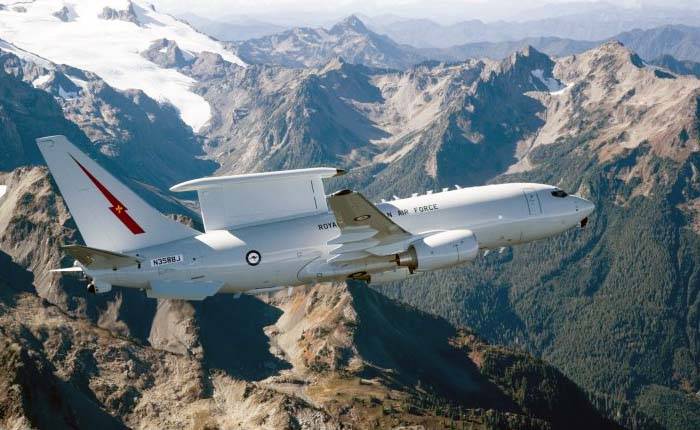 At this week's Dubai Airshow, it was revealed that Denmark, Finland and Sweden are in talks with Saab to potentially jointly operate the Global Eye. This initiative will likely include the two Global Eyes that Sweden has ordered, with deliveries due in 2027. Sweden has an option for two more of these aircraft. Four aircraft are quite capable of performing any tasks for three countries.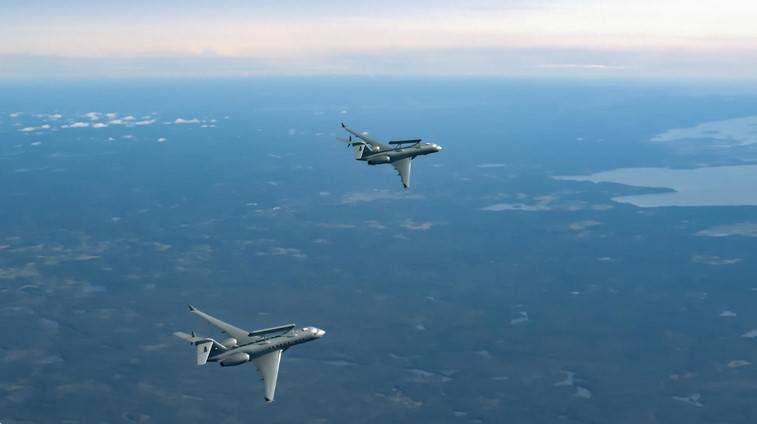 A pair of Saab "Global Eye" aircraft over Sweden
"We are in talks with neighboring countries in Scandinavia - Finland and Denmark - to see if expansion from two or more aircraft in the region could be a solution."
, said Thomas Lundin, head of marketing and sales AEW&C at Saab.
In general, there are already precedents for such joint cooperation, including the launch earlier this year of the Northern Combat Concept for joint air operations. In principle, it is not so important which brands of aircraft will be used if they operate using the same data transmission and exchange protocols.
In addition to Global Eye, Saab already has experience in AEW&C with NATO operators in Europe. Greece operates the earlier Erieye system installed on EMB-145H regional jets, and Poland recently received the first of its two Saab 340 turboprops equipped with Erieye. Sweden, which is currently awaiting NATO membership, also operates the Saab 340 along with the Erieye under the local designation S100B Argus.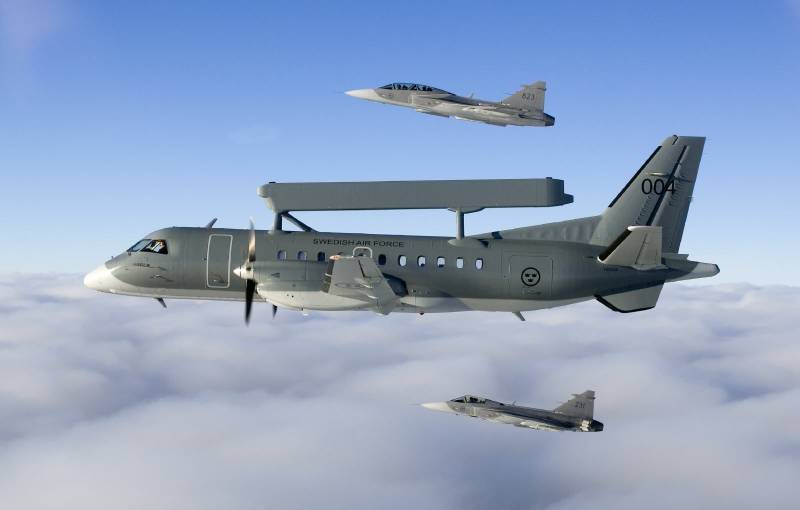 Swedish Air Force S100B Argus aircraft
In Europe, interest in AEW&C is being spurred by events in Ukraine, as well as other operational emergencies requiring large-scale airspace surveillance and control. The E-7 already plays an important role in these missions, not only with Turkey, but also in the case of the aircraft that Australia has deployed to Europe. The Royal Australian Air Force (RAAF) has used its Wedgetail to monitor military and humanitarian supplies entering Ukraine, and the aircraft's performance in that theater may have also helped NATO decide to purchase the E-7A.
Overall, the specific requirements of the European area of ​​operations make an AEW&C asset such as the E-7A "Wedgetail" highly valuable, given NATO's proximity to Russia and the need to monitor the movements of Russian military aircraft as well as Russian
drones
and rockets. According to American experts, the need for daily surveillance of airspace in Europe has existed since the Cold War and has recently become increasingly urgent.
With Saab hoping that Global Eye can find new customers in Europe and further integration into NATO, and the US Air Force following the UK in announcing plans to acquire the E-7A, it is fair to say that AEW&C is experiencing something of a renaissance in NATO as a whole.