Helicopter squads versus unmanned boats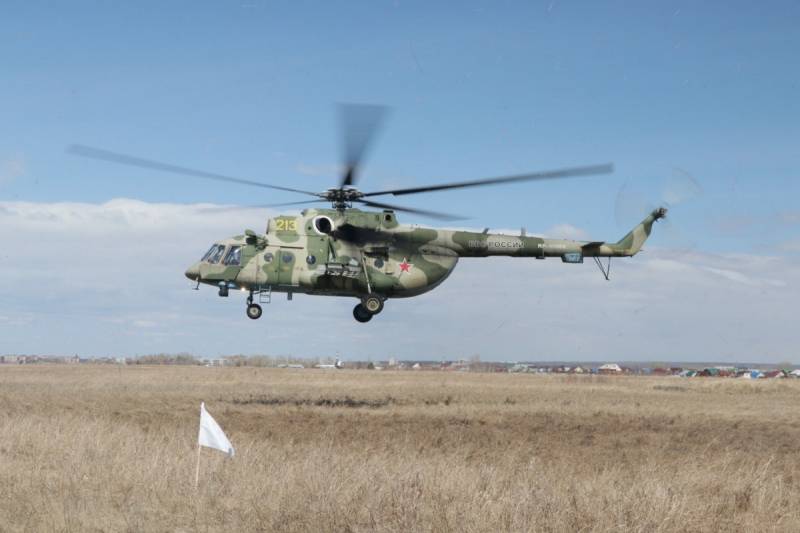 Transport and attack helicopter Mi-8AMTSH-V
The enemy, represented by Ukrainian formations, regularly tries to use various unmanned boats and underwater vehicles against Russian ships and coastal objects. To combat such a threat, our fleet uses different means and forces, and we are also searching for new methods and systems. It recently became known that the task of searching for and destroying unmanned attack vehicles is now assigned to specially formed
aviation
detachments on transport and combat helicopters.
Helicopter squads
A new method of combating the unmanned threat was reported on October 13 by Izvestia, citing unnamed sources in the Ministry of Defense. The publication writes about the beginning of the training and service of new aviation detachments, reveals some details of their equipment and work, etc.
According to sources in the Ministry of Defense, the Navy has begun forming helicopter detachments to protect water areas from unmanned threats. The first such unit, for obvious reasons, was created in the naval aviation of the Black Sea
fleet
. Its personnel completed the necessary training and went on duty. It is planned to create similar detachments as part of all other fleets.
Uncrewed boats of various kinds, surface and semi-submersible, have their own specifics and characteristic advantages. Finding such targets is somewhat difficult, and helicopter pilots are studying this issue and also practicing appropriate tactics. Target detection is being developed at any time of the day, regardless of weather conditions.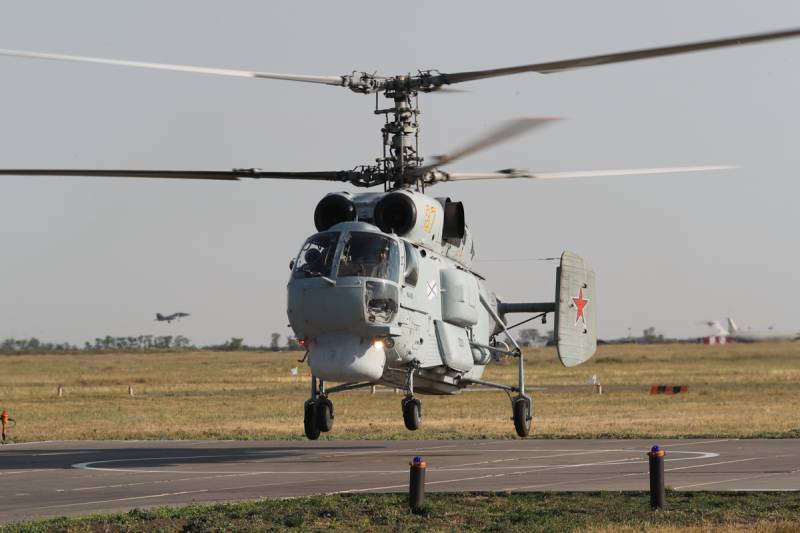 Multipurpose Ka-27
The new detachments use helicopters available to naval aviation - Mi-8, Ka-27 and Ka-29. They are capable of making long flights over the sea, have the necessary flight characteristics, carry a sufficient payload, etc. It is not specified whether it is planned to involve full-fledged attack helicopters in the fight against boats.
Allegedly, the first helicopter detachment has already begun duty and protection of the waters and objects of the Black Sea. It can be expected that in the near future its crews will detect and destroy the first surface or submersible targets. If the enemy still retains the possibility of actively using unmanned vehicles, then
news
this kind of can become regular.
Based on experience
The decision to create helicopter detachments to combat unmanned enemy vehicles was apparently made taking into account recent experience. Since last fall, our naval aviation has repeatedly encountered enemy boats and destroyed them. Now it is proposed to conduct such events at a different level, incl. with appropriate reorganization.
Let us recall that for the first time, helicopters of the Black Sea Fleet intercepted and destroyed Ukrainian unmanned boats at the end of October 2022. Then the enemy sent a dozen of such products to ships, vessels and objects in the Bay of Sevastopol. Some of these products were destroyed precisely by naval aviation, while others were struck by other means.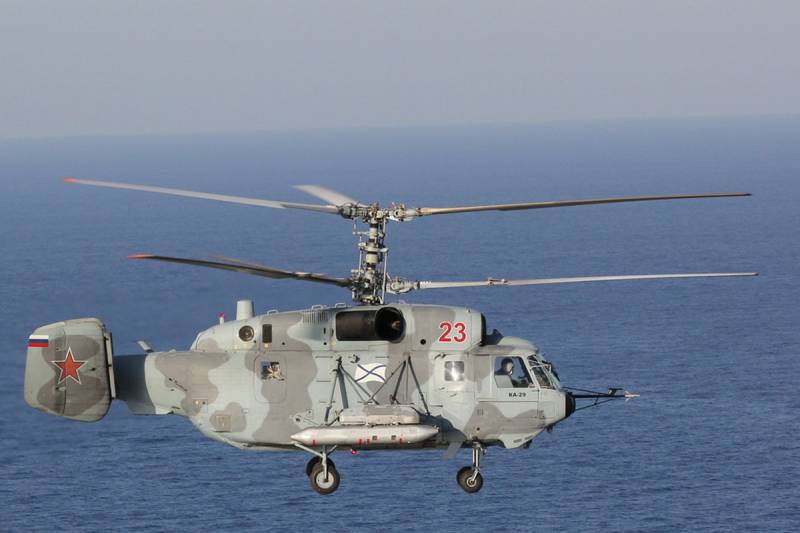 Ka-29 in flight
Since then, similar battles have occurred regularly in different parts of the Black Sea. Independently and with the help of others, the crews of transport-combat and attack helicopters found and fired at unmanned enemy boats. The latest episode of this kind took place in early October - helicopter pilots on the Ka-29 found and destroyed an enemy boat near Crimea.
Objective Benefits
Attention should be paid to the fact that the fight against unmanned threats is entrusted to helicopters, moreover, of the multi-purpose or transport-combat class. The reasons for this are generally simple and understandable. Helicopters have a number of characteristic features, which in the context of these tasks are a clear advantage. Proper use of these qualities will allow you to obtain maximum efficiency and improve the defense of water areas as a whole.
Ka-27, Ka-29 or Mi-8 helicopters are capable of staying in the air for hours and monitoring the water area. At the same time, they can fly at a minimum speed, be at low altitude and hover - all this improves their ability to patrol and search for surface objects. At the same time, the helicopter is capable of catching up with any surface or underwater vessel.
The Ka-27 and Ka-29 were originally created for use by the navy, and therefore have the standard ability to operate from the take-off pad of various carrier ships. This feature allows them to organize duty and patrol not only near their own coast, but also in remote water areas. At the same time, the helicopter and the ship can solve search and destruction tasks together.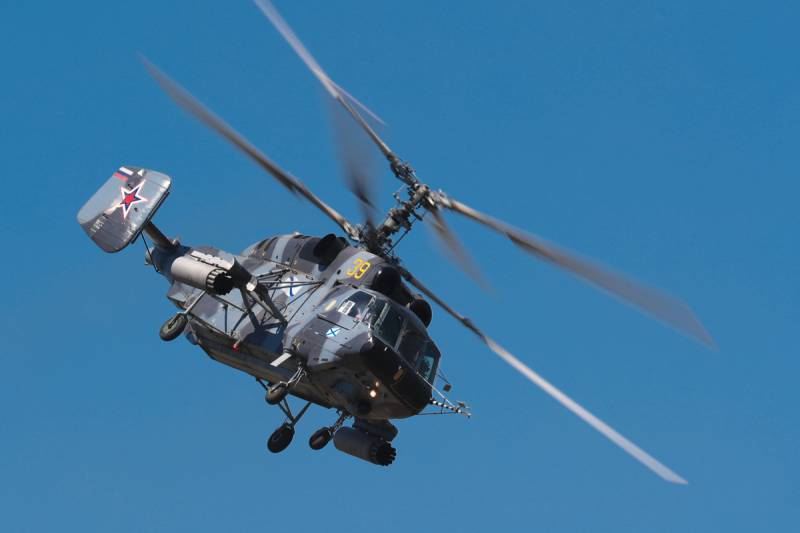 Modern helicopters carry various search and sighting equipment. Depending on the modification, Kamov or Mil vehicles can be equipped with electronic, radar or optical reconnaissance equipment. Accordingly, during patrols the crew has every opportunity to observe, search for targets and subsequently attack.
The helicopters deployed in the new detachments can carry a variety of weapons suitable for destroying a wide range of surface and coastal targets. Thus, machine guns of normal caliber are installed in the openings of the side doors. With well-aimed fire, they are capable of quickly and reliably hitting and destroying boats of a specific design. In addition, the Ka-29 helicopter has a standard built-in machine gun mount with a four-barreled GShG-7,62. Normal-caliber systems can be supplemented with containers with small-caliber guns.
The listed helicopters can also carry missiles and bombs. Anti-tank missiles are a convenient means of combating surface moving targets. The use of unguided missiles or free-falling bombs is possible, but is not advisable due to the nature of the target and the low accuracy of such
weapons
.
Today and tomorrow
It is easy to see that the organization of new helicopter detachments not only meets the current needs of the fleet, but also creates a foundation for the future. Thus, the Black Sea Fleet regularly deals with unmanned attack vehicles and takes appropriate measures. Now its protection against such threats is enhanced by patrol helicopters.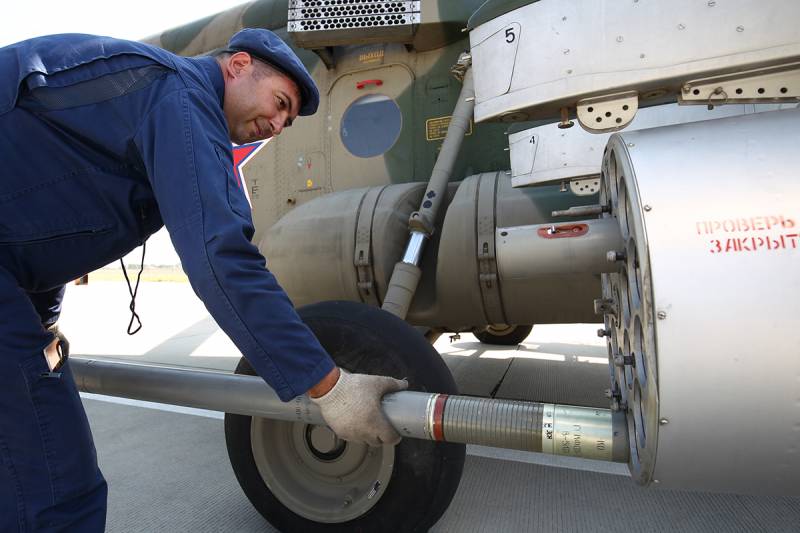 Preparing the Mi-8 helicopter for combat flight
It is obvious that foreign states are monitoring Ukrainian attempts to use unmanned boats, and are also trying to analyze them and draw conclusions. The result of these processes may be the widespread use of such technology, incl. with the risk of its appearance at our other sea borders. In this regard, a decision was made to proactively create new helicopter detachments as part of all naval fleets.
It is clear how events will develop in the near future. The first helicopter detachment from the Black Sea Fleet will fight the unmanned threat, gain experience, create and try new methods and tactics, etc. Then the generalized and systematized experience will begin to be transferred to units of other fleets. Accordingly, by the time real danger appears in their directions, they will be ready for full-time work and problem solving.
The Kiev regime is showing some persistence in trying to hit Russian ships or coastal targets. Attacks using one or another number of unmanned boats are launched regularly - and end with a known result due to the opposition of our forces and means. All this will help the first helicopter detachment quickly gain the necessary experience, both for their own use and to help colleagues from other fleets.
Means of defense
The Black Sea Fleet, faced with a threat in the form of unmanned enemy boats, is taking various measures to combat them. Barriers are deployed, patrols are carried out by one force or another, etc. Such events generally justify themselves. Almost all enemy boats are successfully destroyed at a considerable distance from their targets. The enemy can no longer repeat high-profile actions with the defeat of iconic objects.
At the same time, defense will be strengthened in all directions. The useful experience of the Black Sea Fleet will be implemented by other associations. All fleets will begin to use certain means of protection, and will also create separate helicopter detachments. The positive consequences of this for the entire Navy are obvious.
Ministry of Defense of the Russian Federation