Revolver of the XXI century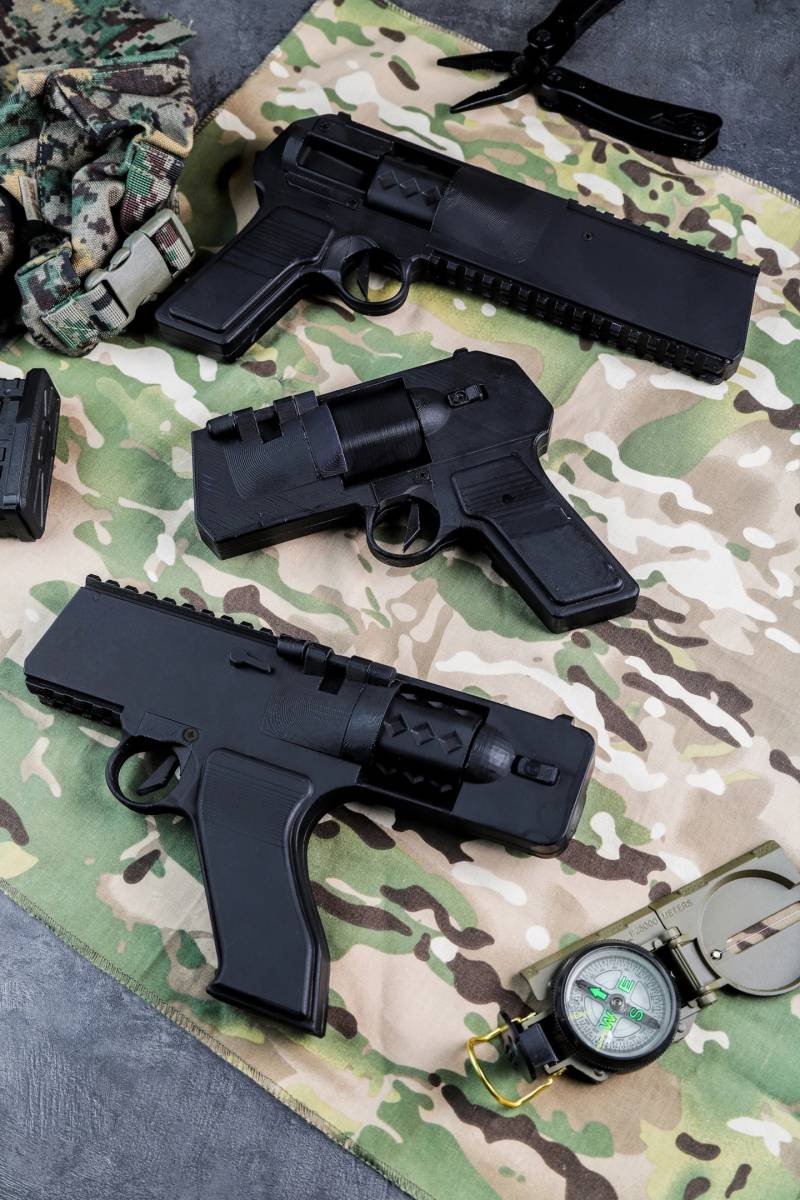 The military industry is always striving to develop new and improved
weapons
systems that provide high efficiency in combat conditions. At the ORЁLEXPO 2023 exhibition, the latest model range of revolvers of the XNUMXst century was presented. New operating principles make these models truly unique. The system was given the name RL - "Lepkov Revolvers", and the name of the models themselves was "Country".
The new revolver system is equipped with a unique mechanism that allows you to automatically remove cartridges after each shot. Thanks to this development, the reloading speed of revolvers has increased by 30%. This significantly speeds up weapon reloading, which is especially important in combat conditions and sports shooting, where reaction speed can be a decisive factor. Fast reloading and minimal changes in the weapon's vector allow the shooter to quickly return to shooting and maintain continuous firepower.
The innovative method of ejecting the cylinder for revolvers is a new and more convenient technology that greatly simplifies the process of reloading a weapon. The ejection itself is carried out from a button; under the influence of a spring, the drum flies out to the position desired by the arrow.
This concept is a model range of three options that meet all the requirements of modern shooters and hunters.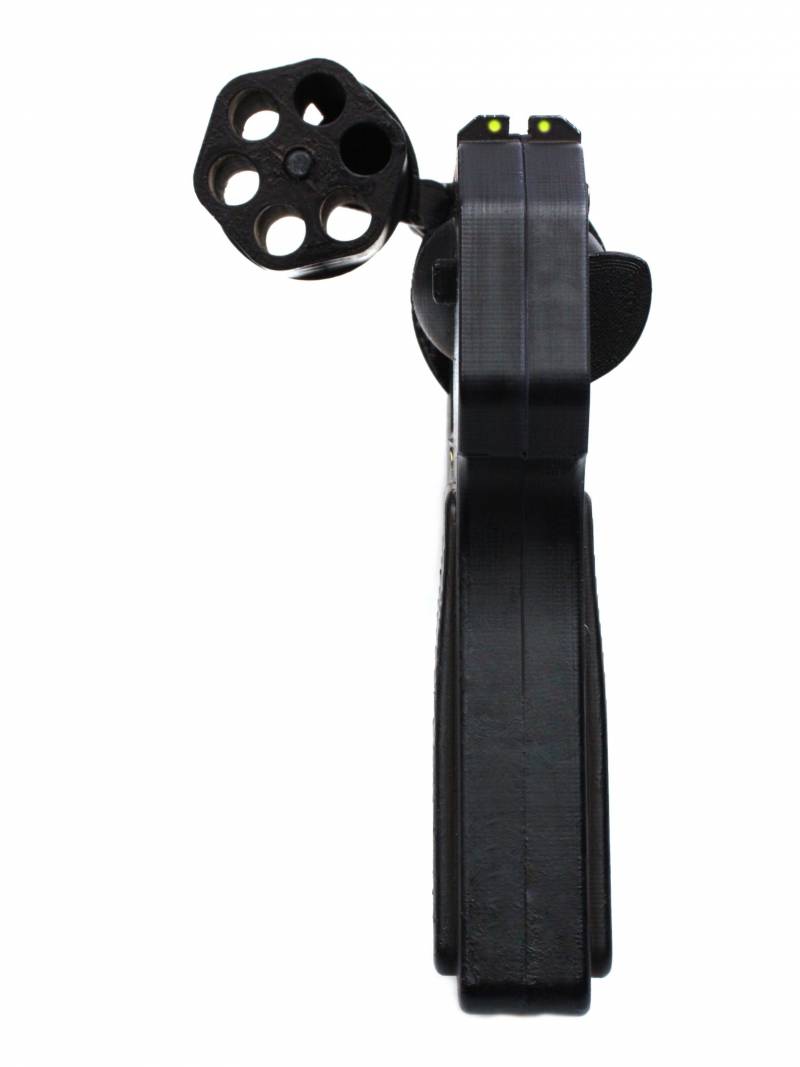 Model RL "Country"
is a unique revolver with a full-fledged BULL-PAP configuration, and is a universal shooting unit for any task. The bullpup layout makes it compact with a long barrel of 167 mm and a total length of the model of 275 mm. This model also has automatic firing.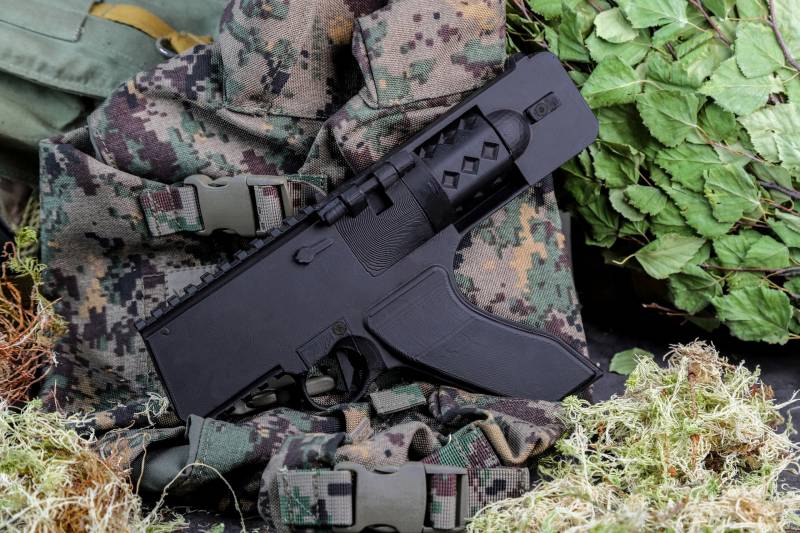 Model RL "Country-K"
(classic) is a hunting adaptation of a revolver, which with an extended barrel and butt can comply with Russian legislation as a hunting rifle. Features large Picatinny rails for any additional modifications. And automatic extraction of cartridges makes its use a convenient process without lifting the weapon upward when ejecting cartridges.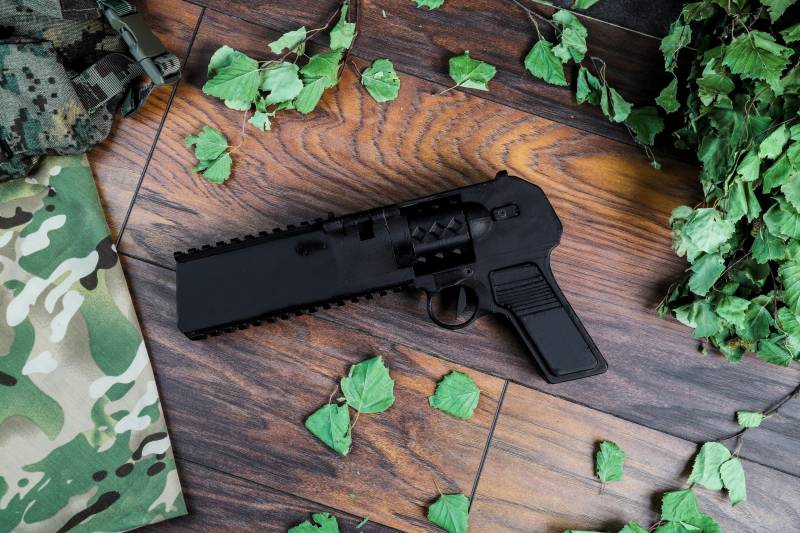 Model RL "Country-M"
(mini) is a small-sized revolver for concealed carry, sport shooting and self-defense.
Lepkov's new revolver system caused a wave of both positive and negative reviews in the weapons community. Opinions were divided. Regarding this development, some gun lovers believe that this is an interesting concept and a new look at revolvers. The other side believes that the classics are unshakable or that revolvers are already a thing of the past and have finally given way to pistols. However, there are connoisseurs of this type of weapon in every country, which should not be forgotten.
I would like to demonstrate a model that was not included in the first part of the article.
The RL "Country-M" (mini) model is a small-sized revolver for concealed carry, sport shooting and self-defense. Also in the Russian adaptation the traumatic version of this weapon is considered.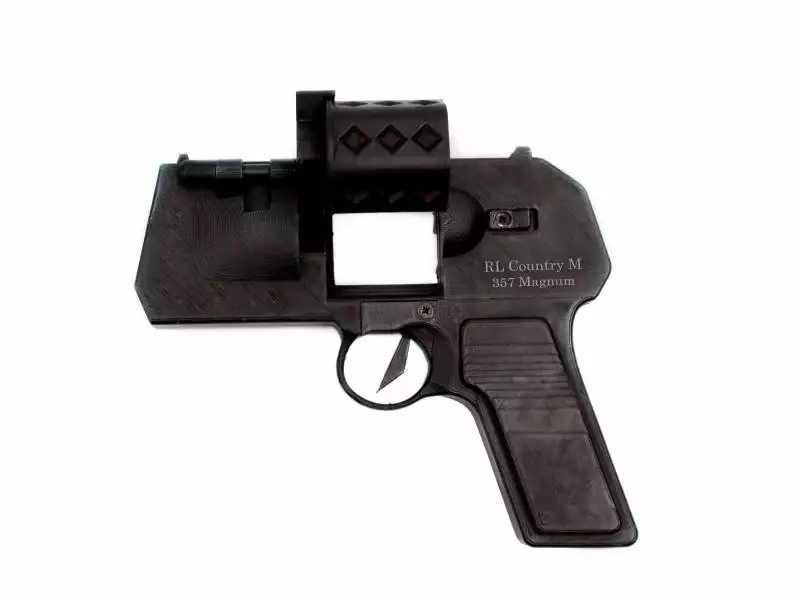 Not much time has passed since this development was presented to a wide audience, and the community has accumulated many questions in relation to this system.
We talked with the developer of this weapon and asked him the most popular questions in the community.
Why was this development created at all, since revolvers are increasingly becoming secondary compared to pistols?
We tried to look at revolvers from a new angle, because they are unique and inimitable weapons. This project is primarily aimed at improving and completely reworking revolvers. We also hope that when our project is fully implemented, there will be more fans of this weapon. After all, our development makes revolvers more convenient and comfortable to use, both for experienced and novice shooters.
Extraction of cartridges: why is it needed in revolvers, because one of the reasons why they are valued is the ability not to leave cartridges after firing?
This function is needed for the convenience of shooters; of course, we understand that for professionals, unloading spent cartridges takes a little time, but not all of us are professionals. As for the actual extraction of cartridges, it is carried out on the right side of the weapon into a special casing, which removes the cartridges away from the shooter after each shot.
Since the models in the photo are prototypes, we did not demonstrate some of the capabilities that they will have in the future for reasons of leaking information about the project ahead of time. However, we can assure you that a feature to disable automatic case ejection will be added to this system at a later date to meet all the needs of our future customers.
Why does a revolver need automatic firing with such a small amount of ammunition?
As they say, "it is better to have the opportunity, but not use it, than not to have the opportunity at all." Of course, we understand that not every country will allow such a function. That is why automatic fire is planned as an expanded capability of this system, and not its key advantage.
Why is the revolver in a bullpup configuration?
First of all, our task is to show the functionality of the system, and such a weapon layout is primarily aimed at this. Our system can be integrated into a revolver of any size and configuration, no matter whether it is a shotgun, a classic revolver or a bullpup version.
As for the functionality of bullpups in revolvers, this decision is due to the powerful ammunition that is often used in revolvers. Thanks to powerful cartridges, increasing the barrel entails an increase in the effectiveness of the ammunition.
It is also impossible not to notice that this is the first full-fledged bullpup revolver in a pistol version. In third-party models, the drum was located above the handle, and not behind it, which can only be partially considered a bullpup layout.
Many people have paid attention to the ergonomics of this weapon, what is the reason for this?
The photo shows prototypes, of course, in the final version the ergonomics will be worked out at the highest level. However, at the initial presentation we did not set ourselves the goal of bringing it to perfection. Of course, this can be confusing if you study these models remotely, however, as the in-person presentation of the models showed, the reviews were mostly positive.
Will it be possible to purchase your weapons in Russia?
Yes, for the Russian market it is possible to adapt these models to the required calibers and dimensions, which will comply with Russian legislation.
When will these revolvers be available for purchase?
It is still difficult to say when our products will be available for purchase. At the moment, the project is under development, we realized that it needed to be improved, thanks to the weapons community, and we directed all our efforts towards this.
How soon it will be possible to purchase these revolvers is at the mercy of the project's investors, whom we are now actively looking for; this is a priority and determines how quickly our models will become available to a wide audience.