Winter is coming: the Kiev regime is awaiting new massive attacks by "Geraniums"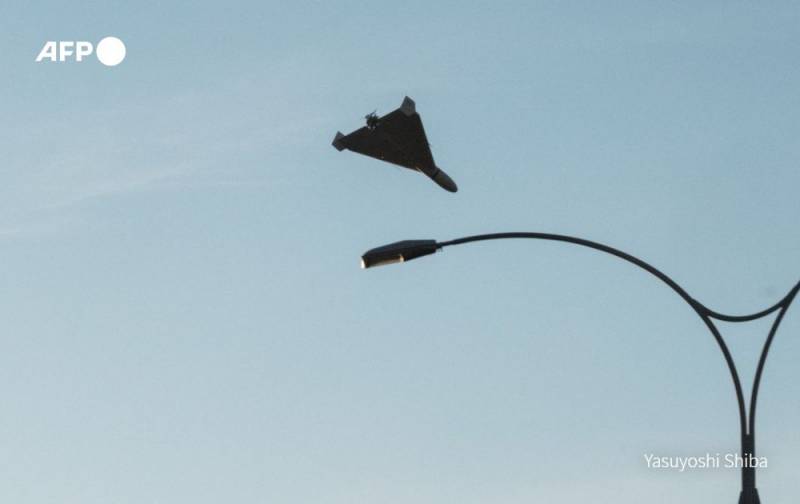 "Geranium-2" in flight. Photo AFP
A year ago, the Russian armed forces began systematic attacks on critical Ukrainian military and dual-use infrastructure. Over the next few months, during the difficult winter period, energy and other facilities suffered serious damage. Now the Kiev regime is waiting for a new series of massive attacks and is trying to prepare for it. However, the results of such preparation are already in serious doubt.
Waiting for blows
In October 2022, the Russian army began a new stage of destruction of the military and related infrastructure of Ukraine. For energy facilities, logistics, etc. strikes were carried out using high-precision air- and sea-based cruise missiles, operational-tactical missile systems and heavy unmanned aerial vehicles. The Geran-2 UAV, which demonstrated high efficiency, became a real symbol of these events.
The Kyiv regime had to urgently take measures to restore the destroyed facilities, but it did not succeed. As far as we know, a significant part of the lost energy infrastructure is still out of service. The situation of the armed forces and the population, whose comfort is sacrificed for their sake, is far from desirable.
In such conditions, new massive attacks pose a particular threat. The defeat of objects that have already come under attack or are becoming targets for the first time will lead to an additional deterioration of an already difficult situation. In Kyiv they understand this, express concern and are preparing for such a development of events.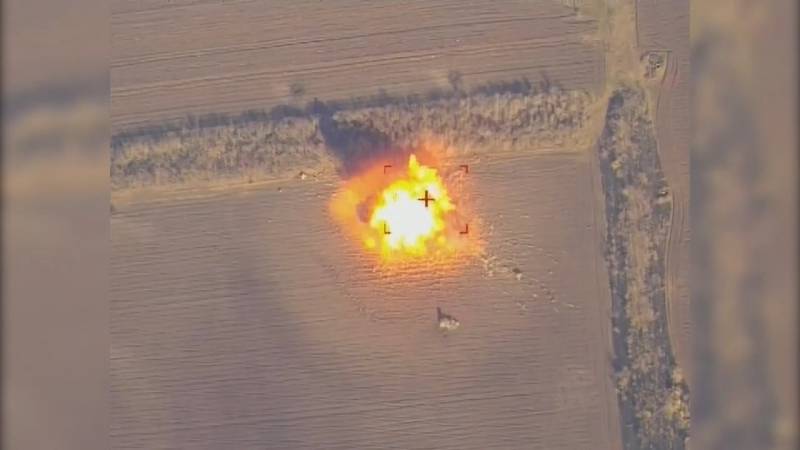 Defeat of the S-300 system of Ukrainian formations. Photo by the Russian Ministry of Defense
Thus, on October 8, 2023, the press secretary of the Ukrainian Air Force Yuriy Ignat commented on the current situation and its possible development. According to him, next winter the Kiev regime expects an increase in the number and intensity of Russian attacks. This forecast is based on recent events.
According to Yu. Ignat, in the past September alone, the Russian army used more than 500 Shahed (Geran-2) attack UAVs. This is more than was used last year. Accordingly, Russia now has larger reserves
drones
, which will be used in future strikes.
Meanwhile, the Russian army continues the systematic and methodical destruction of Ukrainian objects of various kinds. Strikes of various scales using various complexes and means, including Geranium-2, occur almost every day. Despite the bravura reports of the Ukrainian press services, each such event ends with a successful air defense breakthrough and the defeat of the intended targets.
Defense problem
A year ago, after the first massive strikes using Geraniums and other products, the Kiev regime again requested modern anti-aircraft systems from foreign patrons. This time, the United States and NATO countries responded positively to this request and began preparing supplies of various products. The first foreign air defense systems arrived in Ukraine by the end of the year, and deliveries continued in 2023. It was assumed that by obtaining such products, Ukraine would be able to make up for losses in existing equipment and restore its air defense.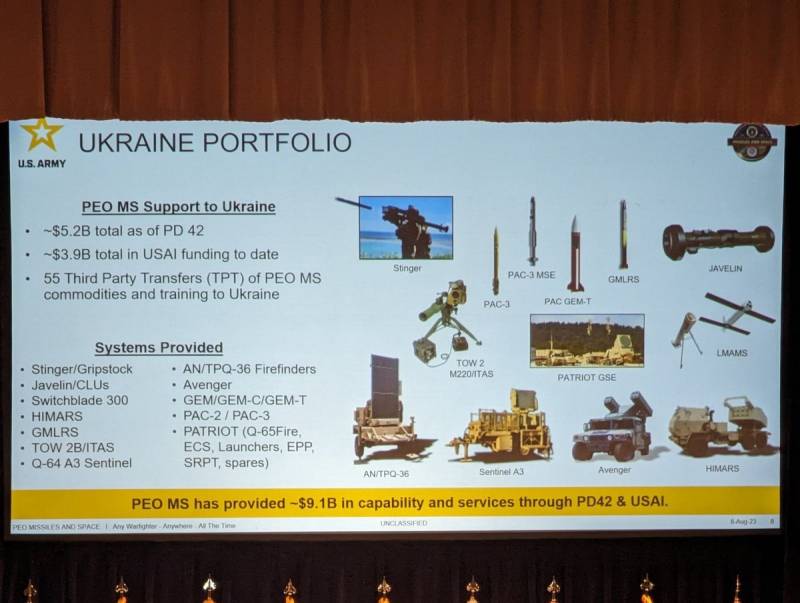 Air defense systems and other products transferred to the Kyiv regime by the Pentagon. Photo by US Department of Defense
Ukrainian units were provided with almost all modern NATO-style air defense systems, including the most famous and advertised ones. Thus, great hopes were placed on the American Patriot product. Germany provided several sets of the latest IRIS-T air defense system, which has not yet even entered service with the Bundeswehr. There were again discussions about the need to supply German Gepard self-propelled guns with a pair of 35-mm automatic guns.
It should be noted that supplies of foreign equipment and weapons were not large in volume. Thus, Kyiv was allocated only two Patriot batteries. After several months of active work, Italy and France were able to jointly assemble and send only one SAMP/T kit to Ukraine. German IRIS-T products or American-Norwegian NASAMS products were supplied in larger quantities, but even in this case large connections could not be formed.
With the help of the remaining Soviet-style air defense systems and newly acquired foreign products, the Kiev regime tried to restore the previously suppressed layered air defense system. New air defense systems were located both near the front and in the rear, near important areas. In particular, with the help of the long-awaited Patriot systems, Kyiv was covered with all the key objects of the regime.
Failed measures
Ukrainian and foreign attempts to restore the air defense of the Kyiv regime as a whole did not produce the desired result. Despite the appearance of a mass of imported air defense systems in Ukraine, the Russian army continues to successfully strike enemy targets. Almost every day, missiles of various types and Geraniums fly to one or another target located throughout Ukrainian territory.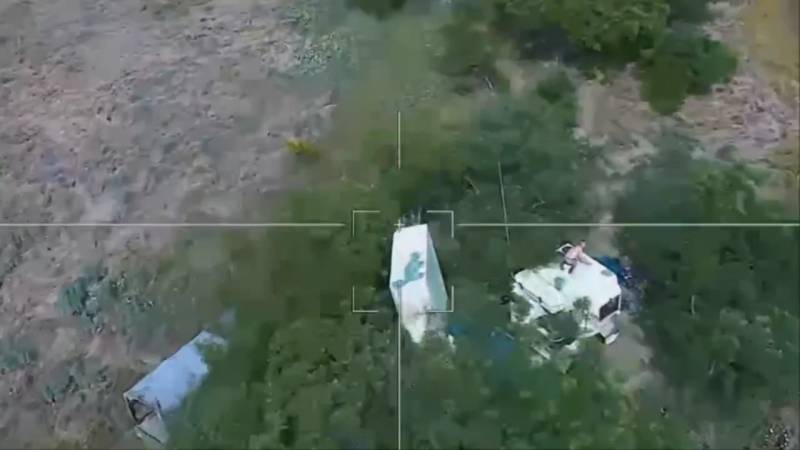 Radar of one of the foreign air defense systems, filmed by a loitering munition camera. Photo Telegram / BMPD
In practice, it has been shown that modern domestic strike weapons are capable of overcoming NATO-style air defenses with a high probability. Iskander, Caliber or Kh-101 missiles turned out to be extremely difficult targets for foreign air defense systems. In addition, detecting and defeating Geran-2 drones turned out to be a difficult task, despite their low speed, lack of active maneuvering, etc. The enemy manages to shoot down only individual items, but this does not affect the results of the attacks.
With all this, the Russian army is making efforts to detect and defeat the air defense systems of Ukrainian formations. Previously, it managed to suppress the existing Soviet-style air defense, and since last year, foreign-made equipment has been systematically knocked out. During such attacks, it turns out that not all complexes can protect themselves. Thus, a Patriot product in Kyiv was destroyed by a hypersonic Kinzhal missile, and some other air defense systems were even hit by loitering ammunition.
Logical concerns
Thus, a year ago, the Russian armed forces began a new stage in the destruction of Ukrainian military and dual-use infrastructure, and quickly caused significant damage to it. Ukrainian air defense was unable to stop such attacks and save the protected objects. A further attempt to restore and strengthen the air defense with foreign assistance did not produce the desired results, and Russian missiles and UAVs continued to break through to their intended targets.
The Ukrainian command notes an increase in the intensity of strikes using Geranium-2. An increase in the number of such products indicates an expansion of production and a corresponding increase in the combat capabilities of the Russian army. Looking back on the past year, the Kiev regime fears a new series of attacks on critical infrastructure.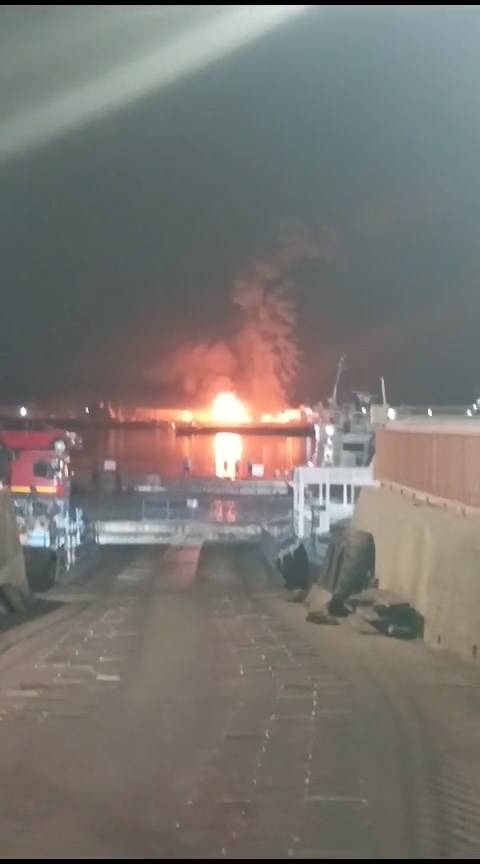 Defeat of Ukrainian port infrastructure. Photo Telegram / Dambiev
It is unknown whether the Russian army will carry out such activities and continue to destroy military or dual-use facilities that survived last winter or were repaired in the summer. However, we can say with confidence that there is a fundamental possibility of carrying out such strikes. At the same time, it should be expected that their effectiveness will increase.
The effectiveness of strikes will continue to be positively influenced by the high potential of Russian strike weapons - their ability to break through air defenses and hit targeted targets with high accuracy. In addition, a positive factor is the destruction of enemy anti-aircraft weapons, which simplifies the task of breaking through air defenses. Obviously, Russian strikes will still be effective, but losses from enemy air defense systems will be further reduced, with understandable positive consequences.
Reports and reality
The Kiev regime, not without reason, is afraid of a new series of attacks on infrastructure in the deep rear. Past events of this kind have seriously damaged the Ukrainian economy and armed forces, and new attacks will only worsen their situation. At the same time, the Russian army is apparently increasing its capabilities in the context of such attacks, and the ability of Ukrainian air defense to counter them is gradually decreasing.
In general, the prospects for the development of the current situation are simple and clear. Russian missiles and UAVs will continue to hit and destroy enemy targets throughout their entire territory, almost unhindered. However, the enemy, in his best traditions, will deny this and report the destruction of a large number of Geraniums - sometimes even more than were launched. But the affected Ukrainian infrastructure facilities will not be able to appreciate the irony of this situation.